Weinheim: Make the most of Germany's virtual summer by escaping to a lakefront near Heidelberg
by
Nancy Montgomery
August 14, 2007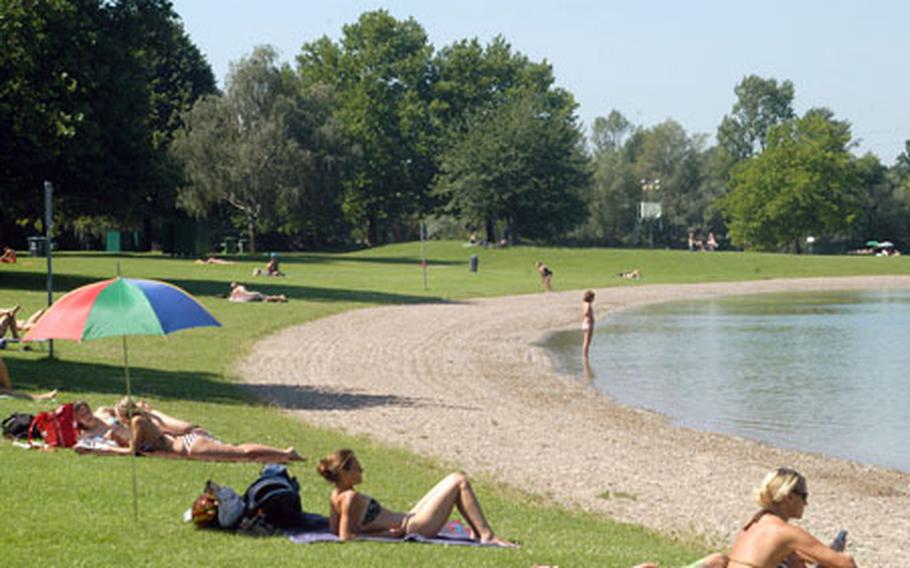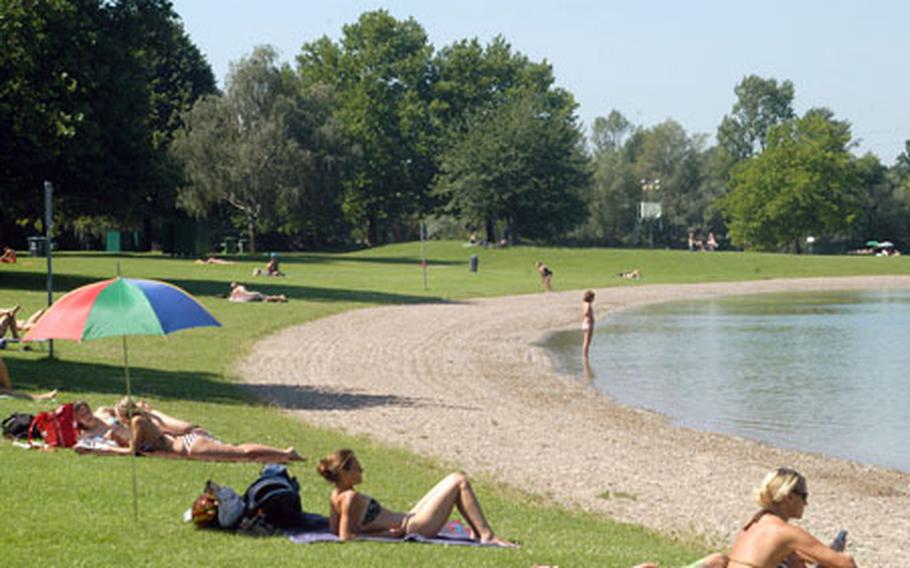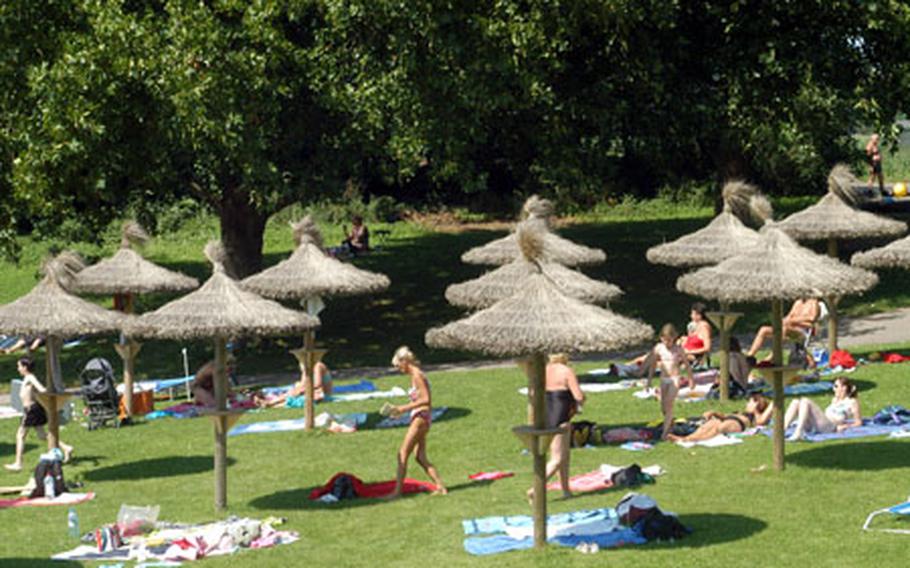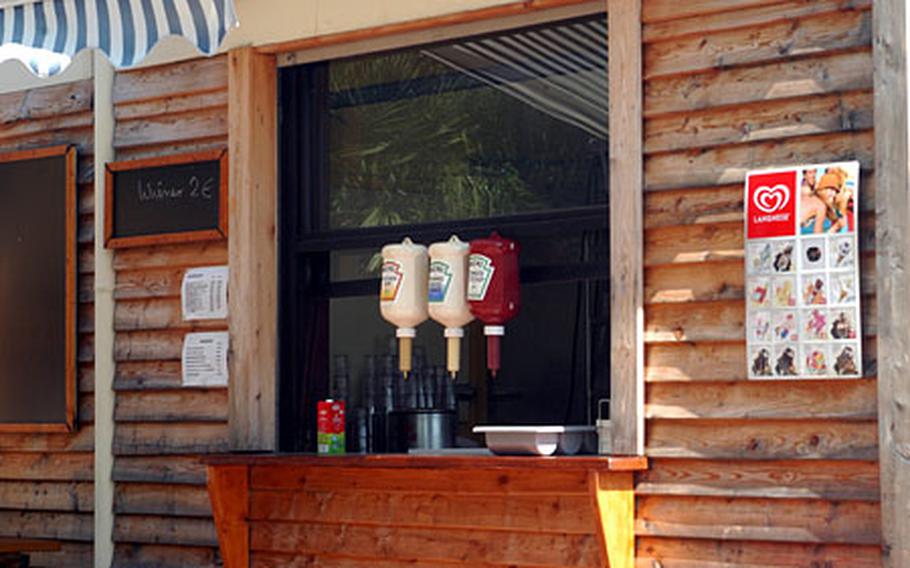 Say something weird occurs, and Germany actually has continuing hot, sunny days in the next three weeks. What would you do?
It could happen: The clouds parted and the mercury soared past 80 degrees Fahrenheit three, possibly four, times this "summer."
On two of those days, I could be found near or in the water. Some 20 minutes from Heidelberg, in west Weinheim, a town renowned for its own charm (two castle ruins and a palace, exotic forest, marketplace, etc.) is a pretty lake that offers something completely different from your local Freibad.
Called Strandbad Waidsee, it's a town-owned recreation area whose lake provides the cool, clear water of the fatherland, with enough space to actually have a swim — without children jumping onto you from poolside, who don't understand when you call them harsh names, or people just floating there inanely — in your pool lane.
At the lake, there's room to roam — out about one-third of a mile to the buoys and ropes, where only a handful of people go. Even in the shallower area near shore, despite a plethora of rafts the size of a California king bed, there's plenty of water to go around. All in all, according to the Strandbad's Web site, the swimming area expanse is 700 meters by 500 meters, or about 87 acres.
The lake was developed between 1966 and 1970, when a new motorway between Darmstadt and Heidelberg took up 2 million cubic meters of earth and gravel, and voila, a lake was born, according to the Web site.
The average depth is 49 feet. At its deepest, the lake is 98 feet, according to the Web site. In fact, it gets pretty deep quite quickly, so children and non- swimmers stay close to shore.
There's also plenty of space for your towel or blanket on a large field of green grass that is completely goose-guano, dog-dropping and hypodermic- needle free. People put up umbrellas and bring bright little tents to get some shade, but there are also big plane trees and some little tiki huts for the same purpose.
Hungry? The snack bar serves wurst, French fries and ice cream. Thirsty? There's water, soda, beer, wine and coffee.
There's also a real restaurant on site, the Cabana Beach, but you must be dry and in actual clothes to eat there, and the day I tried, it turned out you needed a reservation.
One Sunday, the restaurant had opened up the beach bar and I found myself in the unlikely position of sitting on a German beach sipping a Mojito.
I went again on a sunny Thursday about a week ago, arrived at 11 a.m. and had to share the space only with a few parents and their naked babies, some ladies of a certain age and elderly gents. I had a cup of surprisingly good coffee and waited for the water to warm up.
When I went in, it was refreshing but not truly cold. (Officially, cold-water swimming is 70 degrees F or under.) By the time I left at 6 p.m., a sign said the water was 22 degrees centigrade (72 degrees F).
On the QT:
Directions: Take the A-5 from Heidelberg toward Frankfurt. Exit at A659, Number 33, direction Mannheim/Four-Home/Weinheim. Take the B38 toward Weinheim. Go right on Westtangente, then right on Multiring, then left on Waidallee. Follow to Hammerweg. Or follow signs to Waidallee/Miramar.
Times: The lake is open 10 a.m. to 8 p.m. weekdays; 9 a.m. to 8 p.m. weekends. In September, it closes an hour earlier.
Cost: Admission is 2.80 euros for adults, 1.50 for children. Other special rates are available.
Food: A snack bar stands ready to serve. Additionally, there's a privately owned, full-service restaurant called Cabana Beach that requires appropriate clothes — and, sometimes, reservations.
---
---
---