Volksmarch
by
Bob Lorraine Huffaker
February 8, 2007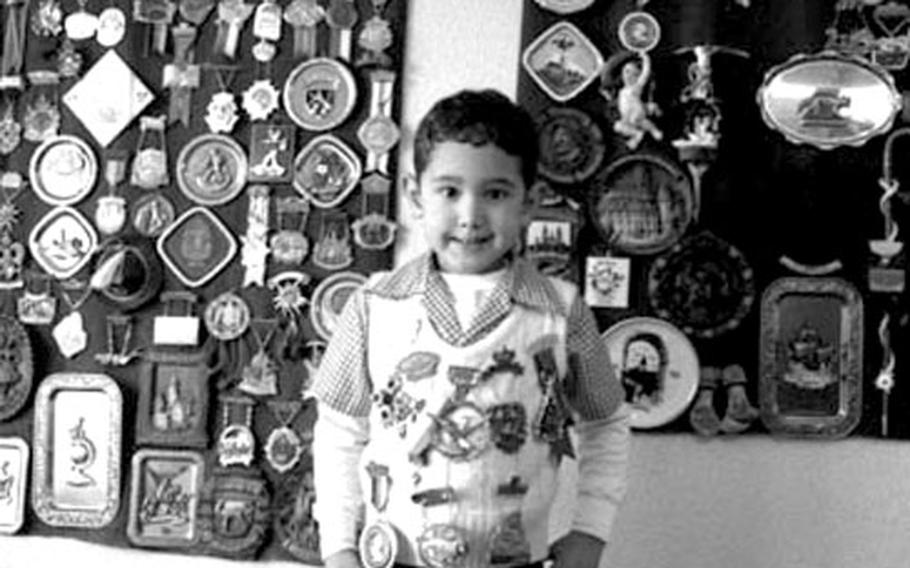 Click here for this week's European Volksmarch schedule.
If you plan to walk the 30- or 45-kilometer routes in Clermont, Belgium, make sure to arrive early. A bus will take you to the start of the route you've chosen, and then you will walk back to the start hall.
The bus leaves between 6 a.m. and 7:30 a.m. to take you to the start. These longer distances and the bus service are on Saturday only.
About 5 kilometers from the walk in Clermont is the World War II cemetery at Henri-Chapelle. This is one of several American cemeteries in Europe managed by the American Battle Monuments Commission. This 57-acre cemetery is the final resting place for 7,989 of our military dead, most of whom gave their lives in the German counter-offensive in the Ardennes, more commonly known as the "Battle of the Bulge," or during the advance into Germany. Others gave their lives in air operations over the area.
Among the graves are 33 pairs of brothers who rest side by side, and one instance in which three brothers rest together. There are graves of 94 Unknowns. The cemetery is on the N18, northwest of the town of Henri-Chapelle. Stop by after the walk and visit this gorgeous cemetery, see a beautiful panoramic view of the Belgian countryside, and pay your respects to those who paid the ultimate price for the liberation of Europe.
———
Next Saturday, Feb. 17, is the 25th edition of the "In the footsteps of the 82nd Airborne Division" walk in Grand-Sart, Belgium. This 24-kilometer walk is not an IVV walk, but it will have plenty of re- enactors and WWII-era vehicles. The walk starts at 9 a.m. You have to register the morning of the walk, so get there early.
———
Are you making your plans for the Rothenburg ob der Tauber, Germany, walk on Feb. 24 and 25? We plan to drive down on the Thursday before so we can walk the permanent Volksmarch on Friday as a warm-up for the Saturday walks.
Even though there is not a new mug for this year's walk, mugs from earlier walks are available as prizes. These are some of the most beautiful mugs we have seen. They feature some of the more famous sights around Rothenburg and have multiple colors in the design. In our humble opinion, these mugs are so nice, the only ones we like better are the ones from Heidelberg that feature the city during the four seasons. The mugs from either Rothenburg or Heidelberg are great souvenirs as well as conversation pieces from your Volksmarching in Germany.
———
For those of you still looking for a torch walk, the Saturday evening torch walk in Lichtenwald, Germany, starts between 5 and 7 p.m.; wrap up your 10-kilometer trail by 10 p.m. If walking with a flashlight or a burning torch that you've bought at the start hall is not up your alley, walk the daytime event, which begins at noon and goes until 5 p.m. Medals from previous years (B-medals) in limited quantities are the souvenir.
———
The walk in Schinveld, Netherlands, is always a popular event. The start hall is unique in that it is in a café with an indoor horseback riding arena. You can enjoy your post-walk refreshments while watching the horses and riders go through their paces. In the past, the walk has crossed into Germany through some of the beautiful forests along the border. Look for us there.
———
Last week's thank yous had to be edited out because we rambled on too long about Ireland. This week we acknowledge the folks who have contributed for the past two weeks: Theresia Fontaine, Bob Gambert, Wayne Henry, Ramona and Horst Kechelen, James Kelly, Tim and Luchi Lynch, Dawn St. John, Jose Valdez and Ed Whitworth. We have to add an extra thank you to Jennifer West, the previous writer of this column. She came back to Germany in December for a brief visit and not only found time to squeeze in a Volksmarch, but also grab a few fliers to mail in to us! Thanks also to first-time contributors "Pat" Patterson and the Reynozo Clan. We love to see new return addresses on the envelopes we receive, especially those that are loaded with fliers.
———
Miscellaneous short notes about this week's volksmarch events:
• A correction to a statement from two weeks ago. If one of your goals this year is to complete an 80-kilometer walk, the Kennedy March in Sittard, Netherlands, will take place on April 7, this year, not in March as we had mentioned.
• The start location for the walk in Niel, Belgium is listed as "K.T.A." We are not sure what kind of building that is, but the address is "Wirixstraat 56" in the town of Niel.
• If your garden is in need of a troll figure, head to the walk at Nieder-Wiesen, Germany. The little guy is looking for a garden to live in. Looking at the map on the flier, this town appears to be about half way between Kaiserslautern and Wiesbaden, so head out and get yourself a troll.
• A decorative tea-light holder on a long garden stake is the award for completing the walk in Aschbach, Germany. There are three colors to choose from. If you already have a troll in your garden, you might want to add this light so he can work at night.
Clark Soeldner offers these notes about walks in Italy:
• The prize at the walk in Bevera di Sirtori is a rain jacket, which will go to the first 1,000 walkers.
• The start for the Zoppola walk is next to the Al Caretel pizzeria. Sounds like a great walk; you get a bottle of wine and end at a place that sells pizza.
Please e-mail volksmarch schedule information for any country to two.walkers@yahoo.com. By conventional mail, send brochures (in date order if possible) to: Bob and Lorraine Huffaker, CMR 460, Box 278, APO, AE, 09703-0278.
---
---
---
---