Visitors can explore cellars below Oppenheim, Germany
---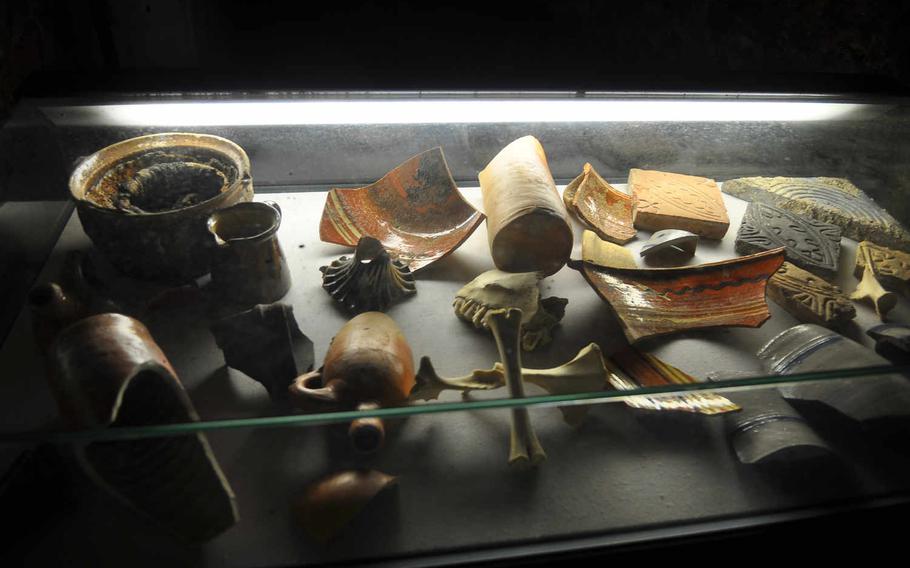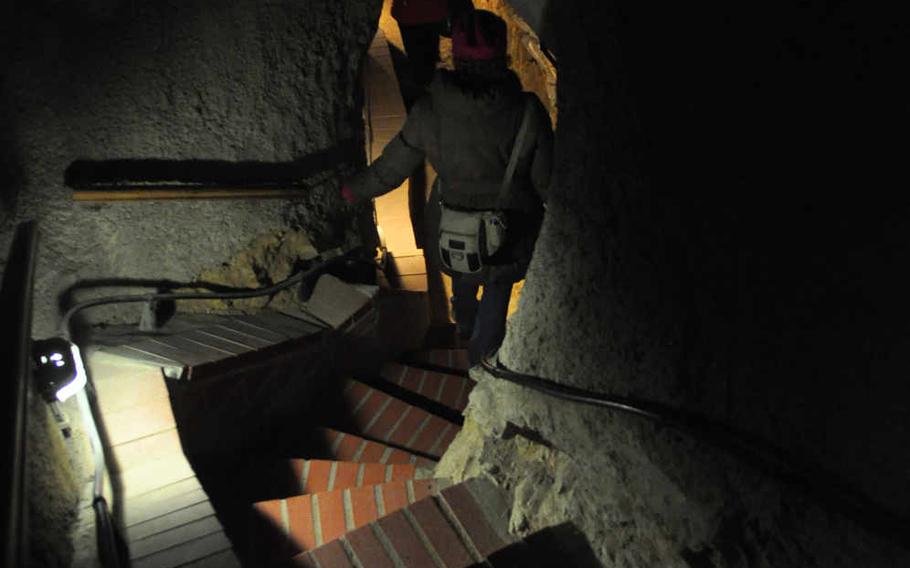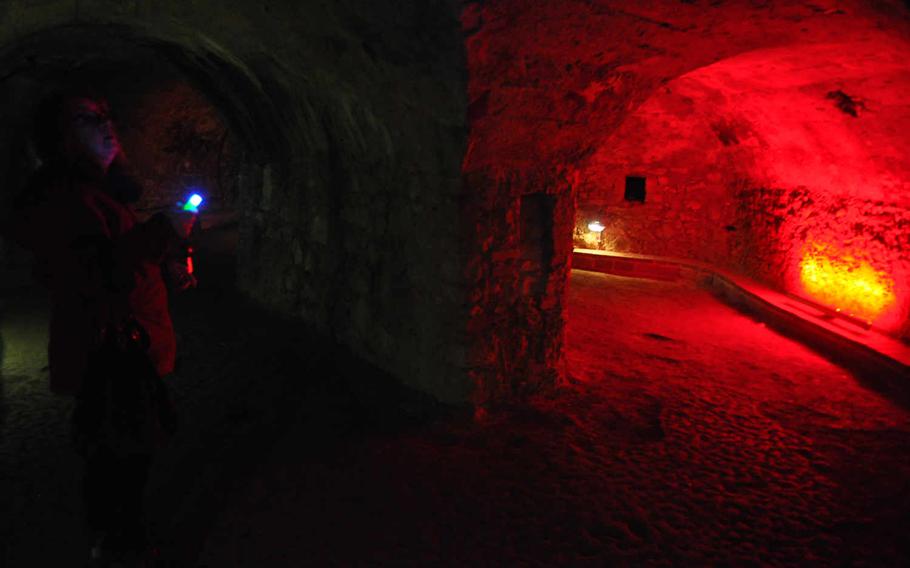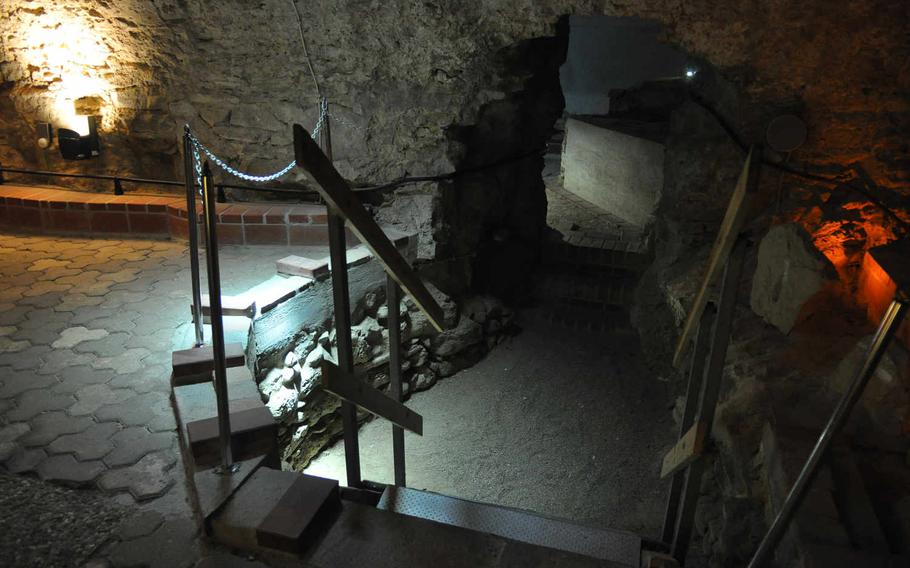 Oppenheim is one of my favorite places to visit along Germany's mighty Rhine River.
The town first took root on a hillside more than 1,200 years ago. Today, it lies within Germany's biggest wine-growing region, the Rheinhessen, but it doesn't take a glass of wine from a local vintner to appreciate Oppenheim's many historical charms.
On previous visits, I've enjoyed meandering through the narrow, cobblestone streets in the old part of town while walking past St. Catharine's Church, an imposing Gothic cathedral fortified with leering gargoyles. I always take a moment to pause for a hair-raising glimpse at the bone house. The ossuary in the cellar of the quaint Michael's Chapel, behind the cathedral, holds the skeletal remains of some 20,000 people from the town's ancient church yards, tightly stacked and on display behind a gated door.
Climbing higher leads to Landskron castle, open-air ruins atop a steep hillside surrounded by vineyards and views that stretch to the Rhine and beyond.
But one of the town's neatest features lies beneath. The Kellerlabyrinth is an underground maze of passageways connecting the many cellars of houses and buildings in Oppenheim.
I ducked below for an hour with a friend and Annette Pender, an Oppenheim native who occasionally gives tours of the "cellar labyrinth."
As we wandered through several levels of dimly lit tunnels, we stopped in several cellars and learned the history of the subterranean warren.
The first cellars, dug during the Middle Ages, were used as storage areas by home owners and merchants who came down the Rhine and sold their goods in the town's once bustling marketplace, Pender said. The soft yet sustainable loess soil and the underlying limestone made digging possible with primitive tools.
Later, during the Thirty Years' War, when Oppenheim was under siege, the townspeople hid in their cellars. "Someone must have had the idea to escape into the neighboring cellar, and they started to dig," Pender said.
During World War II, air raids forced residents underground, but the tunnels were mostly forgotten until the early 1980s, when a police car famously sank partway into one of the passageways.
Many of the tunnels and cellars were restored, reinforced and first opened to the public for tours about 16 years ago, Pender said.
About 800 cellars lie under the city and about 650 are still in use. All are connected by passageways, though only about a fourth of the network is open to visitors.
The tunnels are open daily for group tours. Individuals can tag along on prearranged tours for a small fee. Hard hats are required — though I can happily report there were no falling rocks while we were underground.
Oppenheim Kellerlabyrinth DIRECTIONS
Oppenheim is about halfway between Mainz and Worms, near the Rhine River; it's northeast of Kaiserslautern, about an hour by car, and south of Wiesbaden, about 30 minutes by car.
TOURS
Two cellar labyrinth tours are available. Tour I covers a somewhat wide route about 500 meters (about 1,640 feet) long and exposes visitors to many floors at different levels. Tour II runs some 250 meters through narrow passageways and is suitable only for those ages 5 and older. Both tours are available in German daily for groups of 10 or more; they should be booked in advance. English-speaking guides are available by appointment only.
TIMES
The cellar labyrinth is open 10 a.m. to 5 p.m. Mondays to Fridays and 10 a.m. to 4 p.m. Saturdays and Sundays from Nov. 1 to March 31; 10 a.m. to 5 p.m. Mondays to Sundays from April 1 to Oct. 31.
COSTS
Tour I for up to 10 people or Tour II for up to 12 cost 70 euros; otherwise adults pay 7.50 euros per person, ages 5-16 pay 4 euros, and those under age 5 enter for free.
FOOD
Oppenheim has a variety of restaurants and cafes. Hours are more limited during winter.
INFORMATION
Cellar tours can be booked at the tourist information office at Merianstrasse 2a (down the hill from St. Catharine's Cathedral) or by calling (+49 ) (0) 6133 4909-19 or 14; email: info@stadt-oppenheim.de; website: stadt-oppenheim.de
UPCOMING EVENTS
Oppenheim has a number of special events planned in the spring, summer and fall, including an Easter market, gourmet hike, Middle Ages market and several wine festivals. For information, go to www.stadt-oppenheim.de/events.
Visitors can explore cellars below German city
---
---
---
---