Venice: Adopting a flirtatious, mysterious air for Carnevale
by
Thomas Longbottom
February 19, 2004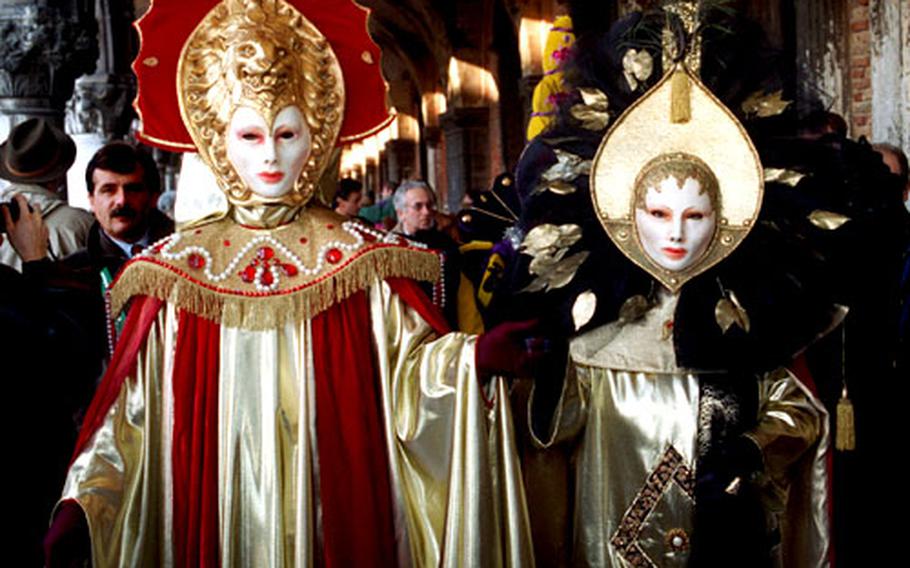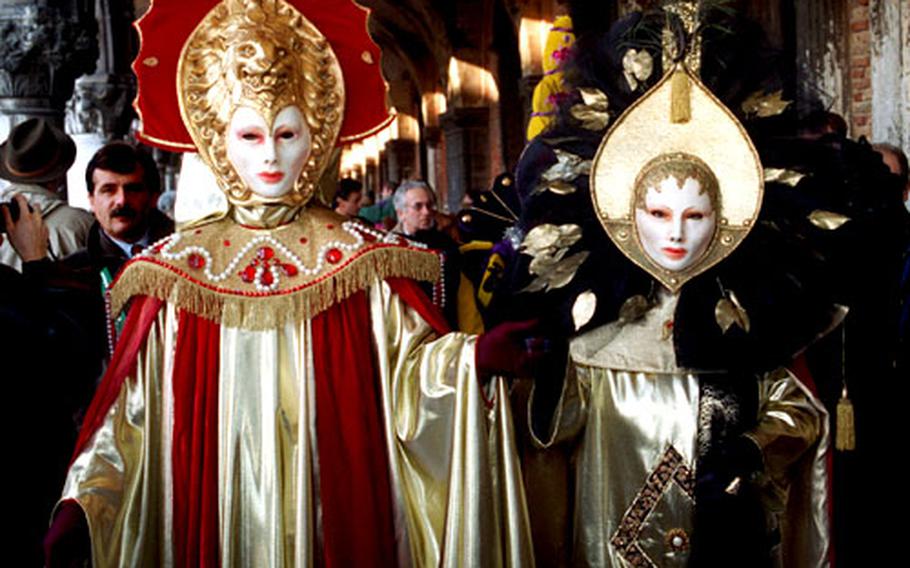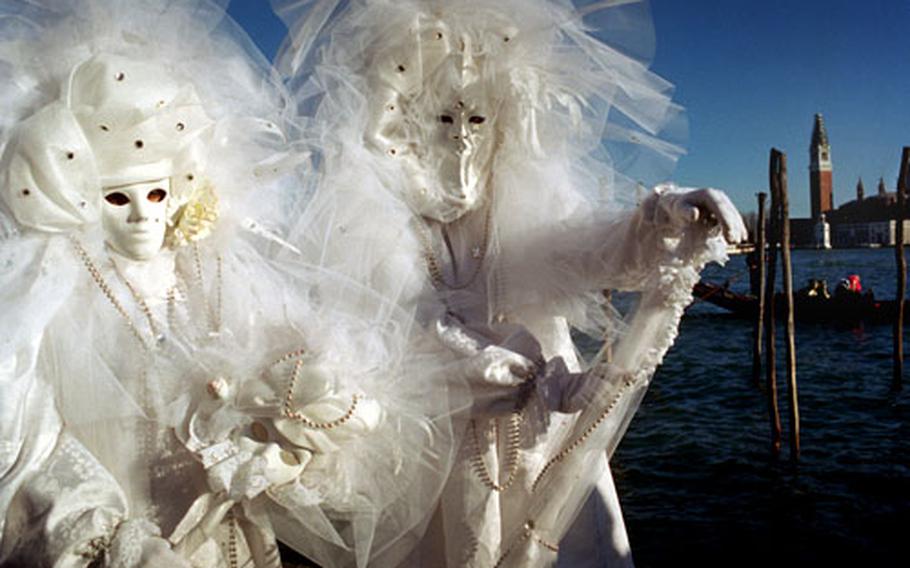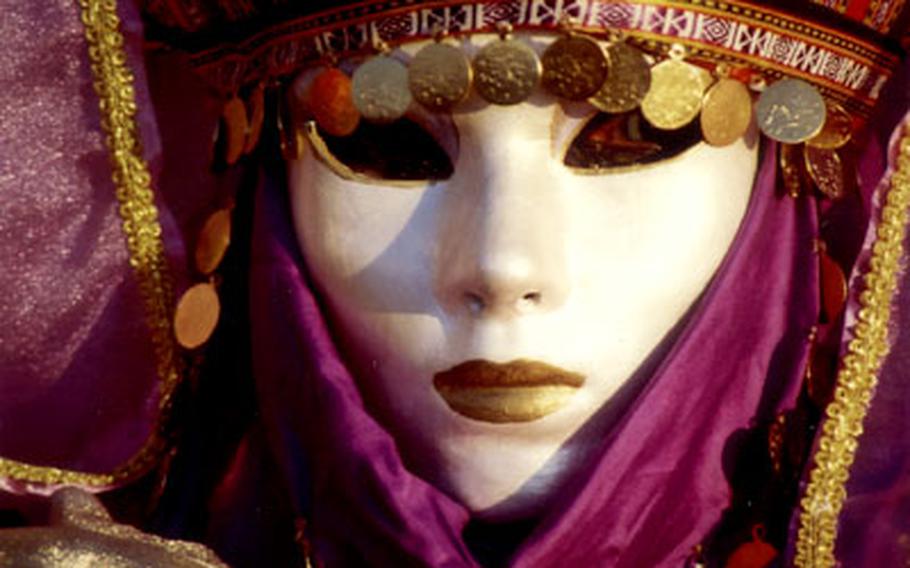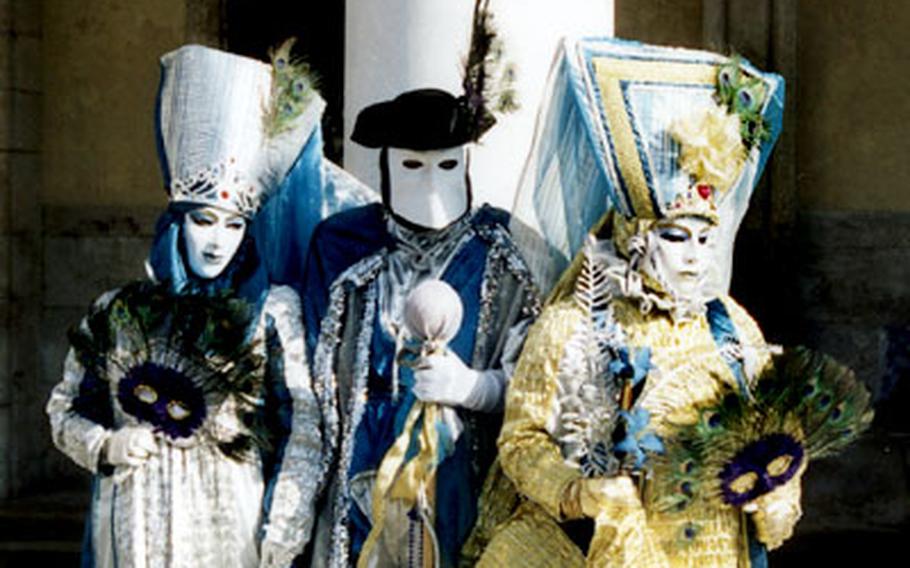 An intriguing city at any time of the year, Venice is especially delightful during Carnevale.
Venetians have prepared for the annual abstinence of Lent since the 11th century by preceding it with raucous celebrations, extravagant parties and balls, and general mischief.
Masked anonymity gave people license to commit all sorts of tomfoolery without embarrassment or inhibition. Social barriers were dismantled, and mask-wearing nobles could seek romantic assignations with commoners. Infidelities were committed without fear of exposure. Sometimes the scandalous behavior descended into outright debauchery.
These are tamer times, although there is still a certain amount of mischief. The tradition of throwing perfume-filled egg shells in front of potential paramours — and eggs filled with not quite so pleasant an aroma at others — carries on, and the mystique of the masks still attracts a certain level of flirtation.
Just ask Karen Rose, a Department of Defense middle school teacher from Schweinfurt, Germany, who attends Carnevale each year with a group of friends and teachers dressed in elaborate costumes. She laughingly reports being invited for coffee by tall, dark, handsome Italian men with no idea who is behind her mask.
The activity of Carnevale and Venice centers on the Piazza San Marco. That's where participants can see the lavish costumes, masks and parades. They have their faces painted with intricate designs by one of the numerous artists who set up shop on the periphery. And they try to identify the traditional masks and representative costumes seen throughout the crowd.
The Plague Doctor wears a black gown and beaked, bespectacled mask. The classic white Bauta mask with its lower portion extending away from the face in a manner said to disguise the wearer's voice as well as features, is usually worn with a tricorner hat and a black cape. The Moretta, a darkly colored mask worn by women, is kept in place by a button held with the front teeth, which renders a forced silence. The Gnaga is typically a man in women's clothing, and he is often seen carrying dolls as babies.
The theme for Carnevale 2004, which continues through Tuesday, is "Oriental Express: Masked Journey on the Silk Road." The city is hosting music, art, acrobatics, dance and entertainment inspired by the cultures of India, Thailand, China and Japan. The costumes and masks will reflect motifs from the Far East as well as traditional designs.
Venetian masks make fabulous souvenirs, and shops galore offer them for sale. The relatively cheap, mass-produced plastic and ceramic masks are an easy buy at canal-side kiosks, and they will adorn many a tourist's face in the Piazza San Marco. For something to hang on the wall as a work of art, look for the more expensive papier-mâché ones handcrafted by artisans and available in the upper-scale shops and studios.
Some of the events of this year's Carnevale were planned with the child in mind. Attractions such as an ice skating rink, a circus tent, clowns, mimes, street artists, magic shows and inflatable play structures in the Campo San Polo and the Campo Sant' Angelo will keep children entertained. However, bear in mind that the numerous steps and arched bridges over the canals can make stroller use difficult, although not impossible. Using a backpack-style child-carrier can be a good way to get around with a small child.
The squares and alleys can get very congested, at certain times to the point of stopping you in your tracks. Be sure to talk to your children beforehand about what to do if they get separated from you — and then stay together.
Shutterbugs will find Carnevale a target-rich environment. Amazing sights await around almost every turn. If you find yourself having to jockey for position with elbows wide, come out just after dawn to share wide-open spaces and delicious morning light with just a handful of other photographers. Subjects facing west, such as the facade of the Basilica San Marco, are best captured on film in the golden hour of late afternoon.
If a person in costume offers you a card after you have taken a picture, accept it. It probably will tell where to send them a copy of your photo.
And remember when you are focusing your camera lens on that exotically costumed vision of color and form, you never know whose eyes might be staring back at you through the mask.
Thomas Longbottom is a civilian living near Schweinfurt, Germany. E-mail him at thomaslongbottom@yahoo.com.
If you go ...
Getting there: You can reach Venice most conveniently by trains, which arrive at the Ferrovia Santa Lucia. A few steps from the terminal is the Grand Canal and relatively easy hotel access by boat and foot.
If you're driving, there is a large pay parking lot at the edge of the city with easy access to the public water launches and the quicker, but more expensive, private water taxis. Drivers should take into account the steep parking fees as well as the costly highway tolls along the way.
Lodging: Finding a place to stay during Carnevale can be quite difficult if you have not made reservations well in advance, but it is not impossible. Be prepared for it to be expensive. Try these Web sites: www.invenicehotels.com, www.inveniceapartments.com, www.veniceworld.com, www.doge.it and www.venetia.it.
Rooms will be hardest to find close to San Marco, the center of activity. Try one of the other areas, such as Cannaregio or Dorsoduro.
More information: The official Web site for Carnevale 2004 is www.carnevale.venezia.it. Click on the button in the top right corner for the English version. It contains a detailed schedule of events.
— Thomas Longbottom
---
---
---
---