Uijongbu: Bukhansan National Park has it all ... and then some
by
Stripes Seth Robson Stars
May 6, 2004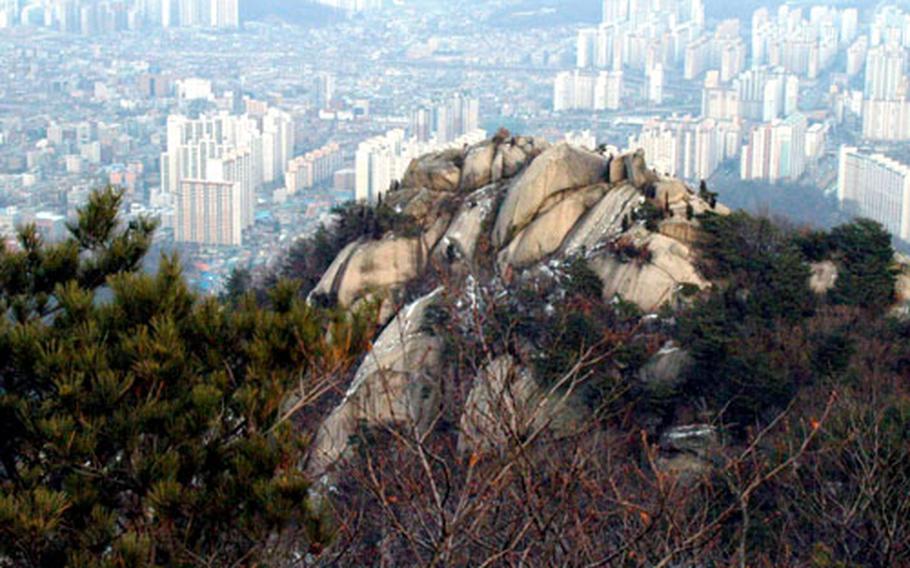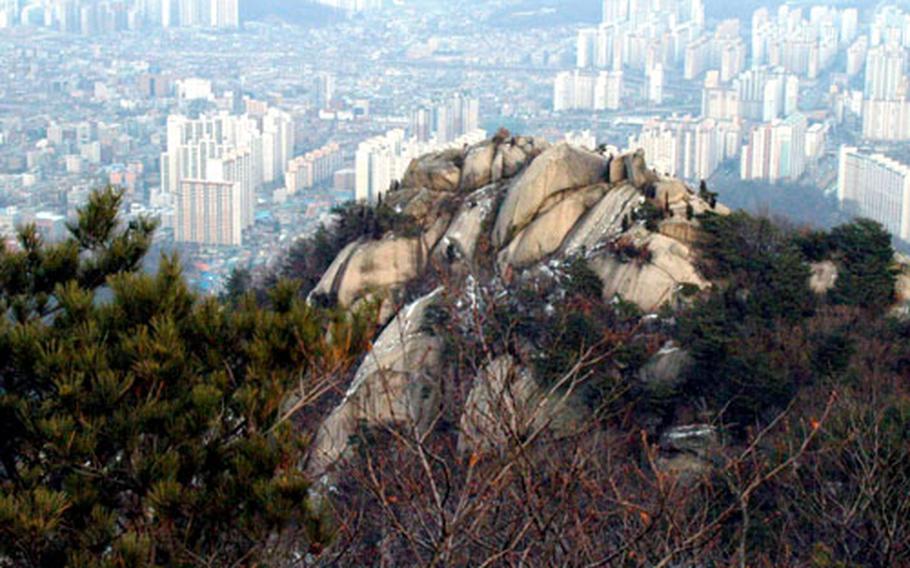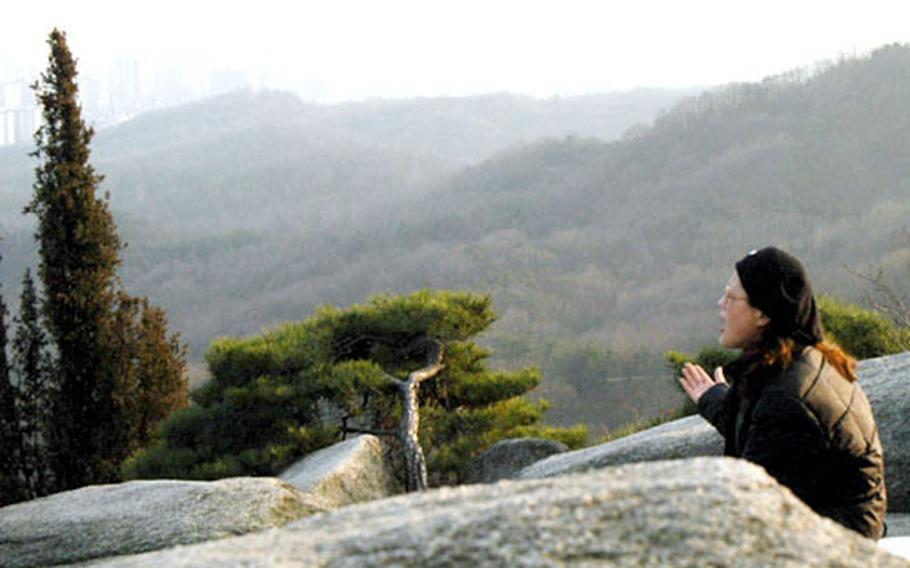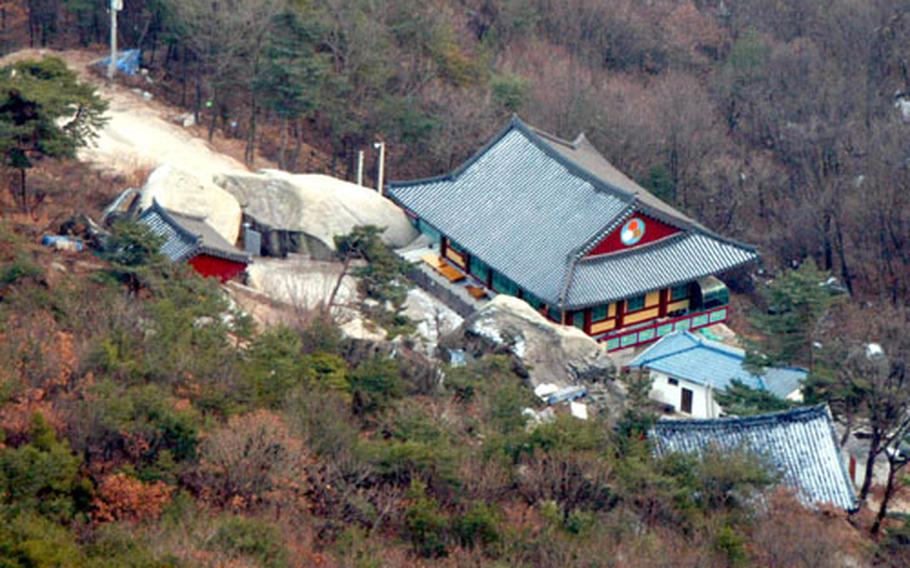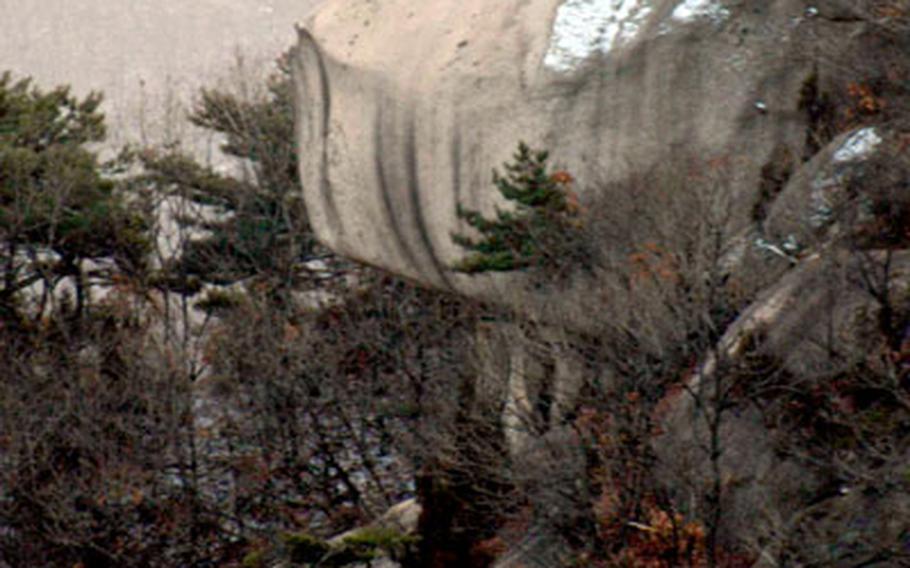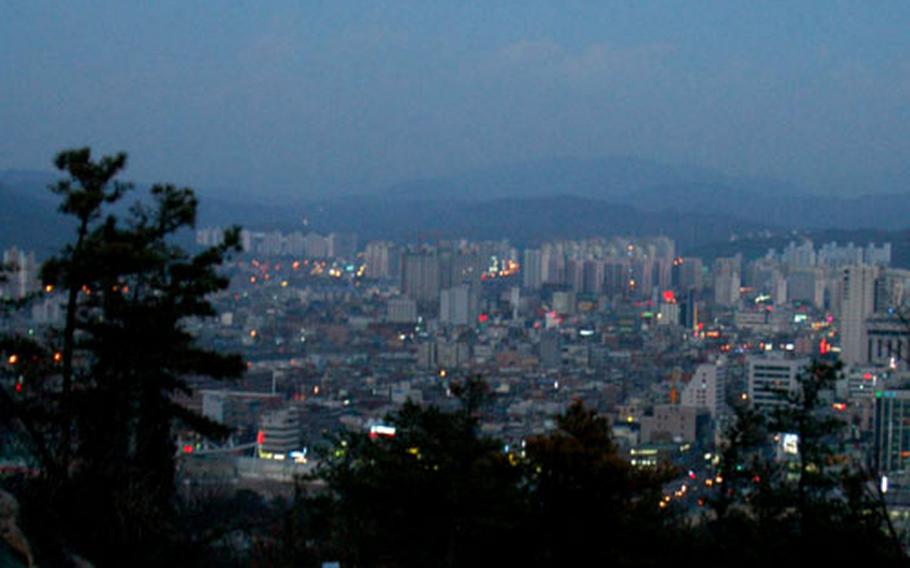 UIJONGBU, South Korea — Bukhansan National Park is one of South Korea's most popular hiking areas and only a short walk or cab ride from the front gate of Camp Red Cloud.
Several hiking trails lead to various peaks in this park, which encompasses the major mountain range north of Seoul.
One of the easiest ways to enter the park is along a trail that runs directly behind Uijongbu City Hall, crossing the freeway above a tunnel, and winding upward past old fortifications and trenches that look like they are still in use.
The path is steep, but the views of Uijongbu City, Camp Red Cloud, and the surrounding mountains around Seoul are rewarding.
By American standards, South Korean trails are crowded, and the locals are clearly serious about their sports. They're usually decked out in the latest Gortex jackets and space-age hiking boots, using fancy composite walking sticks and expensive photography gear.
Partway up the hill, there is an outdoor gymnasium where hearty locals can be seen playing badminton, working out with weights or even punching trees with their bare hands to practice martial arts.
Further up is a tollbooth, not always staffed, where hikers must pay a few thousand won to pass.
The vegetation includes sparse pines and deciduous species clinging to rocky outcrops that become giant cliffs and boulders deeper inside the park. About 1,300 species of animals and plants live here, government wildlife officials say.
It takes about an hour of steady hiking to reach the closest ridgeline to Uijongbu. At times ropes and guardrails are provided to help hikers surmount the steep trail.
From up here, the view stretches for miles — revealing mist-shrouded mountains that seem to go on forever. It's rumored that Seoul Tower is visible from here on a clear day.
Down in the valleys, hidden temples and shrines draw South Koreans to worship, chant and sing in private spots amongst the trees.
Rock climbers will find plenty of challenges amid the cliffs and granite boulders, which appear solid enough to provide reliable handholds.
Up here, strange birds circle high above the city, which seems out of place far below the trees and boulders attached to the mountainside.
Dobong Mountain is the highest point visible from Uijongbu and is famous for its magnificent rock walls, including Manjangbong, Seoninbong, Uiam and Jaunbong — the highest peak (around 2,500 feet) of the mountain.
The valleys and forests stretch out all around the mountain and display beautiful features that change as the seasons turn. In winter, it is important to bring good shoes because the trail becomes extremely slippery and is difficult to negotiate, especially on the way down.
Climbing times range from three hours and 30 minutes to seven hours depending on the course you choose and how many sidelights you want to explore.