Turin: Royal villas
by
Jim Sajo
December 14, 2006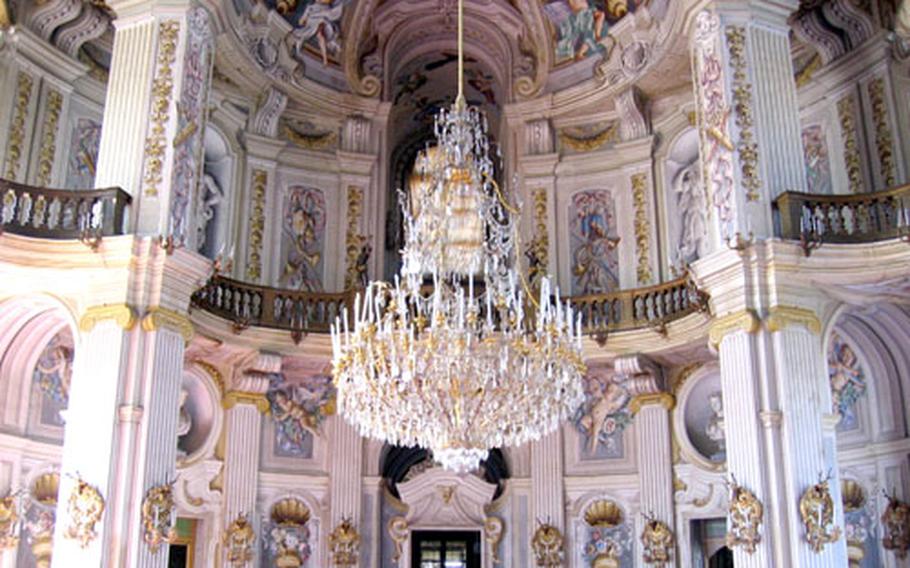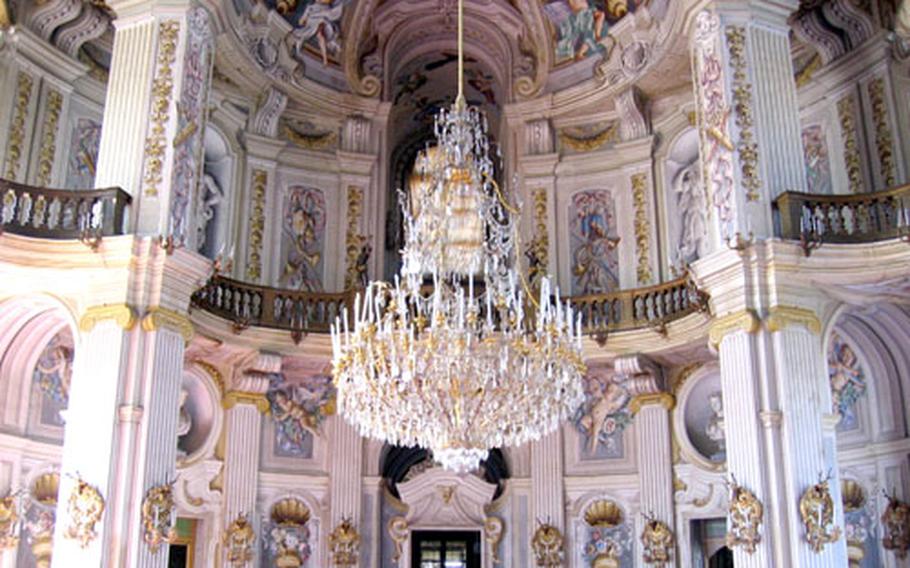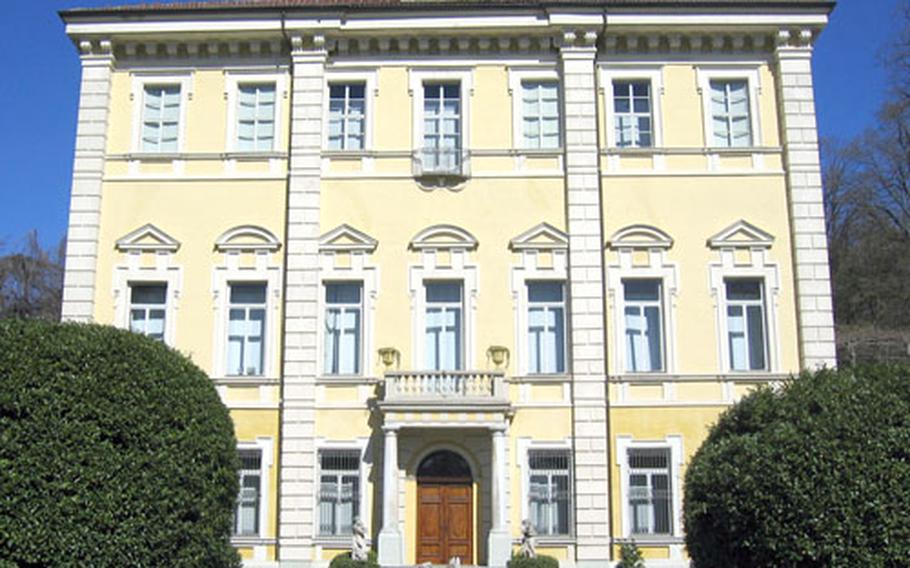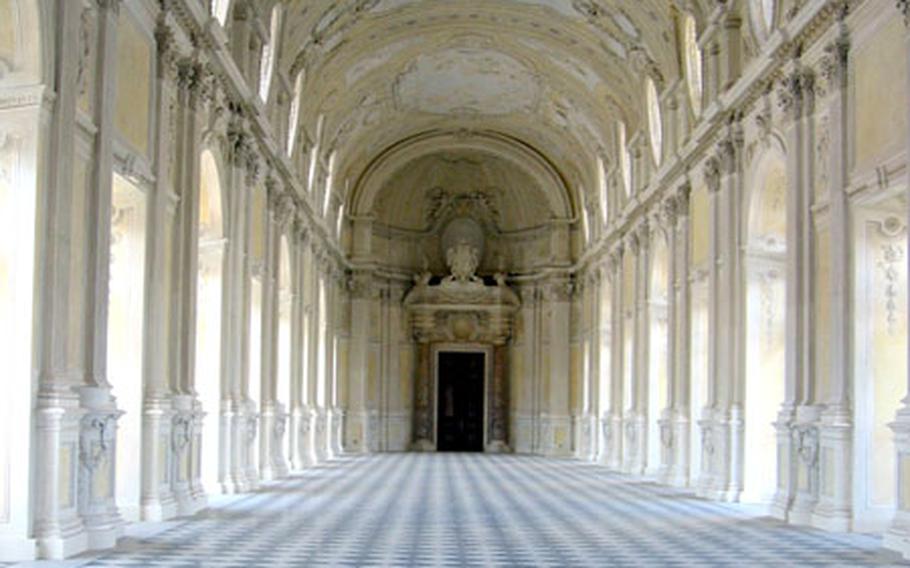 The 2006 Winter Olympics focused attention on Italy's Piedmont region and its winter sports facilities. But if you're not thinking of hitting the slopes, what can you do there?
My advice: Go see the magnificent villas of the Savoy dynasty.
When Emanuele Filiberto, the Duke of Savoy, moved his capital to Turin in 1562, he launched a series of building projects to demonstrate the power of his ruling house. Today, 22 royal residences built or rebuilt in the province of Turin during the Savoys' 350-plus-year reign are designated as a single World Heritage Site by UNESCO in recognition of their historic and cultural value.
Here's a look at five of them:
Rivoli PalaceThis palace sits high upon a hill overlooking the entrance to the Susa Valley, the site of last winter's Olympic ski events. It was built as a defensive stronghold in the 11th century. A military force stationed there could control the passes from France and the plain where Turin lies.
The royal family redesigned and enlarged the fortress. The varied architectural styles and eclectic art collection inside reflect the changing tastes throughout the years.
As is the case with many of the important villas, Rivoli fell into decay and limited use in the late 19th and early 20th centuries. During World War II, Germans occupied it and seriously damaged it as they left.
Today the rebuilt palace has exquisite paintings, frescoes and marvelous stucco works. It also houses a contemporary art museum and hosts important exhibits.
Moncalieri CastleBuilt by the Knights Templar in the 10th century, Moncalieri Castle is another fortress taken over by the Savoy family. With its commanding position overlooking the Po River — and the only bridge at the time — its location was of strategic importance.
Each generation of Savoy monarchs added art or embellished the imposing edifice with military appurtenances. Two of the four original cylindrical corner towers are still standing.
In the 19th century, Duke (later King) Vittorio Emanuele II chose it as his favorite residence and commissioned work to make it suitable for his court. Curiously, the most common events were state funerals.
A massive and austere structure, it is currently home to a battalion of Italy's Carabinieri force, but remains open to the public for guided visits. Especially noteworthy is the Hall of Mirrors.
Vigna di Madama RealeThe term vigna or "vineyard" referred to a country home in the 17th century, a category that fits the Vigna di Madama Reale, "Vineyard of the Royal Lady." For the Savoys, a country home was an expression of wealth, taste and influence. The Vigna di Madama Reale, with its spectacular gardens and park, was the regal home of Savoy Regent Maria Cristina.
Married to Duke Vittorio Emanuele I as a teen and widowed in her early 30s, Maria Cristina was regent until her son, Carlo Emanuele II, was old enough to rule. A woman of extraordinary strength and vision, the "royal lady" defeated invading French and Spanish armies and outwitted jealous brothers-in-law who tried to take her power.
During her regency, Maria Cristina restored and expanded many Savoy estates, but the vigna was hers to design and build. After her death in 1663, the villa was rarely used.
For a century, the estate passed from one wealthy family to another. In the 1980s, the San Paolo Co. purchased and donated it to Turin. It has been refurbished and furnished with original pieces from Maria Cristina's time. It still has a special view of the city.
StupinigiThe "Palace of Delights," Stupinigi is the best known of the Savoy villas. In 1729, Vittorio Amedeo II commissioned Turin's greatest architect, Filippo Juvarra, to build a hunting palace. The result is a stunning example of rococo architecture and arguably Juvarra's finest work. Imposing and elegant, every detail, from the magnificent central hall to the stylish bedrooms, is a celebration of celebrating.
Exquisite inlaid furniture, massive paintings with scenes of hunting and feasting, elegant clocks, and soaring statues honor the strength and influence of the Savoys. Artists, furniture makers, and builders from across Europe helped complete Juvarra's vision.
The palace symbolizes the apex of Savoy power and wealth. It was used for not only hunting excursions, but also for weddings, baptismal feasts and any other occasions to party.
Today, a furniture museum featuring original pieces and recently recovered works from the period occupies a portion of the estate. Stupinigi is the venue for frequent concerts, conferences, and international exhibitions.
Venaria RealeCalled "The Versailles of Italy," the Venaria Reale is unquestionably the most important Savoy villa. It is comprised of the Reggia, or royal palace, the massive Mandria Park of hunting lands-turned nature preserve (including a smaller but no-less-impressive castle), and the modern village of Venaria Reale.
The complex was part of the ambitious design of master architect Carlo di Castellamonte, and combined the vision of Duke Carlo Emanuele II (Maria Cristina's son) with Castellamonte's skill. The project, which took around 150 years to complete, united art, architecture, nature and a community into one entity.
The Reggia was a lodge dedicated to Diana, goddess of the hunt. The Duke wanted his hunts to involve the entire court, so he built the village of Venaria Reale to provide all the support needed when the royal household stopped by. Silk factories made it productive and the village took on a life and commerce of its own.
The Reggia was used increasingly less during the late 18th century, transformed into a barracks in the 19th and eventually abandoned in the 20th. In the 1970s, meek efforts at restoration stalled and Venaria Reale seemed destined for an anonymous end.
However, an ambitious restoration project is now under way. Part of the gardens are open to the public and more will be restored in coming months. By the end of 2007, the Reggia will see regular use as a concert venue, a Museum of European Court Life, and an exhibition center. An International Horse Center will soon open in the castle and on the grounds of Mandria Park.
Jim Sajo is a freelance writer living in northern Italy. His book, "Turin, A Local's Guide to the Olympic City" is available on Amazon.com.
Getting thereTurin can be reached easily by car, train or plane.
Autostrada A4 connects Turin to Milan. To avoid traffic delays around Milan, try A21, which approaches Turin from the southeast.
There are frequent rail connections from Milan; the trip takes less than two hours. If flying, check out the discount airlines: Turin's airport is served by Ryanair, Air One and easyJet.
¶ TOURS: Guided tours of the villas are available but not required. Reservations are necessary for group tours. Admission in most cases is 6.50 euros. The Torino Card, available at city tourism outlets for 16 euros for 48 hours and 18 euros for 72 hours , grants entrance to all of the villas along with public transportation.
¶ HOURS: Rivoli Palace is open 10 a.m. to 5 p.m. Tuesday through Thursday. It can be reached via Bus 36 from downtown Turin.
Moncalieri Castle is open 9 a.m. to 1 p.m. Thursday, and 9 a.m. to 12:30 p.m. and 2-5 p.m. weekends. Take Bus 45 from central Turin, then transfer to 39, which stops in front of the castle.
Vigna di Madame Reale is not normally open to the public, but free admission to the gardens will resume when repair work ends in 2007. It can be reached via Bus 53.
Stupinigi Palace is open 9 a.m. to 12:30 p.m. and 2:30-5 p.m. Tuesday through Saturday. Bus 41 from Turin's Lingotto train station drops visitors at the entrance.
Venaria Reale is open 9-11:30 a.m. and 2:30-5 p.m. weekends during the winter, and 9-11:30 a.m. and 2:30-6 p.m. Tuesdays, Thursdays and weekends during the summer. The park is open daily until dark. It can be reached via Bus 11 or 72 from Turin.
— Jim Sajo