Try Berlin's Cold War museums for intrigue
---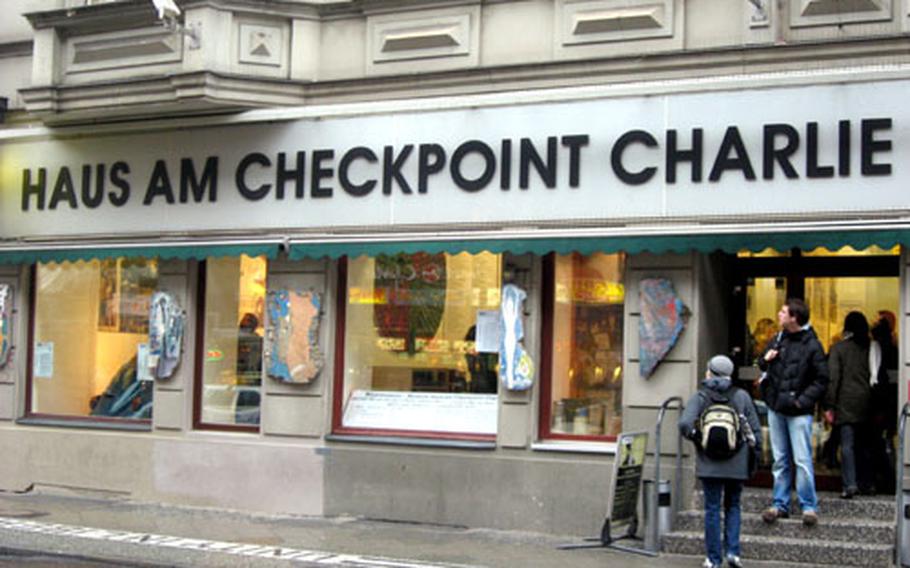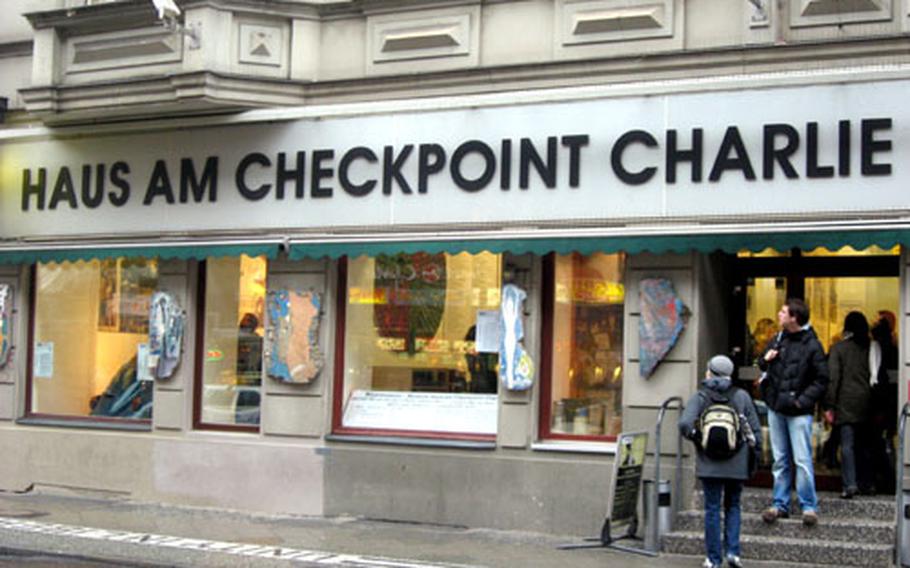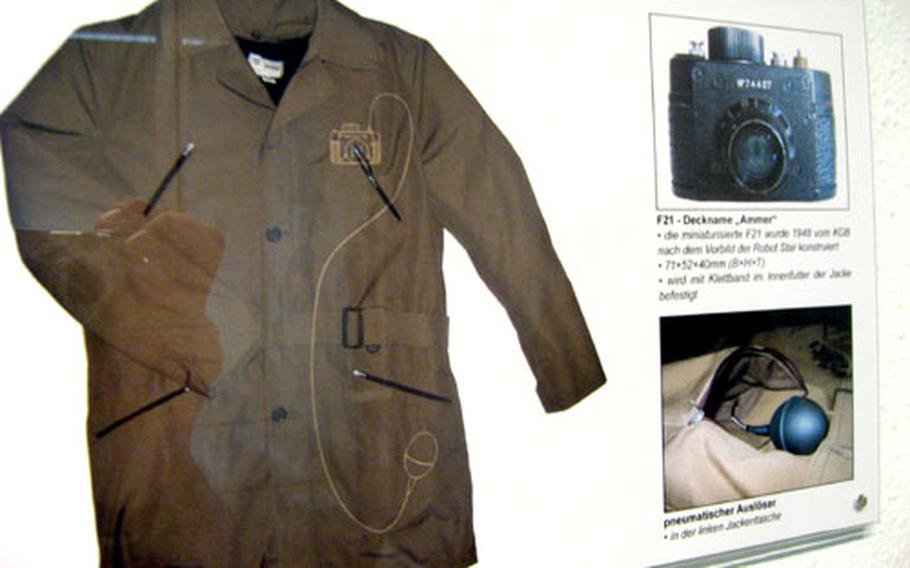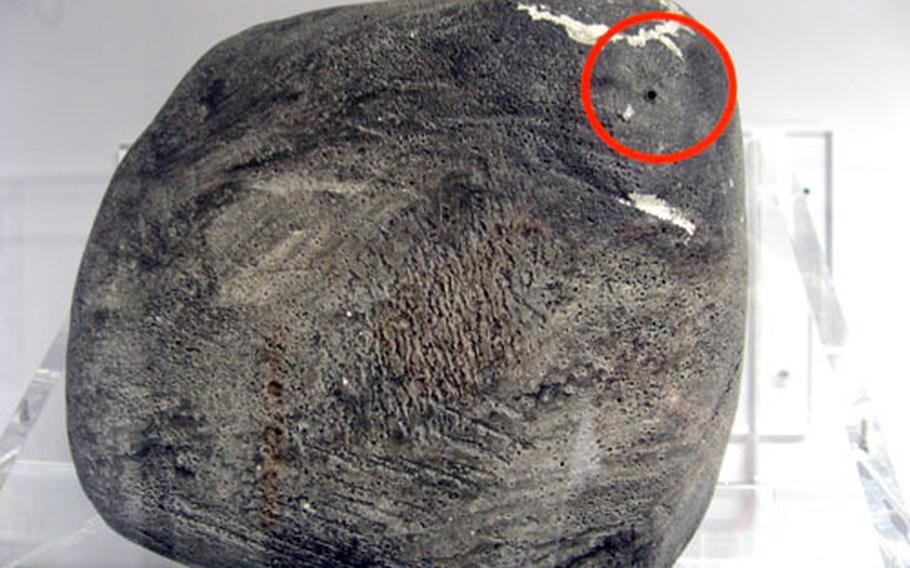 You want museums?
Berlin has dozens. One about blind people, one dedicated to The Ramones, and even one on the different uses of cannabis. And there are the usual ones, too, on art, science and (yawn) culture.
But let's get to the reason we are here — we being the "Amerikaners" and "the reason" being why we established bases in Germany.
On a single day, moving with stealth like an enemy of the state, it is possible to see two museums that explain Berlin of the 1960s and '70s: the Museum Haus am Checkpoint Charlie and the Stasi Museum.
During the Cold War, Checkpoint Charlie was a gateway between East and West Berlin. It helped control movement between the two, and kept the East Berlin communists separate from the West Berlin capitalists. It was a passage for both freedom seekers and spies.
Which brings us to the Stasi, the East German secret police — repression in the name of state security.
Berlin still oozes Cold War aura. One can feel it while wandering through the dreary east side, past its mass-built apartment monstrosities and its cheerless storefronts.
It is what it is, so to soak up a little bit of why, it helps to stroll through the not-so-distant past.
Much of the Checkpoint Charlie museum is about the smuggling of people and failed escapes. After all, there's not much point to a checkpoint unless one wants to get to the other side.
One display shows two suitcases laid end-to-end. But actually they are attached and make one long suitcase, big enough to hold a small escapee. Fits nicely in the trunk of a westbound Mercedes. With a couple of air holes, you're good to go.
Fake uniforms and forged documents are there, too. They make great getaway gear.
There are stories and photos about false bottoms and tunnels and desperate people caught in barbed-wire trying to get past the Berlin Wall.
Believe it or not, some people chose not to flee to freedom but to fly. In 1979, the Strelczyk and Wetzel families built a hot-air balloon using sewn-together canvas and bed sheets, four propane-gas cooking tanks, a cast iron platform on which to stand and ropes on which to hold.
Then eight of them — eight! — soared into the night aboard this ramshackle contraption. According to the story, they floated along at an altitude of 6,500 to 8,500 feet, high enough so the search lights could not reach them.
When they reached West Germany and were landing, they ran out of propane about 15 feet from the ground and crash-landed. Or so the story goes. They lived. The balloon is on display at the museum.
The displays at the Checkpoint Charlie museum are a tad wordy; that is, there is plenty to read in English next to the displays on the walls. If you're feeling lazy, rent one of the handheld audioguides. They help.
Across the Spree River from downtown and deep into Berlin's east side looms the former headquarters of the Ministry for State Security. This is where the Stasi and other apparatchiks came up with ideas for spying on people, among other skullduggery.
See that birdhouse over there? Ever wonder why no birds fly in and out of it? It's because they can't squeeze past the camera that's hidden inside.
A dented steel barrel? Camera inside! Slightly unzipped jacket pocket? Camera! Funky handbag? Tape recorder!
The good guys had their ways, too, such as hiding subversive newspapers inside bicycle tires.
Sword-and-shield propaganda hangs from the walls. And, naturally, there are authentic beer steins adorned with logos and slogans of the Eastern bloc.
The very offices of the state security minister himself have been preserved. Don't go in expecting baroque. It's totally retro. Think old James Bond movies.
The entire Stasi Museum is in German, but one doesn't have to sprechen Deutsch to get the gist. Small books in English for sale at the entrance for a few euros help explain the place.
Neither the Checkpoint Charlie nor the Stasi Museums is a mind-blower. They are somewhat stark, a little rigid and no-nonsense. It kind of sets the mood.
Checkpoint Charlie• Museum admission: 12.50 euros for adults, 7.50 for students, free for those younger than 11; discounts for groups; free lockers for personal items.
• Gift shop: Pretty good one with lots of books and paraphernalia. Texts in German, English, French and Russian.
• Address: Friedrichstraße 43-45, D-10969 Berlin-Kreuzberg.
• Phone: (+49)(0) 3025-37250.
• Web: www.mauermuseum.de (there is an English link).
Stasi Museum• Admission: 4 euros for adults, 2.50 for students.
• Gift shop: Not yet. The museum is new.
• Address: Ruschestrasse 103, Building 1, 10365 Berlin-Lichtenberg. Enter by way of Normannenstrasse, an adjacent street.
• Phone: (+49) (0) 3055-36854
• Web: www.stasi-museum.de/en/enindex.htm
English language tours can be arranged in advance.
— Charlie Coon
Photos by Charlie Coon/Stars and Stripes
The museum at Haus am Checkpoint Charlie was expanded from a two-bedroom apartment overlooking the checkpoint, which separated East and West Berlin during the Cold War.
A jacket outfitted with a spy camera is on display at the Stasi Museum in Berlin. The Stasi were the East German secret police whose job was to suppress opponents of the state.
---
---
---
---