Trier: Playthings of the past
by
Jennifer H. Svan
September 15, 2009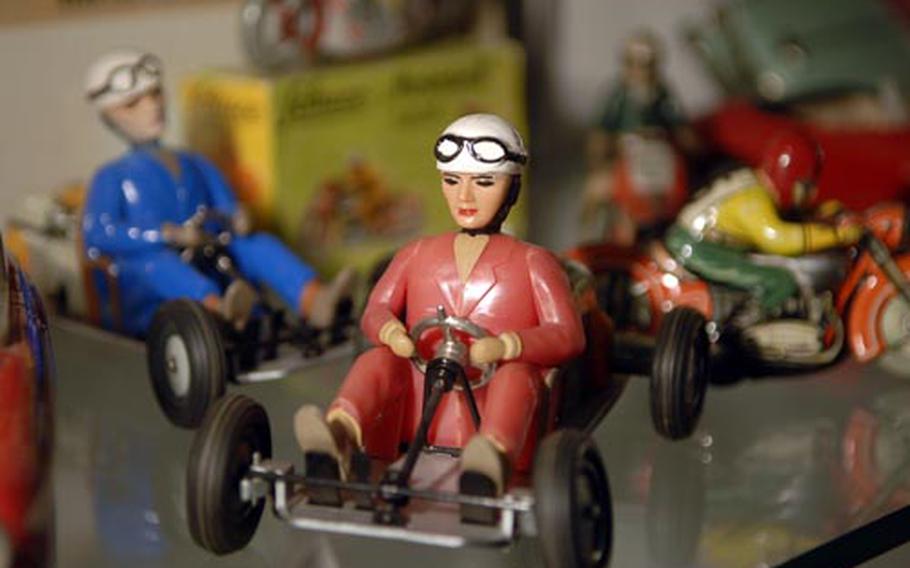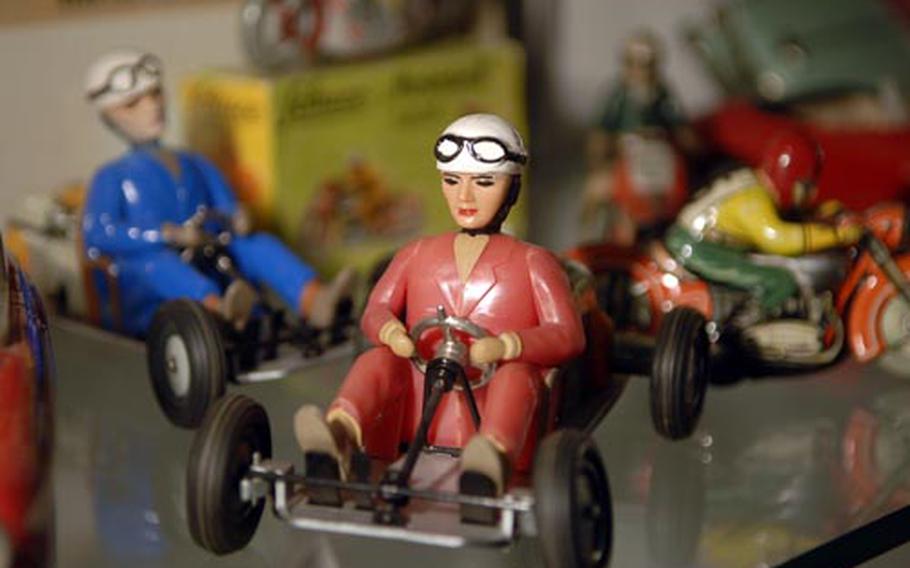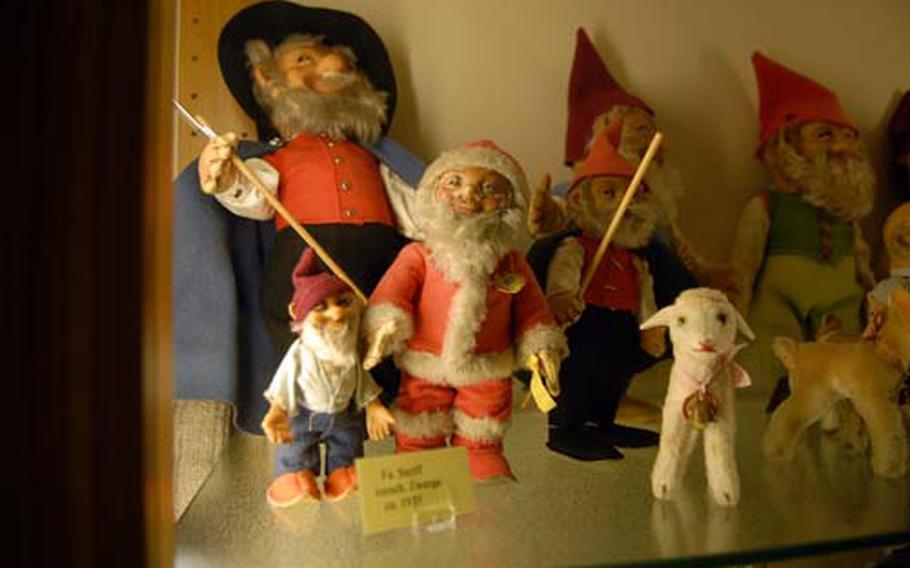 Imagine having 5,000 toys.
And not playing with them.
That's a hard sell for a kid of any age, but especially for my 5-year-old.
Most of the thousands of toys in the Spielzeugmuseum — toy museum — in Trier, Germany, are on shelves, behind glass and out of reach of little hands.
Though my daughter tended to flit like an agitated wasp from display case to display case, a few things grabbed her attention. She was fascinated by an elaborate electric train set complete with a miniature German village scene and various figurines of people at work. Most exciting was when the train disappeared into one of several tunnels and we tried to guess where and when it would reappear.
She also was enamored of the futuristic collection of metal-made rocket ships, robots and flying saucers; although she was a bit disheartened to learn none were for sale. I had no complaints about that.
The toys at the Spielzeugmuseum range from the modern to ancient. The oldest is a stone cube with what appears to be faint symbols, dating to 800 B.C. Perhaps it was an early precursor to the white-and-black die.
Other oldies include a dancing bear from 1880, Steiff dolls from 1935 and toy soldiers from the Third Reich, including a tiny tin blue-eyed Adolf Hitler riding in a topless Mercedes.
German toy collector Robert Scheurich amassed the collection while the owner of several toy stores. He eventually sold his collection to the present owner, who wishes to remain anonymous, according to museum staffers. The museum opened in 1989.
Perhaps through his collection, Scheurich was reliving his childhood: The museum's contents clearly favor a typical boy's toys of choice — trains, automobiles, planes, trucks and race cars, in miniature form — reign supreme. Most of the toys are from Germany, though a few come from France, Japan and other countries.
I didn't spot any toys from my childhood. My favorites included anything Barbie, the "Six Million Dollar Man" and "Bionic Woman" action figures, "Charlie's Angels" playing cards, and games such as Parcheesi, Operation and Tiddlywinks.
But it was fun to see toys popular through the ages in Germany. Plastic, sadly, is all too common in modern-day toys. Many of the museum's toys from earlier decades were made of thin sheet metal, seldom seen today.
Spread over two floors, the museum is small but wide-ranging. It's probably better suited for older children and adults with an interest in collectible toys. The cost is only 4 euros per adult, and 1.50 euros per child, so it's definitely worth a peek if you're visiting Trier.
Stars and Stripes staff member Marcus Klöckner contributed to this story.
On the QTDirections
Take Autobahn 62 toward Kusel/Trier. Continue on Autobahn 1. Take exit 130-Autobahndreieck Moseltal to merge onto A602 toward Trier/Luxembourg/Longuich. Continue on B49 (signs for Saarburg/Konz/B49/Trier). Follow signs into the main city of Trier. The toy museum's address is Dietrichstrasse 51, D-54290. Look for parking near the main pedestrian zone. There is a mix of street and garage parking available but expect to walk a few blocks, as there isn't any parkingclose by.
Times
The museum is open 11 a.m. to 6 p.m. daily from April through December. From January to March it is open 11 a.m. to 5 p.m. Tuesday through Sunday, closed on Mondays.
Costs
Admission is 4 euros for adults, 2 euros for ages 11 to 18, 1.50 euros for ages 4 to 11. Guided tours by appointment cost 15 euros, plus the cost of admission.
Food
The museum has a cafe and you can get discounts on drinks there with your museum admission ticket. A variety of restaurants and outdoor cafes are near the museum in the pedestrian area.
Information
The museum's German-only Web site is www.spielzeugmuseum-trier.de. The museum provides a brochure with some information in English. The telephone number is (0) 6517-5850; its e-mail address is info@spielzeugmuseum-trier.de
---
---
---
---