This summer, Europe will rock you
---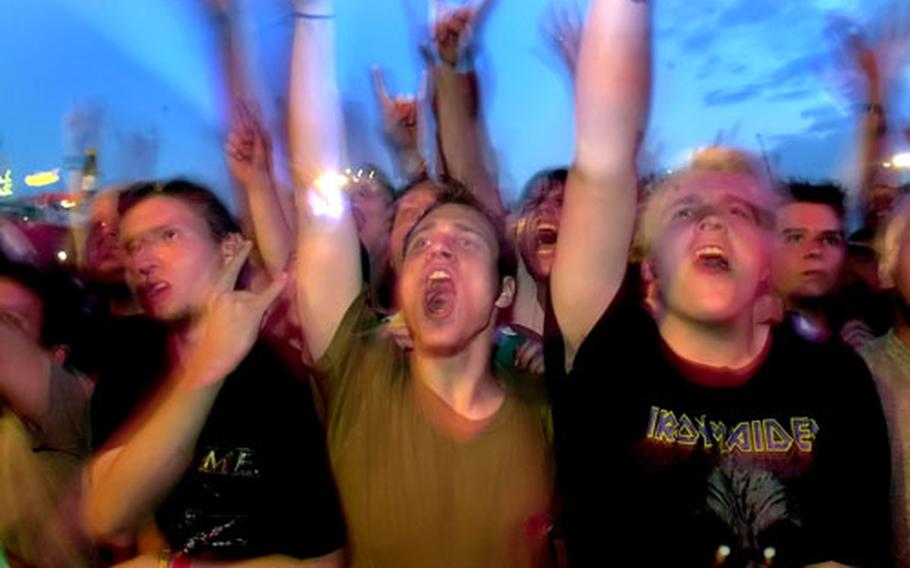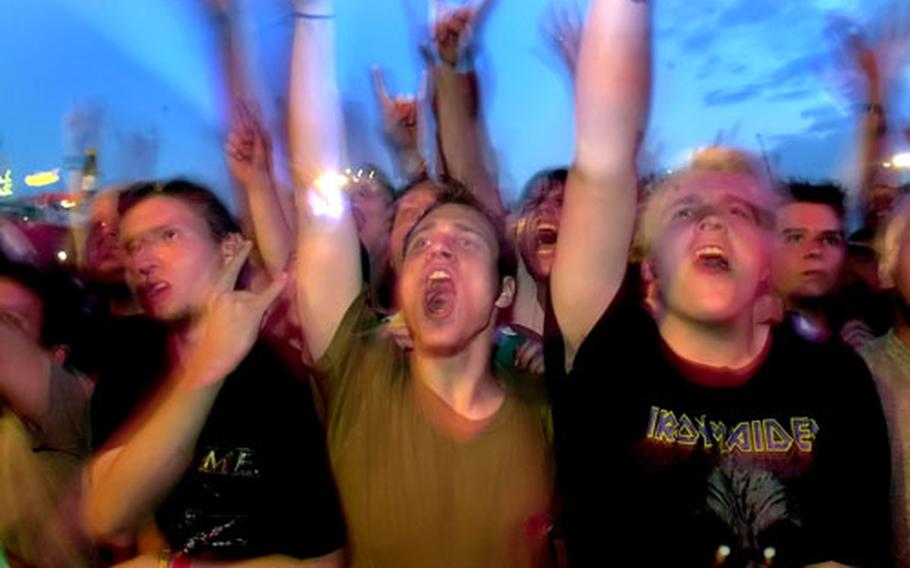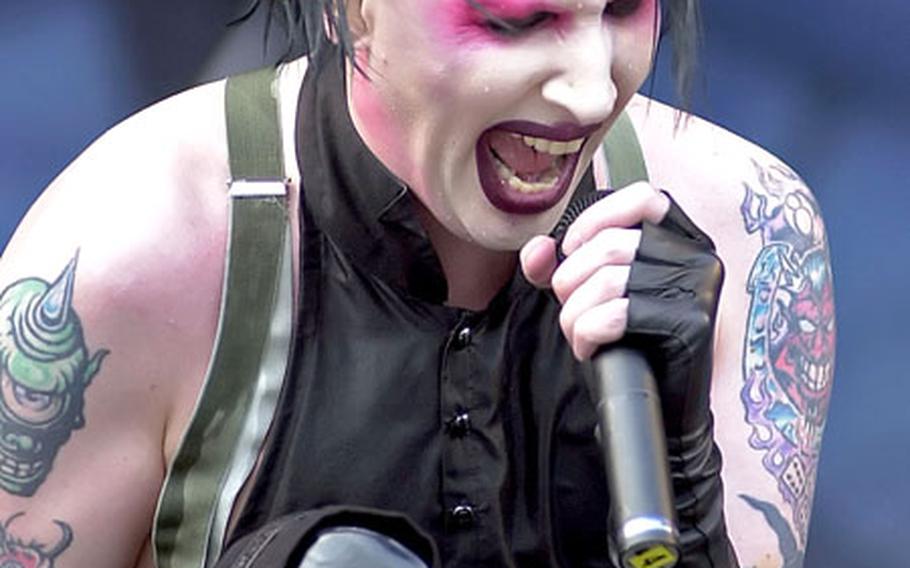 If you're into music, particularly hard rock, consider checking out a music festival this summer (see schedule).
From May to August, Europe abounds with them, and in such variety that fans have a wide selection of performers and venues.
If you're not into metal bands, you can easily find other music genres, such as classic rock, pop country, jazz and reggae. Acts as diverse as Kylie Minogue, Iron Maiden, Styx, Beenie Man, B.B. King and Oasis will be gracing Europe's stages this summer.
Most of the festivals in the following list — a sampling of summer highlights — are held in the open air. In the event of rain, you get wet. Sometimes very wet.
In that respect, Italy and Portugal's festivals have an advantage over those staged in Scandinavia. In the southern places, sunstroke is a more imminent threat than getting drenched.
Enjoying the performers is only part of the experience. To get the full festival feeling, try camping out, mingling with the other concertgoers, eating at the snack stands, picking up mementos from vendors and enjoying everything else that is available.
Attending a multiday music festival is something akin to journeying to another planet. You'll see alien-looking characters with hairstyles and piercings that beg the question, "What does this guy do for the other 364 days of the year?"
Festivalgoers are generally the open, sharing type. You might learn the life stories of the couple in the next tent, or find yourself divulging your own hopes and anxieties.
When the bands throw in the towel for the evening, the campsites themselves start to rock. Guitars come out and strangers jam. Viewpoints are shared passionately in various accents and languages in conversations that run until the wee hours. While there's generally no shortage of vice on offer, there's no pressure, either.
To enter into the spirit of things beforehand, check out the message boards on festival Web sites. You can enter the dialogue already in full swing among die-hard fans who are already counting down the days until the festival kicks off. Get advice on the best place to pitch a tent and weigh in on whether Green Day will play "Basket Case."
By the time the date rolls around, you'll be pumped.
Here are some tips gleaned from festival Web sites:
Buy tickets in advance, rather than riding in on the hopes of picking up tickets at the last minute. You will likely not only avoid frustration, but also save a tidy sum, because tickets from both official vendors and resale agents get more expensive closer to the starting date.Make camping arrangements well in advance. Some festivals sell a camping ticket separately on a first-come basis; others demand that fans have an all-event ticket to enter the facilities. For those not into all-night partying, some festivals offer quiet camping zones that increase the chances of a good night's sleep.Driving may be a pain. Roads get crowded and parking can be costly. Many festivals offer shuttle buses from the nearest train or bus station to the venue, and often a company affiliated with the event will sell bus/festival ticket combinations covering transportation from your home city.Children are welcome at some, but not all, events. Langelands festival in Denmark creates a family-friendly environment, and Cologne's Summer Jam promises a playground for baby dreds. Others, such as the U.K.'s Download festival, absolutely forbid those under age 5.When you get there, orient yourself to the whereabouts of the first aid and police assistance tents, just in case. Crowd surges and tramplings are rare but known to occur. Always be aware of your surroundings, have your eye on the nearest escape routes, and remain in control of your faculties at all times.After the show
If you decide to go to one of Europe's rock festivals, why not make a week of it and see what else is in the area?
Once the festival itself is over, it will be time to move on, and explore something beside the desolate, litter-strewn field where you and your fellow fans spent the last few days. Here are a few suggestions:
If attending the Nova Rock Festival from June 9-12 in Nickelsdorf, Austria, (far east side) you're well positioned to explore the cultural offerings of Bratislava, Slovakia, or to hike along that country's stretch of Carpathian mountains. Or you can check out Lake Balaton, Hungary's main tourist attraction. Balaton is Central Europe's largest lake and has it all: mountains, castles, hiking trails, and cheap and tasty red wine. Anglers should take along their rods, as numerous species of fish live in the lake.The Super Bock Super Rock festival May 27-29 in Lisbon, Portugal, would make a great starting point to explore the forests and palaces of Sintra, the resort towns of Estoril and Cascais, or the surfer's paradise of Ericeira. The nearby Arrábida Natural Park, between mountains and the sea, offers a marine reserve, rugged coastline, sandy beaches, and a rocky island that serves as a draw to scuba enthusiasts.If you attend Norway's Quart Festival July 5-9, you could make the most of it by departing several days early and checking out Denmark's American Independence Day celebrations in Rebild, close to Aalborg, on the Fourth. You can then catch the ferry between Hirtshals, in the north of Denmark, to Kristiansand. The crossing takes just two to four hours, depending on the type of ferry you choose (Click here to book in advance). The region offers some of the country's best sandy beaches, and the city is a tourist magnet, boasting some 300 shops and 100 restaurants.Other festivals get you close to such major cities as Cologne, Barcelona or Madrid, all worthy of exploration.
— Karen Bradbury
---
---
---
---