The Summer of Love is remembered at Frankfurt
---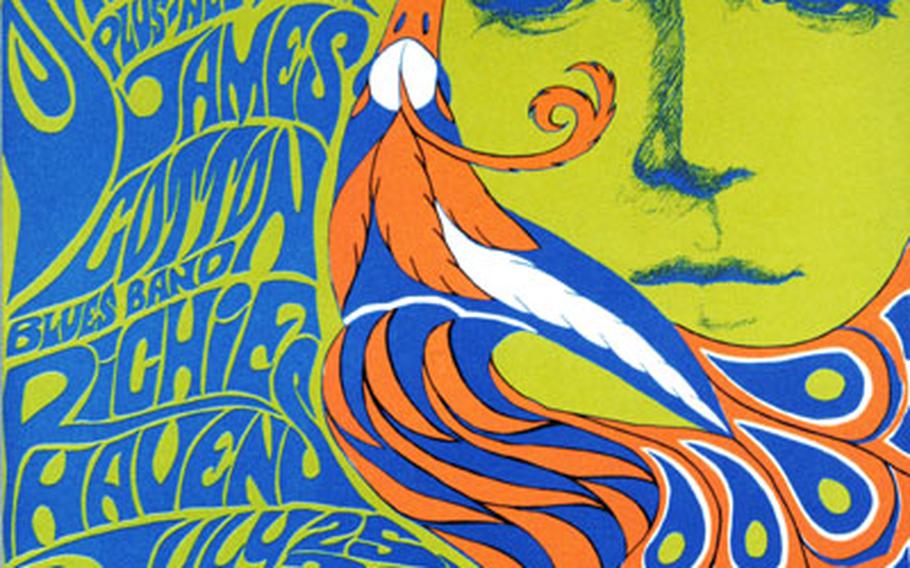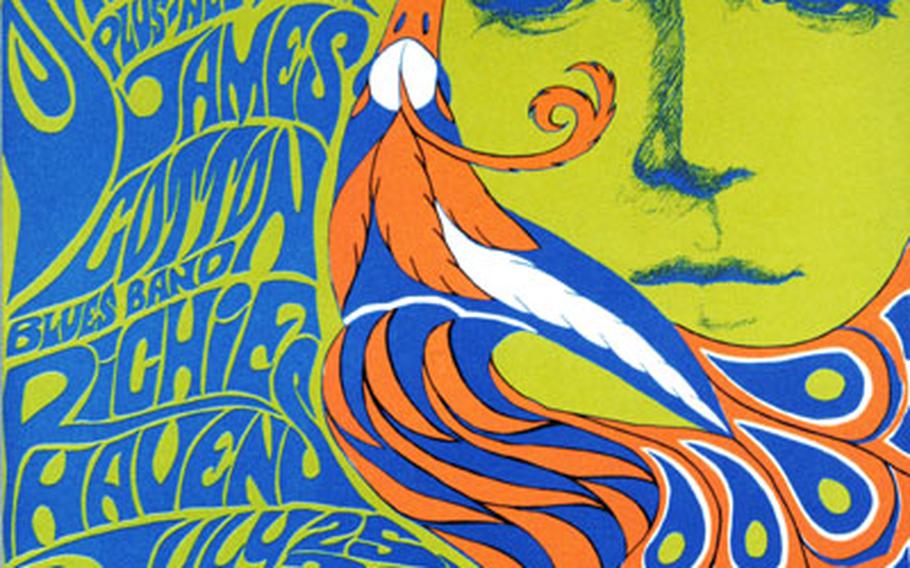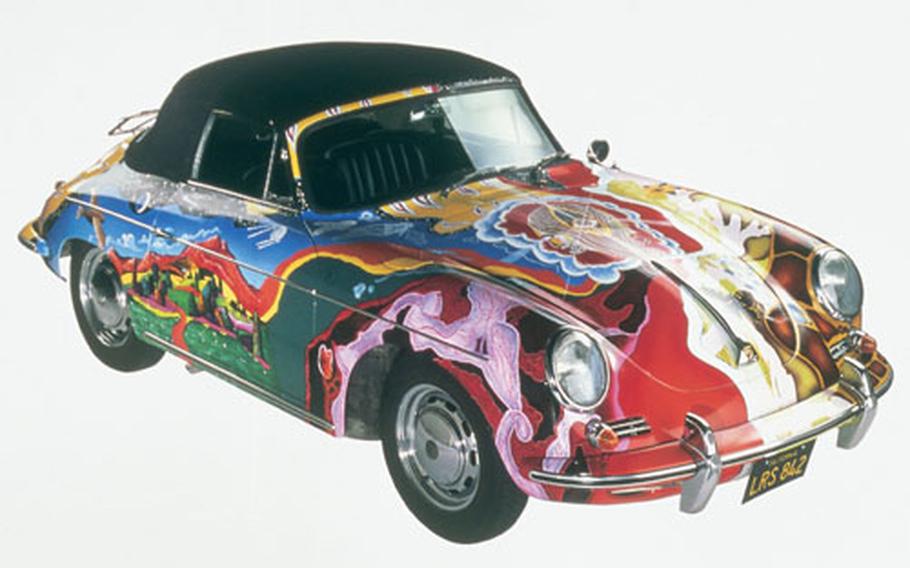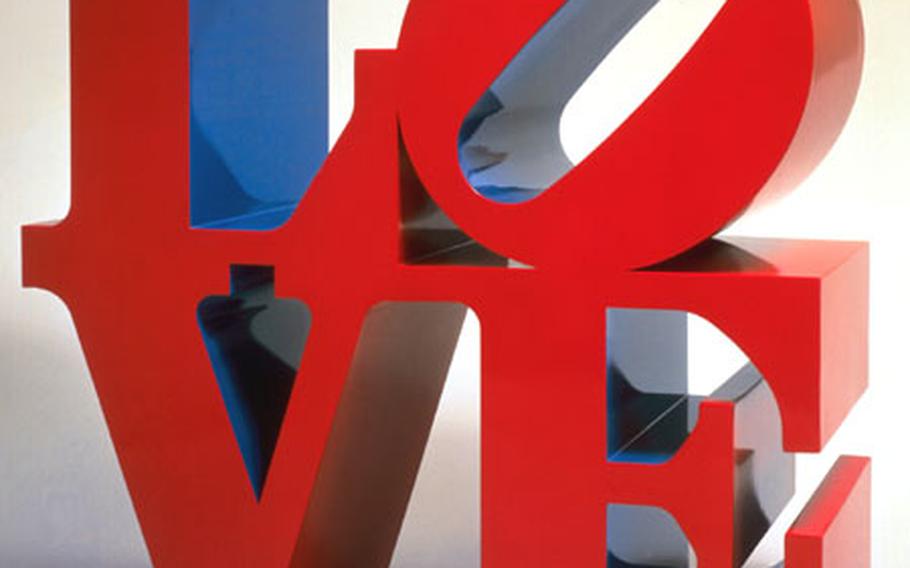 For many of us who were teens in the 1960s, the psychedelic scene appealed to the youthful tendency to push boundaries. And what a great way to rebel against our parents, who couldn't possibly understand the cryptic messages locked in the rock music or psychedelic images. (Remember: We didn't trust anyone over 30.)
But that adolescent rebellion was just a microcosm of something bigger going on. We couldn't foresee the far-reaching impact of the social, sexual, political, spiritual and technological changes rumbling through the country.
The exhibition "Summer of Love: Art of the Psychedelic Era," showing through Feb. 12 at the Schirn Kunsthalle in Frankfurt, captures the highlights of this turbulent and creative time. On display are 350 works of psychedelic art from an era that ran roughly from the mid-'60s to the early '70s. These include not only paintings, photographs, posters and handbills but also light shows, films and environments.
Psychedelic art moved beyond the then-current art trends of pop, minimalism and conceptualism, onto themes of individual freedom and mind expansion. And there's no doubt that artists' use of the hallucinatory drug LSD fed this expansion. Not that you had to take it to be part of the scene: the art was meant to allude to hallucinations and any resulting mystical experiences, not the trip itself. As Joe Austin says in the catalog, "Acid changed us all, even if we never took acid."
LSD had been around almost 20 years before the '60s generation found it. Its early use was associated with the medical profession (a cure-all for psychiatric problems), the CIA (interrogation and intelligence work) and English writer Aldus Huxley (who wrote and described his experiences with it). In the 1960s, it became more widespread with Timothy Leary, a former professor at Harvard who became the "guru" of the "turn on, tune in, drop out" subculture.
But it was author Ken Kesey and his Merry Pranksters who popularized LSD. They drove their Day-Glo bus Further across the States, throwing "acid tests," giant parties with music, black lights, costumes and plenty of LSD.
Interestingly, though, old-fashioned entrepreneurship is credited with the beginning of psychedelic art. Two San Francisco businessmen, Bill Graham and Chet Helms, hired artists and gave them greater artistic freedom to design handbills and posters advertising their new dance concerts at the Fillmore Auditorium and Avalon Ballroom. This creative advertising, which hung around the city, soon became collectors' items.
It is the selection of handbills and posters, with their heavy influence of 19th-century art nouveau lettering and bright color schemes, that make up the most familiar collection of psychedelic art in the exhibit. The rounded gracefulness of the words is distorted from its original form and fills every inch of space. There's a sense of potential movement and expansion, some letters bulging like balloons, such as the handbill advertising a Jefferson Airplane concert at the Fillmore. Words may stand alone or be incorporated into a figure's form. Others give off a sense of nervous energy — squiggly three-dimensional red letters on a green background advertising Van Morrison at the Avalon appear to jump out at you.
Figures can be lyrical, mythical, others bizarre enough that you wonder what the artist was taking. A winged bloodshot eyeball advertising the Jimi Hendrix Experience at the Fillmore and Winterland stands in a circle, balancing on a snake tail, its dragon arms holding a skull. The squiggly flames surrounding the circle give the sense of burning.
Others are contemplative. The "White Rabbit in Wonderland" shows Lewis Carroll's rabbit under superimposed shapes and layers of blending colors, giving it a sense of inner depth and falling.
"Mapping the Underground" documents the underground scenes in New York, London, San Francisco and Frankfurt. In San Francisco, photos show Leary (with flowers in his hair) sitting next to poet Allen Ginsberg at the 1967 Be-In in Golden Gate Park (an event also on video). Kesey and the Merry Pranksters ride on top of their bus in 1966. A young Grateful Dead stands at a house in Haight Ashbury. In New York, Procol Harem plays a concert against a rainbow light show put on by the Joshua Light Show. Crowds fill the fields of Woodstock and a video shows the 1968 anti-war protests in Central Park, complete with flowers and peace signs.
In London there are photos of the young Beatles, Marianne Faithful, Eric Burdon, Donovan, Mick and Bianca Jagger (a wedding photo) and a quirky 1966 video of Bridget Bardot walking around the city singing "Le Diable est anglais" ("The Devil is English").
In "Change Your Mind, Change Your Life," psychedelic experimental films play with perception. Shown in black cubbyholes, they flash fast-moving abstract shapes and colors designed to stimulate the eyes and create an altered state. The goal may be to help you transcend spiritually or to hear color and see sound.
And then there are the infamous light shows, their beginning attributed to early Pink Floyd concerts. London's UFO club is re-created on a mini-scale with a film of Andy Warhol's "Exploding Plastic Inevitable," a multimedia production based on performances of The Velvet Underground and Nico.
Maybe more familiar is a 1969 light show environment moving in rhythm to the music of British group Soft Machine. The film by Mark Boyle and Joan Hills uses a series of filters that allow colored oils to slide in swirls and bubbles, creating the illusion of being inside a giant lava lamp.
Although today's music and fashions have borrowed a lot from the 1960s and '70s, their stylized versions have stripped the ideas of much of their vision and playfulness, both of which the exhibition attempts to remind us.
And the spirit seems to have survived. Just ask the group of 7- to 10-year-old German schoolchildren at the exhibit, who laughed about the flowers painted on Janis Joplin's car, the spinning rainbows of the video disks, the funny, futuristic rounded furniture room, and a photo of Frank Zappa on the toilet. Maybe they see something we've forgotten.
Jayne Traendly is a free-lance writer living in Wiesbaden, Germany, and a regular contributor to the Travel pages.
Know and go ...Where: Schirn Kuntshalle, Frankfurt, Germany.
When: 10 a.m. to 7 p.m. Tuesday and Friday through Sunday; 10 a.m. to 10 p.m. Wednesday and Thursday through Feb. 12. Exhibit then goes to Vienna May 12 to Sept. 3.
Admission: General admission 7 euros, reduced 5 euros, family ticket 15 euros.
Information: Web site www.schirn.de; e-mail welcome@schirn.de; telephone: (+49) (0) 29 98 82-0, fax: (+49) (0) 69 29 98 82-240.
Curator: Christoph Grunenberg, Tate Liverpool modern art gallery.
— Jayne Traendly
---
---
---
---