Taunus Wunderland: Finding a summer wunderland in the Taunus Mountains
by
Michael Abrams
April 25, 2006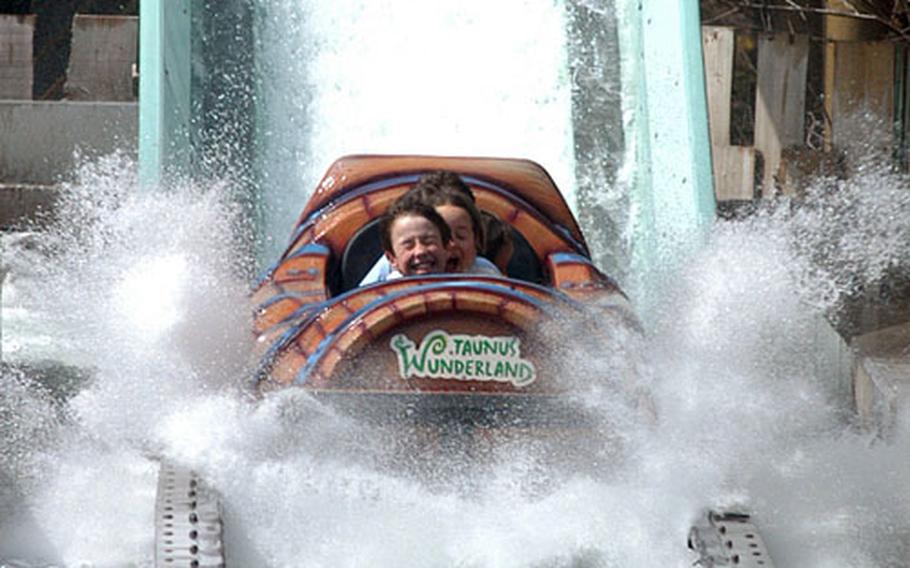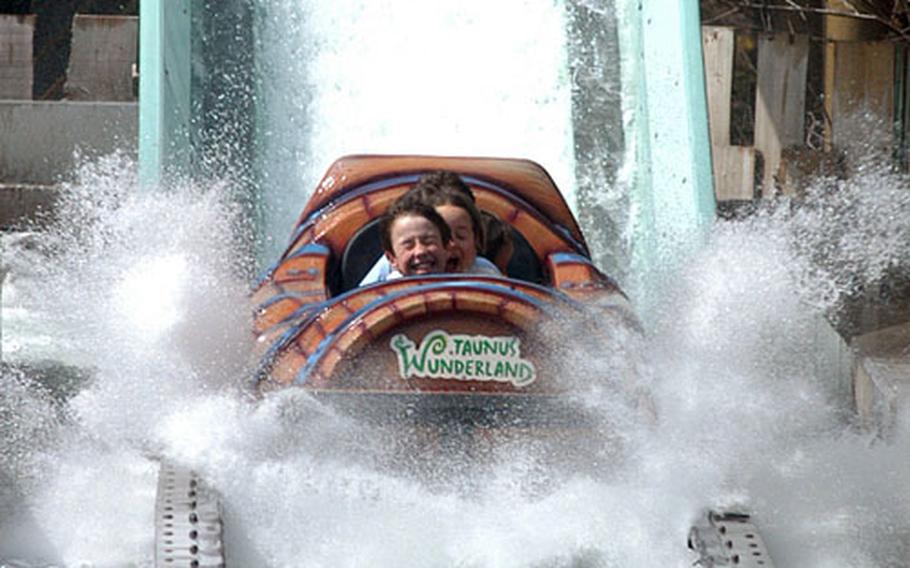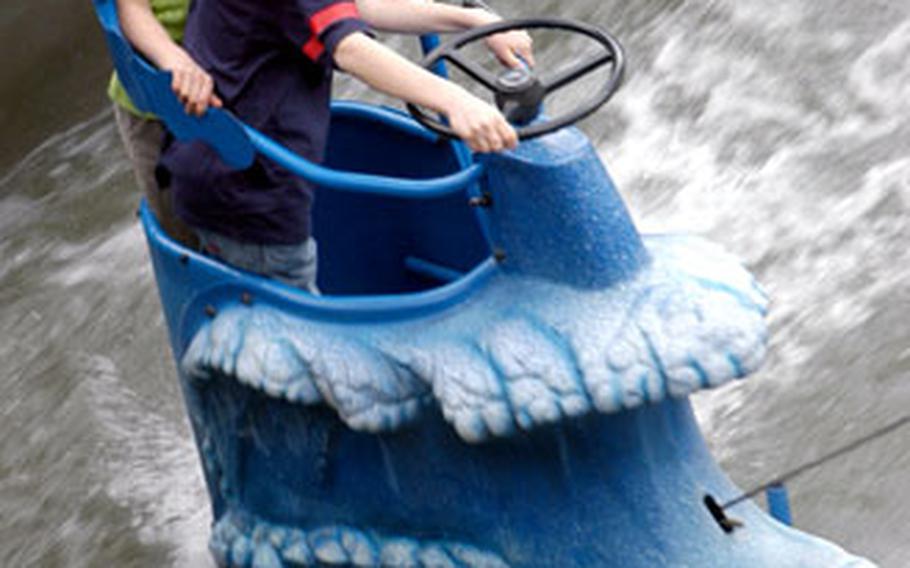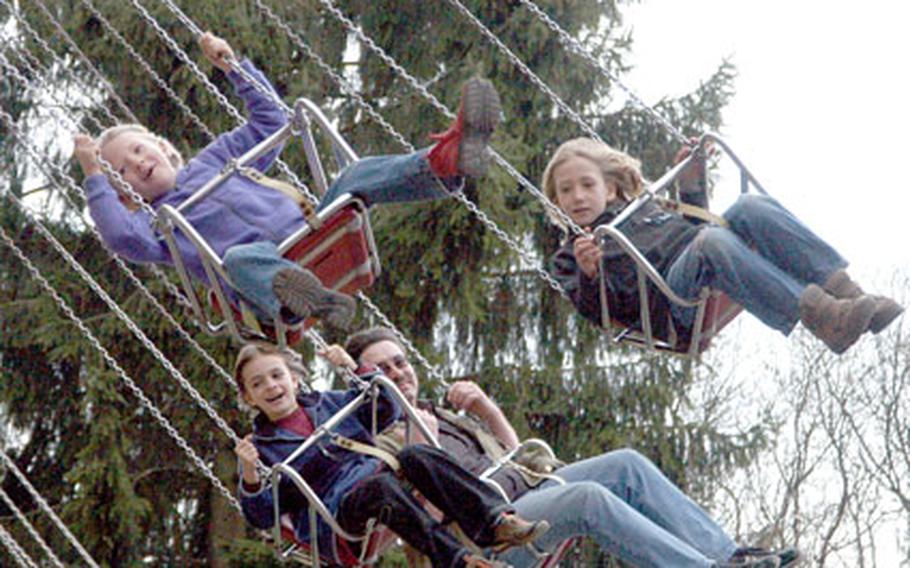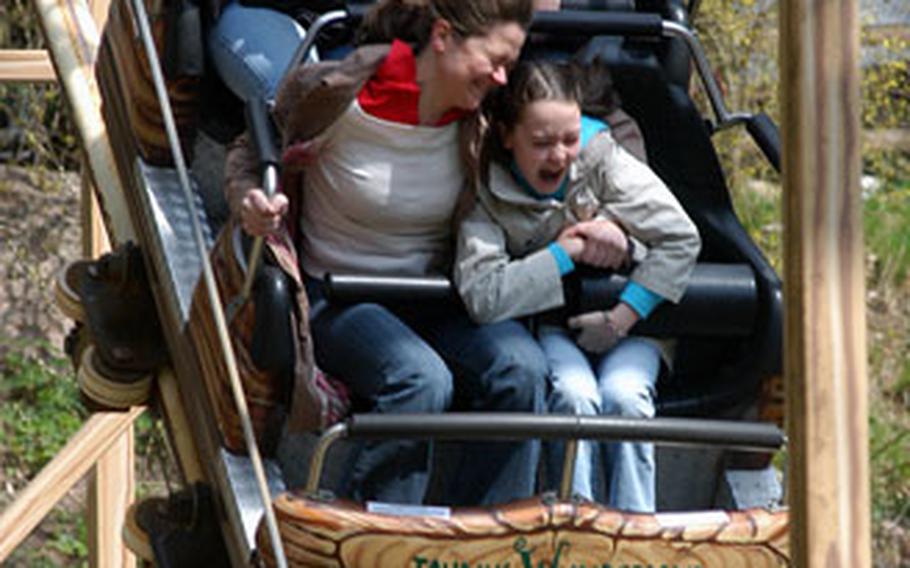 Tucked into the forests of central Germany's Taunus Mountains is an amusement park wonderland. It is not very big, and like its size, Taunus Wunderland is geared more to the young ones, but it's still a fun place for the whole family.
There are roller coasters, merry-go-rounds, swings and slides. None of them are Disney-caliber, but good enough to give the kids — and faint-hearted adults — a thrill.
The top attractions are the Taunus Blitz (Lightning) roller coaster and the Wildwasserbahn (white-water ride). On this ride, from a heart-stopping height of 72 feet, you plunge down a waterfall to a big watery splash below. The Taunus Blitz isn't as high, but it is a 1,213- foot ride of ups, downs and turnarounds that lasts just under two minutes.
The track is laid out in the wild mouse style, which means it is full of tight turns and the front of the car goes past the turn before changing directions, giving you the feel that the car will fall off the track.
There is also a smaller roller coaster, the Drachen Achterbahn (Dragon roller coaster), which is more suited to smaller kids. It still speeds around tight curves but has no vertical drops. It gets its name from its cars, which are shaped like a dragon.
The Piratenschiff (Pirate Ship) is a ride that looks like a big ship and swings back and forth like a boat on the sea, giving one a slight feeling of weightlessness. Unfortunately, you have probably seen bigger, better versions of this ride at local fairs.
The water ski roundel is another fun ride, where you stand in cars that spin around in circles in a pool of wavy water. With a steering wheel you can steer yourself to skip across the waves.
A favorite for young and old, and not scary at all, is the Rhein-Main Flyer, a swing merry-go-round that spins the riders around above the heads of the people standing in line at the crêpes stand below.
There are two slides at Taunus Wunderland. At both, you carry a mat up stairs to the top and then slide down on it. The Rutchenparadies (Slide Paradise) is like a sled ride down a bumpy slope, while the Silberpfeil (Silver Arrow) has three tunnels to slide down. Two of them are shorter and with curves, while the straight one at center is, at 40 feet, the tallest slide in the German state of Hessen.
The 5-acre park slopes down a wooded hillside with paths leading past the attractions. Benches and tables dot the park, where you can have a picnic or watch the children amuse themselves on the rides.
For the tinier tots there are little merry-go-rounds, baby bumper cars and a miniature train. A petting zoo, a haunted house and a giant trampoline round out the Taunus Wunderland attractions.
It's a fun day for kids, families and the faint-hearted.
On the QTDIRECTIONS: Taunus Wunderland is northwest of Wiesbaden near Schlangenbad. Take autobahn A66 toward Rüdesheim and exit at Schlangenbad. Follow the signs to the park. Parking is free.
TIMES: Open 9:30 a.m. daily until Oct. 29. Closing hour is posted at the park.
COSTS: Admission for adults is 14.50 euros; children one meter (about 3 feet, 3 inches) and taller 13.50 euros; kids under a meter get in free. Entrance on your birthday is free for young and old (bring your I.D. or passport).
FOOD: There is a restaurant (schnitzel 8.50 euros, spaghetti 5.50) and food stands (bratwurst 2.20 euros, hamburger 2.50, soft drinks 1.90, beer 2 euros) in the park. There are plenty of benches and tables if you want to bring your own food and have a picnic.
INFORMATION: The German-only Web site is www.taunuswunderland.de. The phone number is (+49)(0) 6124-4081.
— Michael Abrams