Taormina: Hilltop heaven in Taormina, Sicily
---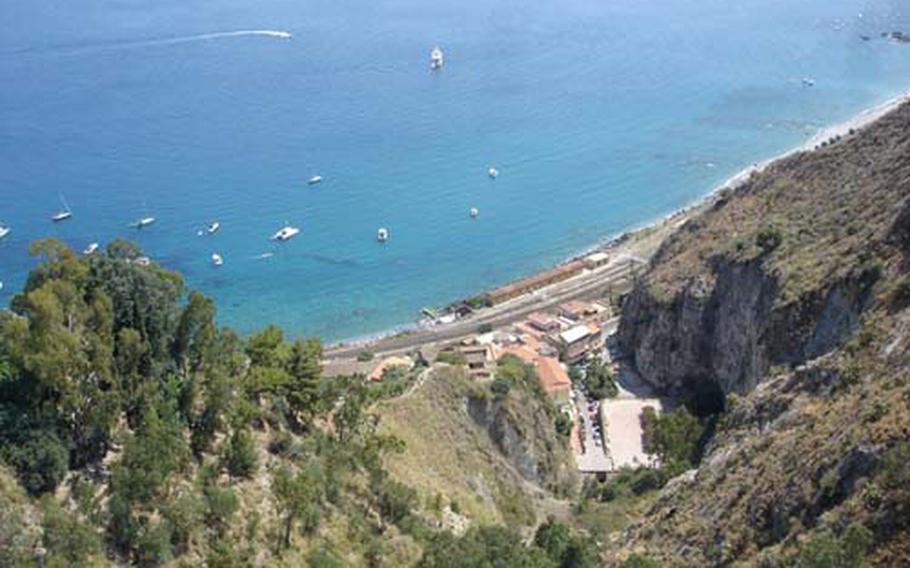 TAORMINA, Italy
Perched on a hill high above the Ionian Sea is the Sicilian town of Taormina. Nestled between two of Sicily's major cities — Messina and Catania — Taormina overlooks sandy beaches and is only about a 45-minute drive from Europe's largest active volcano, Mount Etna.
Both ancient and modern, the town offers visitors a feast of sights, history and activities including beautiful coastlines, public gardens, entertainment venues and a modern cultural center.
When you arrive in the lower level of the town, near the beach, you'll notice a huge parking structure. While you may be tempted to drive up into the town from here, parking options are few on the hilltop streets and traffic officers are liberal in issuing tickets there. Advice: Use the parking structure. There are some shuttle buses that take visitors to the top of the hill where the main part of town lies. Either way, wear a good pair of walking shoes. The streets are steep.
The bottom part of Taormina is for the sun worshippers. Beaches offer ample opportunity for all kinds of water activities including surfing, sailing, scuba diving and snorkeling.
Successive conquerors all left their mark on Taormina. There's a Roman "odeon," or theater, dating from the first century. An ancient Greek amphitheater, still used for concerts and stage productions, dates from the third century. Other antiquities include the 13th century Cathedral of San Nicola and the 14th century Palazzo del Duca Santo Stefano. All stand well-preserved and easily accessible.
Most visitors congregate around Corso Umberto and the surrounding streets. This is the main shopping area with loads of stores selling the main exports — ceramics, embroidered lace, lots of coral and natural-stone jewelry, cameos and artwork. There are a few antique shops and art galleries as well.
This is a great place to sample traditional Sicilian foods, which include lots of seafood, eggplant and pasta.
Many of the food shops sell marzipan – a confection made of almond paste with lots of sugar, molded into just about any shape. Imagine edible Play-Doh in the hands of Michelangelo. Food is the most popular theme for marzipan, specifically fruits, fish and pastries. La Bottega Del Buongustaio deli has some of the most realistic marzipan shapes along with other Sicilian delicacies.
Taormina manages to mix the old and the new — ancient buildings stand alongside modern glass-and-metal structures. And while it is a world-renowned resort area, the hoards of invading tourists aren't as numerous as in locations such as Capri and Sorrento. If you vacation in those places, you may want to head to Taormina – just for a quick get-away.
---
---
---
---