Tangier adds spice to visitors' lives
by
Scott Schonauer
December 2, 2004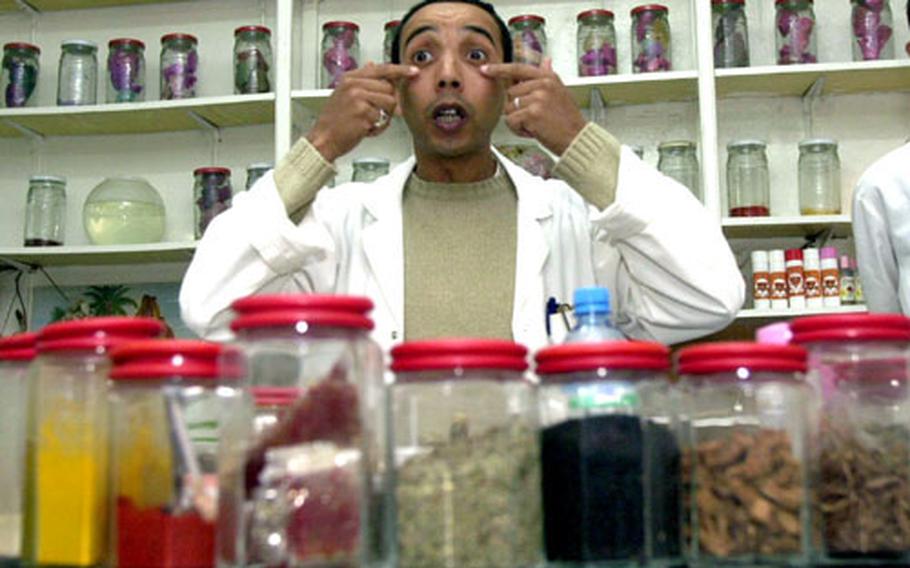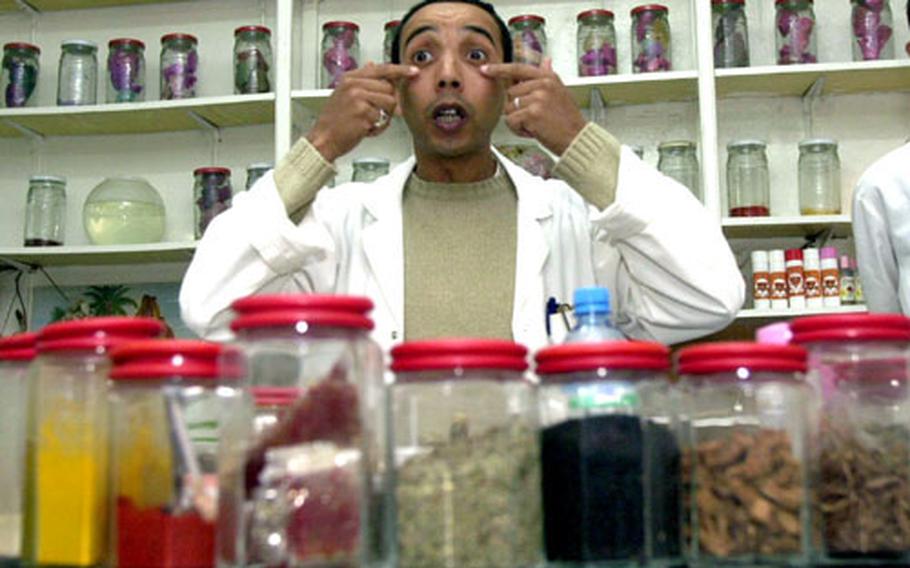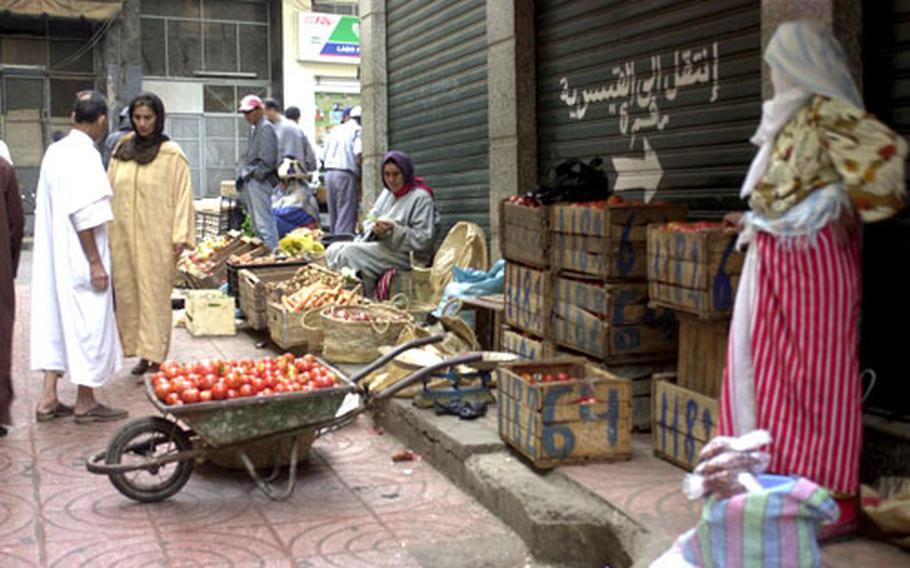 The jars in front of Sai'd Khayat are full of miracles.
At least, that is what he claims in his animated 15-minute medicine show before a crowd of shoppers at Tangier, Morocco.
The oils, herbs, spices, powders and potions packed into the clear containers are advertised to cure everything from migraine headaches to a slumping libido.
"And this," he says holding a finely ground orange mixture, "is good on meat or chicken."
There is likely something for everyone on the table, which is why spices from Morocco might be perfect gift for the aspiring chef on your list.
In many Moroccan cities, hidden in the twisting streets and alleys of the medina, visitors often can find shops that offer an array of spices, oils and medicinal herbs. Buyers can also find spices poured into cone-shaped piles by street vendors.
If you cannot get to Morocco, many spices are available in grocery stores and online. But it is much cheaper to buy Moroccan spices in a place like Tangier. And it is more entertaining.
In the heart of the city's shopping district, Khayat gives a quick rundown of the contents of each container in several languages, depending on the audience. The spice shop in Tangier is the final stop for many tourists on one-day trips to the city from southern Spain.
The walls of the store are lined with dozens of jars of different colorful powders, oils, leaves and seeds.
Khayat, wearing a white lab coat, stands in front of a table with about two dozen jars of different sizes. Although he tries to educate the group about the contents of every jar, he is more amusing than enlightening.
Five minutes into his spiel, he sounds like a traveling salesman from the old vaudeville days. His proclamations about the powers of some of the substances sound dubious, but he seems to know his subject.
He peddles oil that can rub away arthritis; a black, mint mixture that eliminates snoring if sniffed; and a liquid that wards off mosquitoes in a marshland. The next jar he passes around could take care of that nagging toothache. Another is alleged to be an aphrodisiac.
At least, that is what he claims.
While the elixirs spice shops sell might not do everything or anything the vendors declare, there is no questioning the legitimate power of the culinary spices they offer. Moroccan spices are renowned around the world for giving food an extra kick.
Cumin and saffron are two of the most popular Moroccan exports.
Cumin is an ancient spice that originated in Egypt. The seeds are from a plant in the parsley family. It has a strong aroma and a sharp taste. Mexican dishes such as enchiladas often use it.
The smell of cumin dominates the streets of the medina in Morocco because it is such a popular ingredient among food vendors and restaurants. The spice is often on the Moroccan dinner table next to the salt and pepper.
Saffron typically comes in orange-red threads or ground into a powder. It has a slightly sweet smell and gives rice its yellow color in dishes such as paella.
It is the world's most expensive spice, but buyers can get it much cheaper in Morocco or Spain. In the United States, saffron can cost 10 times what it is sold for in Tangier. One ounce can cost more than $35.
The reason it is so expensive is that it can take as many as 250,000 handpicked purple saffron crocus flowers to make one pound.
The good thing for thrifty chefs is that most recipes do not call for a lot of saffron. In fact, too much could make a person sick.
Buyers beware: Some sellers like to cut saffron powder with other substances to boost the weight. One easy tip is that saffron should be bright red and not contain any yellow parts. Yellow saffron is bogus.
At the spice shop in Tangier, Khayat sells "real" saffron.
At least, that is what he claims.
The blend of 32 spices seems to be the better buy.
"What's it good on?" he is asked.
"Everything," he says.
If you go ...
Numerous ferry services operate from Algeciras, Spain, to Tangier, Morocco.
It's best to have a ticket before you arrive.
The ride takes about 70 minutes and costs about $50 round trip.
For schedules and reservations: (+34) (0) 956-68-18-30, www.frs.es/eng/index.htm.
For information on Morocco: www.tourism-in-morocco.com.
— The Washington Post
---
---
---
---