Solopaca: Do as the Romans do at this popular Naples winery
by
Sandra Jontz
September 26, 2006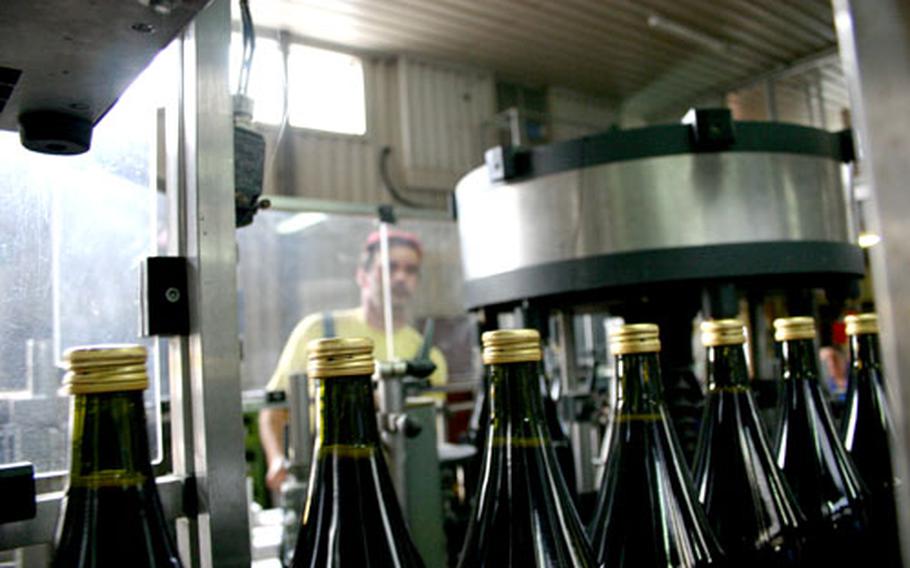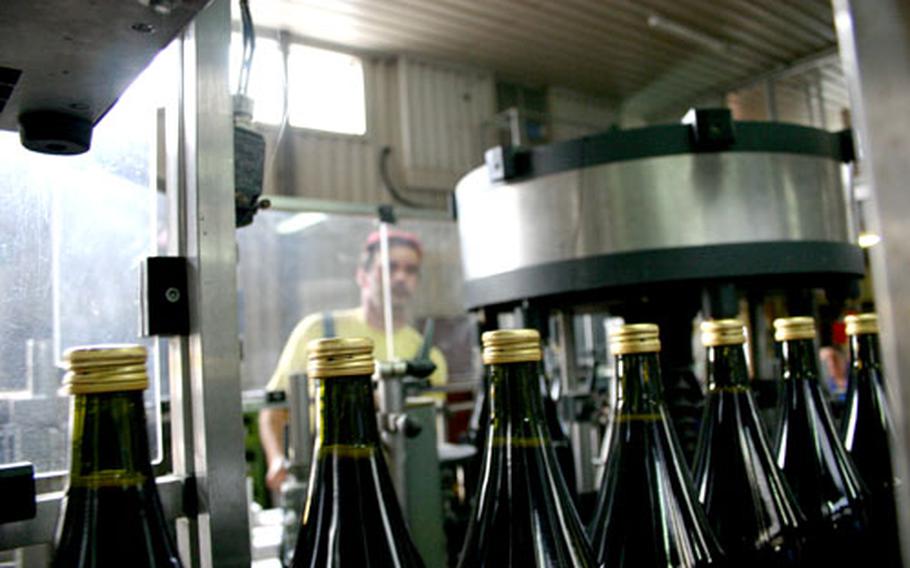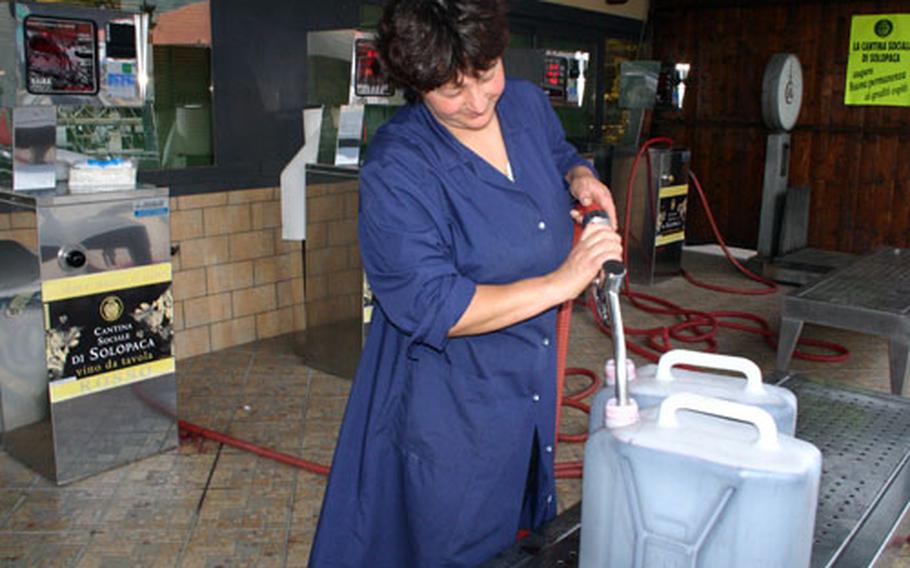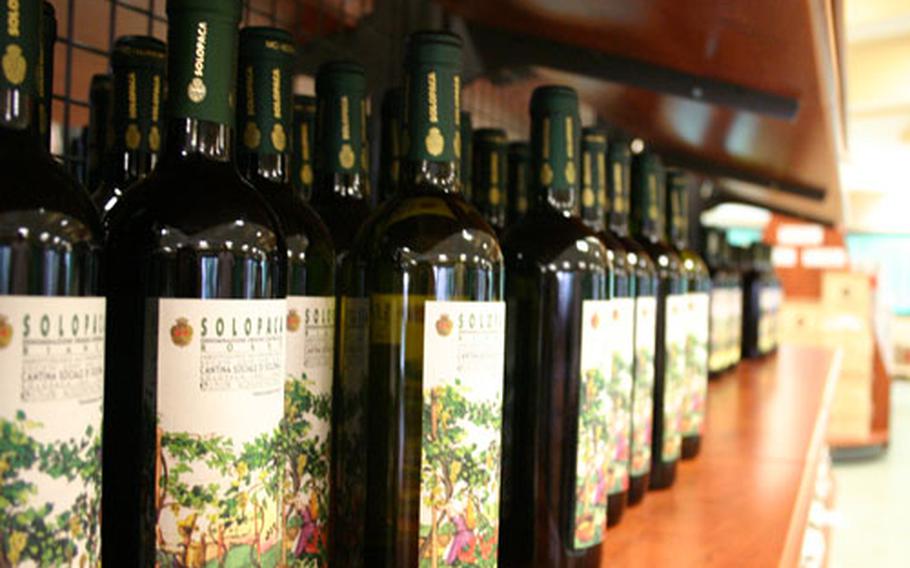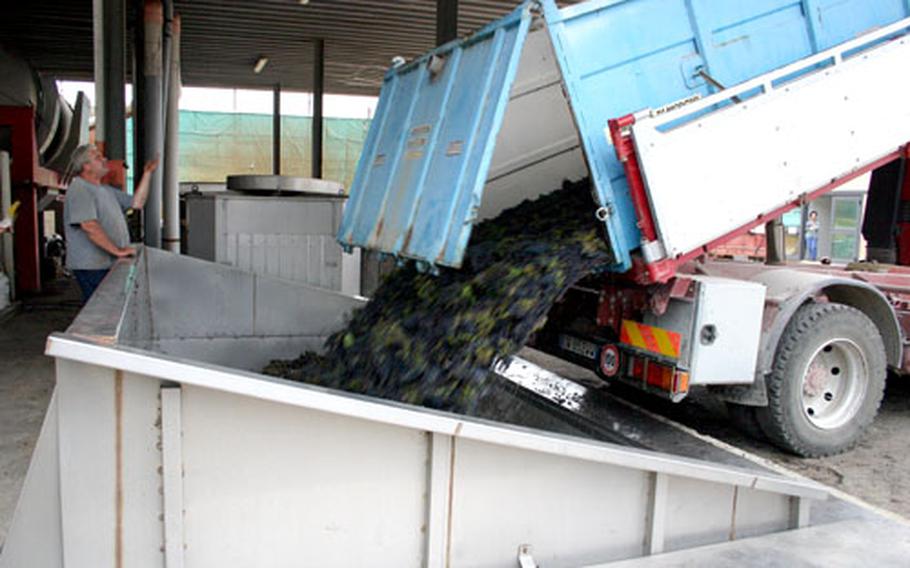 When in Rome, do as the Romans. And when in one of their favored wine regions, well, sip up.
Roughly an hour from U.S. Navy bases near Naples, nestled in the foothills of Mount Camposauro and along the Taburno River, sits the town of Solopaca and its community wine cantina. The winery produces wines that rival those from Tuscany in the north — or so claims Massimo Di Carlo, president of the Cantina Sociale di Solopaca.
Skeptical? He extends a personal invitation to anyone who wants to find out. But call first. Tours and wine-tastings are by appointment only.
If you're a wine aficionado, or simply looking for a quick trip out of town, a visit to the Benevento region is worth it, even if only for the drive to the countryside.
It's now grape harvest season, and visitors making the trek until mid-October can tour the plant and learn the intricacies of turning grape into wine — or spumante or grappa. You can also taste the finished product to decide for yourself how good it is.
While the tours are usually conducted in Italian, one guide speaks some English and can be requested when making reservations.
Visitors learn that the wines of Cantina Sociale di Solopaca fall into three of the four rating categories: the superior and traditional lines are all DOC, or wine labeled "denominzione di origine controllata"; and it also prepares wine with the IGT label and table wine.
There are four major categories of Italian wines: vino da Tavola, or table wine, the lowest class; vino a indicazione geograficatipica, or IGT, which is wine produced in a specific area; vino a denominazione di origine controllata, the DOC wines produced in specific regions according to set rules designed to preserve the traditional winemaking practices of those regions; and vino a denominazione di origine controllata e garantita, marked DOCG, similar to the DOC but made under more stringent regulations.
The Cantina Sociale label is international, with the wine sold in Japan, United States, England, Germany — and yes, even France, Di Carlo said, grinning.
"The French have come here to buy our Falanghina," he said of the renowned white wine of Italy's Campania region, of which Naples is the capital.
The cantina association started in 1966 with 25 partners, mostly residents of the town. They pooled their money and resources to open a socialized winery, and after several years of construction, processed their first grapes in 1971, Di Carlo said.
Today, the group has grown to 630 members who grow and harvest grapes on the association's approximately 3,200 acres of land in and around Solopaca — a town of about 4,100 which gets its name from Solis pagus, or land of the sun. Judging from its harvests and the quality of one of the town's most popular products, the wine god Bacchus just might have called it something else.
On the QTDIRECTIONS: From Naples and U.S. Navy bases in the area, take the A1 autostrada north toward Rome. Leave the road at the Caserta Sud exit, and follow signs for Maddaloni. Once through the town of Maddaloni, follow signs for Telese, and/or Solopaca. (Not all exits are marked with Solopaca.) Once in the town of Solopaca, the cantina will be on the left, at Via Bebiana No. 44.
TIMES: Tours are available by appointment between 8 a.m. and 1 p.m. and 2:30 and 7 p.m., Monday through Saturday, and Sunday mornings through mid-October, the harvesting season. During the winter, wine-tastings are done until 5:30 p.m. Our group had three members.
COSTS: Admission is free. Bottles of wine cost between 2 and 10 euros.
FOOD: There are several small restaurants and agriturismos (farmhouse restaurants) in town.
INFORMATION: For appointments, call 0824-977-921 (very little English spoken), or fax 0824-971-316. The Web site is: www.cantinasolopaca.it or www.terredisurrupaca.it.
— Sandra Jontz