Sofia: The faces of change in Bulgaria
by
Leah Larkin
March 23, 2006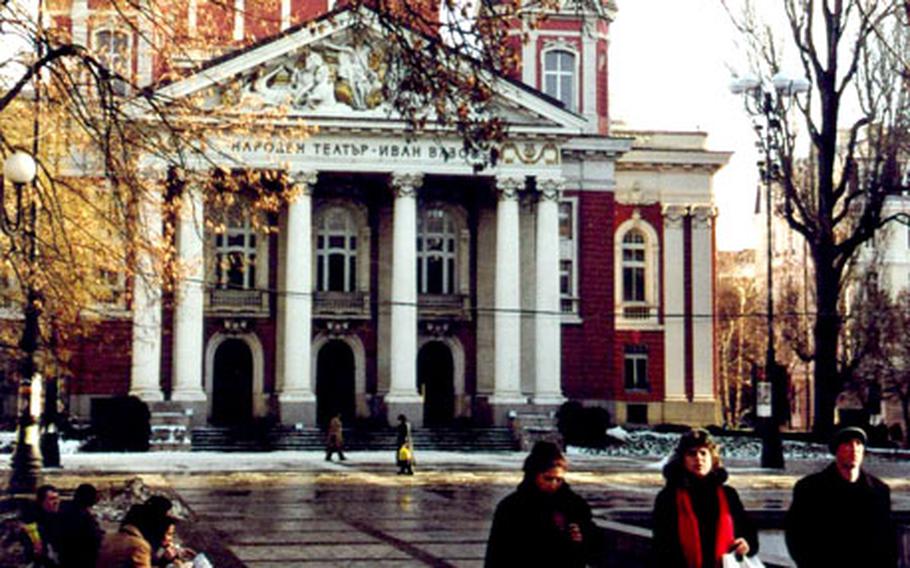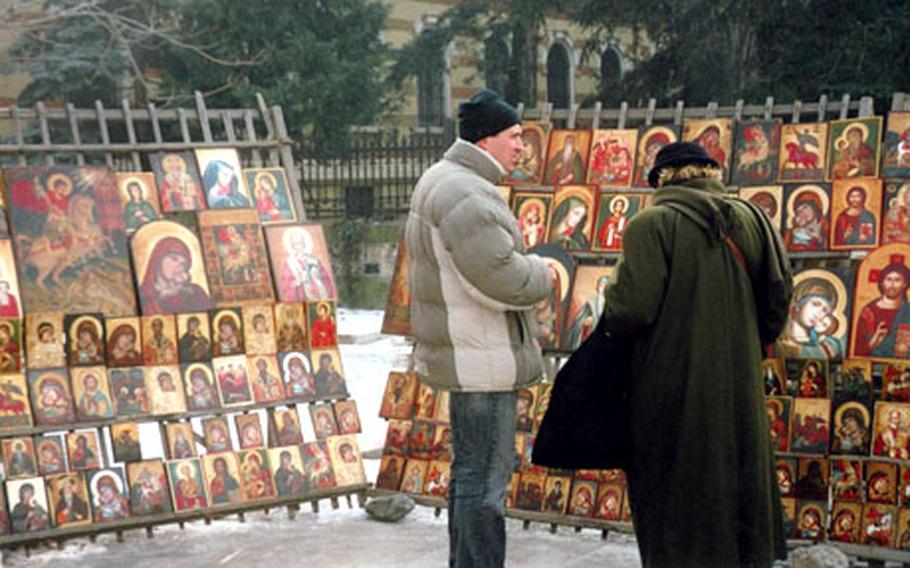 The elderly gentleman was eager to talk to me because I was American. He wanted to know about life in my country, where he said he had relatives. His English was not bad, but he spoke in whispers and would not give his name. To escape the icy cold and public eye, we took shelter in a dimly lit cafe where there were few other patrons.
That was 21 years ago in Sofia, the capital of Bulgaria, when the country was under communist rule and speaking to a Westerner could be dangerous. The city was bleak, dreary and depressing. Fruits and vegetables were scarce. Shop windows were a sorry sight.
During a recent trip, it was obvious that things had changed dramatically. The difference could be seen in a visit to another Sofia restaurant, the Talisman, an eatery that features innovative, avant-garde cuisine and had just been recognized as "best restaurant in Bulgaria" by a prestigious magazine. "There's a lot happening now, a lot of opportunity," said Chef Emil Minev. "This would have been impossible 15 years ago."
In December 1989, Bulgaria overthrew 45 years of communist rule. Now, designer shops, such as Versace and Armani, line Sofia's bustling Vitosha Boulevard. In addition to Western fast-food outlets, such as McDonald's, there's no shortage of trendy restaurants and coffee bars. There's a lively nightlife scene. Most citizens are well- dressed with many women sporting the latest fashion.
Bulgaria is on the move. The country joined NATO in 2004 and is slated to join the European Union in 2007. The United States is expected to announce in April an agreement to establish joint military bases there. And the country is bidding to host the winter Olympic Games in 2014.
Like Minev, many Bulgarians are seizing opportunities and finding success. For others, change has brought hardship. During my visit to Sofia, I talked with many residents about their country and their lives, as well as the good and bad in the new Bulgaria.
Nina Kasapinova, 43, and her husband, Georgi, run a transport company in Bansko, the site of the country's new, first-class ski resort. Theirs is the classic success story.
Once the barriers were down and travel was permitted, Georgi set off to Detroit to live with an uncle and work as a roofer. He stayed two years and saved enough money for the couple to buy a mini-bus and provide transfers from the airport in Sofia (2½ hours away) to the resort town. Ten years later, their company, Korso Sport, owns three large buses, four mini-buses and a car
"Now we're free to do whatever we want. If you want to work, you can work and earn good money …. Before we weren't allowed out of the country. I'm happy that democracy came and now we have these opportunities," said the chicly attired Nina Kasapinova.
"We work very hard but we are happy because we can afford a lot of things."
Maria Tracheva, 33, a biology teacher and mother of three small children, stands bundled up in the cold near Sofia's Alexander Nevski Memorial Church, peddling Russian souvenirs — namely nesting dolls.
In recent years, some prices have skyrocketed in Bulgaria, creating dire circumstances for many. Tracheva and her husband, also a biology teacher, could not earn enough money in the classroom so they set up shop on the street.
The young mother takes pride in the souvenir business, explaining that she buys her products directly from Russian artists and has a regular clientele. "The prices are three times higher in Moscow," she said.
She's so busy earning a living that she said she hasn't had time to think about the changes in Bulgaria. But she worries about Bulgaria joining the EU. "It's already expensive. Prices will get higher."
Boris Kostourkov, 57, now a senior manager in communications for the DSK Bank in Sofia, spent 9½ years working as a foreign correspondent and diplomat in Berlin after the changes in Eastern Europe. He came back to his hometown of Sofia in 2003 to discover both good and bad.
"Prices are higher. The shops are full. You can get almost anything you can get in the West," Kostourkov, a former journalist, noted. "That's OK for those with money. But, it's bad for the poor."
Any visitor to Bulgaria today will see a country in transition — where, some residents say, crime has increased, and many young people drop out of school, often leaving the country, to make money rather than pursuing a university education, which was free during the communist era.
Bulgarians' average income is about $240 per month. Those I talked with said people have cars, but there are no more paid vacations and no more free health insurance; medicine is expensive.
During a recent address before a group of foreign journalists Lubomir Kuchukov, Bulgaria's vice minister of foreign affairs, acknowledged that while things have improved as the country prepares to enter the EU, the situation is not perfect. He talked about problems, including crime and the uncontrolled development that is threatening the environment.
But on a positive note, he pointed out that 80 percent of the population favors EU membership, and said that Bulgaria "will be the most harmonized country to enter the EU."
"We have done a lot," he said. "There's more to do."
Leah Larkin, a member of the Society of American Travel Writers, is a journalist living in France.
If you go ...Sights
Among those to look for:
• The Russian Church of St. Nicholai, Sofia's prettiest church, with a bright yellow- tiled exterior, gilded domes and an emerald green spire — a delightful jewel in the midst of the busy city.
• The St. Alexander Nevski Memorial Church, the city's largest place of worship, whose golden dome dominates the skyline.
• The National Palace of Culture, the city's modern symbol.
• Museums: Depending on your interests, you might visit one of many museums, including the National Art Gallery, the National Archaeological Museum, the Crypt museum or the National History Museum (a 6- to 7-leva taxi ride from the city center).
Money
The Bulgarian currency is the lev (which equals about 60 cents), and is divided into 100 stotinki. The plural of lev is leva. There are ATMs throughout the city, as well as banks where you can change money. There are also "change" booths. Check the rate before changing money at these places. They often give a poor rate. Credit cards are not yet widely accepted.
Keep some small change handy to for restrooms.
Getting around
Almost everything in Sofia, Bulgaria's capital, is in the center of town and can be visited on foot or by public transportation. I was overcharged by a taxi, but they are supposed to be reasonable. The ride from the airport to the center should cost no more than 10 leva.
Food and drink
Prices are reasonable. At a chic Italian restaurant I had a salad, a glass of wine and coffee for 14 leva. A beer at my hotel was 2 leva and a cup of coffee in a cafe near the hotel was only l lev. Cappuccino is very good in Sofia and only 1.50 leva a cup.
Shopping
• Vitosha Boulevard offers classy designer boutiques, CD shops, porcelain stores, clothing shops, a Dunkin' Donuts, an Italian cafe and more (www.vitosha-boulevard.com/en/home.html).
• The Central Hali Shopping Centre is three levels housing a variety of shops, boutiques, a large restaurant, a bar and a food court for eight fast food chains.
• Slaveikov Square is the largest open-air book market in Sofia.
Lodging
I stayed at the Hemus Hotel, about a half-hour walk from the city center. It appeared to have changed little since Soviet times, but it had a casino with slot machines where drinks and hors d'oeuvres are free. A double room with breakfast is 150 leva. A ride on the No. 9 tram to the Palace of Culture — .50 leva or 50 stotinki (30 cents) — cuts down on the walk. The hotel's e-mail address is info@hemushotels.com.
Tourist information
Visit the official tourist Web site, www.bulgariatravel.org. Select "sights" and then choose city alphabetically.
— Leah Larkin