Ski clubs: Join for the trips and to maximize your ski experience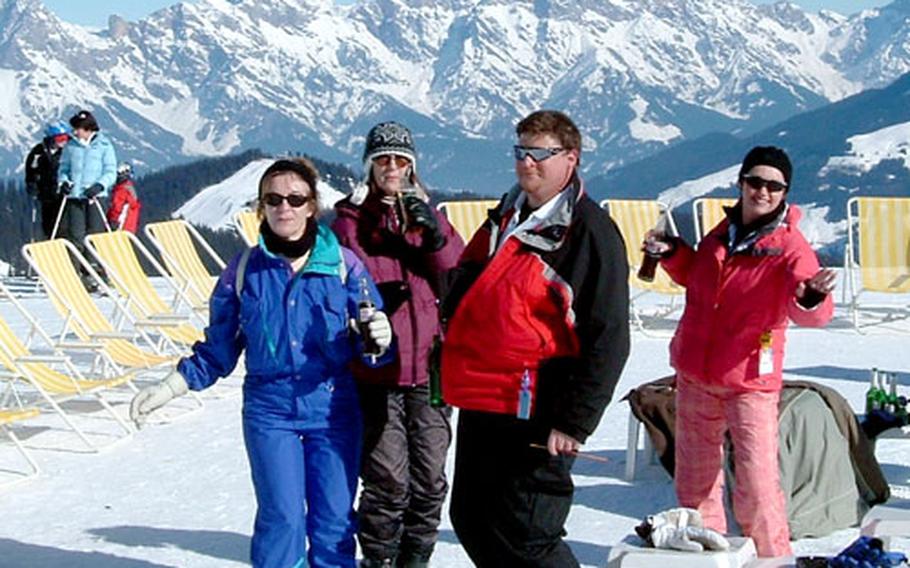 You are living in an area that has some of the world's best slopes for skiing and snowboarding just hours away. Lessons are available at all destinations.
And if you think you are too old to try, the Kaiserslautern-West Pfalz Ski Club says that's nonsense.
The club is one of several in Europe catering to Americans, and they all offer trips throughout the winter sports season. They say in many cases, traveling with a ski club is the way to go.
The Heidelberg International Ski Club, for example, has been around for more than 50 years and at its peak had more than 1,000 members. Its experience and size, its members claim, make it possible for them to arrange the best package deals imaginable. The club has established good relationships with tour companies and resorts, and knows where to go for the best lift access, hotel rooms and food.
And its numbers make it possible to book accommodations in bulk and at a discount.
Clubs like the Tannenbaum Ski Club, which has existed for more than 45 years, make a point of selecting trips that appeal to all levels of skiers and boarders. The Frankfurt International Ski Club says its members range from beginners to experts, and many of its trips include group or individual lessons for those just learning, or those who want to improve.
Several clubs have annual trips to Siegi Tour's ski school in St. Veit, Austria. And there are always club members available to assist those who need pointers.
Clubs can also help new members get geared up. The Heidelberg club's meetings often include equipment demonstrations, clothing and equipment swaps, ski tuning and fashion shows on what to wear on the slopes.
Most club trips have activities for nonskiers and family members, and aprés-ski is always a big attraction for all, whether they spent the day on the slopes or soaking in a spa.
Tannenbaum and other clubs say they take care of all the details, arrange for transportation and provide snacks for the trip. All you need to do is show up with your gear and board the bus.
Trips are held most weekends, with longer ones planned for American holiday weekends. In addition, clubs conduct social activities, such as the Kaiserslautern-West Pfalz club's wellness trip to Bad Dürkheim, and often schedule events throughout the year.
All the ski clubs have Web sites with information such as online forums, trip surveys and schedules. The Frankfurt club has revamped its Web site and is expecting to soon make online trip signups possible.
Information on the clubs, including upcoming trips, starts below and will appear in the Weekend travel pages on and on www.stripes.com throughout the winter season. Your base travel office can direct you to a ski club near you.
This article was compiled from information provided by Jennifer Lear of the Heidelberg International Ski Club, Elizabeth Powell of the Frankfurt International Ski Club, Beth Ausherman of the Kaiserslautern-West Pfalz Ski Club, and Julie De Jong of the Tannenbaum Ski Club.