Ski and be seen
by
Leah Larkin
November 1, 2007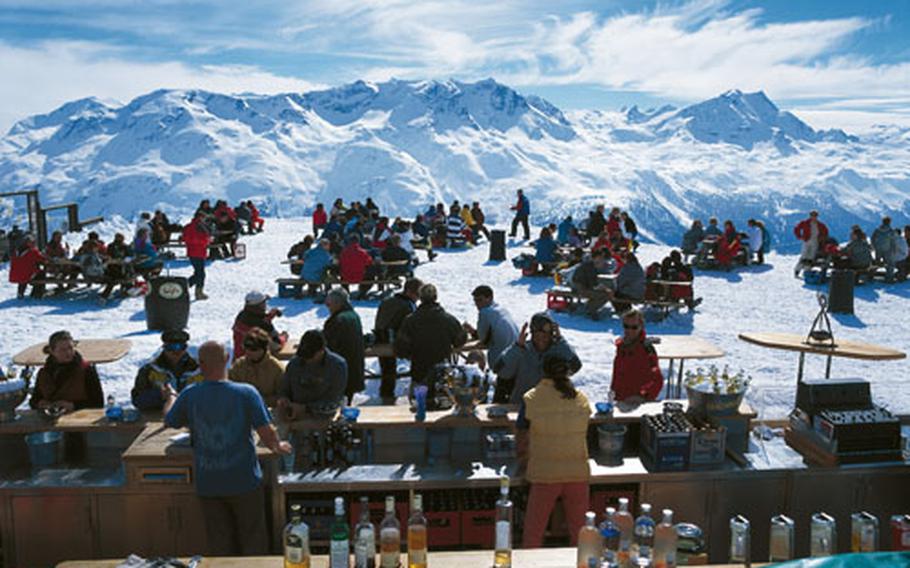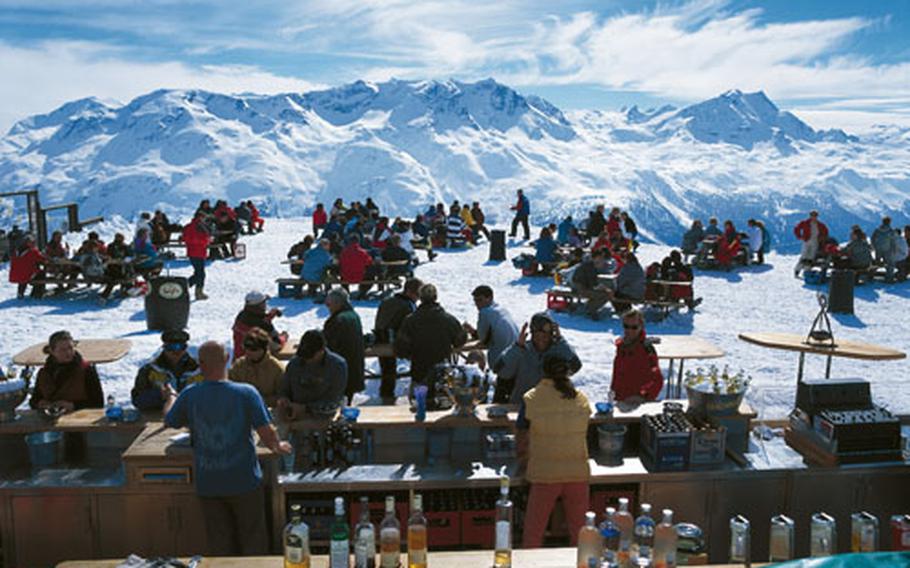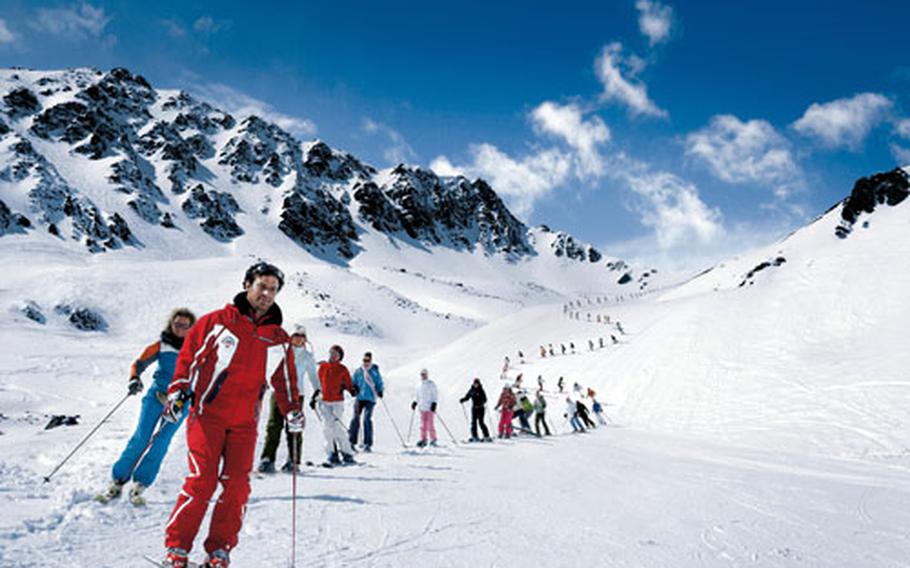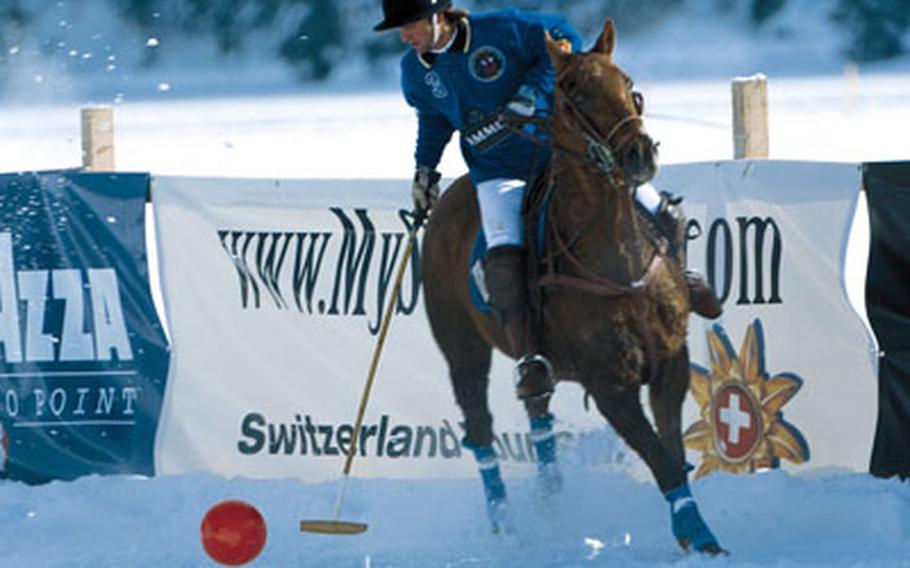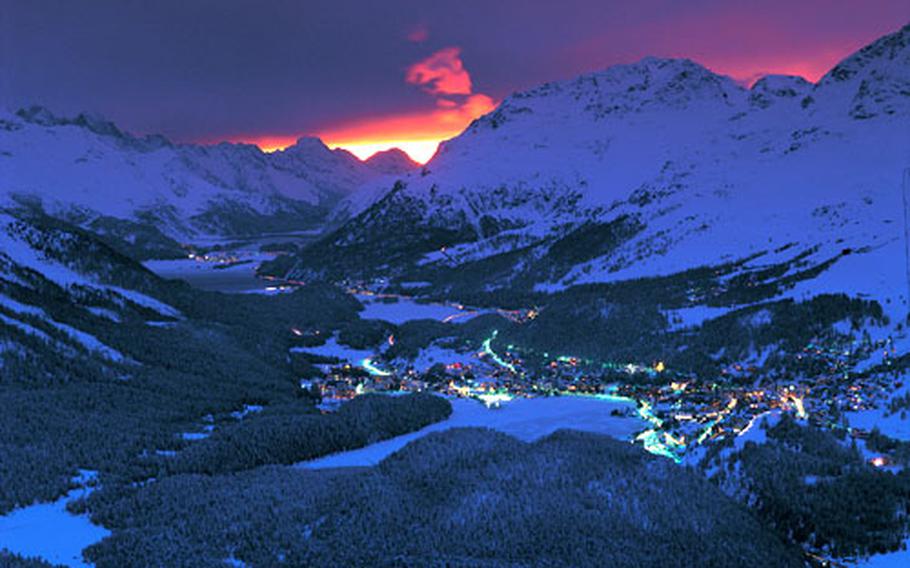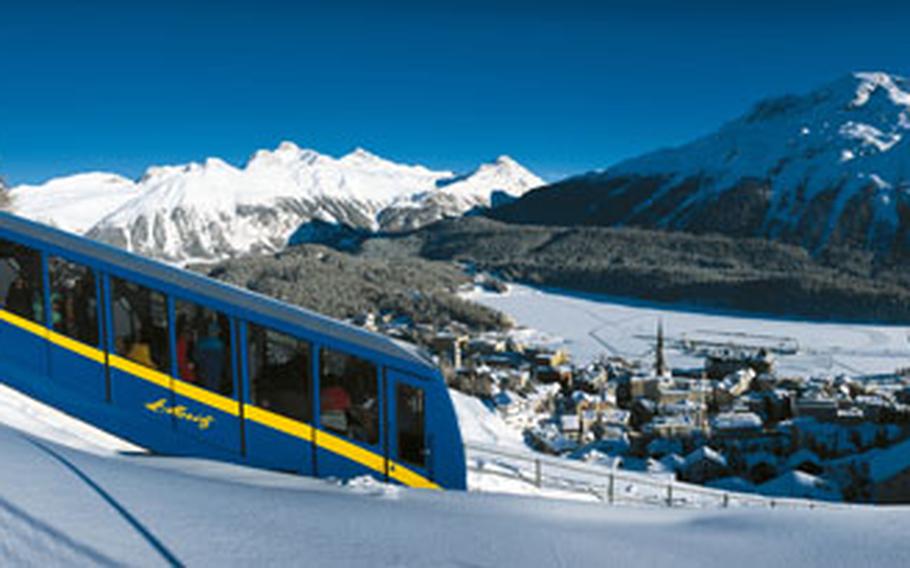 St. Moritz is class. Five-star hotels, designer boutiques, haute cuisine, elegant cafes and gorgeous views beckon movie stars, royalty and wealthy jet-setters. Some 19,000, mostly private jets land at its airport annually. Claudia Schiffer, Liz Hurley, Kate Moss and Robert De Niro are regulars at the King's Club — the town's "in" celebrity haunt.
The slopes are also first-rate — 200 miles served by 60 lifts with terrain for all abilities. And it has plenty of sunshine: St. Moritz boasts that it basks in the golden rays 322 days of the year.
Another claim to fame — the Olympics. St. Moritz hosted the Winter Games in 1928 and 1948.
I've been there several times, both in summer and winter. During my most recent visit, I stayed with friends in Soglio, a tiny burg in the mountains about a 45-minute drive from the town.
Our host knows the slopes well. We followed him at breakneck speed down red runs from Munt da San Murezzan.
We rode the cable car to the highest peak, Piz Nair, at 10,000 feet to take a long trail behind the mountain. Back down at lower levels, we tested our skills on the black run, Olympia.
While we navigated moguls, the snowboarder in our group ventured off to the Snow Park with its half-pipes and jumps. And when the snow falls, St. Moritz offers plenty of off-piste terrain.
The resort is divided into two parts: St. Moritz Bad, the original spa center of mineral springs, which is now a cluster of high rises; and St. Moritz Dorf, the main town with the swish hotels and shops. The two are about a mile apart.
The mountains offer four ski areas, but Corviglia and Corvatsch are the favorites. From St. Moritz Dorf, a mountain train chugs to a mid-station and the slopes of Corviglia where we skied. From there you'll find a variety of runs in all directions, as well as the Piz Nair cable car. From St. Moritz Bad, a cable car ascends to the Signal chairlift. Even the chairlifts at St. Moritz are first class — many high-speed, four-passenger with covers to pull down in case of extreme cold or snow. The slopes from Signal connect to those radiating from the Corviglia hub.
Corvatsch, the other major ski area, is a short bus ride down the valley from either part of St. Moritz with skiing and snowboarding for all levels, from gentle beginner trails at lower elevations to long, fast intermediate trails on the upper slopes. Challenging steep descents, both on and off piste, keep experts happy.
On previous visits to St. Moritz when snow was scarce, I skied Corvatsch because its slopes are at a higher elevation, hence better snow. It even has a glacier with year-round snow cover.
Lifts from Corvatsch link to neighboring Furtschellas, a smaller area with more intermediate and expert terrain.
Friday night rocks at Corvatsch from 7 p.m. to 2 a.m. with partying, dining, skiing and snowboarding on the longest floodlit slopes in Switzerland — three miles long.
Our host's favorite lunch spot is the Chesa Chantarella at Salastrains, a trendy Italian eatery with a sun terrace. The food was fine, the people-watching even better.
"We're noted as a ski resort, yet 40 percent of our winter visitors don't ski," a member of the St. Moritz's public relations office told me on a previous visit. It seems that many visitors, swaddled in fur, like to hang out at these chic mountain restaurants. We saw lots of champagne bottles. Many of the patrons lounging in the sheepskin-covered chairs spoke Russian. And, many had their pampered pooches at their feet.
If the crowds get to you, head out of town to the Pontressina/Diavolezza area, which consists of two sections, both about a half-hour bus ride from St. Moritz. At Bernina-Lagalb, a single cable car transports both skiers and snowboarders to the top of Piz Lagalb where the infamous Tour La Rosa starts, an off-piste adventure down unmarked trails. For the not-so- brave, there are two long groomed intermediate trails and one advanced run.
The other section, Bernina-Diavolezza, is a glacier landscape for those with intermediate and expert skills. You can even hire a guide for a long run (six miles) down an unmarked piste at the Diavolezza- Morteratsch glacier.
Cross-country skiers can glide over some 100 miles of groomed trails leading out of St. Moritz around the area's spectacular mountain lakes. St. Moritz's frozen lake, the St. Moritzersee, offers a bonanza of winter action, including horse racing, polo, golf, a cross- country race and cricket on the ice.
For the ultimate thrill, there's the famous bobsled run, a milelong ice channel slicing 19 hair-raising turns down the mountainside to the village of Celerina. You can watch teams practice as they fly by at 85 mph or pay to have a guided race of your own.
"St. Moritz has always had a reputation as a rich and elegant resort and it attracts that kind of people. Yet it's no more expensive than any other Swiss resort," says ski instructor and guide John Webster. "Slowly young people are beginning to realize this."
Once you've skied its slopes, you realize there's more to St. Moritz than the ritz.
Photojournalist Leah Larkin, a member of the Society of American Travel Writers, lives in the north Luberon area of Provence, France. Contact her through www.leahlarkin.com.
Know and Go
Getting there
St. Moritz is in Switzerland's Engadin valley about a 2½-hour drive from Zurich and near the Italian border.
Prices
• This season a one-day Engadin pass for all the ski areas costs between 58 and 71 Swiss francs (about $68 to $83) depending on dates. A one-day pass for either the Corvigilia slopes or those of Corvatsch are between 51 and 67 Swiss francs. Bus rides between the areas are included in the price of the all-area lift ticket.
• A guided bobsled race costs 210 Swiss francs. Reservations are a must. Details at www.olympia-bobrun.ch.
• Skiing the Diavolezza-Morteratsch glacier with a guide costs from 46 to 57 Swiss francs.
Find more information on the Web at www.engadin.stmoritz.ch.
— Leah Larkin