Skellig Michael: Mom and 5-year-old tackle a remote, steep, slippery island of rock in Ireland
---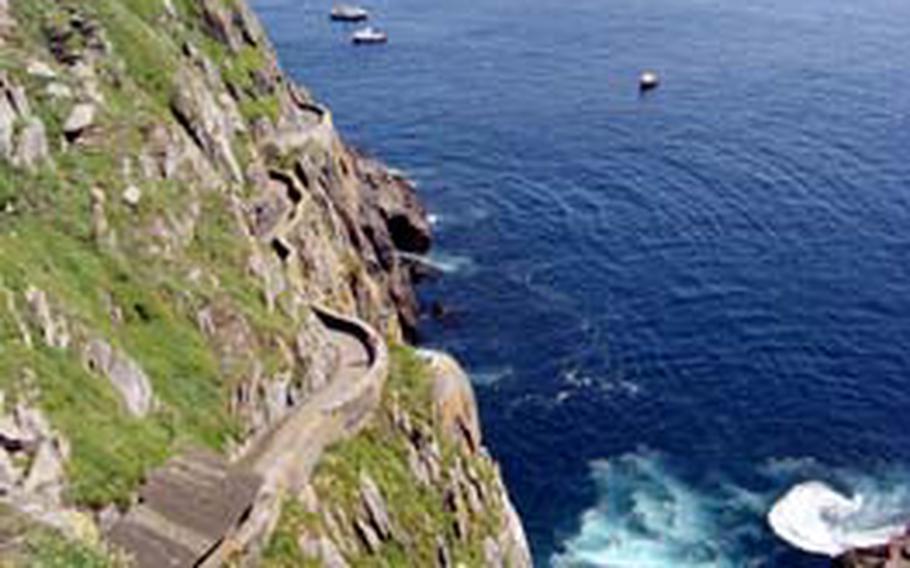 I bought a package of cheap clothesline in Ireland. There was nothing special about this stiff piece of rope, purchased at the only grocery store in Portmagee, a small fishing village on the southwest tip of the Iveragh peninsula. It wasn't even green, but it looked as if it was going to be our lifeline.
With the words "600 steps and no handrails," a fishermen's wife whom I'd never met sounded the alarm while we conversed on the phone, pushing the button that sends a mother of a 5-year-old child into a tizzy of worry.
But that's getting ahead of the story.
In early June, my daughter, Maddi, and I had traveled from Germany to Ireland for an abbreviated visit with my mother and stepfather. Plans for a more leisurely, weeklong trip were sunk when, two days before our scheduled departure, my daughter flipped over the front gate of our house, hitting chin and jaw on stone and asphalt. Ouch. Bruised and swollen, she was in no shape to travel.
But with my parents in Ireland for two weeks, and my daughter soon on the mend, the following week we were able to book last-minute tickets on Ryanair, from Frankfurt-Hahn to Kerry.
We had only 2½ days in the Emerald Isle. But no matter, we were going to do Skellig Michael.
The steep, rocky island that's also known as Skelligs Rock juts more than 700 feet above the windswept Atlantic Ocean, about eight miles off the southwest coast of Ireland in County Kerry. This "monastery in the sky," as it's been called, has been described as one of the most famous yet least accessible medieval monasteries in Europe.
Irish Christian monks, wanting to be closer to God, found their way there, possibly as early as the sixth century. They are believed to have abandoned the island in the 13th century, pushed out by climatic changes that brought cooler weather and more storms to the seas around Skellig, and by pressure to join the larger monastic community on the mainland. The site was added to the World Heritage List in 1996.
My mom has been talking about this place for years, but with most of her vacations to Ireland spent in the north near her father's childhood home in Donegal, it was still on her wish list.
After getting off the plane on a sunny June afternoon, my daughter and I were whisked away in the rental car with an urgent sense of purpose. We were off to Portmagee, to make boat reservations for a trip the following day to Skellig Michael.
Reservations have to be made directly with one of a handful of boat operators licensed to ferry passengers to and from the island. After a knock on the door of the Patrick Murphy-marked house, we called the phone number listed, ringing a nice Irish lady who unknowingly turned my excitement for the Skellig excursion into a bout of worry. Those 600 winding steps to the top were old and slippery, she said, suggesting that 5 was a wee bit young to be tackling them. I relayed this to my mom, the parent from whom my neurotic genes were not inherited. She brushed it off as needless fretting. At 67, she was not to be deterred from climbing this Irish jewel.
Someone in the village suggested a harness. The best we could do was the clothesline. I went to sleep that night with visions of my child dangling by a mere thread off the side of a cliff, as I teetered above her on wind-worn steps.
The next morning brought clear blue skies. We arrived at the Portmagee harbor pier for our 10 a.m. departure. Our white-haired captain helped us climb down a ladder into his small fishing boat. There were 12 of us on board, including an infant and another 5-year-old, a girl named Amelie from Munich. I was delighted. My daughter struck up an easy friendship with Amelie. They chewed Gummi bears on the hourlong boat ride. I clutched the clothesline.
The rope eventually settled in the bottom of my backpack, never to be unraveled. The day was to be the opposite of "the perfect storm," in this case the confluence of fortuitous timing, weather, sea conditions, even bird behavior.
The approach to Skellig Michael was breathtaking. The island is a craggy fortress of rock protruding from the sea. The stairs are steep and uneven: A red-haired American kid from another boat was unhappily roped to his father for the ascent. But my daughter and I did just fine with tightly clasped hands and careful steps.
While my mom plugged ahead, Maddi and I stopped often to admire one of the island's other features, its adorable puffins. We were enthralled with these pint-size seabirds with yellow and red painted beaks.
Up to 4,000 puffins come to the island in the summer to breed and nest, taking over rabbit burrows and any hole they can find in the thick pockets of island clover and wildflowers. They didn't seem to mind the gawking tourists, striking the perfect pose on rocky ledges as cameras busily snapped inches away.
The summit of Skellig invited an altogether different experience. A series of stone beehive-shaped dwellings sit intact on multi-level terraces, ringed by sheer vertical walls. Tourists can duck inside the hermit huts, though there's not much to see except darkness. Tour guides keep a watchful eye, working and living for two weeks on the island, with a week off in between stints. One gave a short talk, telling us how a group of 12 to 15 monks lived continuously on the island, persisting despite the elements and several attacks by Vikings in search of sacred gold treasures. The monks ate fish, birds and bird eggs and had a vegetable garden. One larger beehive was the oratory, where they gathered for prayer.
On a sun-drenched day such as this, life on this solitary rock seemed tolerable. But the guide told us this was just the third sunny day she'd seen in three weeks. Bad weather often keeps the tourist boats at bay for days. It was hard to imagine spending a life in this remote wilderness, but stripping life of everything but necessities and existing in a harsh, isolated environment was considered the purest form of monastic life, according to scholars who've studied the site.
Our time on Skellig Michael was limited to 2½ hours. As our fishing boat chugged noisily back to Portmagee harbor, we passed Little Skellig, a smaller rock island in view of Skellig Michael that's home to 70,000 seabirds, according to our captain. We even caught a glimpse of some sunbathing seals on the rocks.
Back at the pier, we marveled at our adventure, and how our timing, so off just a week ago with my daughter's spill, was just right on this day.
I tossed out the clothesline when we got home.
Getting to Skellig Michael
The nearest airport to Skellig Michael is Kerry Airport in County Kerry, Ireland. We flew a direct flight (two hours) on Ryanair from Frankfurt-Hahn, Germany, to Kerry. Tickets for two can cost anywhere from 180 to 350 euros, depending on the time of year, day of the week and how far in advance tickets are purchased. Cars can be rented at the airport. From Kerry Airport, we drove to Portmagee, a scenic drive of just under two hours and the main departure point for sea cruises to Skellig Michael.
Reservations for a boat trip to Skellig Michael must be made no later than the night before with a licensed boat operator. Information on boat tours and how to contact a boat operator is available at the Skellig Experience Centre across the bridge from Portmagee on Valentia Island. The trip will cost about 45 to 50 euros, and the boats usually leave in the morning. Expect to be out for about five hours — an hour each way to and from the island, and 2½ hours on the island. Take food and water.
Trips generally run from late April to late September, depending on the weather and sea conditions. Best time to view the puffins is early in the season.
Skellig Experience Centre offers a good introduction to what you will see on the island, or an explanation afterward. It includes models and re-creations of the monks' homes and the seaside cliffs where seabirds live.
The center is open 10 a.m. to 7 p.m. daily July and August, and from 10 a.m. to 5 p.m. five days a week March, April, October and November.
Call (+353) 66-947-6306 or e-mail skelligcentre@eircom.net for open days. Admission is 5 euros for adults, 4 euros for seniors and 3 euros for children; a family ticket is 14 euros.
Where to stay
There are several bed-and-breakfast accommodations in the small fishing village of Portmagee. Rooms usually can be booked on the spot. Expect to pay between 35 and 45 euros per person per night, including breakfast.
---
---
---
---