Seoul: Gongdeok-dong an 'unhealthy' but happy place
by
Hwang Hae-rym Teri Weaver
March 15, 2009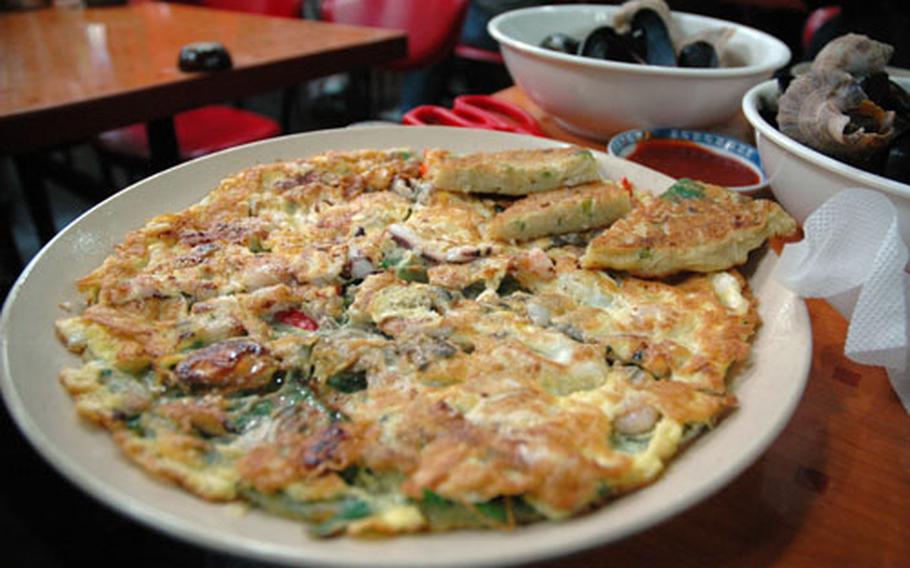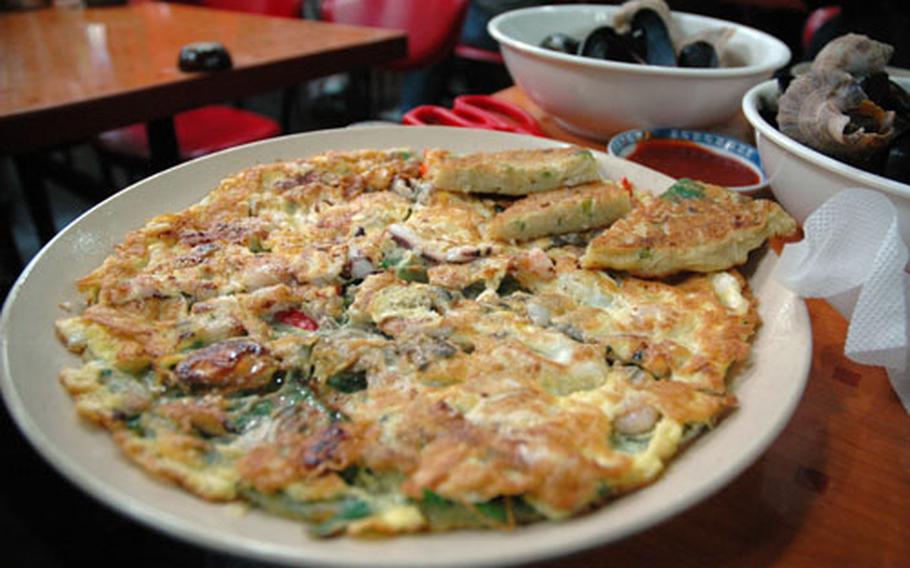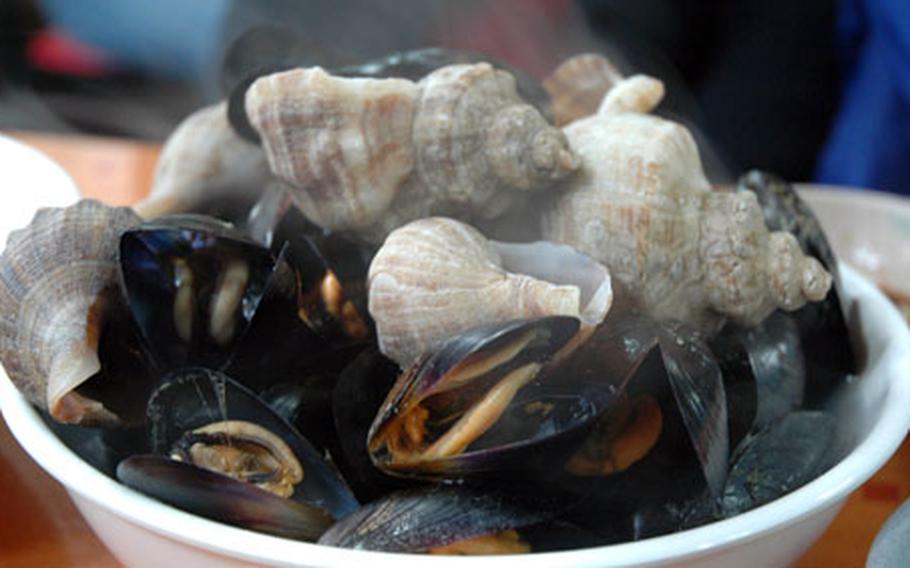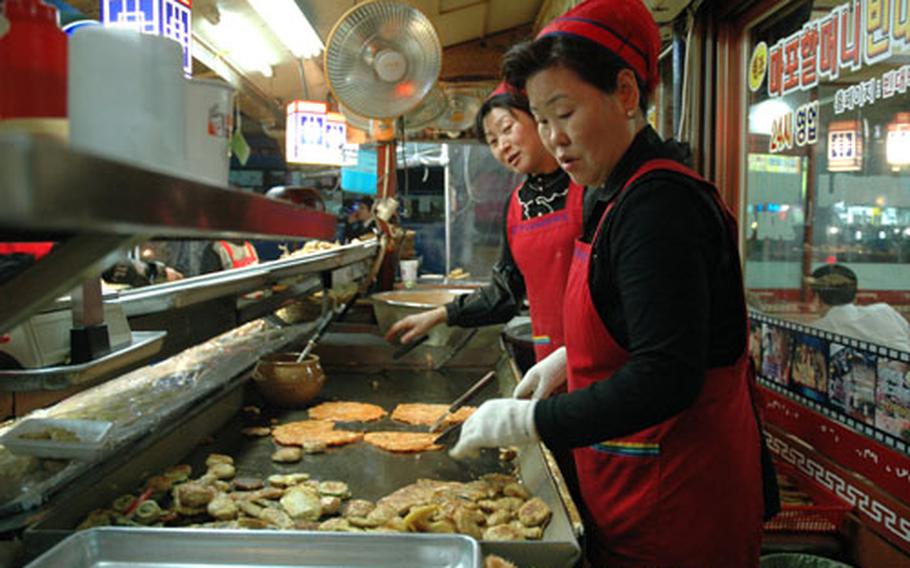 When we told the cab driver we wanted to go to Gongdeok-dong, he seemed dismayed.
"Why do you want to go there?" he asked. "It's so unhealthy."
Precisely.
This neighborhood in the Mapo district in Seoul is home to twi gim, or fried food alley. The proprietors take this nickname seriously. Piles of deep-fried fish cakes, meats and vegetables of all sorts fill the outdoor stands along two narrow alleys, where fryers and griddles are in a constant state of greasy goodness. You'll smell twi gim before you'll see it.
At the center of it all is Mapo Halmae Bindae Tteok. This restaurant began three decades ago as a stall selling buchimgae or jeon, a Korean savory pancake traditionally mixed with green onions or seafood. It's this pancake, a snack with beer or during holiday feasts, that is the heart of twi gim.
Over the years, Halmae Bindae Tteok grew stall by stall, squeezing into the nooks and crannies of the alley so that now it meanders from one room to the next like a giant beehive. The restaurant's reputation ballooned as well, attracting locals and foreign tourists despite the lack of a foreign language menu, according to Lee Soon-ae, whose mother started the restaurant.
Literacy is not terribly important at Halmae Bindae Teeok. An appetite is. Portions come in big and bigger. A picture menu on the main dining room's back wall helps, though foreigners are welcome to go outside and point out their preferences among the stacks, Lee said.
"You can feel the real atmosphere of what the most ordinary and common Korean people are doing at the traditional restaurant," said Lee, who said the place's popularity grew without advertising. "Nothing is a fake."
Sampler plates from the outside stalls offer fried mushrooms, meats, fishcakes, pumpkin, squash, sweet potato, and red-pepper-filled batter. The jeon themselves come in two sizes in a dozen varieties — ground meet, mushroom, pumpkin, leek, scallion, sesame leaf, fish cake, Kimchi and mung bean, among others. These are fried fresh, to order.
The making of each day's batter is a little more complicated.
Seomoon Jeong-ae, Lee's mother, is the "grandma" who started it all – the restaurant's name translates to Mapo Grandma's pancake. After 30 years, she still is the only one allowed to mix the batter. She refuses to share her secrets with her daughter or daughter-in-law, but at 72, she also has stopped coming to the restaurant.
Now she mixes the flour, water and oil at home, and restaurant workers ferry the sticky dough across the city, Lee said.
The trip is most definitely worth it.
Lee said the restaurant has been invited by the U.S. military to cook at Yongsan Garrison in the past, and that troops and workers often come to twi gim.
To get to Mapo Halmae Bindae Tteok: Take subway Line 5 or Line 6 to Gongdeok Station. Take Exit 5 and walk toward twi gim, a couple of minutes away.
Combination platters range from about 10,000 won to 20,000 won. The jeon comes in two sizes and 12 varieties; the small is 7,000 won and large is 14,000 won.
Know and go ...Buchimgae or Jeon was first eaten in the Koryo Dynasty, which spanned from 918 to 1392. Families would celebrate the first blossoms of spring with flower-shaped rice pancakes. Early on, rice or buckwheat flour was used for the batter, and the cakes were garnished with azalea flowers. Wheat flour and cooking oil were both very scarce, so families would make the cakes with just a drizzle of oil in the pan. Over time, other ingredients such as onion, seafood and meats were added. Now, jeon is a common dish served as a drinking snack or at special occasions, such as birthdays or funerals.
Source: Oh Kyung-hwa, vice director of Han's Cooking School in Seoul.