Sailing: American friends set sail for adventure on Turkey's southern coast
by
Theresa McMillan Wesson
January 22, 2004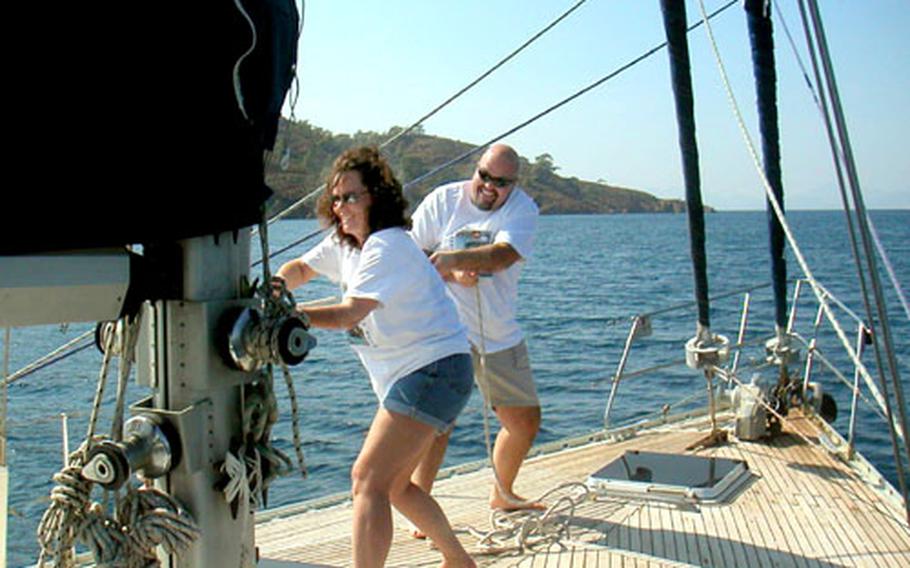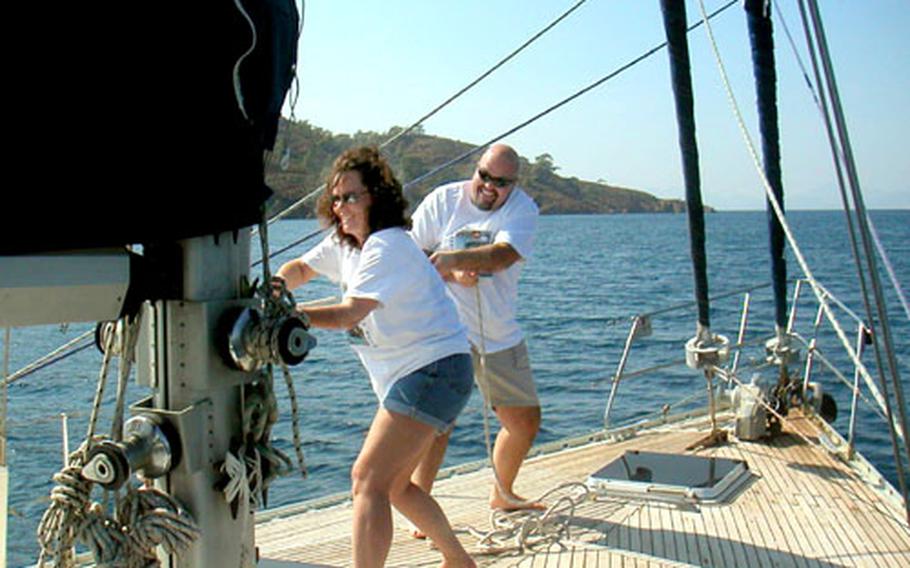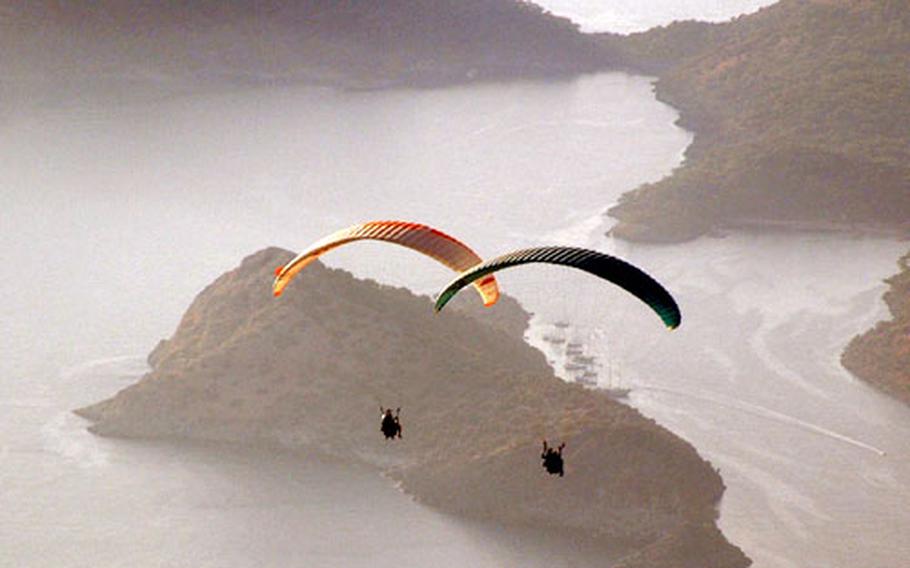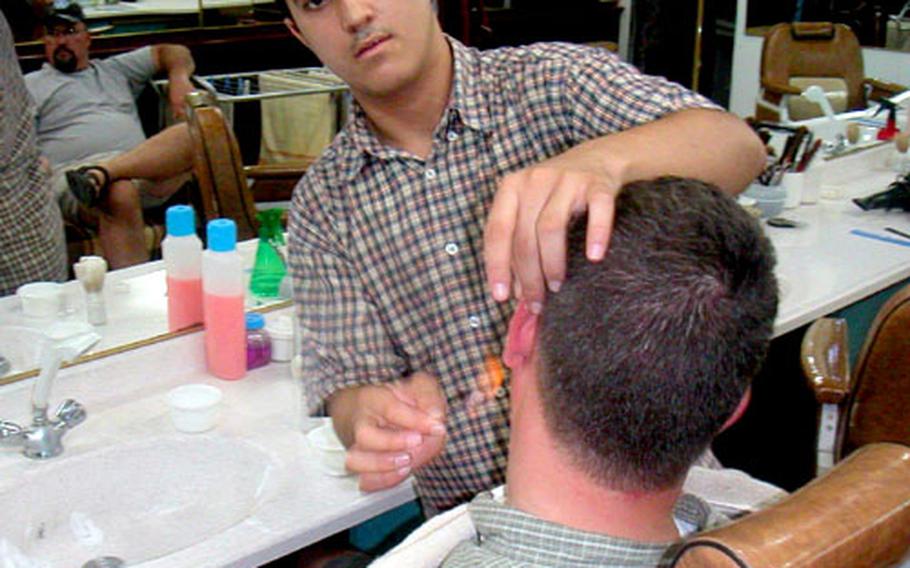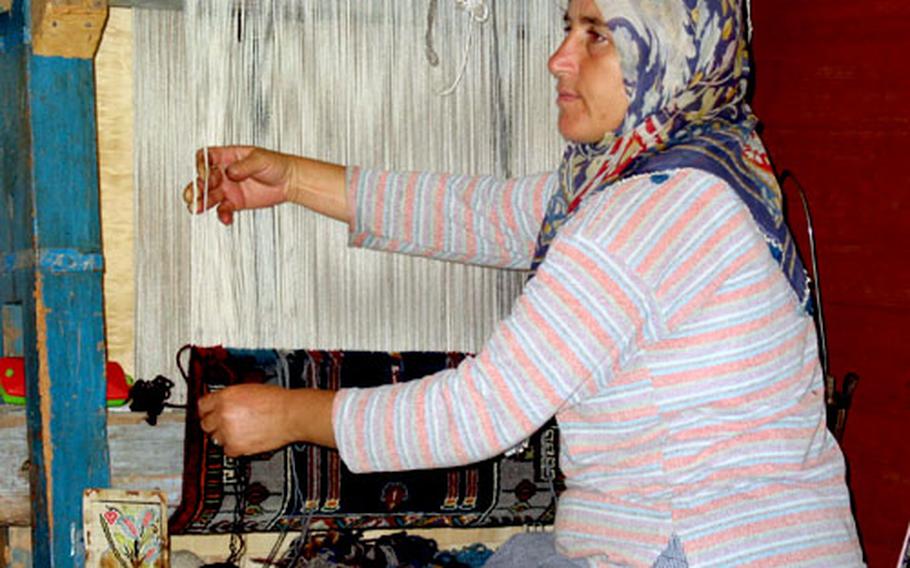 Having enjoyed the thrills of sailing in southern Europe, my husband and I set our sights on the turquoise waters of Turkey's southern coast. We gathered friends from a previous sailing adventure and prepared for a voyage of a lifetime.
By the time the adventure was over, our group of eight had spent seven days swimming in quiet waters, meeting fascinating Turkish people, exploring ancient historical sites, paragliding above spectacular beaches and haggling in local bazaars. We experienced customs and traditions for the first time, saw sights we may never see again and all vowed to someday return.
The trip began with a flight into the city of Dalaman and an hourlong taxi ride over the mountains to the port of Fethiye, where our group met the crew and our sailboat, the Anna Maria. We quickly settled into our spaces onboard and set sail.
Our first stop was Ruin Bay. It was once said to be a stopping point for Cleopatra to bathe, relax and rest from her grueling life as queen of Egypt.
We were soon swimming and snorkeling in the warm water among the ruins of the ancient bathhouse. Two in our gang, Frank and Glenda Maddox, declared the water "absolutely wonderful" and grinned from ear to ear as they swam.
Each day, we sailed to a new location where we relaxed and had an evening meal. On this day, we dined on a restaurant boat known as Restaurant Amigo, or just "Reçep's boat" to the locals.
Reçep and his extended family operate the two-story floating diner that is part house and part restaurant. The local Turkish government had previously imposed taxes and licensing regulations on Reçep when he operated a restaurant on the shore overlooking Cleopatra's Bath. He refused to bow to the requirements, and as a result spent three years in jail.
Once freed, to defy the local government Reçep opened a floating restaurant that was not attached in any manner to Turkish soil.
The next day, with little wind, we motored the sailboat to the town of Göcek. This trendy spot offered quaint streets brimming with souvenir and craft shops, restaurants and delightful Turkish bath houses, or hamams.
Our sailboat captain, Matthew Hayes, had recommended we visit the hamam in a nearby marina. We were permitted to bathe as a co-ed group and, following directions from the masseur at the bath house, changed into our pestamals, or sarongs, and headed first into the sauna to indulge in a two-hour treat.
Giggling with nervous energy, each of us was bathed with copious amounts of soap and water, experienced a kese session with a loofah-like mitt to remove dead skin, and received a massage in the large main bath chamber.
One member of our party, Bruce Rehberg, being a tall and big man, was told "You pay two [twice the price]!" before the masseur began the oil soap massage. We laughed as Bruce slyly grinned and then flopped onto the warm marble stone for his turn at personal muscle kneading.
The session ended with a "swaddling" of dry towels and glasses of Turkish tea.
The highlight of the following day was a trip from the port of Dalayan, further along the coast from Göcek, to the ancient city of Caunus. This town had served as a base for many cultures such as the Carians of southwestern Turkey, the Lycians and the Romans. It is perched on a breathtaking hill, tucked in an amazing area replete with ancient ruins and rock tombs.
The final portion of our day trip featured a stop at the "famous" Aqua Mia sulfur mud bathing area. The baths are in an outdoor area off a river dock, and include a pit of cool muddy water and mud, an outdoor rinsing/shower station and a pool of clean, warm sulfur water.
My husband, Troy, found the entire event "memorable but overrated" as he endured the stinky mud and cold water to apply his own mud layer that dried in the sun. He then rinsed off and took a quick dip in the warm sulfur water. We soon left the mud baths, relieved that the event was over.
The next day we set out for the peninsula area of Kapi Creek, not far from Göcek. This quiet locale proved to be another excellent opportunity to meet the Turkish coastal people.
Our captain and the sailboat company had made the acquaintance of a delightful Turkish family, the Küls, who made carpets in their home above the docks. We took a seat in their modest home, where they offered us fresh sage tea with honey and showed us their work.
Our gang oohed and aahed over the gorgeous blues, reds, tans and light greens in each carpet. After some serious negotiating, we paid for several carpets and made arrangements to collect them, via a "secretive rendezvous point."
The local marina owners take great dislike to any large carpet purchases occurring without any cut for them. So the Kül family keeps their carpet trade quiet. They asked that our sailboat motor to another location away from the marina and receive our carpets via a "rug drop" early the following morning.
Our next day's stop was the action-packed area of Ölüdeniz. This town is known for its still waters, blue lagoon national park and mountainous peaks that frequent Turkish tourism ads. Many paragliders use the mountains above the lagoon as a starting point, while microlights, or motorized gliders, use the wide beaches for their takeoffs and landings.
Two in our group wasted no time in arranging for a jump in a paraglider from Baba Dagi, a 6,500-foot-tall mountain overlooking Ölüdeniz. Carl Guthrie and Bruce Rehberg, along with sailboat captain Hayes and first mate Jill Lumenta, selected a company offering tandem jumps, each person matched with an experienced guide.
Not to be left behind, another group member, Frank Maddox, decided to experience the beauty of Ölüdeniz from the air by taking two flights with an experienced pilot in a microlight.
The town of Marmaris was our final port call. This former coastal village bustles with a bazaar and local shops, sailboat companies, restaurants and hotels.
The Turkish goldsmiths and shop owners in the local bazaar quickly ascertained that we were English speakers and greeted us with shouts of "Hello, my friend!" My husband Troy and I were "mistaken" for naval officers as a shopkeeper tried to engage us in conversation and sell Troy a leather hat.
Having gotten our attention, the shopkeeper then wove a woeful tale of needing money for his upcoming wedding. Between the mistaken identity and carefully crafted tale, I laughed so hard that I insisted my husband buy the hat, at the price of $3.
Group member Carl Guthrie found the bazaar perfect for honing his bartering skills. He was soon engaged in serious negotiations and haggling with several shop owners for gold jewelry. Armed with a poker face and his wife, Angela, Guthrie refused to pay any price but the low price he stated. After the shopkeeper was nearly reduced to tears, he reduced the price of several gold necklaces to Guthrie's satisfaction.
By the end of our adventure, our group had fallen in love with the quiet Turkish coastal life, its people and its customs — one in particular.
Almost each morning we were greeted at a dock by locals cooking crépes or pancakes on their small boat. One person would be rowing the boat quietly around as another warmly smiled and beckoned you to buy one of her breakfast creations. This quiet ritual painted a peaceful image for our group, and reminded us all of the simpler pleasures in life.
The quiet spots along Turkey's southern coastal isles combined with the fun and thrills of the local ports to make the voyage a vacation success. We each had experienced adventures of a lifetime, and left vowing to return to Turkey soon.
Theresa McMillan Wesson is a freelance writer living in Heidelberg, Germany. E-mail her at theresatravel@wessonality.com. See more pictures of this adventure on the Web at www.wessonality.com.
Charting our course ...
¶ Our group sailed last October with SeaScape Sailing, a company with a sailboat that we had previously chartered. The company offers sailing, with no experience necessary, for singles, couples or groups in several locations around the globe.
¶The cost for this seven-day adventure was about $995 per person, with discounts possible if you fill the entire boat. The price included the sailing crew, snacks, beverages, alcohol drinks, fuel and cleaning fees. For more information on the sailing company and locations, go to www.seascape-sail.com.
¶ Our 55-foot-long sailboat had five individual cabins, each with a double- bed area, storage lockers and a private bathroom.
¶ Participants have the option of helping out with the sailing or just being passengers. Since this was the second time most of us had been on this boat, we opted to pitch in. We played an active role in docking the boat, tying on fenders or "bumpers" to protect the boat and throwing and securing mooring lines.
¶ We reviewed several books to get a firm idea of which portion of the Turkish coast we would be exploring. While not all the locations we discovered are mentioned in books, major ports usually were described. We found "The Rough Guide to Turkey," the "Blue Guide Turkey" and "DK Eyewitness travel guides: Turkey" to be good resources.
¶ When we arrived in Dalaman, we were greeted at the airport with the requirement to buy an entry visa for $100. Currently, U.S. citizens must pay for this visa, which is good for multiple re-entries and exits for three months.
¶ Our previous sailing adventure — as first-time sailors in the Greek islands — was published in July 2002 in Stars and Stripes. The article, "Ahoy, Greece: Couples tour islands by sailboat" can be viewed at the online Stripes Travel magazine archives at http://www.stripes.com/article.asp?section=103&article=9762&archive=true
— Theresa McMillan Wesson