Rosé wines have had a bad rap, but in France, they're the rage
by
Leah Larkin
April 10, 2008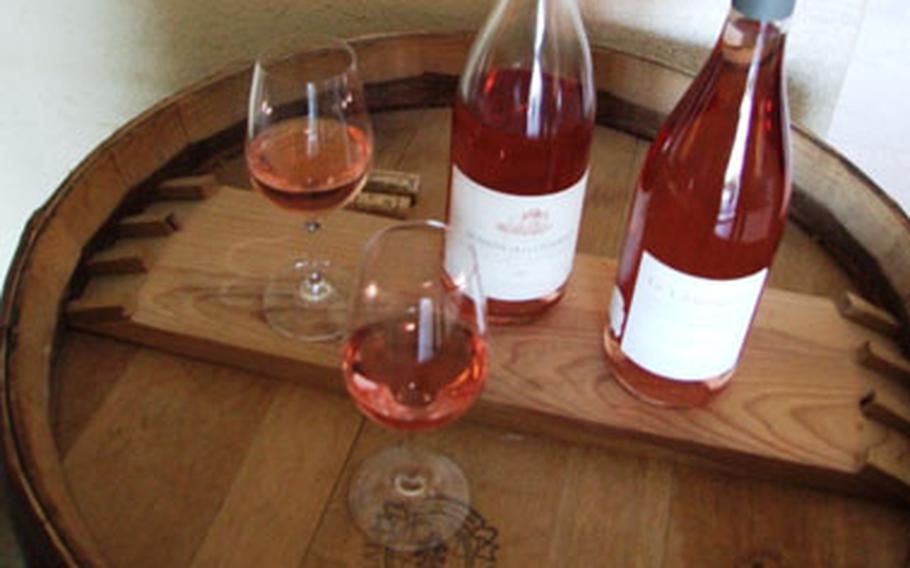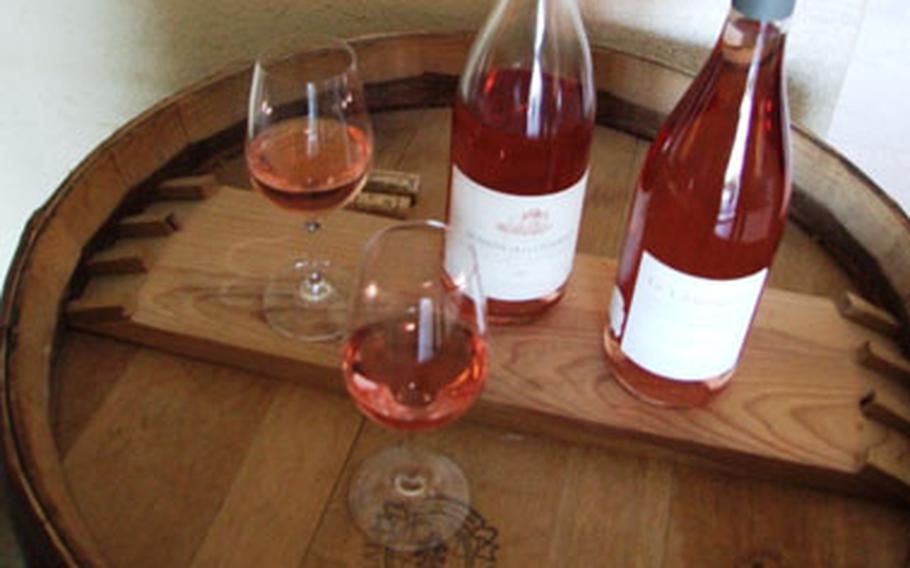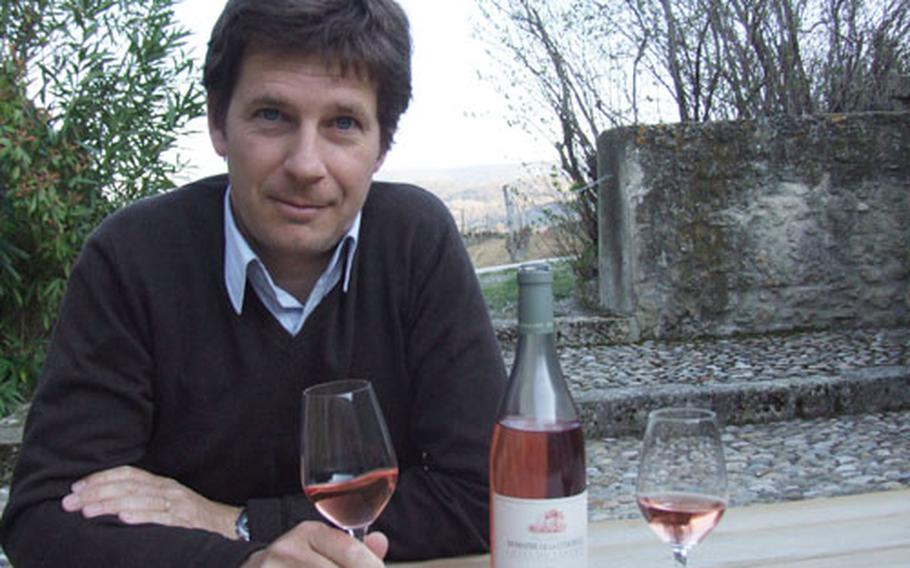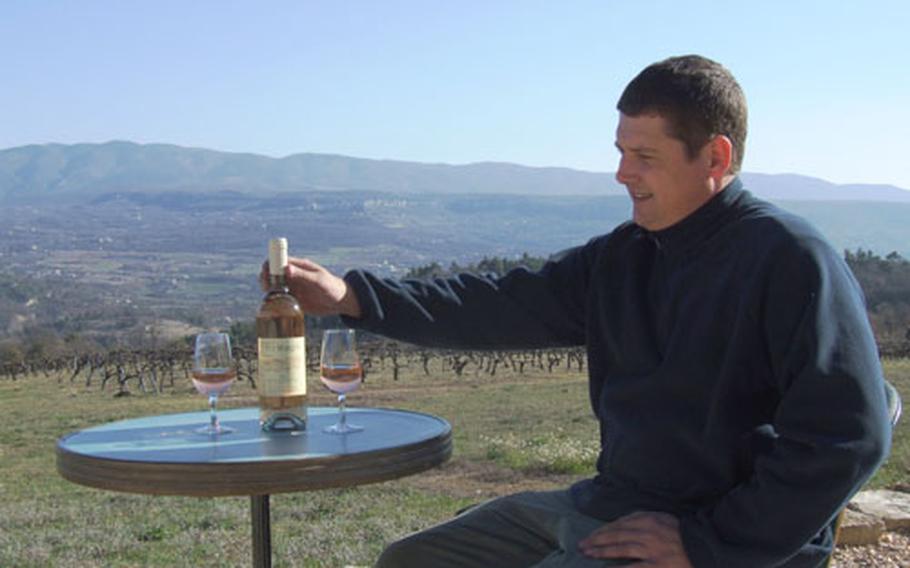 Lazy days by the pool sipping pink wine: That's life in Provence, the region in southern France where 40 percent of the country's rosé wine is produced.
"When you think of Provence, you think of rosé," says Sylvain Curtil of the wine shop Cave du Septier in the town of Apt.
"… Provence, the sun, rosé."
"It's easy to drink, a wine you drink for pleasure," adds Alexandre Leclercq, whose Domaine du Puy Marquis winery in the hills above Apt makes rosé.
More and more people are learning about the pleasure of rosé. Sales of the pale wine are on the upswing. In 2006 rosé increased its share of the French market to nearly 20 percent.
Years ago, rosé got a bum rap. Connoisseurs turned up their noses at what they considered the poor cousin of the great whites, and a veritable pauper when compared with the red grand crus of Bordeaux. Medium-sweet rosés such as the Portuguese Mateus Rosé and the semi-sweet American blush wines only added to its poor image — even though French rosés are dry, not sweet.
Alexis Rousset-Rouard, who operates the winery Domaine de la Citadelle in Menerbes, says that rosé is becoming more popular outside Provence.
"A few years ago there was no demand for French rosé in the U.S.," he said. "They only knew sweet rosés. Now we're exporting 10 percent of our production to the U.S."
Part of the reason for the increased interest is the progress in vinification techniques that has improved wine quality. Today there are two methods of producing rosé — through skin contact or by the saignée (bleeding) process.
Red-skinned grapes are crushed and their skins left in contact with the juice for a short period, usually two to three days, until the desired color is obtained. The grapes are then pressed, and the skins discarded — unlike in the making of red wine, during which the skins are left in contact with the juice throughout the fermentation process.
As the skins contain much of the strongly flavored tannin and other compounds, the longer the skins remain in contact with the juice, the more intense the color of the final wine.
Saignée is used by vintners who want to make a more concentrated red wine. Some of the pink juice is "bled" from the must — the freshly pressed fruit — at an early stage. That juice is fermented separately, producing a rosé. The rest is used for red wine — and since the volume of juice has been reduced, it is more concentrated and the resulting wine more intense.
At one time, rosé was also made by blending, simply mixing a bit of red wine to white wine to add color. The practice is discouraged and has largely been discontinued.
Leclercq uses both the bleeding and skin contact methods to produce his rosé. He says that these days people seem to prefer lighter rosés.
To achieve a paler wine, he harvests the grapes early in the morning while they are still cold, chills them with their skins for 14 hours, then presses the fruit. "If they are left longer, there's too much color," he says.
Grenache, Cinsault and Syrah are the three types of grapes used in his rosés.
Rousset-Rouard produces two kinds of rosé: Le Châtaignier at 6.50 euros per bottle, "an easy- drinking rosé, perfect for the swimming pool," and Les Artèmes, a "gastronomic rosé" that sells for 9.50 euros per bottle, that he says "has more density, more depth, complexity, precision. It's perfect with meals."
At the Centre du Rosé, a research facility in Vidauban in Provence, a color chart was developed listing the nine tints most often seen in Provence rosés.
It also compiled a list of phrases to describe the aromas and tastes of the different rosés. These include "reflections of raspberry, hints of peach and Mirabelle, or prunes and apricot, exotic fruits in the nose, a touch of mandarin and orange, citrus fruits and flowers, touches of vanilla …"
One wine review described a 2006 Saint-Andre de Figuière as having "an aroma of lime and grapefruit, with hints of kaki and jujube in the mouth."
Don't let those descriptions intimidate you. Rosés are generally less expensive than white and red wines, and they are not a wine made to age. They are made to be enjoyed on a summer day.
"Drink them within two years," advises Rousset-Rouard. Like white wines, they should be served chilled, between 10 and 12 degrees C (50-54 degrees F). Drink them alone, with hors d'oeuvres, white meats, fish or summer barbecues.
Rosés are also produced elsewhere — including Italy, Spain, even Morocco and Algeria. German rosé, Weissherbst, is made from only one grape variety.
But, as Rousset-Rouard noted, rosé is "basically a Mediterranean wine."
And, according to Curtil, "French rosé is the best."
Photojournalist Leah Larkin, a member of the Society of American Travel Writers, lives in the north Luberon area of Provence, France. Contact her through www.leahlarkin.com.
If you go ...• The Provence wineries mentioned here welcome visitors for tastings. Domaine de la Citadelle, www.domaine-citadelle.com, also has a Corkscrew Museum with more than 1,000 items from the 17th century to the present. It is on Route de Cavaillon, Menerbes, (+33) (0) 490-72-41-58.
• The hilltop Domaine du Puy Marquis offers outstanding views of the Luberon as well as fine wines. It is on Route de Rustrel, Apt, (+33) (0) 490-74- 51-87.
• The Cave du Septier at Place du Septier/Place Carnot in Apt carries 20 kinds of rosé, (+33) (0) 490-04-77-38.
— Leah Larkin
More wine-related articles from Stars and Stripes:
Culture by the bottle: Wine festival season arrives in Europe
For delicious reds and whites, look no further than Tuscany
German town hails departing wine queen, welcomes her successor
2008 European wine festival calendar