Rogner Bad Blumau : Austrian spa emphasizes health
by
Jim Sajo
February 12, 2004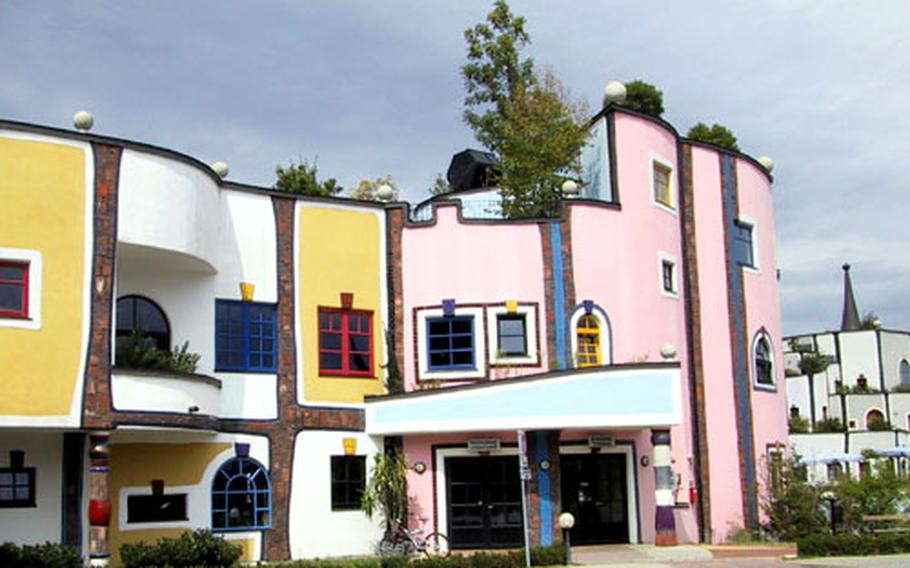 Swimming pools, a gymnasium and tennis courts are scattered across the campus-like grounds. A professional staff offers 16 kinds of massage treatments. The breakfast buffet table displays more than 30 yards of mouth-watering choices. All this in colorful buildings that express both individuality and harmony with their natural surroundings.This is the Rogner Bad Blumau Hotel and Spa. It sprawls across some 100 acres between Vienna and Graz in Austria, and it is spectacular.
More of an ecosystem than a resort, Rogner Bad Blumau is the result of the cooperative vision of Robert Rogner and the late iconoclastic artist Friedensreich Hundertwasser.
Energy companies looking for natural gas in the area discovered three thermal springs more than 30 years ago. They are so deep (nearly 10,000 feet under the surface) that it was considered by most to be economically untenable to drill.
Rogner, a wealthy industrialist and savvy businessman, was not dissuaded. He knew about Hundertwasser's dream of creating a self-sufficient village, and he longed to build an all-inclusive health spa. Their collaborative effort resulted in the tranquil paradise that exists today
The three springs (named Melchior, Balthasar and Caspar — the biblical Three Magi) are rich in nutrients and minerals. In addition to the thermal pools, each spring serves a specific function including heating the rooms, lobbies and common areas of the hotel.
The main feature of the resort is the health spa. It is divided into three areas.
¶ The Health and Mind Center provides health examinations, advice and treatment to put guests on the path to wellness. The underlying philosophy of wellness is based upon prevention. Then a synthesis of traditional Western and less-familiar Eastern Ayurveda treatments is offered.
Guests are invited to discuss their health with resident doctors who offer advice on diet, nutrition, exercise and specific treatments. The staff offers 16 kinds of massage therapy, five kinds of Ayurveda treatment, various medical services and holistic treatments.
A large thermal pool allows customers to unwind either inside or outside. The sauna center features more than six different sauna treatments and two giant hot tubs.
In keeping with the atmosphere of relaxation, visitors wander between the services and facilities of the Health and Mind Center wearing only a robe and slippers.
¶ The Sports and Fitness Center offers individual or group programs in movement, meditation and dance, sports science, fitness checks and evaluations.
Well-marked running and cycling paths surround the grounds. Walking trails wander through an impressive display of flora. A swimming pool, wave pool, tennis courts and gymnasium with modern aerobic equipment are available.
Visitors can participate in fitness programs on their own, in groups or with the assistance of a fitness training expert, tailored to their personal needs.
¶ The Beauty Center is a complete facility that provides 12 facial treatments, six different specialty baths, seven skin depilation treatment options, more than 10 specific beauty consultation/treatment combinations and six body treatments.
Hundertwasser designed the buildings and grounds of the resort in 1995. His affinity for vibrant colors and disdain for straight lines is combined with playful images and a staggering array of art from all over the world to create an atmosphere of quiet relaxation.
There are more than 300 columns among the structures at Bad Blumau, each with a different combination of colors and style. The buildings have more than 2,400 windows. With diverse shapes, wavy lines and multiple color schemes each is unique.
A visitor has a choice from seven kinds of rooms at six different hotel buildings.
The basic accommodation is equivalent to a high-quality hotel room. Efficiency apartments, including a kitchenette, living room, bedroom and full bath, are also available.
The top-of-the-line "luxury suite" includes an entry hall, spacious living room with a double sofa bed, two bedrooms, two baths, a separate half-bath, balcony and terrace. Each is approximately 1,000 square feet.
The spa has six restaurants. They vary in price and formality and each offers a specific style and specialty. Guests will have a completely pleasurable dining experience during their stay.
There are also two bars — one right outside of the sauna center — and one wine boutique. A cooking course specializing in healthy Ayurveda cuisine is available.
Jim Sajo is a freelance writer living in Italy.
Getting there
Rogner Bad Blumau is between Vienna and Graz in southern Austria. Both cities have airports with connections throughout Europe. A free transfer from Graz is available and a transfer from Vienna can be arranged.
Autobahn 2 passes within a few miles of the resort, which is well marked from both the Sebersdorf and Ilz/Furstenfeld exits. Remember that travel on Austrian autobahns requires a toll sticker, which can be purchased at the border or at most autobahn service stations.
Train service to Graz or Vienna is also available. A transfer to Bad Blumau can be arranged by calling the reservations desk.
Packages
Vacation packages are available and can be tailored for each guest. Packages are for three or more nights and include breakfast or half- board, a fitness assessment, personal training session and up to three leisure activities.
Find details about the resort at www.blumau.com. Book rooms through the site, or call the reservations desk at (+43) (0) 3383-5100-0.
Good to know
Aggressive expansion plans, set to begin late this year include adding restaurant space and rooms. Later improvements will expand the health and spa facilities. Other plans include increasing the farming space on the resort to the point that the majority of food served in the on-site restaurants will be organically grown on the Rogner farms.
Of particular note are the extraordinary friendliness, helpfulness and efficiency of the staff. Resident Manager Bettina Spies said this is the result of a thorough training program. She explains that most of the employees are locals and that the people of this part of Austria are famous for their friendliness. Most staff members speak fluent English.
— Jim Sajo
What is Ayurveda?
Ayurveda is a holistic system of healing that originated in India more than 6,000 years ago. The term comes from Sanskrit: Ayu meaning life and Veda, which means the knowledge of.
Therefore, to know about life is Ayurveda. According to ancient writings, human life is composed of four essential parts: mind, body, senses and soul. Modern Ayurveda practice aims to provide guidance regarding food and lifestyle to find the balance of the four parts so healthy people stay healthy and those with challenges improve their health.
–– Stars and Stripes
---
---
---
---