Riding the rail trails across Spain
---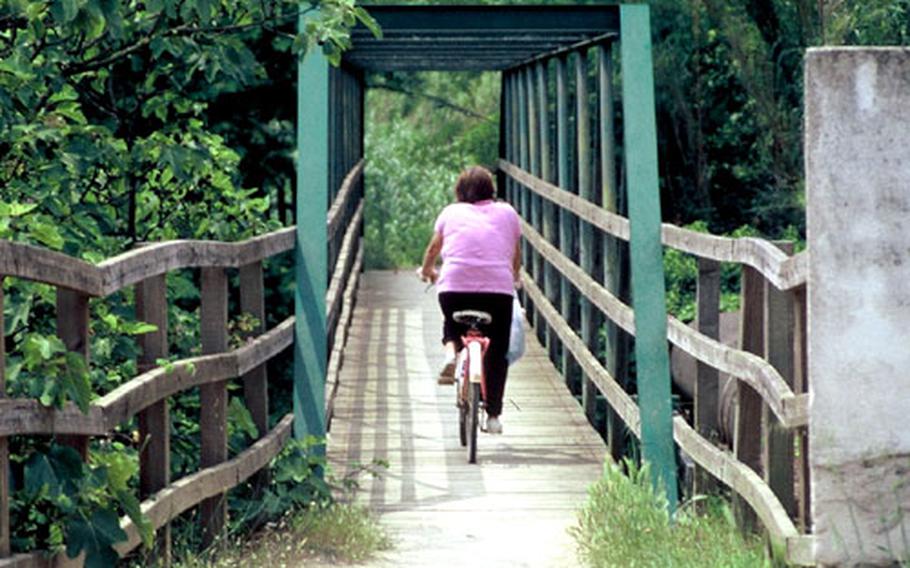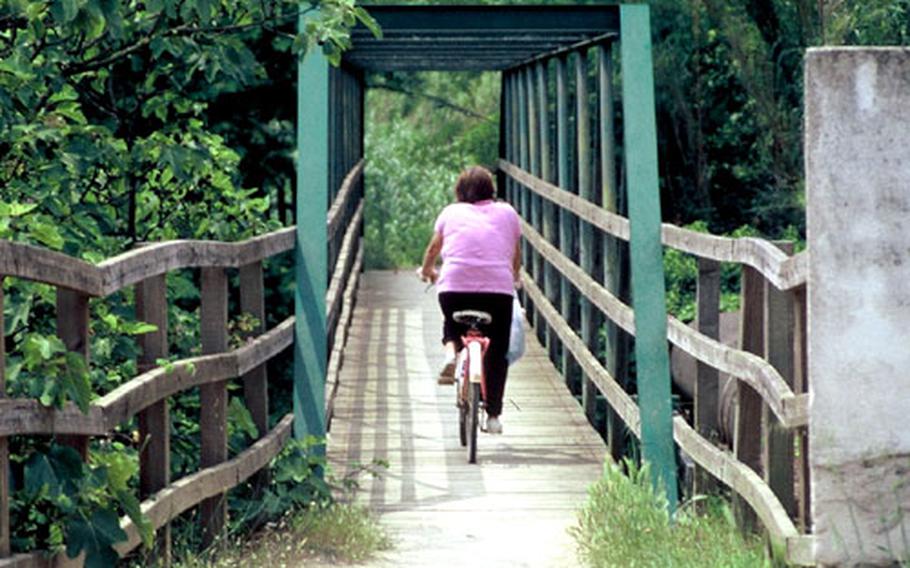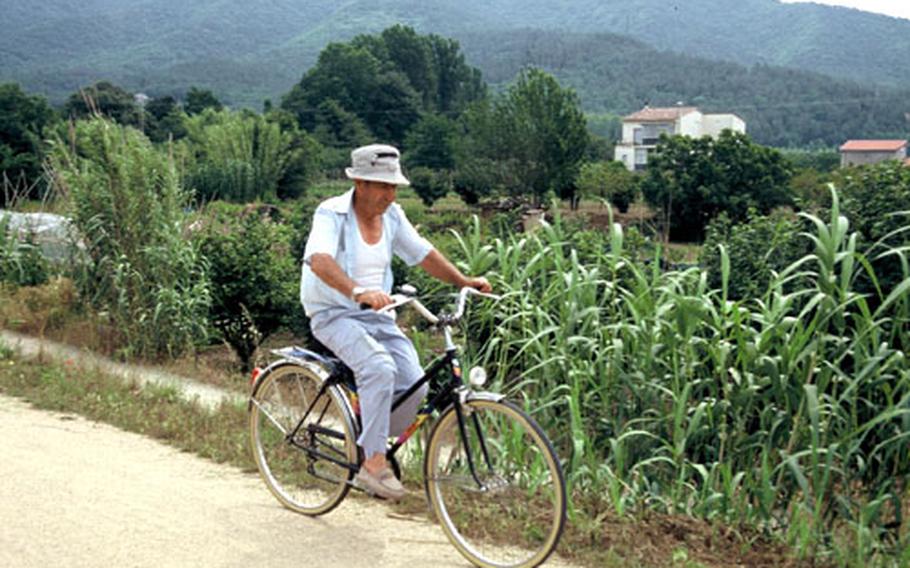 The scene is idyllic: A flat, leaf-littered path meanders through the forest. The calm waters of Spain's Ter River flow alongside, cutting a wide, dark path of their own. Under the cool canopy of trees, a well-worn bench offers the perfect spot for a short break and a peaceful view of the river.
I sit down, grateful for the respite, and take a minute to soak up the scene before reaching for an apple and my water bottle.
I'm on kilometer 47 of the Ruta del Carrilet (Map), a bike-friendly rail trail that begins in the pre-Pyrenean town of Olot and makes its way alongside rivers, across bridges and through medieval towns to the seaside resort Sant de Guixols and the end of the route.
Today I'll cycle only part of the route — the plan is to stop in Girona, about halfway to the end — but already I've used all my film in an effort to capture the region's pristine scenery, and my backside is sore from so much time in the saddle.
The Ruta del Carrilet follows an abandoned rail line that carted goods and passengers across this area of northern Spain from 1887 until 1969, when improved bus and truck communications outpaced the train's services. The rail line was abandoned and its 94 kilometers of track were left to rust until the early 1990s, when the line was refurbished as a rail trail. Now this wide, relatively flat trail is closed to motorized traffic and is an ideal way for cyclists of all ability levels to do some two-wheeled sight-seeing.
On my trek toward Girona, I pass small agricultural towns like Les Preses and Sant Feliu de Pallerols, known for its collection of Gothic and modernist houses and for its 17th-century chapel. Between towns, I pass quiet green fields and stone farmhouses where families have lived and worked for generations. And I stop every once in a while to turn and admire the fantastic view of the mountains at my back.
I pass through old railway tunnels and across narrow bridges. In a few towns, like Anglès, I'm able to stop at the former train stations, some of which have been fixed up and painted to appear as they did a century ago. The scenery is constantly changing as the trail runs alongside rivers, fields and hills, and through busy towns.
Not everything about the rail trail is perfect. The Ruta del Carrilet often runs parallel to the highway, giving me the feeling that I'm riding on a sidewalk instead of on a nature trail. The bugs can be a problem too; since the trail runs alongside rivers for many miles, flies live nearby. At one point, I ride my bike through a thick cloud of tiny black gnats, and the next 15 minutes are spent picking them off of my clothes and bare legs.
Complaints aside, rail trails are a fabulous way to see the Spanish countryside. Their almost nonexistent inclines mean that they're accessible to everyone, including children, older people and cyclists who may be too out of shape to tackle more challenging mountain biking trails.
On my journey, I pass cyclists of every age and persuasion: an elderly woman rides home with her basket full of fresh veggies from the market; a local man rides a rusted bike down to his cornfield to check on the crops; a mother accompanies her two kids on a leisurely ride through the forest; a pack of professional cyclists pass me at breakneck speed, taking advantage of the safety of this no-traffic trail.
The Ruta del Carrilet is just one of the nearly 80 rail trails in Spain. As highways improved in the second half of the 20th century, railways across the country were abandoned, leaving more than 7,000 kilometers of rails to rust.
These trails were unused until 1993, when the Federación de los Ferrocarriles Españoles started the Vias Verdes ("Greenways" or rail trails) program to convert the train tracks into rail trails that could be enjoyed by cyclists, walkers, joggers and horseback riders.
The flat rail trails are also ideal for those with mobility problems, such as the elderly and the physically disabled. Since the program's beginning, planners had the needs of the disabled in mind, incorporating rest areas, easy- to-read signposts, and road crossings that take into considerations users with special needs.
The rail trails are found across Spain. Some of the most popular routes are the Via Verde del Tajuña, a 34-kilometer paved trail in the outskirts of Madrid; the 50-kilometer Via Verde de la Jara, a valley trail near Toledo that passes a man-made lake and several historic towns; and the Via Verde de la Sierra, a 38-kilometer trail that runs between Seville and Cadiz in southern Spain, passing the River Guadalete and the Sierra de Cadiz.
Yet rail trails are not unique to Spain. They are also popular in Britain, Germany, Belgium, France and other countries. In 1997, the European Greenways Association was founded to encourage the building and protection of more rail trails across Europe.
Sitting here beside the River Ter, on the Ruta del Carrilet, it seems hard to believe that there could be a more beautiful Via Verde than this one. The cool forest, murmuring river and winding trail are what travel brochures are made of.
Yet even more appealing is the fact that this is more than a pretty scene; it's a part of local life. Unlike automobile or train travel, the rail trail gives me a chance — if only for a few kilometers — to be part of the small towns I bike through.
As I watch, a group of local boys arrive on bikes in a cloud of dust to swim in the river and take turns jumping off a tree limb that hangs over the water. They break my moment of quiet reflection, but I don't mind a bit.
Sarah Andrews is a freelance writer living in Spain. You can e-mail her at: sarah@sarahandrews.com.
Know & Go
Bike rental: Tralfach Bikes, in Salt, telephone (+34) (0) 972-234- 943, is a convenient place to rent bikes if you're planning on tackling the Ruta del Carrilet. The cost is 14 euros per day.
For information on rail trails in Spain, check out viasverdes.com or call their office at (+34)(0) 915-282-815.
For information on rail trails across Europe, see the European Greenways Association.
Get cultural and tourist information (including information on hotels, destinations and companies offering guided cycling tours) about the region surrounding the Ruta del Carrilet at CostaBrava.org.
— Sarah Andrews
---
---
---
---