Reminders of violence are never far from daily life in Lebanon
by
Joseph Giordono
February 2, 2006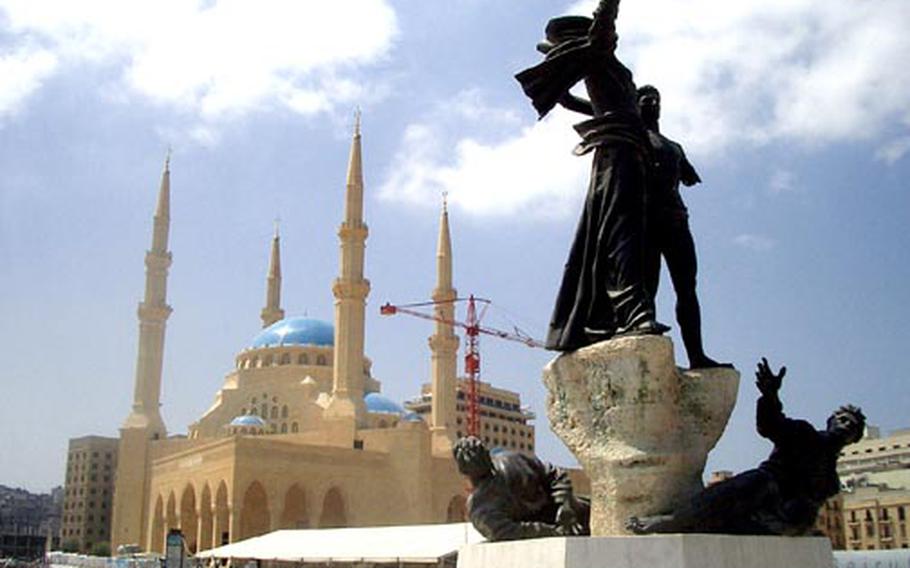 On Valentine's Day morning 2005, an enormous explosion rocked downtown Beirut, killing a leading politician and businessman, his guards and several bystanders. A brutal attack in broad daylight, it signaled a resurgence of the violence that engulfed the city in the 1980s.
The assassination of Rafik Hariri, Lebanon's former prime minister, and later of other leading anti-Syrian figures, along with the wider turmoil caused by the war in Iraq and the rise of Islamic fundamentalism, has Lebanon on edge.
But life goes on, with clubs open until the early hours and fashionable shoppers sipping expensive coffee in streetside cafes.
On a typically hot and beautiful day last fall, a taxi driver casually passed news of a bombing the previous night in a Beirut hotel. The driver, Ali Hamzah, recalled tougher times, when young men were paid $300 to fight for one faction or another in Lebanon's civil war. If they were killed, their families were given $40 and a framed picture of the "martyr."
Those who were maimed can still be seen throughout the country, missing arms or legs.
But right now, Ali Hamzah is more concerned with his livelihood. Western tourism dropped after Hariri's killing, and tourists from other Arab countries aren't as open with their pocketbooks, he said.
In the Sunni-dominated, conservative northern port city of Tripoli, near the Syrian border, Ali Khawaja has a similar lament. But his regret is more personal, more heartfelt. Ali Khawaja waits each day by the entrance of the Great Mosque, looking for tourists. Not to take their money, but to take them on a tour of his city. The back alleys. The hidden remainders of Roman ruins. The family factory that has made olive oil soap for hundreds of years. And the mosques that, in these times, many avoid.
He keeps a constant patter in a mix of languages as he walks, throwing out historical background, explanations of the city's current religious and social trends and a humorous running history of his family.
He stops in front of a dark, dank building. It's now a series of garages and burned out rooms; before, it was a Roman bath. His greatest dream, he says, is to buy it and restore it to its former self.
At the end of a whirlwind afternoon, Ali Khawaja points a pair of tourists to one of the few shops that sells beer. After much protest, he accepts a couple of folded-up bills, smiles and says he must go buy his own cold beer to take home for himself and his mother.
A short ride away, the atmosphere is different. In the Bekaa Valley, Hezbollah's green banners, prominently featuring a Kalashnikov rifle, are everywhere, alongside ubiquitous portraits of Iran's spiritual leader, Ayatollah Ali Khamenei. Army checkpoints, with rifle-toting soldiers and armored vehicles, stand watch, enforcing the retreat of Syrian forces back across the border.
In Beirut, one of the most visited sites is a shrine to Hariri near the Martyr's Square and the enormous modern mosque his company is funding. The shrine has flowing banners of Lebanese flags, portraits of Hariri, mounds of fresh flowers and a red neon sign that counts the days since his killing. Hundreds of Lebanese stop by daily to pay their respects.
Abdul Sattar, a shopkeeper on the Beirut Corniche, around the corner from the spot of Hariri's assassination, sits most days waiting for customers and watching the Al Arabiyah news channel.
As coverage of the latest bombing in Baghdad flashed across the screen, he shook his head.
"There are bad things everywhere," he said. "My brother is in New Orleans …" he said, leading into a story of how he survived Hurricane Katrina.
For all its continuing problems, many Beirutis proudly say their city could be a model for the reconstruction of another war-ravaged Middle East capital: Baghdad. The notion might be more optimistic than realistic.
Jeff White, a researcher at the Washington Institute for Near East Policy, has studied both the current Iraq situation and Beirut in the 1980s. The differences in the two are stark, he said.
"Beirut was damaged by the civil war, but society there remained intact," he wrote in an e-mail to Stars and Stripes.
"Beirut and Lebanon were occupied by the Syrians, who suppressed and controlled violence among the communities for almost two decades. Effectively the Syrian presence prevented the Lebanese civil war from running its course. This allowed the economic and political situation to be mostly restored."
Politically, the situations lead to different outcomes.
"The Lebanese largely accepted the imposed Syrian peace, the Sunnis in Iraq have not accepted their loss of power/privilege. Baghdad has the potential to be an economic center, but this will have to await the settling out of the distribution of power in Iraq. We are some distance from that."
Maybe the belief that Beirut can be Baghdad's model is a reflection of a particularly Lebanese quality. Perhaps the attitude is best summed up by graffiti scrawled on a crumbling wall in Beirut, around the corner from Hariri's memorial and the brand-new Virgin Megastore.
"When it hurts," read the thin black letters, "we must keep on trying."