Quick Trips: Nature-friendly center in Germany makes learning fun
by
Steve Mraz
July 5, 2005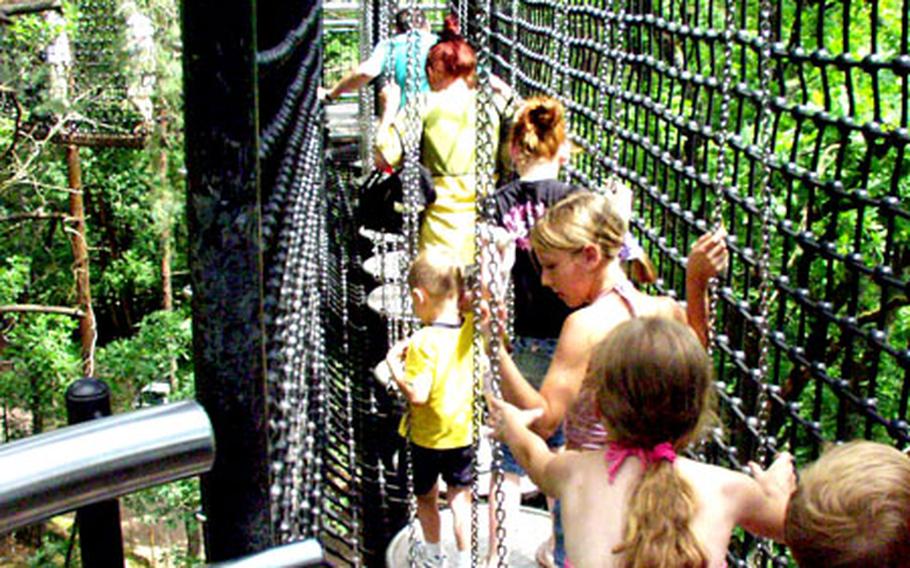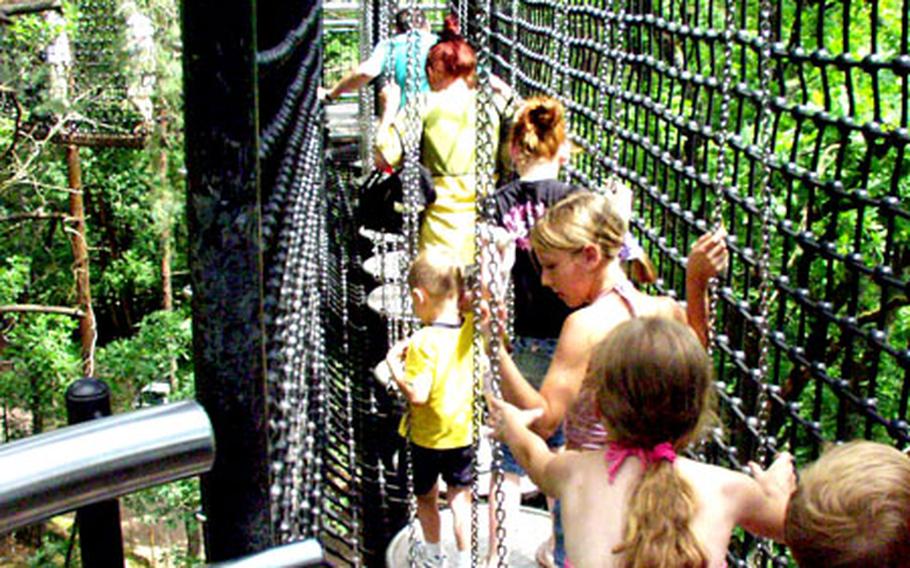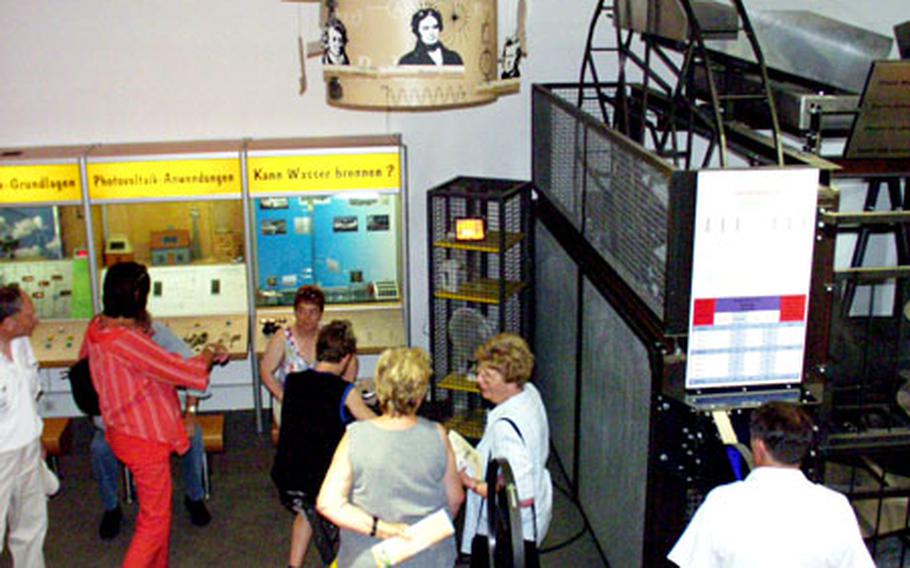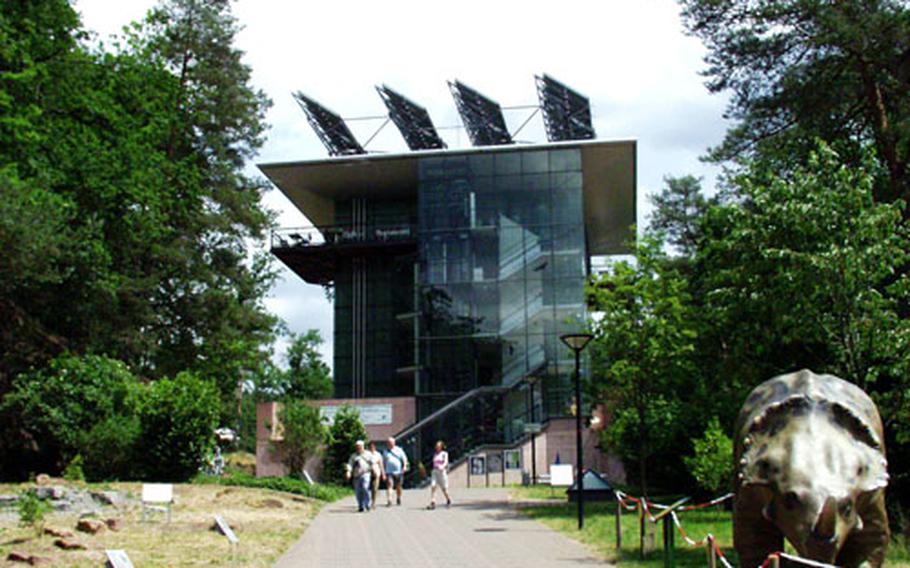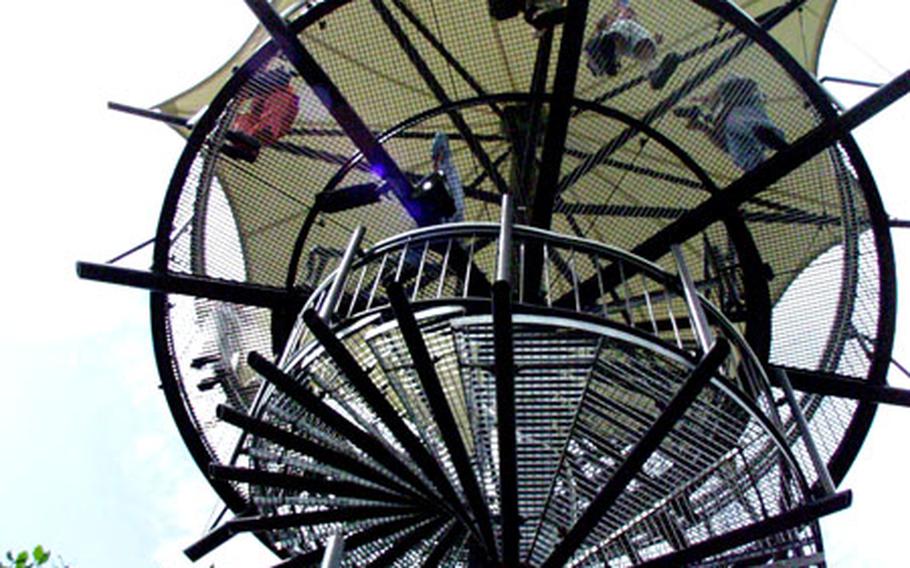 You don't have to be Tarzan to swing among the treetops. All you have to do is visit the Biosphärenhaus in Fischbach, Germany, to get a view of life in the trees.
But that's not the only thing awaiting you at the enviro-friendly destination about an hour's drive south of Kaiserslautern.
The Biosphärenhaus, or Biosphere House, also offers indoor, hands-on museum exhibits that teach, among other things, how bees perceive color, what alternative sources of energy exist and how water circulates throughout the environment.
The presentation of the information is very relaxed and straightforward — and in three languages: German, English and French. Thankfully, it's not shouted at you with scolding lectures about how man has ruined Mother Earth.
It's interesting and insightful. It's the type of place you would have visited on a field trip during elementary school.
You can hop on an exercise bike and pump the pedals to power an array of lights. You can sit down at a variety of stations and listen to environmental topics. You can gaze into a viewing box and get a glimpse of what a rabbit's field of vision looks like.
Like any good field trip destination, the Biosphärenhaus, which opened in 2000, also has ample room for children to run around, because all work and no play makes Jack a dull boy.
Upon exiting the indoor exhibit, visitors find a playground sitting just off to the right. Parents, somehow convince your kids to bypass the playground and keep going, because the best is ahead.
Walk up a gentle incline where an attendant will check your ticket and allow you to enter a treetop walkway, which is even stroller-accessible.
The elevated walkway has some leaf- shaped information posts that offer explanations on the local habitat and animals. Children will blow right by this stuff. They'll make their way to a series of three swaying bridges that are not for the faint of heart. An alternative route is available for those with strollers or those who prefer more stable footing.
After negotiating the bridges — or circumventing them — you can take a circular stairway to a tower that overlooks the surrounding area. Binoculars at the top of the tower give you a chance to take a closer look at the nearby hillsides. The best thing about the binoculars is that you can use them free of charge.
Past the tower and at the end of the walkway, an enclosed metal slide offers a more exciting exit from the elevated walkway than the boring gate that stands nearby.
The silver slide looks fairly foreboding from the top, but once on it, all you'll do is laugh. You'll also find yourself waiting for the end to come because the slide's a lot longer than you imagine.
The only tricky part is figuring out how to make your way back to the top after getting off the slide. Just walk to the right and make your way back up the hill. At that point, you can head toward the Biosphärenhaus exit or have another go at the slide.
If you decide to hit the slide again, be sure to take off your shoes. You'll go a lot faster.
On the QT ...Directions: From Kaiserslautern, take Highway B270 toward Pirmasens. Turn onto B10 and stay on it until it intersects with B427. Follow B427 through Dahn to intersection with Highway L489, then right onto L478 toward Bundenthal and right again at Bundenthal toward Fischbach. Once in Fischbach, drive through the village and look for the signs leading to the Biosphärenhaus.
Times: The center is open year-round, but times vary. During July and August it is open noon to 8 p.m. Monday; 9 a.m. to 8 p.m. Tuesday through Friday; 9:30 a.m. to 8 p.m. Saturday, Sunday and national holidays.
Costs: Adults, 8 euros; children 4-17, 6 euros; students, retirees and those with disabilities, 6.50 euros.
Food: A restaurant with a bar is on the top floor of the main building. Prices are reasonable and portions are large. Outdoor seating provides nice view of surroundings. For a cheaper alternative, visit the cafe/restaurant just inside the park grounds for snacks, sandwiches, ice cream and alcoholic beverages.
Information: For more information on the Biosphärenhaus, call (+49) (0) 6393-92100 or visit www.biosphaerenhaus.de. The site includes information in English.
— Steve Mraz
---
---
---
---