Quick trips: German indoor go-cart track satisfies need for speed
---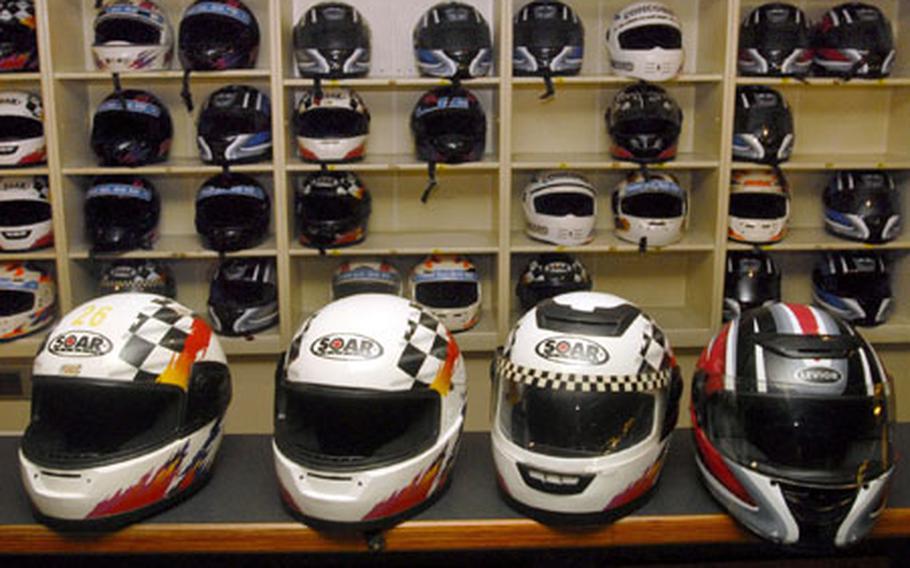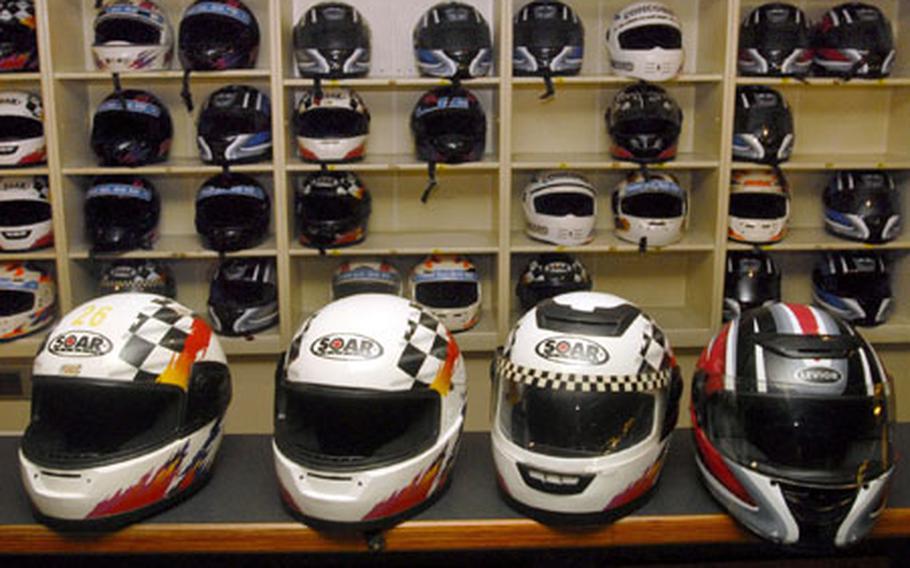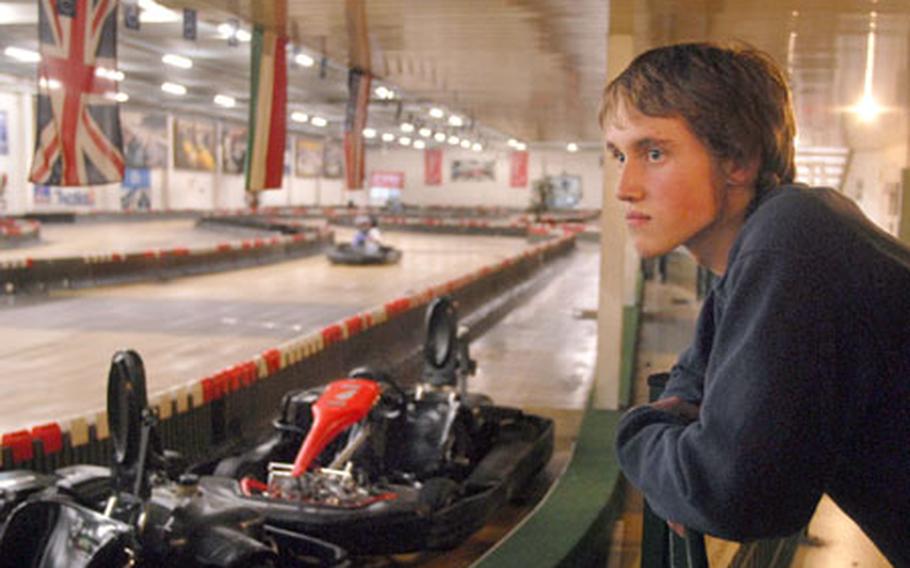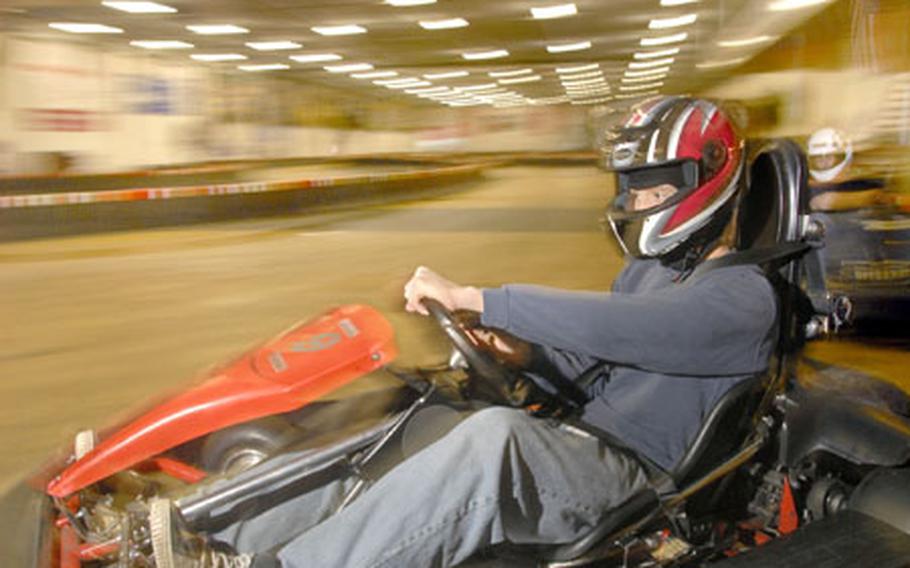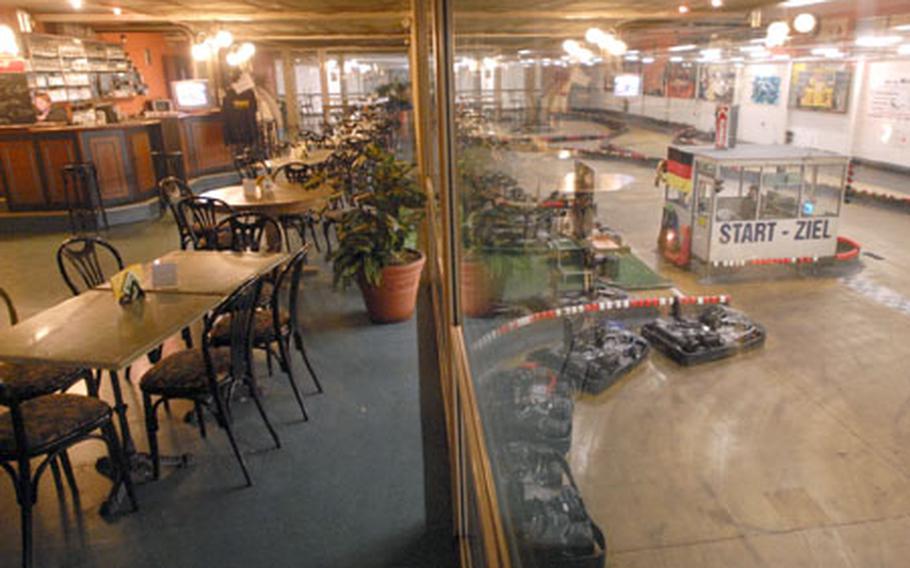 A poorly lit side street in the industrial section of Erfenbach, a suburb of Kaiserslautern, Germany, is home to an entertainment venue designed for one purpose — driving fast.
Before slipping on the ninja- looking helmet liner and strapping on a full-faced helmet, a racetrack worker at Go! Indoor Kart explains to drivers the caution flags used in a spinout or crash. It is clear that anyone driving this course had better make safety a priority.
While it's easy to stereotype go-carts as children's toys, scores of professional racers got their start racing them. Indoor cart tracks can be relatively expensive and feel almost unsafe at times, but after you've lapped the course once, you're hooked and begin to understand what drives the professionals.
After the safety briefing, each driver is assigned a cart. Knowing the number of your cart is crucial to keeping track of lap times and your position in the pack.
The track worker signals you onto the course, and the driving begins. As your cart enters the first turn, the cold tires cause the cart to start drifting, feeling slightly out of control.
After wrestling through the first section of a twisty mix of sweeping S turns and tight hairpins, you open it up on the first long straightaway. It is at this time you get the sensation that if your 65 kilometer- per-hour go-cart hits the wall, you could be seriously hurt.
You fight your way through the next twisty section and straightaway to glance at the lap time board to check your time and how it compares with others on the track … not so good.
Each car is equipped with an electronic device that enables you to check your position, last lap time and fastest lap time. The cars start at different times, so you race against the clock, not other drivers.
Within a few laps, the tires on your cart start to heat up and traction improves. You start feeling like Michael Schumacher as you attempt to hit each apex of a turn to maintain speed. Lap times shorten as you move up the scoreboard.
You will quickly learn that you don't want to get stuck behind someone slow because it is hard to pass if they stick to the track's center. And while the carts can go fast, it is difficult to regain speed once you slow down.
After 10 minutes of racing around the curve-riddled track, your arms start to hurt from muscling the cart through each turn. With eyes watering from speed, you see the checkered flag drop and you make your way to the parking area where you began.
After racing, the one-upping begins. Veteran and rookie racers alike head to the bar to tell stories of speed and gaze at the printout of lap times. The bar has a bird's-eye view of the track, providing a visual aid for the racers' tales about their tormentor and an opportunity to begin planning how, next time, they'll do better.
On the QT
Directions: From Autobahn 6, go north on L367 (also known as B270) and exit at B270/Siegelbacher Strasse. Stay on the priority road through Erfenbach. Toward the end of town, there are signs for the track. Turn left on Carl Denk Strasse. The track is the last building on the right.
Times: Go! Indoor Kart is open daily, although hours vary. It is open 4 p.m. to 11 p.m. Monday through Thursday, 4 p.m. to 1 a.m. Fridays, 1 p.m. to 1 a.m. Saturdays and 11 a.m. to 11 p.m. Sundays and legal holidays. The entire track can be reserved outside of business hours for groups of 10 or more.
Costs: Cost varies based on the type of cart and length of track time. The "top" cart is the fastest available and costs 11 euros for 10 minutes; you might want to start by driving two 10-minute races. For an adventurous group of at least seven adults, 34 euros per person will purchase a reservation for 60 minutes of track time, including 10 minutes to qualify and medals for the three fastest drivers. You must also purchase a reusable helmet liner for a few euros.
Food: A typical German bar/cafe is available with standard refreshments and snacks.
Information: The track's German-only Web site is www.go-indoorkart.de. There are English-language brochures at the track and information in English by telephoning 06301-300250.
— Ben Bloker
---
---
---
---