Quick Trips: Face-off with el toro
---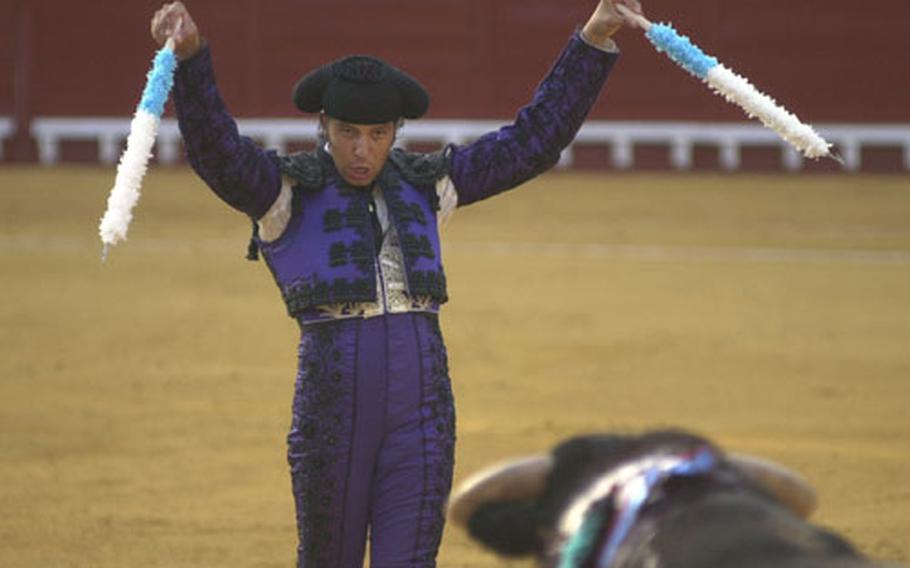 Bullfighting roots run deep in the Spanish coastal town of El Puerto de Santa Maria.
One only has to look at the famous quote spelled out in tiles above the bullring's main entrance to understand just how deep.
It reads: "He who has not seen a bullfight in El Puerto does not know what a day at the bullfight is."
That didn't come from some mediocre matador or ordinary bullfighting fan. Jose "Joselito" Gomez Ortega, who is widely regarded as the best bullfighter ever, uttered the quote, which has added to the city's long and illustrious bullfighting reputation.
The bullring is still generally regarded as one of the best spots in Spain to see a corrida, or bullfight. For Americans stationed seven miles away at Naval Station Rota, it is not far away — only a $10-$15 cab ride from the base gate.
Those who can stomach the gore of the traditional Spanish spectacle will not be disappointed, said Navy Petty Officer 2nd Class Tom Benz, after seeing his first bullfight in the bullring.
"It's definitely a good time," said Benz, who was in Rota for a port visit. "Everybody should see it. It shows you the old Spain. The real Spain."
Attending a bullfight might not be for everyone, especially animal lovers or those who get queasy at the sight of blood.
Unless the bulls show extreme bravery and are worthy of becoming a stud, they are destined to die by way of the matador's sword.
Throughout July and August, El Puerto's bullring will host weekly bullfights with some of Spain's best matadors. While the bullfighting season runs from Easter to October, the summer festival attracts the most popular bullfighters.
Among the matadors scheduled to appear in El Puerto will be young phenom Julian Lopez, known as "El Juli," who will appear Aug. 1 and Aug. 8.
Most enthusiasts regard the city's bullring, which was built in 1880 and holds about 12,000 spectators, as one of the most prestigious in Spain.
Navy Petty Officer 3rd Class Randy Bollin might not have known much about the bullring's history, but he enjoyed it just the same. Earlier this month, he watched novice bullfighters, known as novillos, delight a small crowd. He said it was the highlight of his port visit to Rota during the July Fourth weekend.
"This is the coolest thing I've done since I joined the Navy," he said.
Joselito Gomez Ortega probably would agree.
On the QT
Directions: From Naval Station Rota's "Rota Gate," take CA-613 to A-491, also known as "perimeter road." Follow the signs to El Puerto de Santa Maria, taking the first El Puerto de Santa Maria exit. At the roundabout, make a right. At the second roundabout, go straight. At another roundabout, go left onto CA-603. Keep right onto the ramp. At the roundabout, take second exit onto Calle de Valdes. The bullring, Plaza de Toros, will be on your left.
Hours: Bullfights are scheduled for 7 p.m. at El Puerto de Santa Maria's bullring during July and August. However, check with bullfighting posters spread throughout the city for changes.
Costs: The cost of the ticket varies depending on the bullfight and where you sit. Sitting in the shade, or sombra, section is more expensive; the sun, or sol, section, is cheaper. Something to keep in mind: The entire bullring usually is in the shade toward the end of the bullfight.
Tickets range in price from $5 to $70. Bullfights are rarely sold out, but it is best to buy a ticket in advance. You can buy them at the bullring or Paco's Travel, Avenida San Fernando 38, Rota, telephone: (+34) 956 -81-23-89/956-81-28-23, or on the Web at www.viajesdifran.es. Parking is available at the bullring for about $1.
Food: There isn't a large selection of food available from vendors inside and outside the bullring. There are a couple of sandwich stands and vendors who sell snacks, but it might be a good idea to bring your own food.
More information: For more information on the Web, see www.portaltaurino.com or www.laplazareal.net (both in Spanish).
— Scott Schonauer
---
---
---
---