Quick Trips: Da Vinci's dreams on display at Gelnhausen
---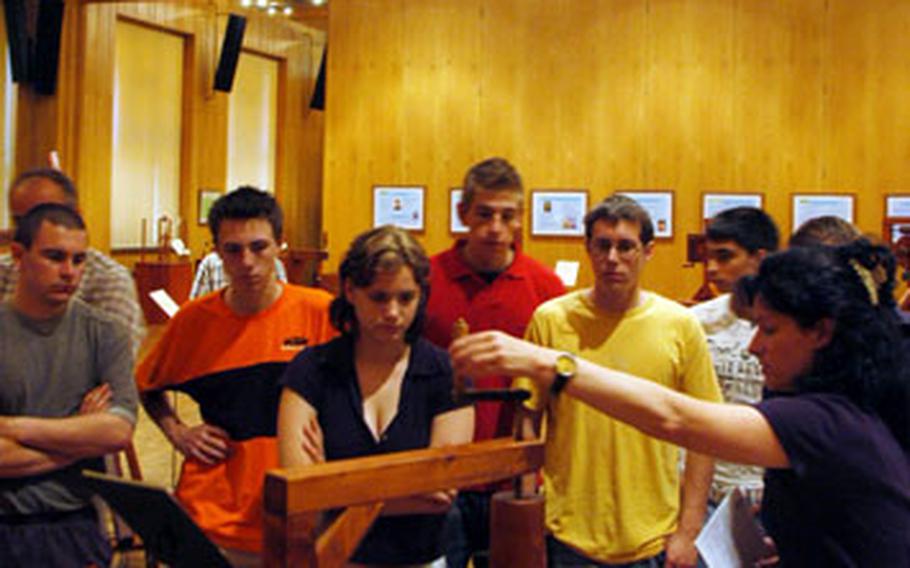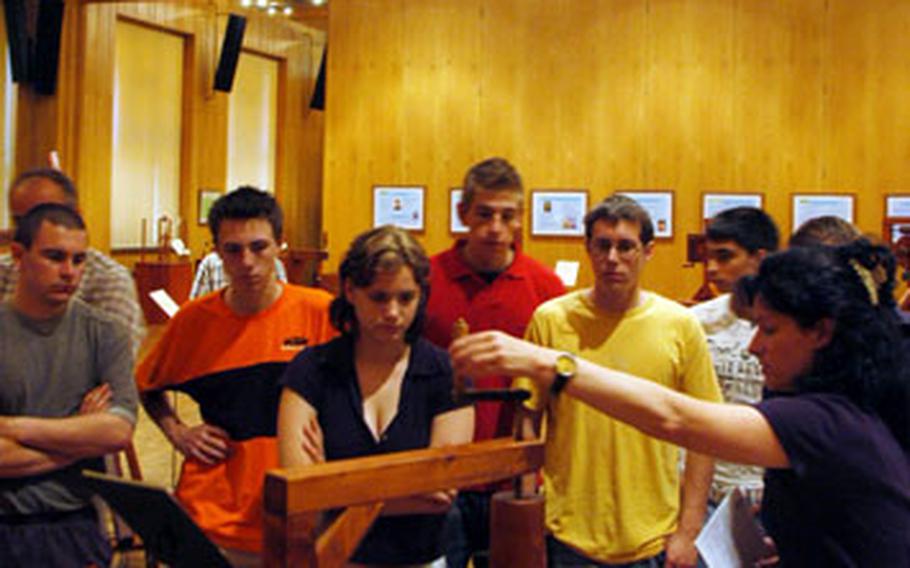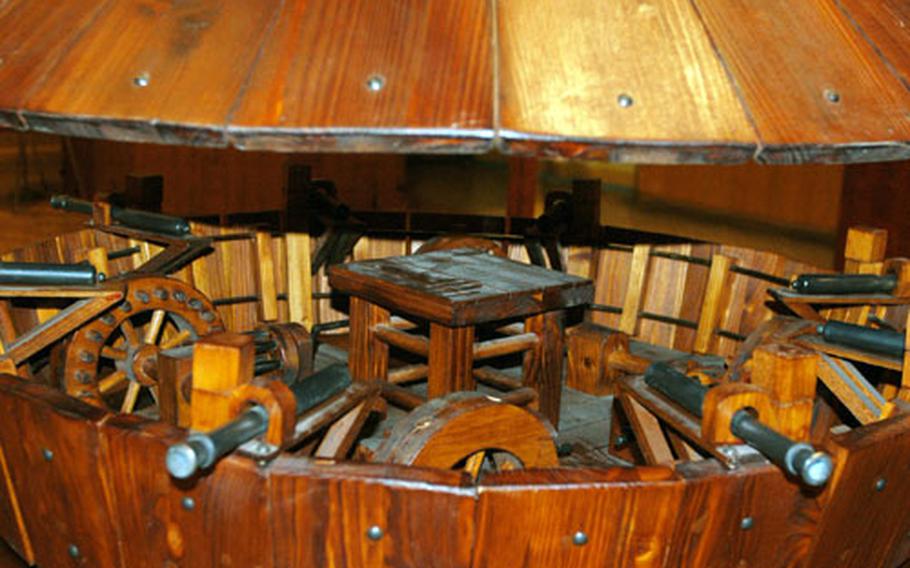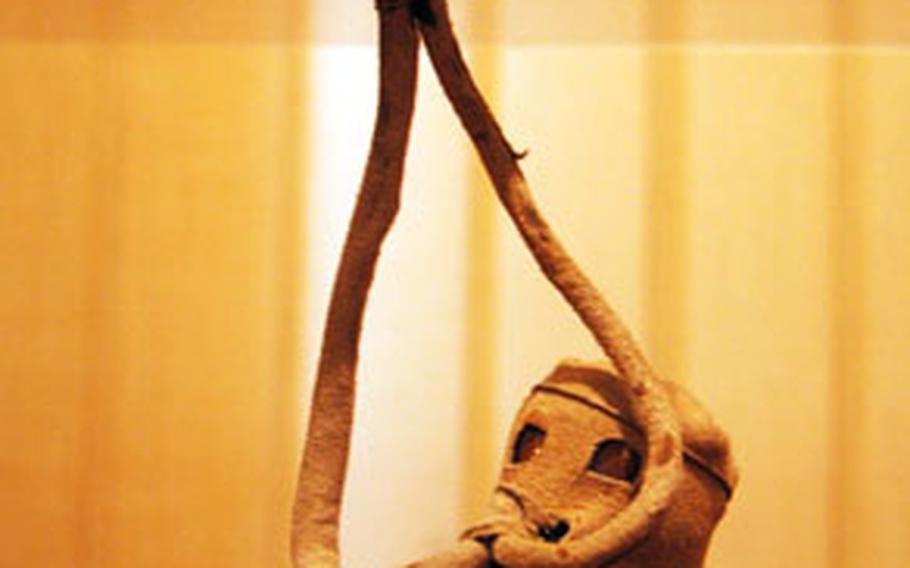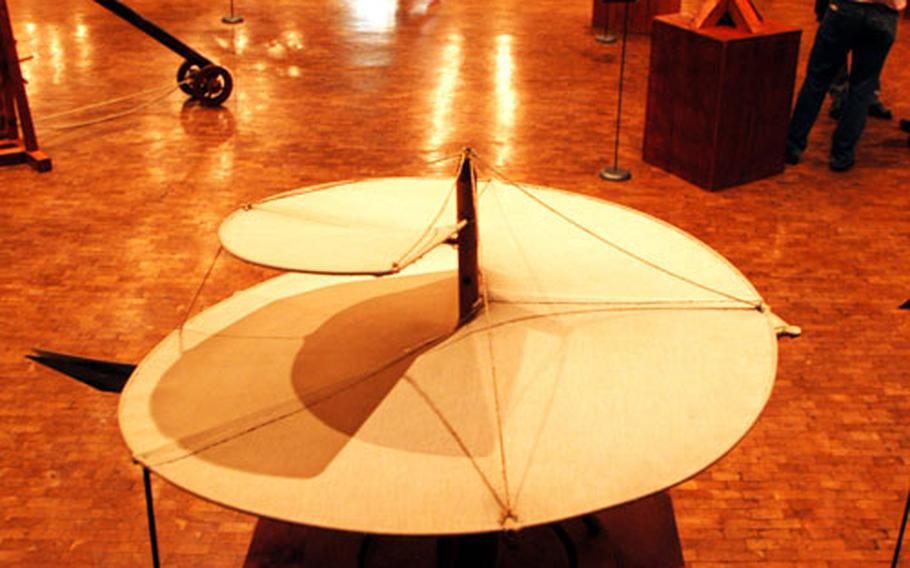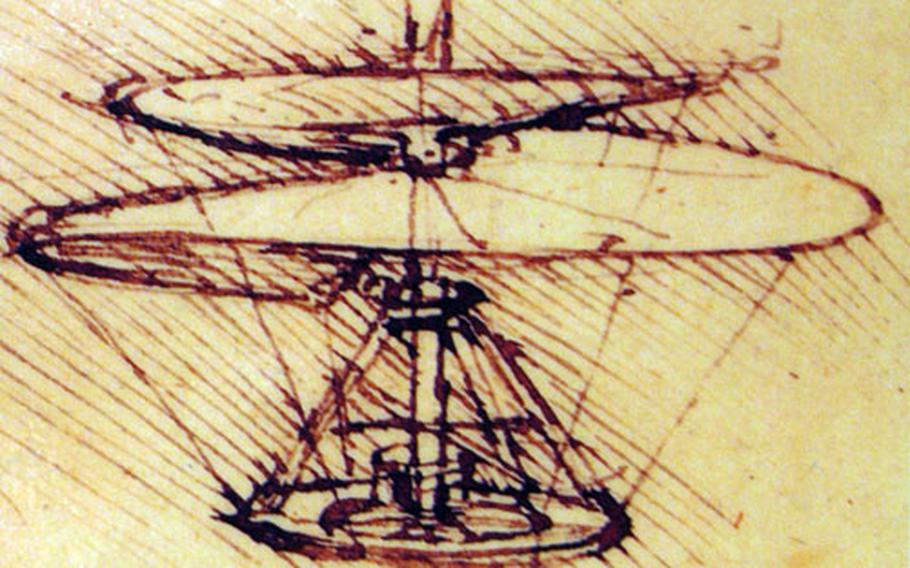 If you are the inventive sort, or just appreciate ingenuity of the highest order, the German city of Gelnhausen is hosting an exhibit that showcases the mechanical musings of Leonardo da Vinci.
A true Renaissance man in every sense of the word, da Vinci seemingly did it all. Besides painting the "Mona Lisa" and "The Last Supper," the talented Italian from Tuscany dabbled in architecture, civil engineering, math, hydrodynamics, optics, astronomy, anatomy, sculpture and music, among other things.
He also possessed one of the most innovative minds ever, devising such futuristic mechanical wonders as submarines, helicopters, tanks, solar power contraptions and calculators. And it is these types of items that are on display at the Stadthalle, or civic center, in Gelnhausen.
"You must remember this was done 500 years ago," Georg Friedrichs, manager of the exhibit, said of the innovations.
There are only 36 stations to the exhibit, so visitors won't be indoors for long, though the venue is air-conditioned. A trip to Gelnhausen should include a visit to the exhibit followed by a tour of the city, founded in the 12th century by Emperor Frederic I, known as Barbarossa, or Red Beard.
Though relatively small (pop. 22,000), Gelnhausen is an attractive city with half-timbered buildings, a majestic 13th century church and plenty of cultural activities. The da Vinci exhibit, for example, passed through Chicago and Regensburg, Germany, before arriving in Gelnhausen earlier this month, said Utta Hamburger of the city's cultural office.
The exhibit features wooden models of machines that da Vinci designed but generally didn't build to completion. The materials used in the exhibit consist of natural items available in da Vinci's time. Craftsmen from Florence largely followed the original drawings, copies of which are on display. However, da Vinci purposely inserted design flaws to throw off would-be imitators.
"He included traps in his drawings because he didn't want people to copy them," Friedrichs said.
The innovations are remarkable, given the era they were conceived.
Visitors to the exhibit can glimpse models of an underwater breathing apparatus, a life preserver, water skis (for walking on water), a parachute, helicopter, battlefield tank and (car) jack, to name just a few. Since da Vinci first made a name for himself as a military engineer, his concepts might be especially intriguing to U.S. servicemembers.
Several of the stations are interactive, though most are not. Still, it's fascinating to see the contraptions and gain some insight into the mind of a true genius.
"It's so interesting to learn about all these machines, and to have them in Gelnhausen," Hamburger said.
That is, until the afternoon of Aug. 20, when the exhibit closes.
While the exhibit's brochures are only in German, each station includes a placard with a brief description of the item in English. Hamburger estimates that as many as 10,000 people will visit the exhibit during its six-week run.
On the QT ...DIRECTIONS: From the Frankfurter Kreuz, take Autobahn 3, in the direction of Würzburg. East of Frankfurt is B45, a divided highway. Exit and drive north toward Hanau and Fulda. In short order, the road will split off to the right, becoming B43A. Take B43A, another divided road, past Hanau and then pick up Autobahn 66, direction Fulda. The exit for Gelnhausen is off of A-66. Follow the signs into town and look for the Stadthalle, which is off of Frankfurter Strasse on Philipp-Reis Strasse.
TIMES: The Stadthalle, or civic center, is open from 11 a.m. to 7 p.m. daily.
COSTS: Adults, 7.50 euros; students, 5.50 euros. Visitors in a group of 10 or more pay 5 euros apiece, while students in a group of 10 or more pay 2.50 euros each. A family ticket is available for 15 euros (two adults and up to four children, none older than 16).
FOOD: From the exhibit, the old town is minutes away by car. Most visitors head to the old town for shopping and a bite to eat. There are more than 100 restaurants and bars in Gelnhausen. Restaurants run the gamut from German and Italian to Chinese and Thai.
INFORMATION: The Web site for the city is: www.gelnhausen.de; the site for the da Vinci exhibit is: www.leonardo.gelnhausen.de.
— Kevin Dougherty
---
---
---
---