Procida: Tourists don't converge on this Italian isle
by
Geoff Ziezulewicz
August 30, 2011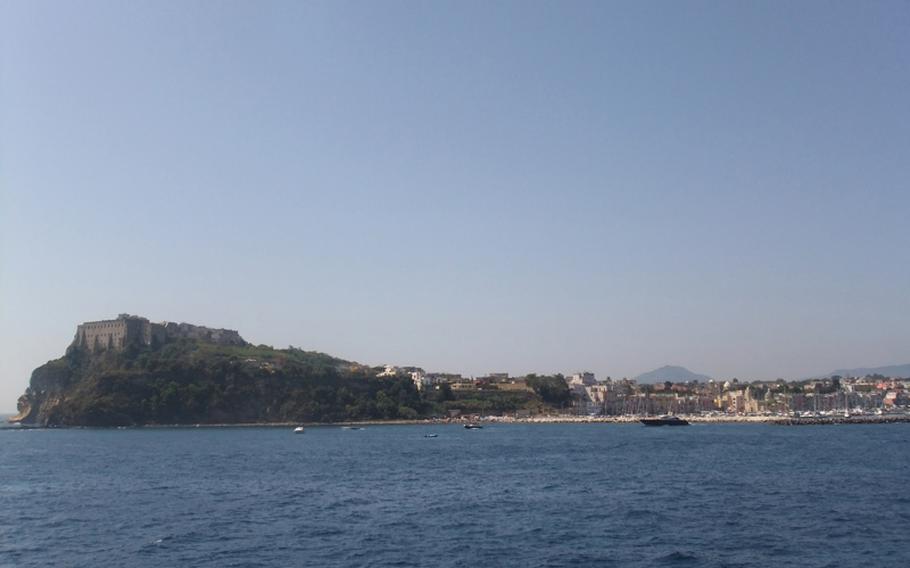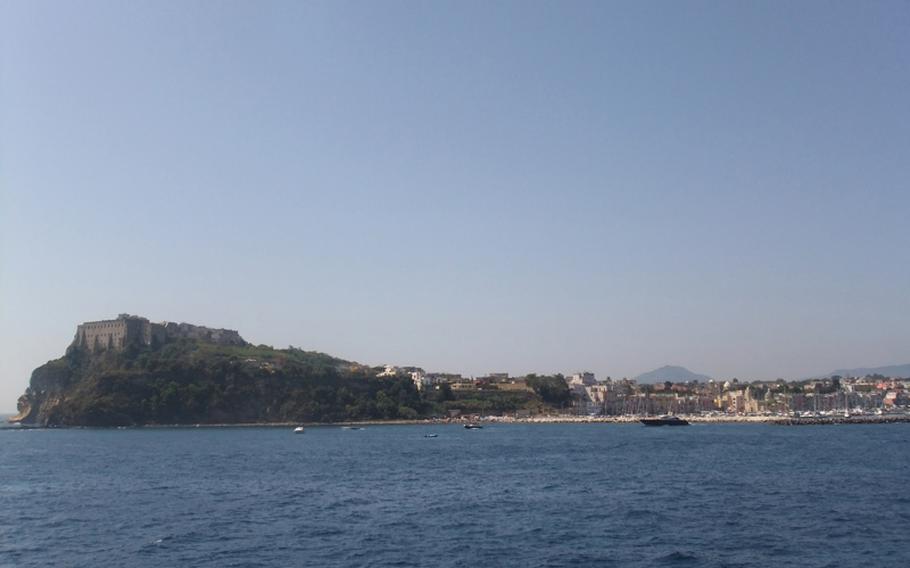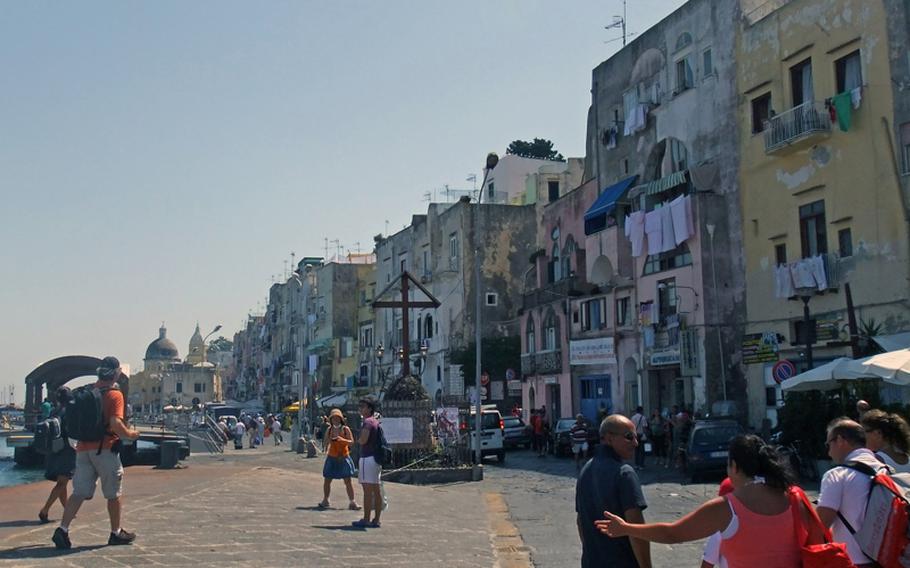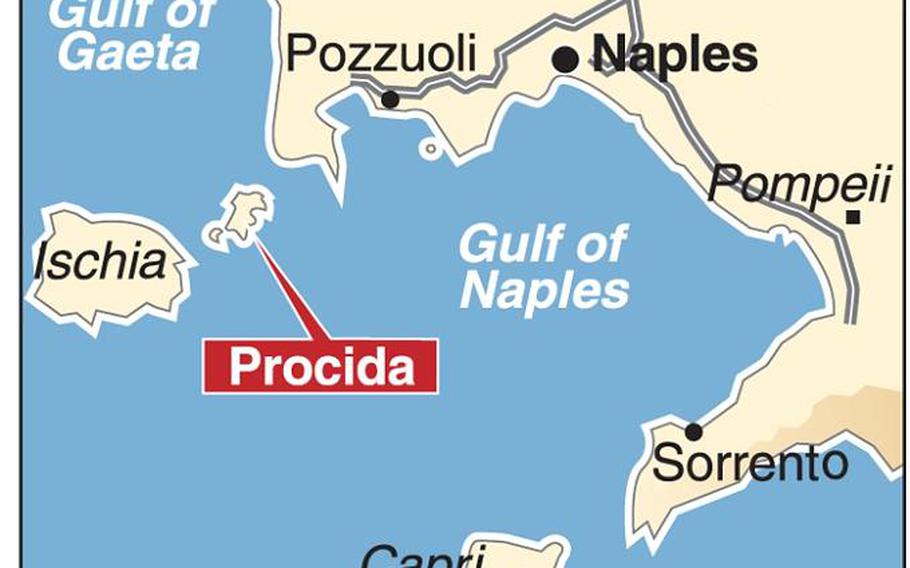 It can be all too easy to get used to living in the Mediterranean paradise that is southern Italy.
Trash piles aside, Naples and its environs are the stuff of people's dream vacations. If you think about it that way, it makes living here that much sweeter.
Consider the weather, the food, the casual friendliness of the people.
Consider, if you will, the awesome islands nearly at your doorstep in the Bay of Naples: the famous and touristy island of Capri, its lesser-known, but still popular, sister Ischia, and Procida, which flies even lower on the visitation radar.
I can understand making Capri a priority if you were just visiting this slice of the Med. But if you live here, Procida is worth a trip.
Ferries from downtown Naples and nearby Pozzuoli are easy to use and go frequently to all the islands. Some go faster and some go slower, but you'll usually get to your island destination in roughly an hour.
Procida is not inundated with the tourism the other islands are. There are the requisite waterfront restaurants and cafes, but there aren't as many gift shops hawking all types of souvenirs. It's a much more low-key affair and a great place to go if you just want to blend in with the local residents.
While not typically visited for its sandy shoreline, Procida has some very nice beaches. Unlike the beaches on Capri, which are pebbly, Procida has soft sand that blazes when the sun hits its midday peak.
Beach-going here is not the simple affair it is in the States. One does not just plop down a towel on the sand. Instead, most of the beach is populated by umbrellas and chairs, which are rented from the waterfront restaurants.
I find the best routine is to lie on my chair in the blazing sun until I can't stand it anymore, then jump into the cool, clear Procida waters. I get out, have a beer or two, and go back in. Repeat this a few times and you've got a great Saturday.
The best thing about the islands is that a day trip from the Naples area is ridiculously easy, yet you go home feeling as if you took a vacation. I recently took a 10:40 a.m. ferry out of Naples, chilled on the beach, got some chow and caught the 6 p.m. ferry back, sunburned and content.
Procida is renowned for its lush gardens and fragrant lemon and orange groves, according to the website portanapoli.com. It is reportedly the oldest of the three islands and, like the others, is of volcanic origin.
Near Procida's beaches on the southwest coast, you can visit the small island of Vivara, connected to Procida via a pedestrian bridge. According to the website, it has been a nature reserve since 1974, accommodating a host of rare birds and plants.
Be it for beaches or sightseeing, Procida is great when you don't want to be part of the tourist swell. That's because its inhabitants didn't want their island overwhelmed by tourism, the website says. Therefore there are only a few small hotels on the island, and most restaurants are found right along the harbor.
Procida is a low-key, friendly alternative to its more glamorous island brethren, with prices that won't gouge you. It's not as popular as the other islands, but if you live here, that's a good thing.
ON THE QTDirectionsThe website for ferry company SNAV (www.snav.it/en/timetable-and-fares.html) is a good place to find ferry tickets and timetables, but you should be good just going to the port in the morning and checking the timetables. That's truly the Napoli way, although there does seem to be a lull in service between about noon and 3 p.m. on the weekends.
HoursFerries coming back from the islands are usually finished by about 8 p.m., so plan your return accordingly.
CostsFerries run often from the Naples and Pozzuoli ports, with tickets costing anywhere from 10 euros to 15 euros one way. Renting a beach chair and umbrella for the day will run you roughly 10 euros.
FoodEach beach restaurant has food and ice-cold beer; there are also restaurants and food at the port and on the ferries.
InformationFor more information on Procida, log on to www.portanapoli.com/Eng/Procida/procida.html
Geoffz@estripes.osd.mil,Twitter: @Stripes_GeoffZ