Pompeii: Ancient Rome comes alive in a day outdoors
by
Kendra Helmer
July 22, 2003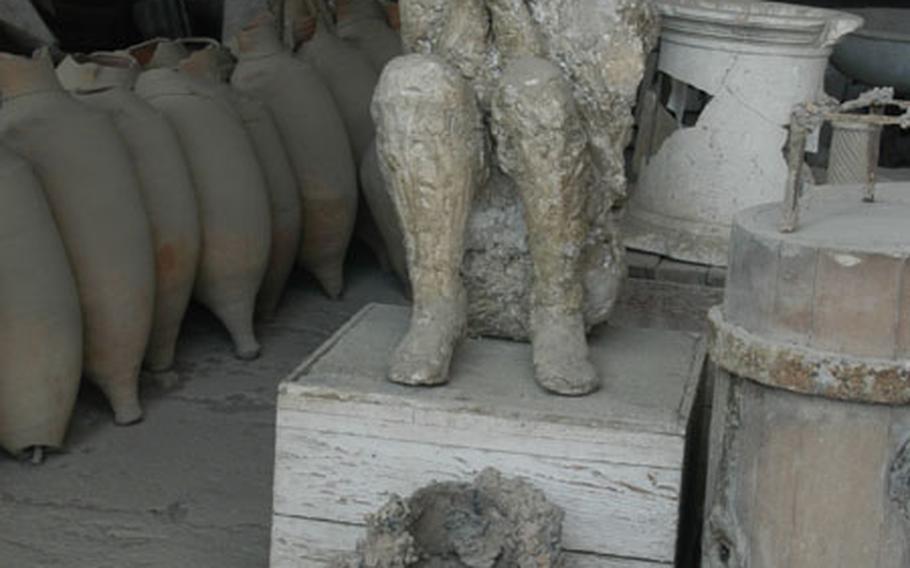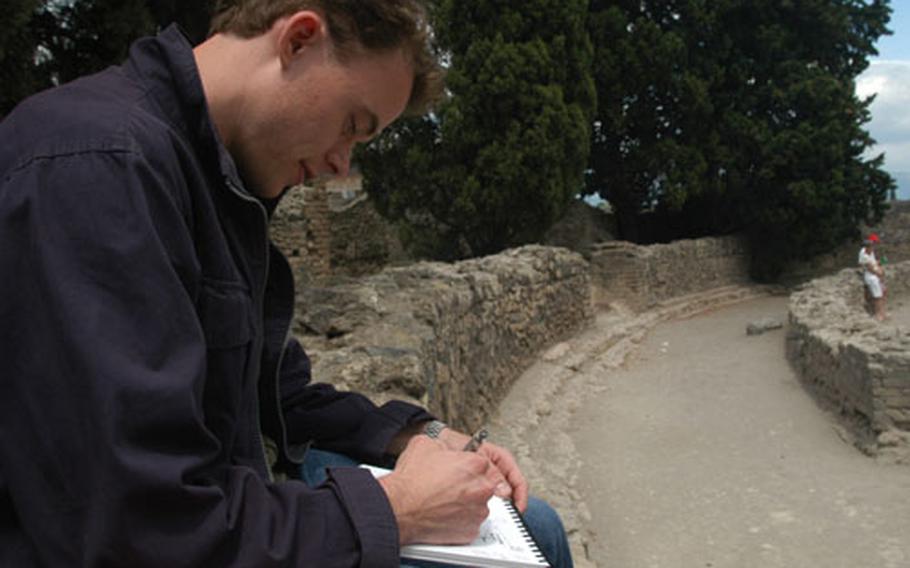 NAPLES, Italy — Looking for insight into ancient Roman life but don't fancy spending a gorgeous southern Italy day inside a museum? Head for Pompeii.
The city, frozen in time when Vesuvius rained down ash and cinders on it in the year 79 A.D., is a 30-minute drive from the Navy base at Capodichino.
The ruins were discovered about 250 years ago, and today visitors can explore buildings along its numerous roads, paved with slabs of lava from previous eruptions of Vesuvius.
Depending on your level of interest, you can spend anywhere from a few hours to an entire day exploring the ruins. The massive area was once home to 20,000 people, most of whom survived the eruption; 2,000 are believed to have died.
Pompeii, a major port and trading town, was founded in the seventh century B.C.
Many of its temples, villas and palaces still stand, remarkably untouched by the eruption.
The houses and shops attest to how the Romans lived, from the ruling class to the slaves. Colorful wall paintings and graffiti depict the buildings' purposes, from erotic images in a brothel to waitresses in an inn.
In a fenced-off area near the Forum, visitors also can see plaster casts of the victims, re-creations of how they were sitting or standing when they died.
While the most important finds such as jewelry, statues and furnishings were transferred to the Museo Archeologico Nazionale in downtown Naples, many everyday objects and artwork are still on the grounds, including in an area near the Forum. Several areas are roped off so archaeologists can continue excavations in the quest to find and learn even more.
Take refuge from the sun and other tourists — 1.5 million visit the city annually — in the quieter gardens and smaller alleyways. A typical Pompeii house was constructed around two open atriums; flowers and greenery flourish in many of these areas.
Younger children will enjoy scrambling around the ruins and exploring hiding places, while older ones may be interested in learning more about gladiators. An amphitheatre built in 80 B.C., the oldest in existence, was used for gladiatorial combat.
Take sunscreen and plenty of water, and while there is a restaurant near the entrance, it's advisable to also carry lunch and snacks. Contact lens wearers beware: There's a lot of dust in the air.
International Tours and Travel has a suggested tour plan for Pompeii and other nearby areas — including the popular Amalfi Coast.
On the QT
Something to note: Pompeii is spelled in Italian with one "i"
Directions: By car, it is 17 miles from the Capodichino toll booth to the Pompei exit, and two tolls totalling 1.85 euro.
Take Autostrada A-3 toward Salerno/Reggio Calabria. Exit at Pompei Scavi, turn right at the first street, go one block then turn left. There are several parking lots along the road.
By train, from Piazza Garibaldi, take the Circumvesuviana Napoli-Sorrento line, get off at Pompei Scavi.
Cost: Admission is 10 euro. Parking is around 6 euro for the day.
Hours: Open 8:30 a.m. to 7:30 p.m., last admission is at 6 p.m. during the summer; closing time is 5 p.m., with last the admission at 3:30 p.m. November to March; closed Jan. 1, May 1, Dec. 25.
Food: There is a small restaurant near the entrance, but it is advisable to carry your own drinks and snacks.
Information: Bring or buy a book at the entrance to help identify sights. (English maps are not always available inside.) Authorized guides (official ones wear nametags) conduct one-hour tours for a fee. These usually cover only the highlights near the entrance, but offer insight into lesser-known features. If possible, visit Museo Archeologico Nazionale in Naples before your visit.
More information at: www2.pompeiisites.org