Piazzola sul Brenta: Antique market is Italy's largest
by
Donald G. Jean
December 22, 2005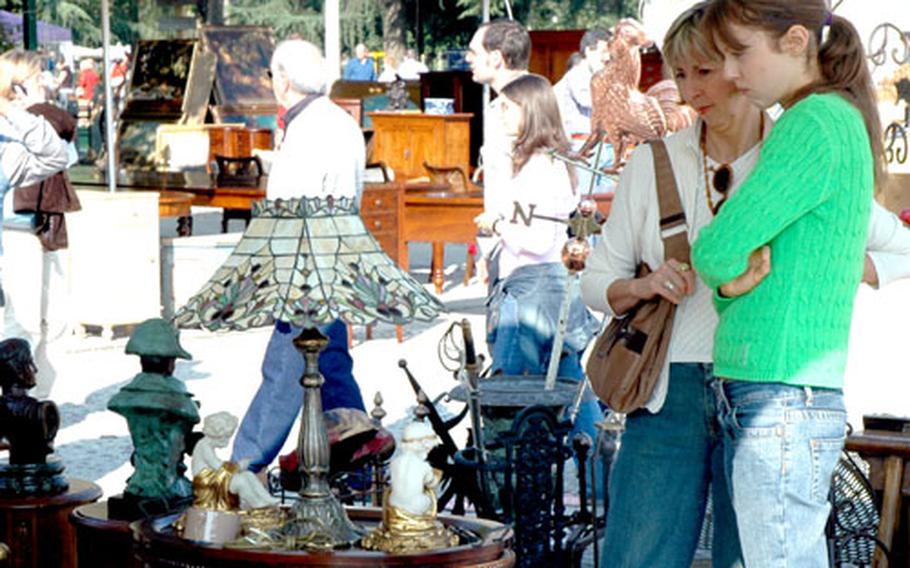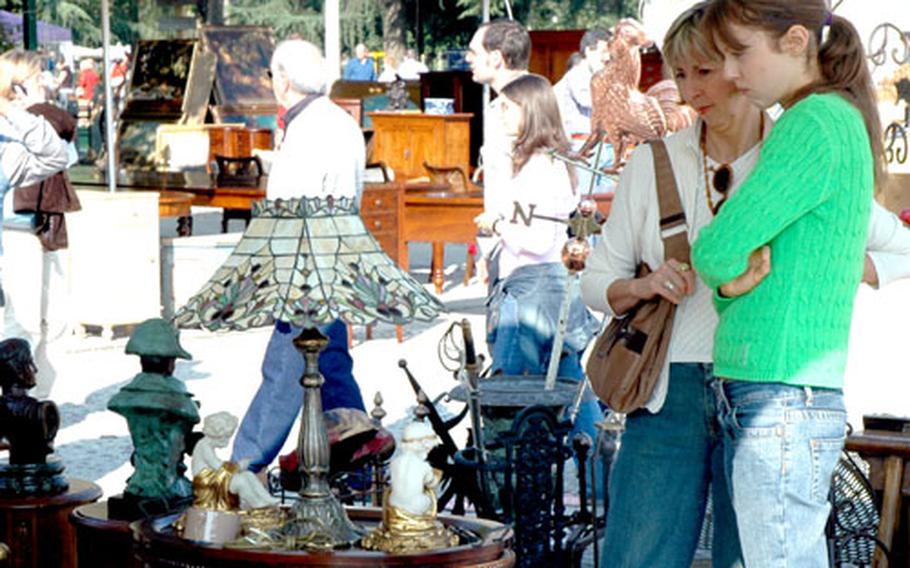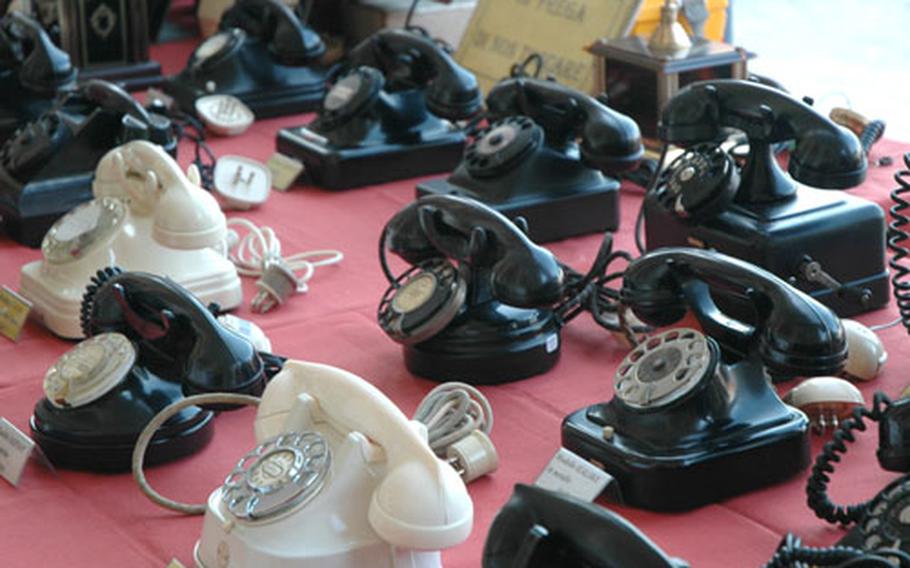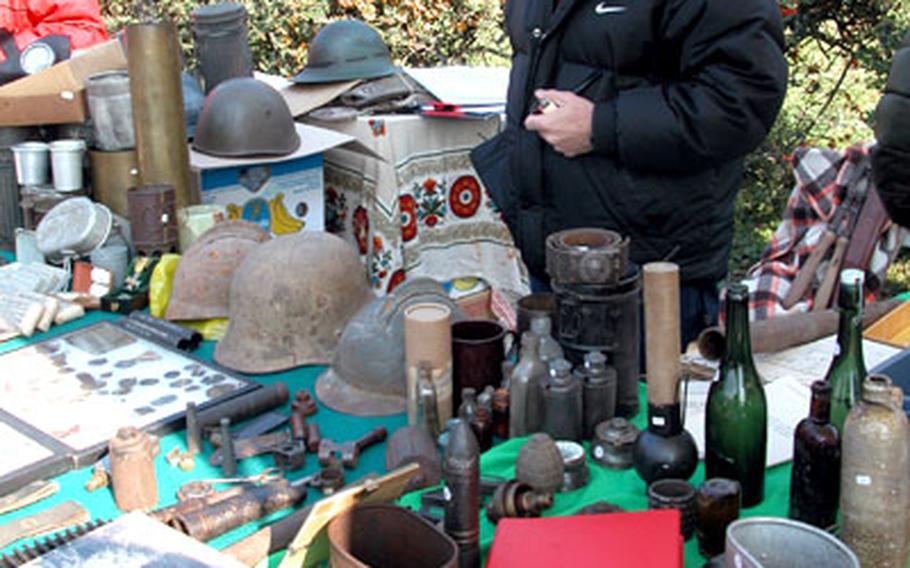 My wife didn't shout "eureka" like a Forty-Niner finding a nugget in the bottom of his pan, but she might as well have.
We were in Piazzola sul Brenta's cobblestoned Piazza Paolo Camerini and had barely begun sifting through the first few stalls of the outdoor antique market when she stopped.
On a table a couple of stands away sat a reproduction Tiffany lamp, the golden September morning sun glistening off its blue and yellow glass shade. "That's the lamp we've been looking for," she said.
After asking permission, Elena picked up the lamp by its heavy bronze pedestal and slowly turned it around. But without bothering to ask the price, she said "Grazie" and quickly set the lamp down.
The metal web that held together the shade's mosaic of colored glass was pitted with tiny holes, and Elena wasn't about to make an offer for fool's gold — not with 700 more stalls, and plenty more lamps, to go.
Tucked along the provincial back roads between Padua and Vicenza in northeastern Italy, Piazzola sul Brenta's Mercatino dell'Antiquariato ("little antique market"), is, surprisingly, the largest monthly market of antiques and collectibles in Italy.
Antonio Vison, president of the market, explained the incongruity this way: "Unlike markets in larger, crowded cities, Piazzola simply has more display and parking space."
And unlike some larger cities where "antique" markets often resemble the souk in Marrakech, Piazzola also has stricter vendor registration and "antique and collectibles only" policies. In Piazzola, peddlers can't wander in off the street, spread a blanket on the ground, and hawk "Gucci" purses, pirated DVDs or other trinkets.
The Piazzola antique market takes place on the last Sunday of each month (except August) and most vendors begin trading, bartering and selling at dawn and continue until dusk. Many are professional dealers who come from as far as the Tuscany, Umbria and Lazio regions in central Italy.
But according to Vison, the typical vendor at Piazzola is an enthusiastic collector, a hobbyista (hobbyist), who also sells on a regular basis.
While Elena and our daughter, Stephanie, stayed in the piazza (where most of the furnishings are) to look for more lamps, I headed to Via Dante, one of the side streets that branch out from the piazza, to browse the collectible exhibitions.
At one booth, a man with a graying ponytail and a leather-and-chain biker get-up rooted through boxes filled with 1960s-era vinyl LPs, while across the way, an elderly gentleman with a magnifying glass gingerly inspected three-ring notebooks filled with old stamps, postcards, and paper currency encased in plastic sheets.
From a stall near the canal, thuds rang out as three vendors chopped salami on a wooden board. Surrounded by outmoded depth meters, bronze diving helmets and other relics from "20,000 Leagues Under the Sea," they popped thick slices of salami into their mouths and chased them with red wine from small plastic cups.
Further along Via Dante, I stopped at a stall that looked like a supply depot for the old Imperial Austro-Hungarian army. Calmly puffing a pipe behind a table with enough World War I-era helmets, medals, and mess kits to outfit a platoon of Kaiserjaeger infantrymen, stood Bob Curci, a confirmed hobbyist.
With a metal detector and a shovel, Curci, an Italian-American born in Trieste, began collecting militaria in northern Italy's abandoned WWI battlefields during the early 1970s. When he started tripping over empty artillery shell casings at his house 15 years ago, he registered for a booth in Piazzola and started selling them.
As with other outdoor antique markets in Italy, Piazzola's market is not vetted, which means buyers must determine the authenticity of anything they purchase. This includes modern reproductions that are routinely passed off as authentic period pieces.
Because much of the technology used to produce them is still around in eastern Europe, WWII and Soviet Union-era military equipment and uniforms are good examples. I asked Curci how buyers could best avoid getting ripped off.
"Most dealers won't knowingly sell fakes because they don't want to ruin their reputations," he said. "But if the price they're willing to take for an item is much lower than their competitors', that's usually an indication something's wrong."
Curci also said it's best for buyers to take matters into their own hands by immersing themselves in appropriate reference books — especially those with plenty of photographs. "A detailed photograph," said Curci, puffing on his pipe, "will tell you almost everything you need to know."
In certain situations, however, reproductions, rather than originals, can work just fine. A Tiffany lamp, for instance.
At an antique shop or auction, an authentic Tiffany lamp normally sells for thousands of dollars, but a quality reproduction can be bought for a fraction of that at an outdoor market.
To see how their search for a Tiffany-style lamp was going, I caught up with my wife and daughter under the semicircular portico on the eastern side of the Piazza Camerini. They were at a jewelry stall with a clutch of other women plucking at the bins full of necklaces, bracelets and earrings like hens pecking at pebbles in a barnyard.
Elena said she had spotted another lamp she liked, but when she tried to get the vendor to lower his price, he wouldn't budge.
So we continued the search by picking our way through several more booths on the northern side of the piazza.
Along the canal in front of the imposing 17th-century Villa Contarini, one stall had enough copper pots and pans to replate the dome of St. Anthony's Basilica in Padua. Another boasted an ornate Rococo bedroom suite fit for the Palladio Suite at the Hotel Cipriani in Venice (6,360 euros per night).
We also saw plenty of lamps, but for one reason or another none passed the Elena test.
Eventually, desperate as forlorn prospectors returning to a worked-out mine, we found ourselves at the booth where the vendor wouldn't budge. Atop a pedestal, the lamp my wife had unsuccessfully bargained for was still there.
The vendor looked up and saw us. In a voice so low that other shoppers couldn't overhear, Elena said, "How about 180 euro?"
It was less than what he wanted, but it was also later in the day. After a few moments (with visions of having to haul the lamp back to Tuscany probably whizzing through his brain), he replied, "Would you like it wrapped, signora?"
As Elena dug into her purse for the money, she gave me a sly wink. She had struck pay dirt at Piazzola.
If you go ...Getting there: Unless you're familiar with the back roads of Vicenza and Padua, the best way to get to Piazzola sul Brenta is via the A4 Milano-Venezia autostrada. From the traffic circle after the Padova Ovest exit, head north toward Bassano. After about four miles, take the exit for Piazzola sul Brenta and continue for five more miles on SP94. Once in Piazzola, follow the "Centro" signs.
Parking: Parking on the street is difficult on market days, but is available in private lots belonging to local businesses. Volunteers in orange reflector vests from a civic organization attend the lots during market hours. Though it's not necessary, most people donate a euro or two when they return to their cars.
Information: Piazzola sul Brenta's Web site (www.comune.piazzola-sul-brenta.pd.it) has a page, in Italian, devoted to fairs and markets ("Fiere e Mercati").
According to Antonio Vison, the page for the antique market, which is under construction, should be activated "any day now." In the meantime, www.mercatinoantiquariato.it has information on all outdoor antique and collectible markets in Italy. Just click on the appropriate region.
— Donald G. Jean
---
---
---