Pfälzer Wald: Legend gives Devil's Table an interesting role
by
Peter Jaeger
December 7, 2004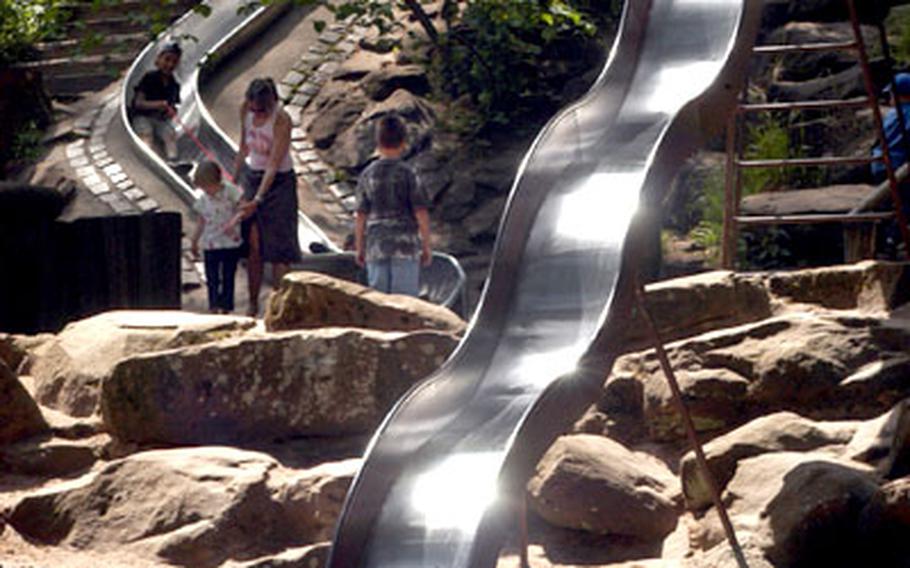 Once upon a time, the devil traveled through the Pfälzer Wald, the biggest forest in Germany.
In the evening he became tired and hungry but, unfortunately, could not find a place to sit down for dinner. Grabbing two big slices of rock, he created his own table and chair.
After finishing his meal, the devil shouldered the chair to take it along for future rest stops, but he decided to leave the table behind. The locals were shocked when they discovered it the next day — and even to this day people come from miles away to see it.
Parents tell this tale to their children when they visit the Teufelstisch, or "Devil's Table," a natural monument in the middle of the Pfälzer Wald south of Kaiserslautern.
Created by erosion through millions of years, the table is a big sandstone plate resting on two narrow columns of rock. It weighs 300 tons, and is the most famous rock formation in the Pfälzer Wald.
The Devil's Table is surrounded by deep forests crisscrossed with marked hiking trails. It is a popular destination for those looking for a place to stroll, or to do some climbing. In 1922, the first climber conquered the rock and stood atop the table.
An exciting adventure playground has grown up around the bottom of the hill where the table is located.
It includes long slides that wrap around and over rock formations, a miniature golf course, a place for table tennis and lots of play equipment. The grounds also include picnic areas and grills.
On the QT ...
DIRECTIONS: From Kaiserslautern/Ramstein take Autobahn 6 to Kreuz Landstuhl West onto Autobahn 62, direction Pirmasens. Leave the autobahn at exit 15/Pirmasens and follow Highway 10 to Unterweidenthal. Follow the sign "Teufelstisch" (Devil's Table) for public parking. Marked footpaths lead to the monument — a five-minute walk.
From Heidelberg, take Autobahn 5, direction Basel, switch at Kreuz Walldorf to Autobahn 6, direction Mann- heim. At Dreieck Hockenheim take Autobahn 61, direction Cologne (Köln), then get on Autobahn 65 at Kreuz Mutterstadt. Leave Autobahn 65 at exit 15/Landau Nord, and take highway 10, direction Annweiler/Pirmasens, for about 20 miles until Hinterweidenthal. Follow signs for the "Teufelstisch."
TIME: The playground and surrounding hiking trails are available year round. While the best time to go is in the summer, the trails are still used during winter months.
COSTS: The Devil's Table and playground are free. Public parking, close to the playground, is 50 euro cents per hour.
FOOD: Two restaurants next to the playground offer a variety of local German food. One, Landgaststätte Teufelstisch, is open 11 a.m. to 9 p.m. daily; the other, Gaststätte Am Spielpark, is open 11 a.m. to 11 p.m. every day except Thursday. Both have free parking.
---
---
---
---