Peterborough: Majestic cathedral dates to 12th century
by
Ron Jensen
June 29, 2004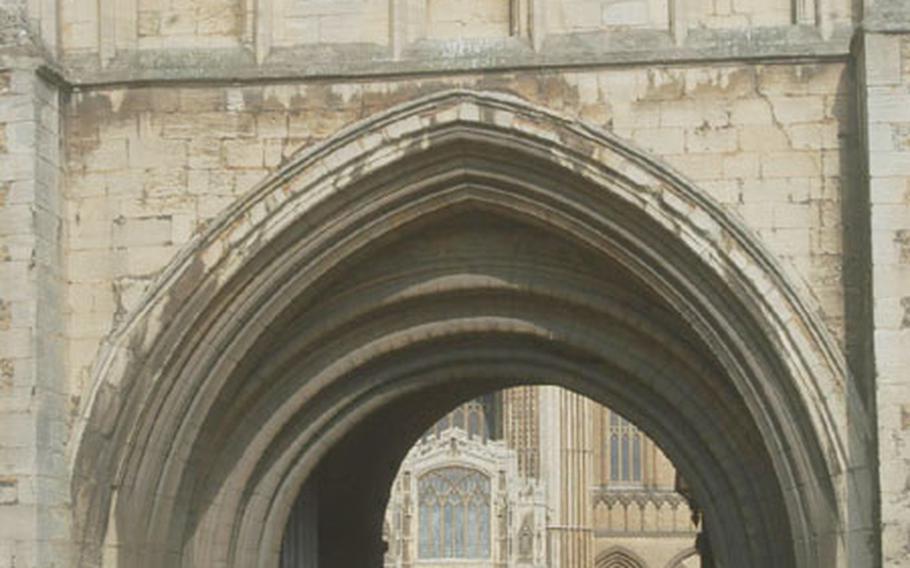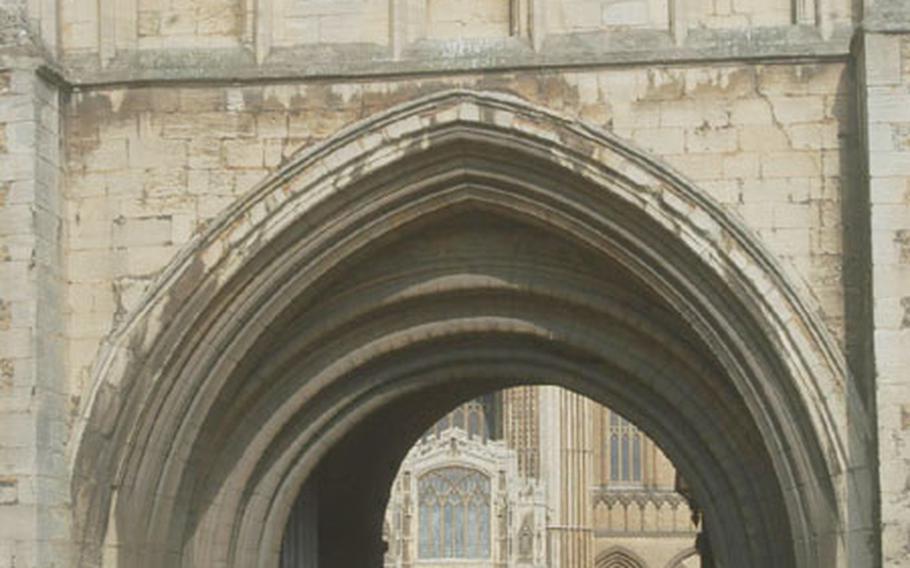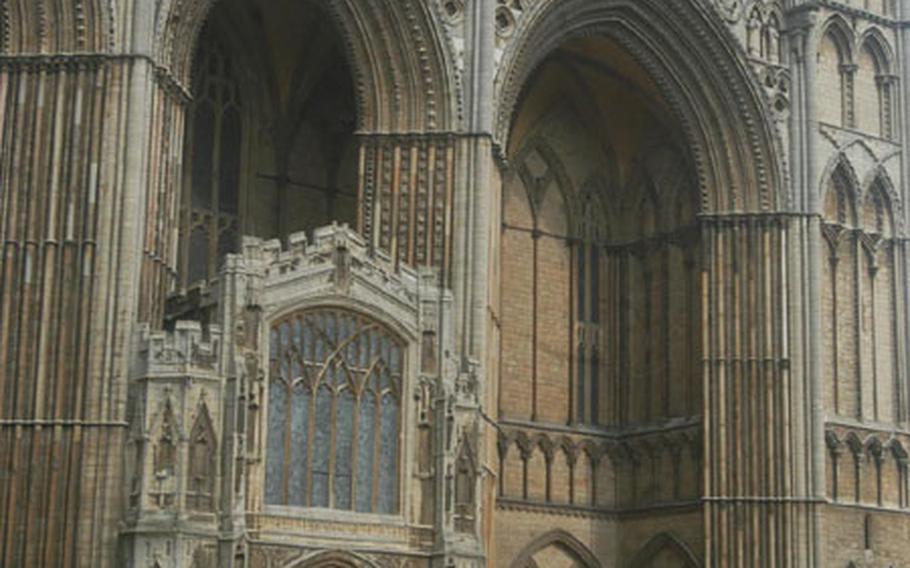 Cathedrals are, by their very nature, magnificent structures.
No one bothered to make unimpressive cathedrals. They were constructed with every intention of inspiring awe and humbling the masses into submissiveness.
God, the people were to think, surely dwells in this place.
Peterborough Cathedral in central England is no exception. It is an awe-inspiring structure.
Peterborough has been a center for Christian worship for more than 1,300 years. The first abbey there was founded in 655 and became a center for converting nonbelievers. Through the years, it was replaced by a second abbey and then, in the early 12th century, a third one, which eventually became the cathedral.
Walking through the medieval arch that takes visitors onto the cathedral grounds, you are struck by the soaring structure ahead.
The 14th century western front seems to smack you in the face with its three graceful entries.
And more than most cathedrals, this one has retained its original look.
Most of it dates from the 12th and 13th centuries when it was built — from 1118 to 1238 — to replace the building destroyed in warfare in the 11th century.
The wooden ceiling above the nave is an original, one of only four in all of Europe to have survived and the only one in England. It was completed between 1230 and 1250.
This place was important enough for the English to entomb two queens within its substantial walls. Katherine of Aragon, wife of Henry VIII, died in January 1536. She had been banished from the marriage to the king because she did not bear him a male heir.
Mary, Queen of Scots, was also buried here after she was beheaded in 1587. In 1612, with her son, King James I, on the throne, she was moved to Westminster Abbey where a great tomb was built for her.
There are many cathedrals in England and two other great ones within barely an hour's drive of Peterborough — Ely and Norwich. Lincoln, too, a ways to the north of Peterborough, boasts a world-class cathedral.
But the one in Peterborough seems a bit more grand, perhaps. Visitors may be forgiven for thinking that if God does not dwell within it, he has surely visited a time or two.
On the QT
Directions: Peterborough is off A1, about 20 miles north of the bases at RAF Alconbury and RAF Molesworth. To find the cathedral after leaving the motorway and entering the city, follow the signs. Parking is available in the city center near the cathedral.
Hours: The cathedral is open for visitors from 9 a.m. to 5 p.m. Monday through Saturday and noon to 5 p.m. on Sundays. Sunday services are at 7:30 a.m. The cathedral is open every day of the year except Dec. 25 and 26.
Cost: Entry to the cathedral is free, however a donation of 3 pounds — about $5.70 — for adults is advised. A 2 pound donation per child is advised.
Food: Becket's Restaurant is on the cathedral grounds providing prepared meals and snacks, along with daily specials.
Info: More information is on the Web site: www.peterborough-cathedral.org.uk; or call (+44) (0) 1733-343342. A gift shop on the cathedral grounds offers a wide variety of gifts, including books about the cathedral.