Paris: E. Dehillerin, famous kitchen store, draws foodies
by
Leah Larkin
April 26, 2007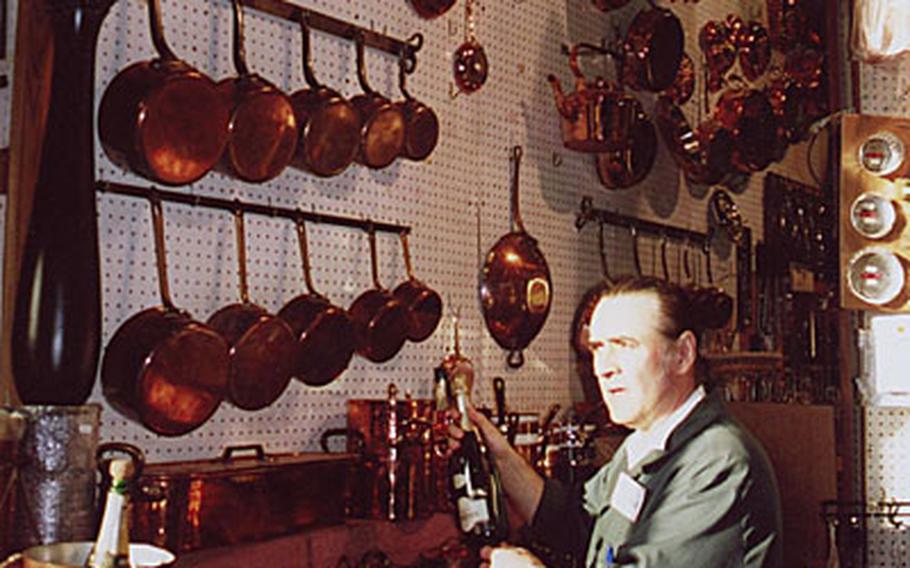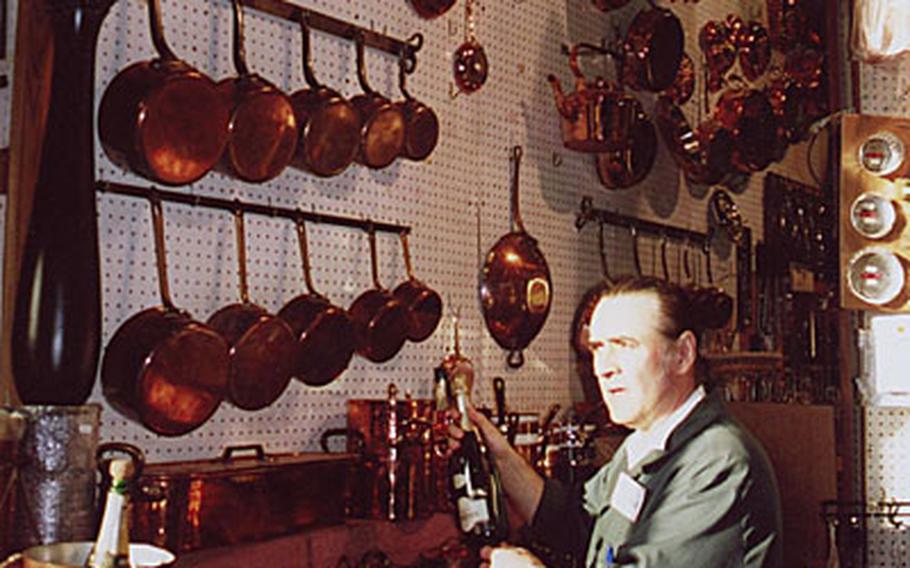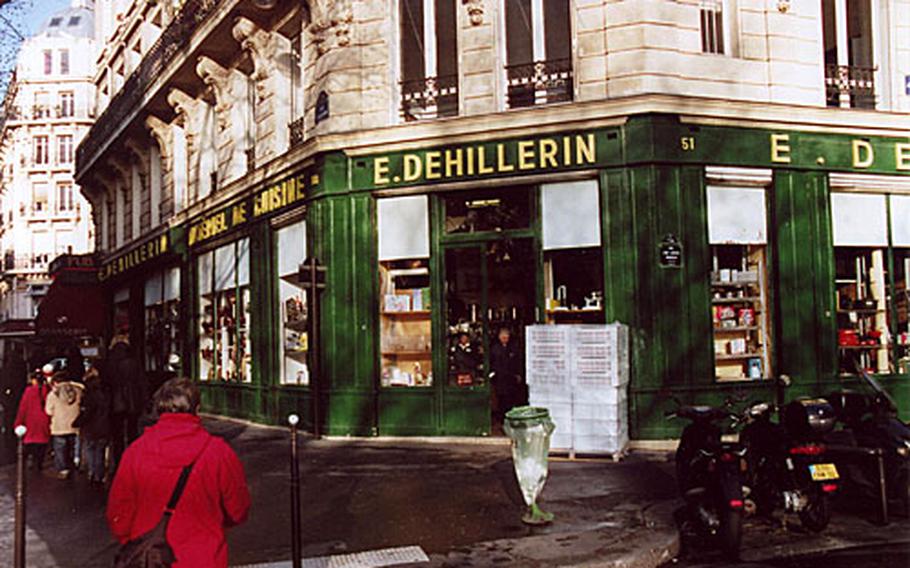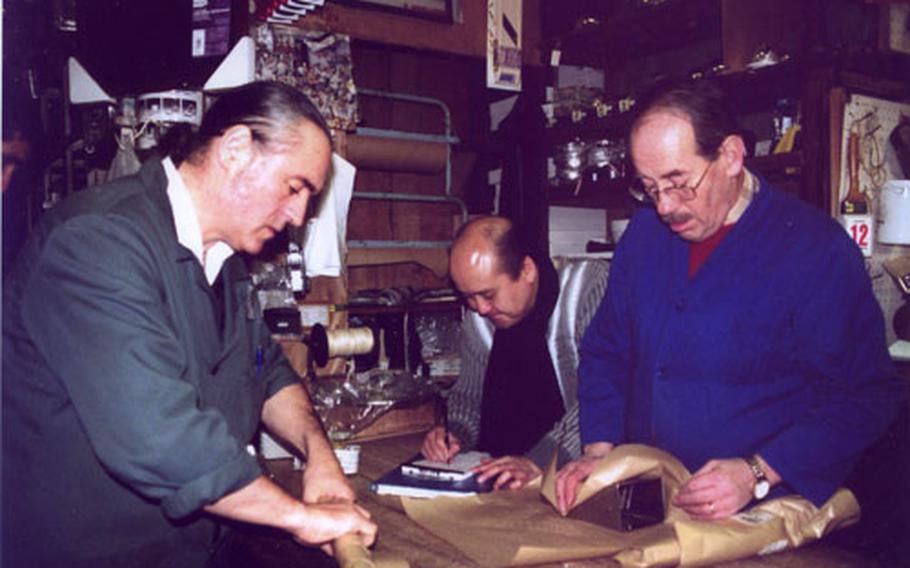 E. Dehillerin, Paris' legendary cookware store is a step back in time.
The ramshackle shop with high ceilings, wooden plank floors and open shelves where merchandise is stacked haphazardly appears not to have changed much since it was founded in 1820.
The funky place is crammed with every kind of kitchen utensil and gadget imaginable and patronized by professionals, hobby cooks and curious tourists.
"I love the atmosphere here," said a customer combing through the mortars and pestles. "I buy all my kitchen utensils here. It brings back the old times."
One wall is covered with all sizes and shapes of gleaming copper pots. Wire baskets dangle from the ceiling. Ancient floor-to-ceiling wooden shelves are jammed with strainers, skewers, scalers, sharpening stones, salt and pepper mills, knives, melon ballers, pastry nozzles, cutting boards, mallets, meat saws, molds and much more. There's a ladder here and there to reach the top shelves, some of whose contents need dusting.
Sales personnel give advice, write up receipts behind a high old counter and wrap packages in brown paper.
"We're a store with soul. We're not antiseptic. We're a store that lives," says Eric Dehillerin, a fifth-generation member of the family to run the establishment. "We're a store with history. Our customers tell us we shouldn't change."
Dehillerin obviously hasn't modernized his office, a tiny nook with a helter-skelter mix of piles of paper, shelves of files, stacks of boxes, even a safe that appears to be antique. There are touches of the modern world — a computer and fax machine — but both are of an earlier generation or two.
Among Dehillerin customers are big names in the food world. Out of "respect," Dehillerin wouldn't divulge names. But one of his staff did: For instance, the late Julia Child, America's favorite cook, was a regular until her death in 2004.
"I used to have a little drink with her on the corner," said Monsieur Franck, who would not give his last name, explaining that according to store tradition employees use only first names.
Today's client list includes buyers from Williams-Sonoma as well as famous chefs Paul Bocuse, Joel Rebuchon, Marie Pierre and Michel Troisgros.
To cater to the international clientele — Americans, Japanese, Europeans, South Americans — many staff members speak several languages. "I know perfectly prices and numbers in Japanese," said Franck, who has worked at the store for 25 years.
The Japanese usually come in a group, he said. "One person says 'I want this,' and suddenly 20 others want the same thing. They don't ask the price. If it's two euros or 20 euros, it doesn't matter."
Americans, who represent the largest percentage of foreign customers, go for copper and carbon-steel-blade knives. Copper is prized by cooks because it diffuses heat evenly, he said, while the knives are easy to sharpen and don't rust.
Dehillerin carries 295 objects in copper. It also has 10 sizes of strainers, 18 sizes of whisks, 50 sizes and shapes of cake-decorating nozzles, 20 varieties of molds for petits fours, numerous sizes of paper doilies — and, some items that can only be called bizarre — a knife and fork combo for those with only one arm, and a "masticateur," a special knife to finely cut meat for those with no teeth. There's even a mini meat press for making baby food and an electric salmon smoker.
In the basement there is more. Those who descend the rickety stairs will find a dimly lit and cluttered cellar where much of the merchandise is giant-sized to feed masses: A paella pan that could double as a round sled and hold enough of this Spanish favorite for hundreds; a soup caldron that only a restaurant would use; roasting pans that could hold an entire pig. Among the oversized pots and pans you'll find fish poachers, ham holders and a special device to cut Roquefort cheese. This is also where enamelware products are displayed.
Back upstairs, I was tempted to buy a foie gras knife priced at only 6.65 euros. The blade has holes so the delicate goose liver won't stick. I decided that was too decadent — even though we live in France, we don't eat that much foie gras.
Instead I purchased two quality tart pans with removable sides and one box of cartridges for a gadget we have that whips cream. Price: 30 euros.
As Dehillerin says, "We are not an ordinary store."
Photojournalist Leah Larkin, a member of the Society of American Travel Writers, lives in the north Luberon area of Provence, France. Contact her through www.leahlarkin.com.
Know and go ...E. Dehillerin, at Rue Coquillere and Rue Jean-Jacques Rousseau in Paris' first district, is open 9:30 a.m. to 12:30 p.m. and 2-6 Mondays, and 9 a.m. to 6 p.m. Tuesday through Saturday.
Its telephone number is (33) (0)1 -42-36-53-13, and its Web site www.e-dehillerin.fr. The losest métro stop is Les Halles, exit Rambuteau.
Because of the great numbers of professional customers, prices on the merchandise are without the 19.6 percent value-added tax. This is added at time of purchase. Customers who are citizens of non-European- Union-member countries and who spend more than 175 euros are eligible for a tax refund. The store will fill out the necessary papers, which must be turned into a customs office when leaving the country.
— Leah Larkin