Otterberg, Germany horse farm stresses fun with an Old West theme
by
Ben Bloker
September 29, 2009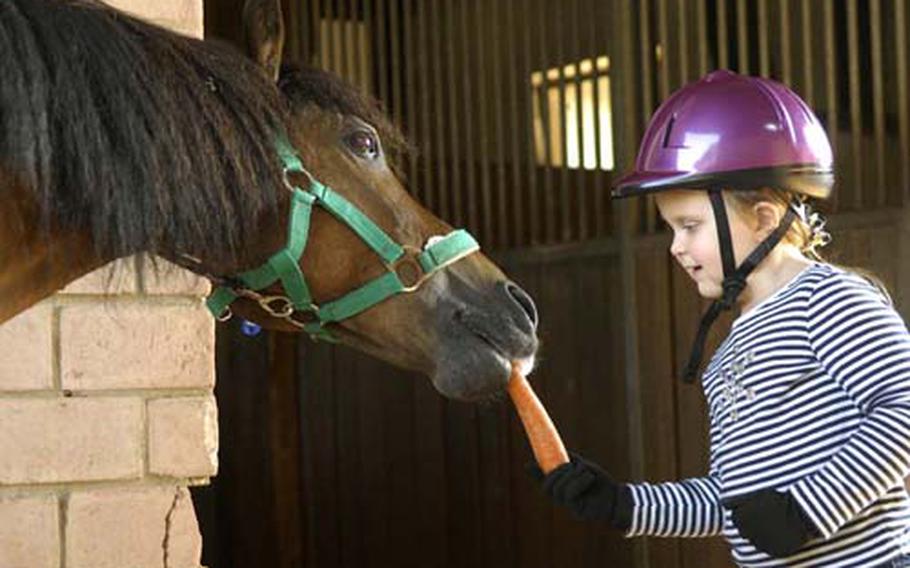 In a horseback-riding region dominated by gate-jumping, fox-chasing, English-style riders, a beacon of the Old West exists in a small town near Kaiserslautern, Germany.
This is a place where having fun trumps posture and poise. A place for people to feel like they're at home, according to Diana Lenz, owner of Diana's Horse Farm in Otterberg.
The farm's staff gives riding lessons, but that is just part of what is offered. The farm also boards horses, conducts trail rides, customizes events such as birthday parties and holds a Halloween party. There has even been a re-enlistment ceremony on horses at the farm.
"The only thing we haven't done is a western wedding party," Lenz joked.
Lenz said she rode western-style when she was a child, and when her daughters got older and wanted to ride, she taught them the same style, even though it is unusual for this region. Her riding lessons found a following, especially among Americans, who she said make up about 80 percent of her customers.
Three years ago, she converted old stables into a western ranch setting with an office and functioning saloon, which serves as the social centerpiece of the farm. The farm was once the property of Alan Jacob, a former U.S. serviceman who began breeding quarter horses in Germany and was the founder of the European Rodeo Cowboy Association, which promoted the sport in Europe. After his death, the property eventually passed into Lenz's hands.
There is a routine that unfolds as students show up for lessons. On one recent day, 5-year-old Aysha Craft began her pre-ride routine with her chosen mount, Alex, by grooming the brown horse, starting with giving him a carrot and moving on to brushing him. Lenz said she is all about her customers experiencing all that comes with a horse. Those interested can even arrange to clean and sleep in the barn.
Aysha's mom, Carla, said she stopped by the farm a year ago and Lenz immediately put Aysha on a pony. After that experience, Aysha was hooked. "I'm just completely jealous," said Carla. "What kid wouldn't want to ride a horse?"
Lenz's 16-year-old daughter, Vanessa, assists Aysha in the grooming and then helps lead Alex into a nearby ring to begin the riding lesson. Vanessa talks her through horse control exercises both with and without a lead rope. According to Lenz, it is important to get children very comfortable with the animal. Halfway through the 20-minute ride Aysha switches to Santhana, a larger black horse.
At the end of the hourlong lesson Aysha wants to keep riding. With coaxing from her mom, she settles for a trip to the rabbit cages for a quick pet. A favorite activity for children is petting the rabbits and goats.
Carla Craft hopes to keep her daughter, who now has a year of riding experience, in the saddle when they leave the area next year. If she does, Aysha will help fulfill the motto of Diana's Horse Farm: "Don't dream your life — Live your dream!"
On the QTDirections
From Autobahn 6 take the Kaiserslautern-West (Exit 15) toward Lauterecken/Weilerbach. Take the B270 ramp to Otterbach/KL-Erfenbach. Travel through Erfenbach and then through Otterbach toward Otterberg. Diana's Horse Farm is on the left just before entering Otterberg.
Times
All events, including lessons, are by appointment. Diana is typically available from 8 a.m. to 9 p.m. throughout the week.
Costs
There are a lot of pricing options based on the type of riding, skill level and length you desire. A basic one-hour lesson is 25 euros while a two-hour trail ride will cost 45 euros. There are various package deals such as a children's birthday party for 150 euros; it includes at least three hours of horse grooming, riding, games and food in the saloon for 10 children and two adults.
Food
The farm's saloon has basic German food and drink for average off-base prices. If the weather is good, you may find food cooked over an open fire.
Information
The farm's Web site, www.westernreiten-otterberg.de/Englisch/start.htm, has basic information including history, available services and prices. Part of the site is in English, part in German. Diana Lenz can also be reached by telephone at 06301-609-647 or 0176-258-21002.
---
---
---
---