One-day 'pocket tours' of Kyoto
---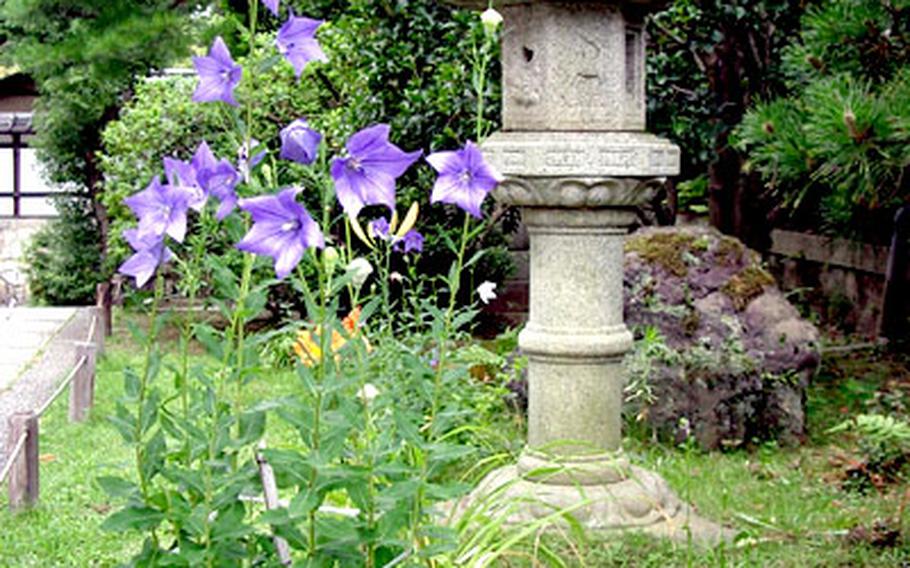 Samurai warriors lived and fought in this central Japanese city; many of their shogun warlords and emperors ruled from here.
For centuries, Shinto shrines and Buddhist temples have adorned its hills, monks' chants wafting through still air, worshippers clapping hands to summon their gods.
They still do, just as geisha still mince to their evening appointments.
This is Kyoto.
Many Japanese call it the essence of Japan and others say it's one of the world's most beautiful cities.
And you've just one day to see it. What do you do?
First, resign yourself to the fact that you won't even ding the surface. Then pick one or two sites that sound interesting. Here are two "pocket tours" that cost a few hundred yen each, can be reached easily by public transportation and seen in a day — with time left for a Japanese dinner. And you may leave with a sense of Kyoto — which, perhaps as much as any city here, also will give you a sense of Japan.
The Golden Pavilion
One of Japan's most beautiful structures began as a general's retirement home.
Yoshimitsu, the Ashikaga line's third shogun, started construction of the pavilion near the time he abdicated in 1394 — to rule as regent through his son, the new, 10-year-old shogun.
On the edge of Mirror Pond northwest of Kyoto, on a site meant to suggest hovering between heaven and earth, he built Kinkakuji, the "Golden Pavilion," directing that the grounds be converted to a Zen temple after his death.
One of the pavilion's marvels may be that it makes three distinct architectural styles appear as if meant to be part of the same building. But the Japanese still call each floor by its own name. Temple literature says the first floor is palace style. It is named Ho-sue-in. The second, Cho-on-do, is in the style of a samurai's house. The top floor, Kukkyo-cho, is Zen temple style.
The second and third floors, and their shingled roofs, were covered first with Japanese lacquer, then gold foil — in case anyone missed the message that retired or not, Yoshimitsu still carried clout.
The pavilion literally shines, visible almost at once after entering the temple grounds just a few short blocks from the bus stop. It should. It is an exact replica of the original which, "Fodor's Pocket Kyoto" tells us, was burnt to the ground in 1950 by "a student monk with metaphysical aspirations." The Japanese promptly rebuilt and gilded the replacement with five separate coats of gold foil.
The result? If it's sunny, bring your shades.
For temple photos from across the scenic lake, follow the path to the left. For a closer view of the Chinese-style golden phoenix ascending from its roof, turn right. To the pavilion's rear is an open boathouse, complete with skiff.
The trail wends around a smaller pond and serene gardens. Down the hill again is a teahouse, Sekka-tei. It verges on the rustic because Japanese tea ceremonies are to restore serenity, in part by returning to nature. And as with classic teahouses, it contains a pillar and scroll bearing a phrase or poem for contemplation.
In "Kyoto: A Contemplative Guide," Gouverneur Mosher has written that pavilion builder Yoshimutsu was "the first to reveal the aesthete strain in the family that sometimes distracted its members from performing their duties as shoguns. The more interest the Ashikaga shoguns took in the arts, the harder it was on the people."
For instance, historian R.A.B. Ponsonby-Fane wrote that in the decades just before Yoshimitsu diverted considerable resources to build the pavilion, coat it in gold and landscape its extensive grounds, Kyoto residents suffered waves of deaths from earthquakes, famine, blizzards, smallpox and plague epidemics so severe that "people died in the streets."
Consider it something to contemplate as you stroll by one of the world's more memorable buildings, surrounded by gardens so graceful they still inspire: A warlord designed them 600 years ago so he could finish his life in peace and beauty, as his people died of hunger and disease in the streets below.
A Stroll Through The Gion
For centuries, major Japanese cities had specific "pleasure districts." Kyoto had the Gion.
Today, it's still home to many of Kyoto's "white-faced ladies" — geisha. But as a Westerner, as close as you get to a geisha likely will be glimpsing her scurrying to an appointment, hair ornaments tremoring, kimono concealed beneath a colorful, if shapeless, silk robe.
If you're intent on catching even this limited a sighting, the Gion district may be your best chance. Guidebooks say the best time is from 5 to 7 p.m. as they hurry to their evening's engagements.
But making a geisha sighting the only reason you visit the Gion is like skipping the porterhouse because you've heard there's ice cream for dessert. An afternoon's walk down just one Gion street offers a slice of Kyoto today, from a world-class department store to a temple in the hills where monks chant as they did some 1,200 years ago.
The tour begins a short subway ride from Kyoto Station, exiting on Shijo-dori (Avenue) at Kawararmachi or Shijo stations — either is just doors down from the famous Takeshimaya Department Store.
Walk east over the Kamo River. Shijo-dori dead-ends in three blocks at Higashioji-dori. Across the street is a large red tile-roofed building "guarded" by fierce-looking temple dog statues.
This is Yasakajinja Shrine, originally called Gion Shrine. Believed to have been built in 656, it is one of Kyoto's older and most popular Shinto places of worship. The main building, built in 1654, heads more than 3,000 Yasaka-jinja shrines throughout Japan.
Of immediate interest: In glass cases at either side of the entrance are life-sized mannequins of samurai, swords flashing, traditional colorful battle robes flaring.
Beyond the large main building inside is an open-sided structure decked with rows of hanging paper lanterns — most donated by Kyoto businesses — that are lit each evening.
In many Shinto shrines, such a structure serves as a stage for performing ceremonies and "Noh" plays. At Yasakajinja, at least in festival season, the building also houses three large, ornate golden mikoshi, or portable shrines. At the annual Gion festival each mid-July — the first one was held in 876 — the large courtyard fills with people who cheer as teams of shrine-bearers shoulder the mikoshi and ease them from their shelter to join the other shrines and floats parading through the city.
Continue to walk through the shrine grounds and you will enter Maruyama Koen, Kyoto's oldest park. Among its features: a small lake with a large stone in the middle, a favorite sunning spot for sizeable turtles. The pond also has a fine collection of huge, brightly-colored koi (think "goldfish on steroids").
Walk up the path in the park's center, perhaps stopping to admire a small waterfall splashing beside the trail. At the rear of the park is a fierce-looking life-sized statue of two samurai.
Head north (left) along a small unnamed street to Chion-in Temple. Its origins date to a simple structure Buddhist priest Honen built in 1175. Honen's teachings for the first time brought Japanese Buddhism within everyone's reach — for which traditional priests and sects condemned and suppressed him throughout his life.
But his teachings remained alive and today, Jodo, which he founded, is Japan's second-largest Buddhist denomination — and Chion-in is one of its key temples.
Just south of Maruyama Park is smaller but beautiful and serene Kodaiji Temple — and beyond it, nestled in a hillside to the east, is Higashi Otani Mausoleum, a fine example of a Japanese cemetery.
Retrace your steps through Maruyama Park, perhaps stopping at a vendor's stall for a green tea ice cream cone, then through Yasaka Shrine back to Shijo-dori and the subway stop.
If you walk down the right side of the street, about midway in the first block is the Kyoto Craft Center, where local artisans sell work for which Kyoto is renowned: lacquer ware, handmade papers and fabrics, hand-painted fans, ceramics and hand-fashioned enameled and ceramic jewelry. For a special present a notch or two above souvenir stand fare, this may be worth a stop.
And then it's back to modern Japan, and memories of a place in which time travel is only a block or two away.
---
---
---
---