On European slopes, more skiers choosing helmets
by
Leah Larkin
October 26, 2006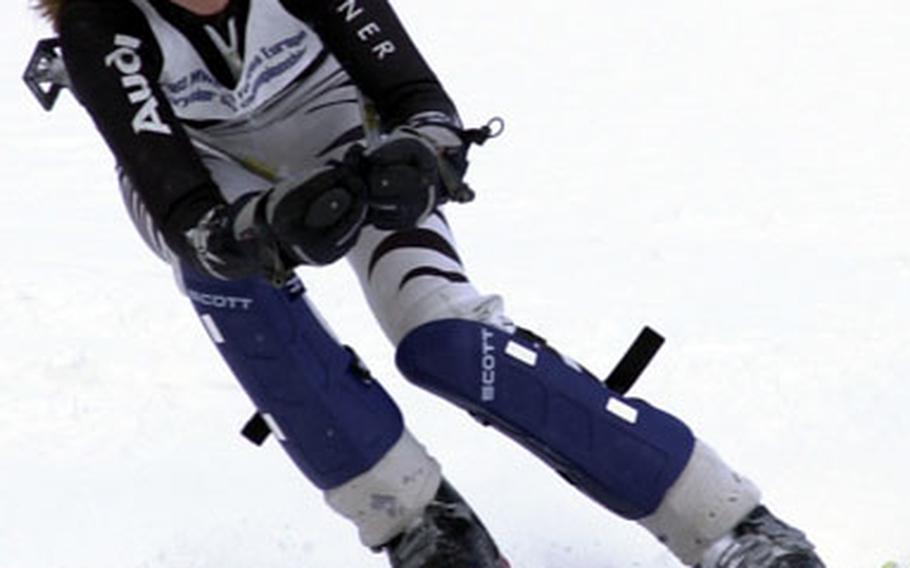 Years ago, bicyclists who wore helmets were considered weird. Now most put on headgear, and those who don't are thought to be foolish.
The same trend is moving to the ski slopes, where more and more skiers are opting for head protection.
Snowboarders helped the cause, as a helmet is part of their uniform. And in 1997, two high-profile ski deaths resulting from head collisions with trees — Sonny Bono and Michael Kennedy, son of Robert Kennedy — accentuated the danger. Neither was wearing a helmet.
"I wouldn't get on my bicycle without a helmet and I wouldn't get on skis without a helmet," says Terry Petze, assistant business manager for the Patch Ski Club in Stuttgart, Germany, and director of the European division for the National Ski Patrol.
Petze started wearing a helmet seven years ago after he was elected to his post with the ski patrol, which recommends wearing a helmet. "I needed to set an example," he says.
"At least a dozen times it has saved me from a minor injury," Petze says of his helmet. He says he has been hit in the head with a loose ski and by a chairlift, and has fallen on ice and hard- packed slopes.
When skiing in Bulgaria last winter, Slovenian skier Albina Podbevsek bought a helmet at the urging of a friend. While skiing at the resort Borovets, she was on a run that crossed a road. There were no signs indicating the approaching pavement, and she took a hard fall.
"If it were not for the helmet, I'd be up there," she says, pointing to the sky.
According to data from the National Ski Areas Association and the American Academy of Orthopedic Surgeons, about 34 people are killed annually in the United States by skiing or snowboarding accidents. The majority die from brain injuries.
The AAOS, which recommends wearing helmets on slopes, states that the use of bicycle helmets has resulted in a 70 percent reduction in severe brain injuries.
Petze says children are required to wear helmets on most European slopes. In Sweden, children under age 8 who wear a helmet can ski free, said Swedish skier Lena Hoglund. Because her 8-year-old son wears a helmet, she decided she should, too.
"It's nice, warm and safe," she says.
Hoglund, an expert skier, says she went to Argentina to ski recently, but didn't lug her bulky helmet along. She tried skiing without headgear, but felt insecure. "It kept me from skiing the way I wanted to ski," she says.
In Italy, helmets are common on the slopes, says skier Beppe Errani from Bologna. He's been wearing one for 10 years.
"The slopes have become more crowded. There are too many beginners and snowboarders," he says.
Boarders, he points out, when turning right can't see left, and vice versa. "That makes it dangerous for others. I'm afraid … for me it's normal to wear a helmet."
Helmets are available at Army and Air Force Exchange Service sports stores, where the assortment this season has increased 35 percent over the past year. Alpina and K2 are the most popular brands. Prices range from $39.95 to $116.95.
According to Chris Tyler, the buyer for AAFES' Europe regional office in Mainz-Kastel, Germany, all the helmets comply with a standard known as the Central European Norm 1077, "which is the toughest testing requirement for ski helmets … including impact damping capabilities, effectiveness of the strap system as well as range of vision."
Since not all stores have the space to carry a full range of helmets, Tyler recommends talking to a store manager who can arrange a special order if necessary. Helmets are also available at sports stores on the economy.
A proper fit is essential when selecting a helmet.
"It's like boots," Petze says. "If it doesn't fit, don't wear it."
Various styles and types are available: full shell, three-quarter shell and full-face models. The full-shell models are said to offer better protection and also do a better job at sealing out wind and weather.
If you sweat a lot, Petze advises looking for a model with effective air vents.
"It used to be considered stupid to wear a helmet," says Hog- lund, "but it's becoming fashionable. It gives you a good feeling."
Leah Larkin, a member of the Society of American Travel Writers, is a journalist living in France.
---
---
---