Omiya: Third-generation bonsai planter supervises village
by
Hiroshi Chida
February 19, 2004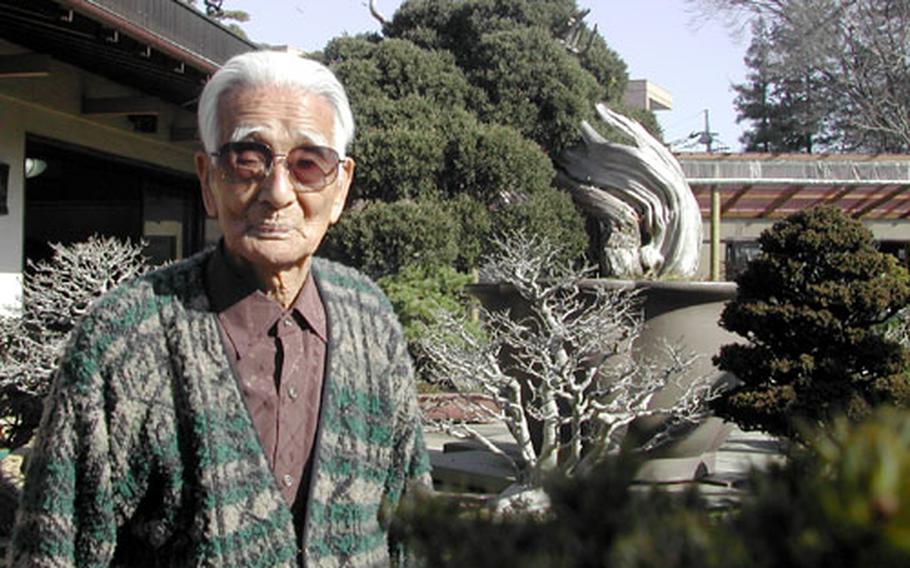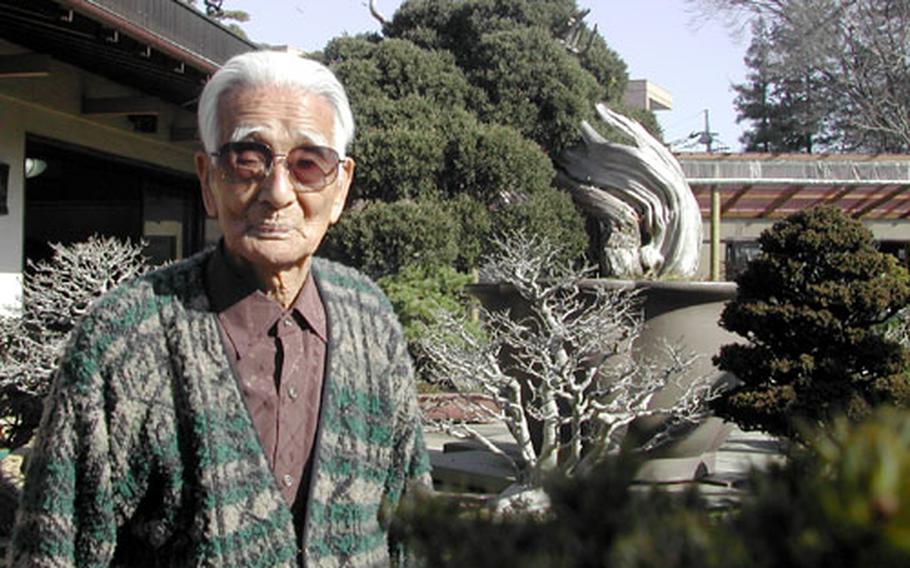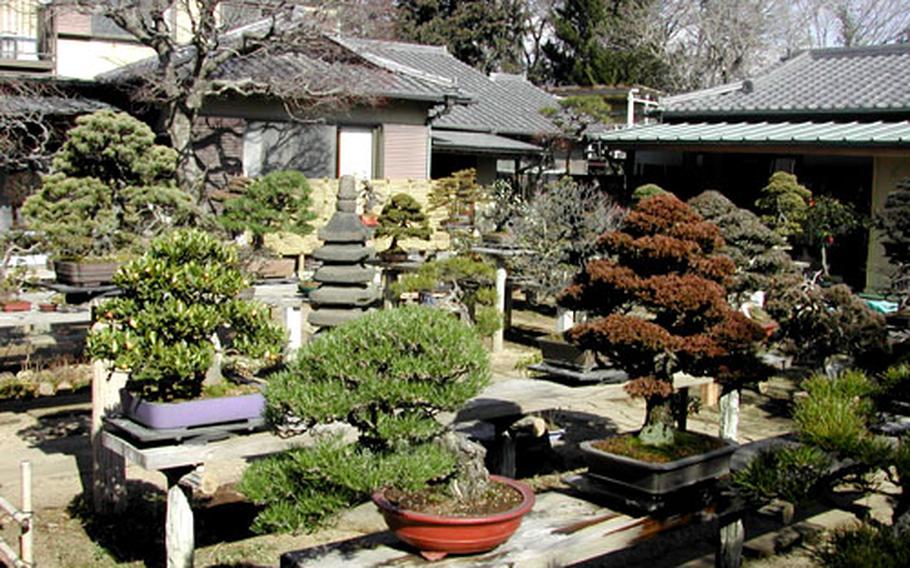 The history of Omiya's Bonsai Village dates to 1925, when several groups of Bonsai planters moved here from downtown Tokyo after the Great Kanto Earthquake in 1923. Until that time, it was the grassy forest area of Musashino on the outskirts of Tokyo.
The present art of making Bonsai originated in the Kamakura period (1192-1333). The earliest reference to bonsai in Japan appears in the Kasuga gongen kenki, a set of picture scrolls attributed to Takashina Takakane (1309-1330), owned by the imperial household. Bonsai is a product of the peculiar trend of the Japanese people to love nature and also to be fascinated by anything minute in size. Their love of nature made them wish to plant trees in pots so that their beauty could be appreciated within their rooms or gardens.
The superior of the Bonsai Village in Omiya is 89-year-old Saburo Kato. He is a third-generation Bonsai planter. He moved with his father to Bonsai Village as one of its first group of three from Tokyo in 1925. At its peak, there were as many as 30 planters, but World War II caused the number of Bonsai planters to drop to around 10. During the war, people who gave themselves to Bonsai were denounced as unpatriotic.
New interest
The first people who visited Kato's garden after the war and purchased Bonsai trees were Americans of U.S. Occupation Forces in Japan.
One day, they came in a jeep and spoke to Kato — "Matsu! Matsu!" Matsu means a pine tree in Japanese. Instead of paying money to Kato, they brought food — sugar, chocolate, meat and more. Kato was even more happy with those precious supplies than money since money was not as useful in those days. Meanwhile an adjutant of Gen. MacArthur visited him one day and asked him to teach Bonsai to the Americans at the bases. He was so happy that Bonsai became an object of interest for foreigners. He taught classes for one year.
It took 7 to 8 years until the Japanese rekindled their interest in Bonsai after the war. As Bonsai-lovers spread all over the world, Kato planned a world Bonsai convention and the first world Bonsai convention was held in 1989. It was held in Omiya and 750 Bonsai lovers from 32 countries attended the first convention. (The 5th Convention will be held in Washington D.C. in May of next year). He was very happy finding that many foreigners visited the convention with their families. He realized foreigners enjoy Bonsai as a family amusement.
Finding a good tree
Kato says there are certain points in finding a good Bonsai tree:
Strong roots – roots stretching firmly.Good trunk – bottom larger and top smaller, with no lumps on the trunk.Branches – branches must be growing in good balance left and right in all directions.Kato regrets the Japanese population of Bonsai lovers is dwindling while foreign fans are increasing. He thinks foreigners understand the spirit of Bonsai more than today's Japanese. Japanese people think Bonsai is a hobby for senior citizens who are rich and have lots of free time while foreigners enjoy Bonsai without any preconception.
One day a foreigner visited his garden and he stared at a Bonsai intently. In a while, he began whispering himself "chirp, chirp …" He said he could see a bird chirping on a branch of a Bonsai tree where a bird really was not.
Some say wiring is cruel to plants. Kato says, wiring is not just to make forms of the trees but it gives sunshine and fresh air to every place of the tree by widening the space between the branches, and such. Trees are happy with wiring, Kato said. If wiring thrusts too much into the tree, its has to be removed. As they get older, Bonsai don't need wiring.
He says it took him 10 years to master the watering of Bonsai. Kato waters a Bonsai only when it tells him it wants water. It is the same with people. People do not drink water when they are not thirsty.
Kato says Bonsai is the living art that changes its form every day, therefore there is no perfection but temporary finish.
If you go ...
Bonsai Village: The village boasts 11 Bonsai gardens.
Directions: Take JR Keihin Tohoku Line to Omiya Station and change the train to Tobu Noda Line to Omiya Koen Station (second stop). The Bonsai Village is a 5 minute walk.
Admission: Free
Time: The village is open from 9 a.m. to 5 p.m., but closed on Thursdays.
Information: Contact, Mansei-en, 048-663-2636 or Seika-en, 048-663-3991.
Note: The United States National Arboretum in Washington, D.C., the only federally funded arboretum in the country, opened to the public in the 1950s. One of the show pieces in its 444 acres of gardens was the collection of 70,000 Glen Dale azaleas, which still bloom today. Aside from the springtime flowering azalea, April and May are the best times for flowering pears, crabapples, flowering cherries, and wildflowers. Peonies, iris, and daylilies blossom in summer while autumn leaves bring their own array of colors to the arboretum.
While the flowers are the most alluring element of the arboretum, Fern Valley and a collection of dwarf conifers add to the variety. The Nippon Bonsai Association of Japan donated more than 50 rare bonsai trees for America's bicentennial. Those bonsai and others added since are on display in the arboretum's Japanese garden. (From the Web site of the National Arboretum.)
---
---
---
---