Northern Ireland's Antrim Coast: Home to one of the most scenic drives in the world
---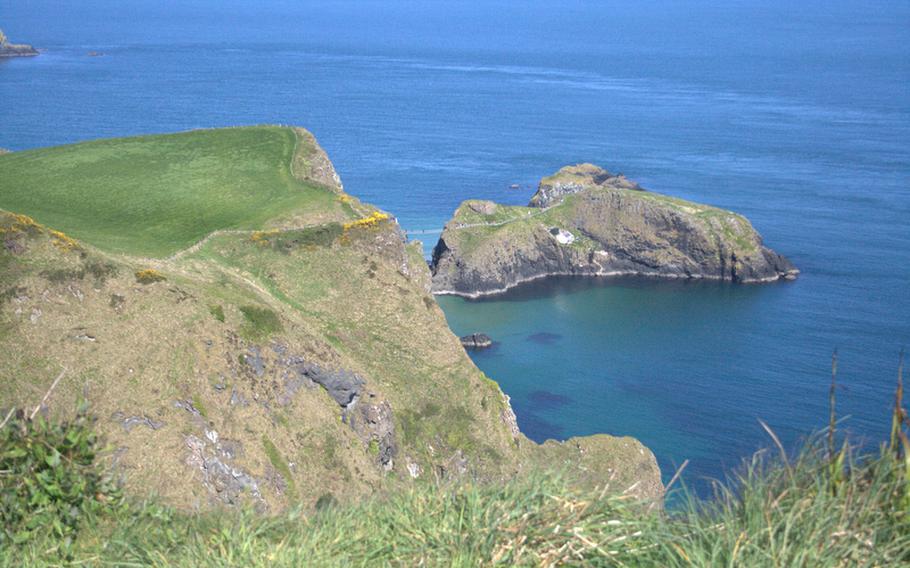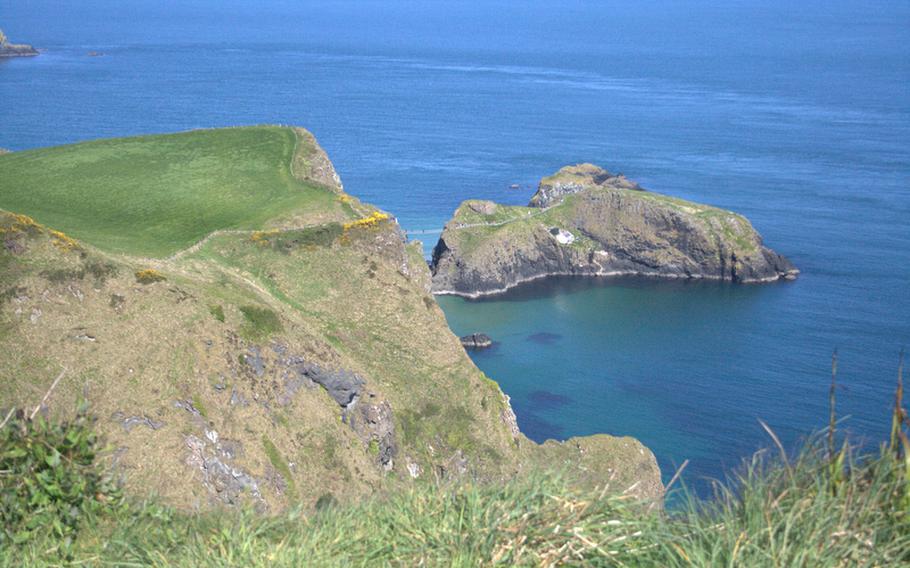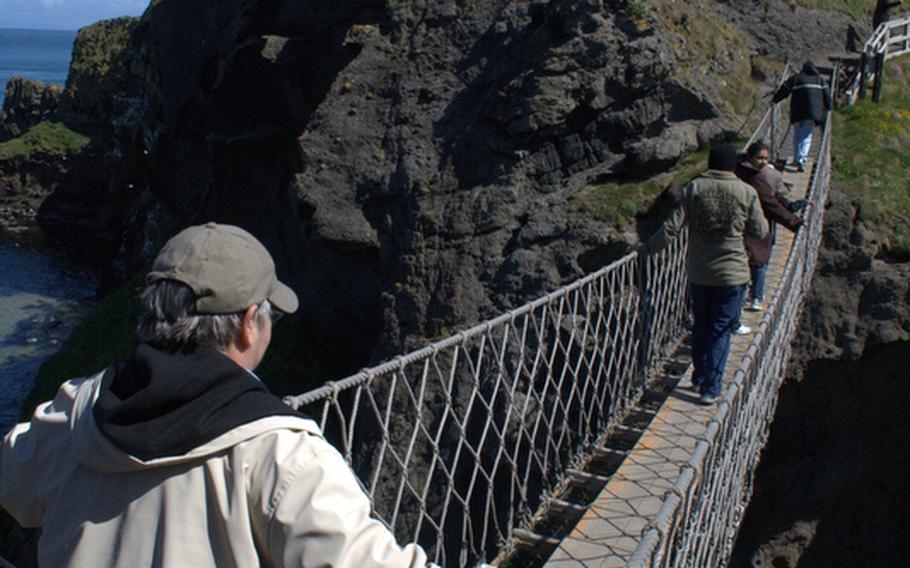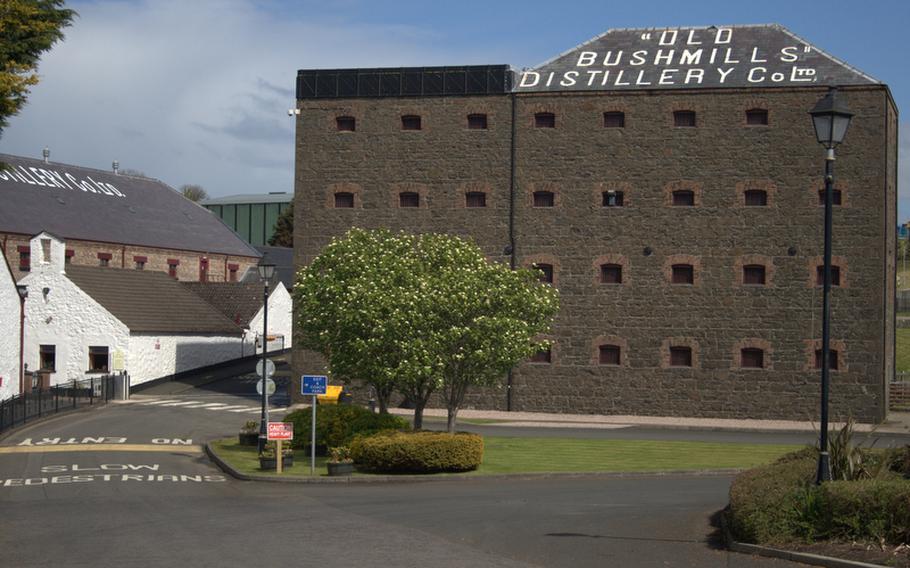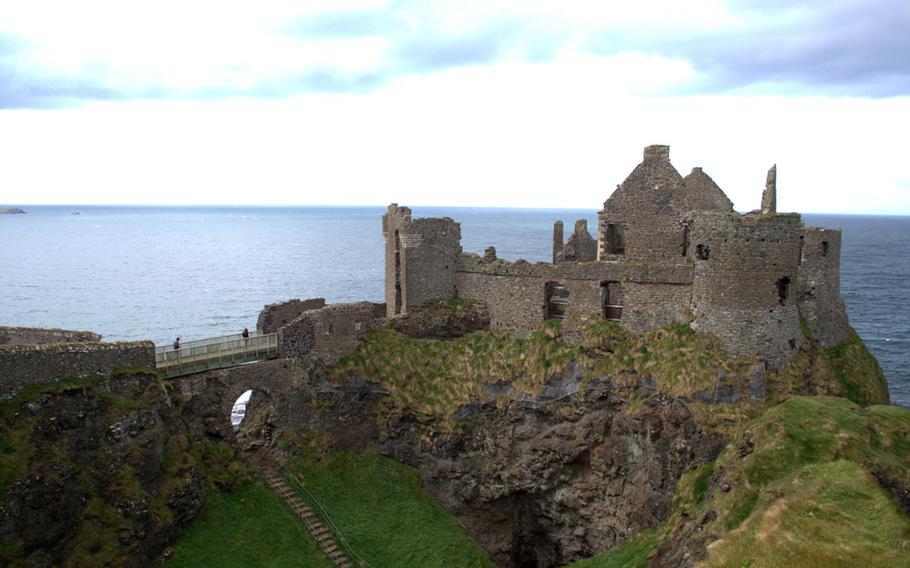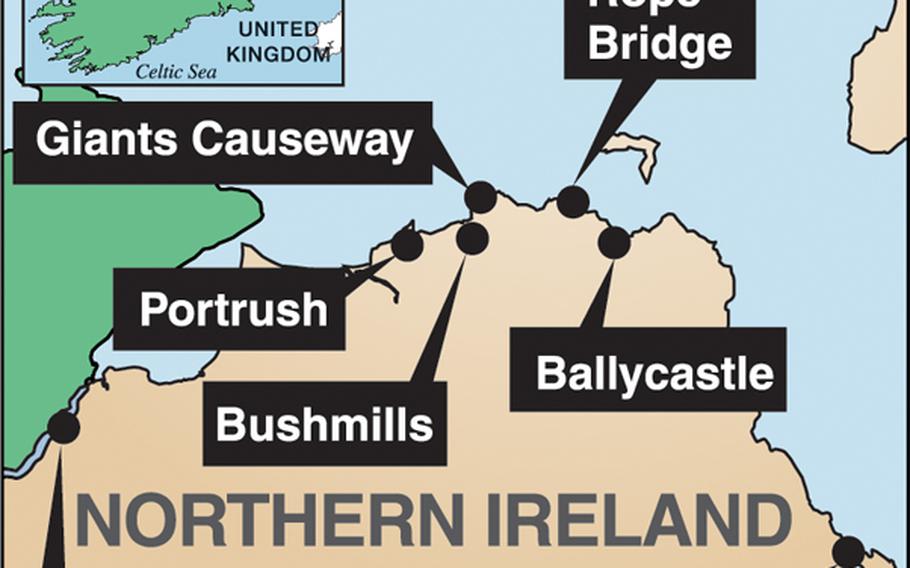 Heralded as one of Northern Ireland's most scenic routes, the A2 highway running along the Antrim coastline barely lets go of the shoreline as it sweeps out of Belfast between the Glens of Antrim and the Irish Sea. Curling and dipping northward before turning sharply left at Ballycastle to run parallel with the Atlantic, it's here where things start to get seriously appealing.
The 28-kilometer (about 17 miles) route west to Portrush is an enigmatic journey through tall tales, fierce battles, human ingenuity and shady hooch-making all set among some genuinely surprising and mesmerizing Emerald Isle landscapes.
Here, waves from an azure ocean reminiscent of the Caribbean lap at bays of fine, powder-white sand. Woolly Scottish Black Face and Dorset Horn sheep graze in lush meadows. Scattered palm trees bow and rustle in the blustery Antrim sea breezes.
Across the water, Scotland's Mull of Kintyre appears ghostlike on the horizon. Between the mainland and the Mull of Kintyre is Rathlin Island with its black-and-white cliff faces.
Onward west along the A2, the Carrick-A-Rede Rope Bridge offers the opportunity to stretch limbs on the one-kilometer walk from the small visitors center and car park down to the short and somewhat hairy crossing from the mainland to Carrick Island. The slender, swaying bridge is made up of planks strung between wires and sits nearly 100 feet above the crashing waves in the chasm below. It was built for salmon fishermen some 350 years ago, and tourists have been visiting for centuries. Kentucky native Charles Leonard Thomassan, following his visit in 1857, wrote, "Few trust themselves upon the airy fabrication, but Mr Wilson and I for the honor of old Kentucky braved all the terrors — and passed to and from the rock."
Truth be told, it's the bridge crossing experience itself rather than the small and unremarkable islet that attracts visitors. The height and rocking motion of the bridge mean it's not for everyone, but those who do make the crossing can reward themselves afterward by buying a certificate of crossing and a sticky bun in the gift shop.
Hardier souls who prefer to trace the route on foot can follow the nearly 18 kilometers of narrow, often rough, coastal hiking trail to the area's biggest draw, the Giants Causeway. One of the natural wonders of the world, its 40,000 polygon basalt stones form cliff faces, columns and the flat causeway that gave it its name.
Each stone is almost geometrically shaped to seamlessly fit either on top of or next to each other to create a remarkable mosaic. Some rocks have collectively taken on a form to earn individual names — The Camel, Wishing Chair, Harp and Organ attract tourists eager to climb all over the formations.
The most captivating and far-fetched explanation as to how this all came about concerns the ancient legend of the giant Finn MacCool. The tale goes that Finn built a footpath across the sea to Scotland to defeat his bullying and taunting arch nemesis, the Scottish warrior giant Benandonner. The tale is given a degree of credence when one realizes that the formations cross beneath the water and resurface on the Scottish Western Isles.
A more prosaic explanation is that some 62-65 million years ago volcanic activity combined with accelerated cooling in sea water to create the striking geological rock patterns.
Just a giant's stone's throw away, standing brooding and romantic, are the crumbling ruins of Dunluce Castle. Despite losing part of its structure when the kitchens (along with several servants) plunged into the sea in the 17th century, the castle's remains and their location manage to blend both fascination and enchantment.
Just inland is the Old Bushmills Distillery. For more than 400 years the air in these parts has been sweet with the peaty fumes of whiskey-making, the alchemy of which can be followed during a guided tour. Here tales are also told of the famous label alongside local enthusiasm for potcheen (moonshine), which can still be had today, "if you know where to look," according to one local who wanted to remain anonymous.
Near the Antrim border with the Republic of Ireland, the A2 veers southward away from the coast before coming to an abrupt end in Derry. The picturesque Antrim coastal scene makes for a beguiling journey in its own right, but with the diverse collection of natural and constructed sights squeezed into this diminutive area, it becomes a giant on any Northern Ireland itinerary.
Getting thereBelfast International Airport (belfastairport.com) is the main gateway for visitors to Northern Ireland. There are no direct services from Germany, though it is possible to fly into Dublin(www.dublinairport.com) from Munich and Düsseldorf with Lufthansa (www.lufthansa.com) or from Hamburg, Stuttgart and Frankfurt with Aer Lingus (www.aerlingus.com). It is then a three-hour journey by road to the Antrim coast. RyanAir (www.ryanair.com) has flights from various airports in Germany.
There are a number of ferry services from western Scotland and England to Northern Ireland. For example, Rathlin Ireland Ferry service starts at 8 a.m. daily (subject to weather); round-trip tickets cost 11.60 British pounds ($18.30); (+44) (0) 28 2076 9299, www.rathlinballycastleferry.com. For more choices, visit Direct Ferries (www.directferries.co.uk).
Where to stayModerate to expensive:
• Causeway Hotel, (+44) (0) 28 2073 1210, www.giants-causeway-hotel.com.
• Bushmills Inn, (+44) (0) 28 2073 3000, www.bushmillsinn.com.
Budget:
• Islandcorr Farm B&B, (+44) (0) 28 2073 0676, www.islandcorr.com.
Attractions• Carrick-A-Rede Rope Bridge: Open 10 a.m. daily subject to weather; admission 5.09 pounds; (+44) (0) 28 2076 9839, www.nationaltrust.org.uk/carrick-a-rede .
• The Giants Causeway: Open 9:30 a.m. daily; admission 1.75 pounds; (+44) (0) 28 2073 1855, www.nationaltrust.org.uk/giantscauseway.
• Dunluce Castle: (Open 10 a.m. daily; admission 5 pounds; (+44) (0) 28 2073 1938, www.northantrim.com/dunlucecastle.
• Bushmills Distillery: Open 9:15 a.m. daily (noon on Sundays); admission 7 pounds; (+44) (0) 28 2073 3218, www.bushmills.com/visit.
Car rental• Rhino Car Hire (+44) (0) 84 5508 9845; www.rhinocarhire.com.
For InformationContact Discover Northern Ireland at (+44) (0)28 9023 1221, www.discovernorthernireland.com.
David Cawley is a U.K. freelance journalist who specializes in travel and history.
---
---
---
---