North Sea fishing trip is quite the catch
by
Matt Millham
September 14, 2006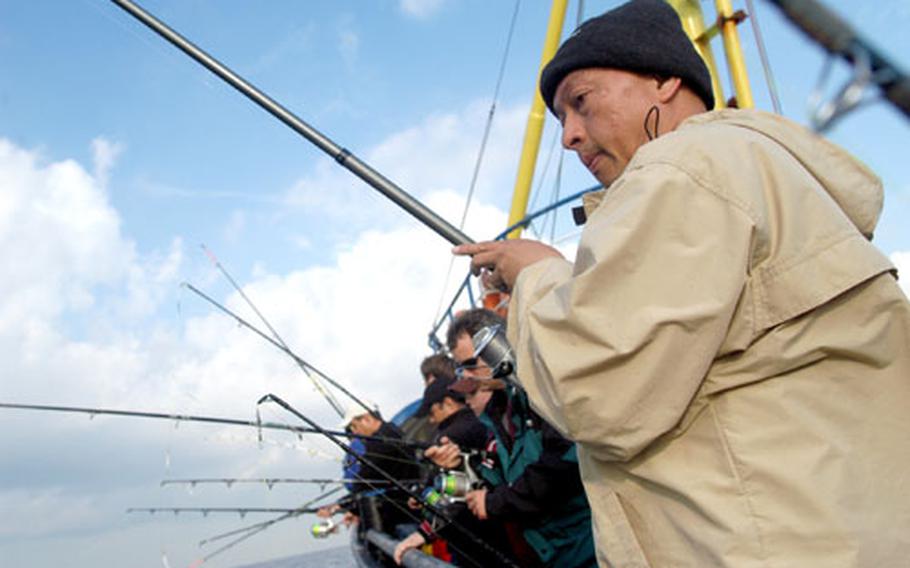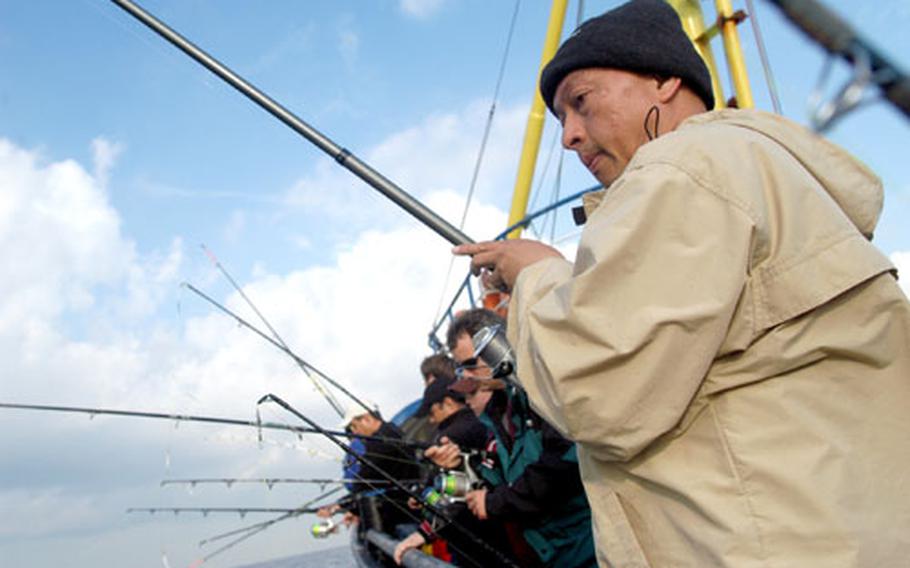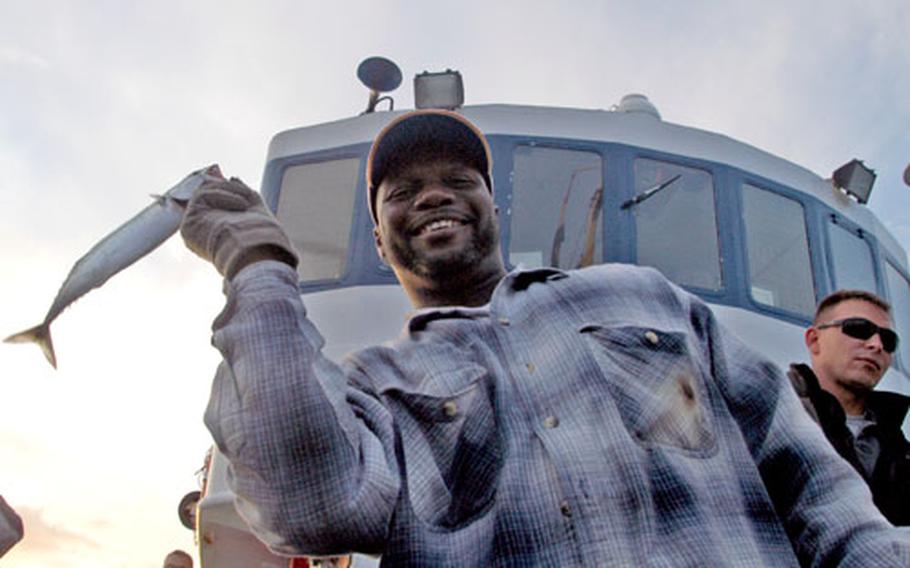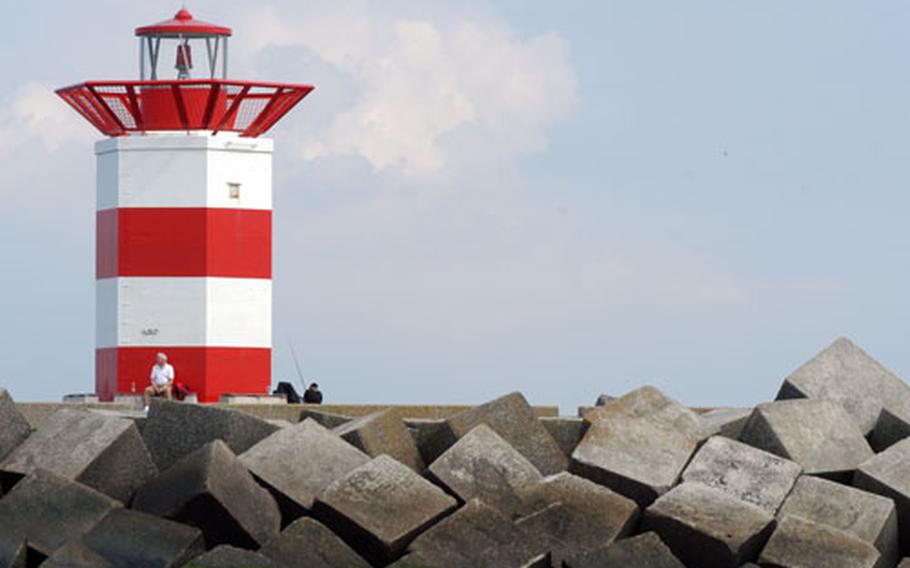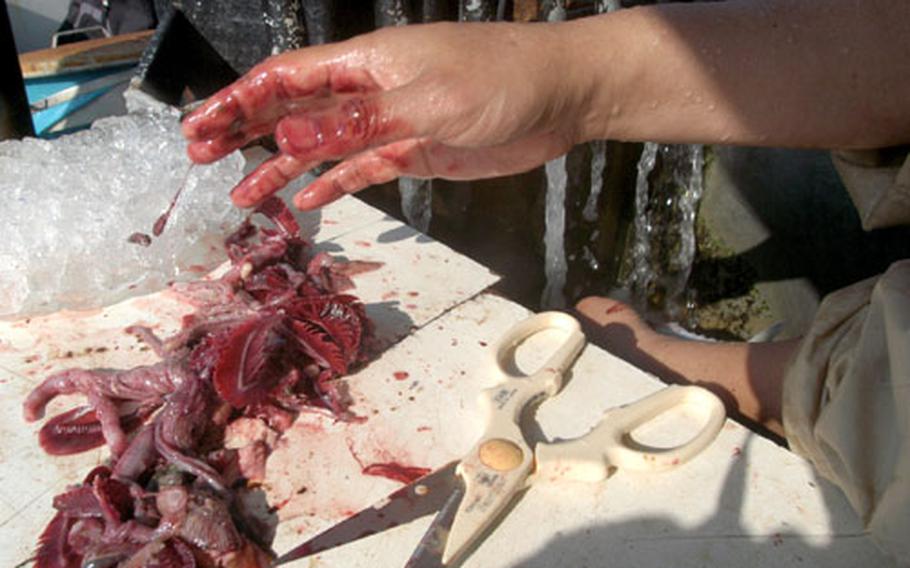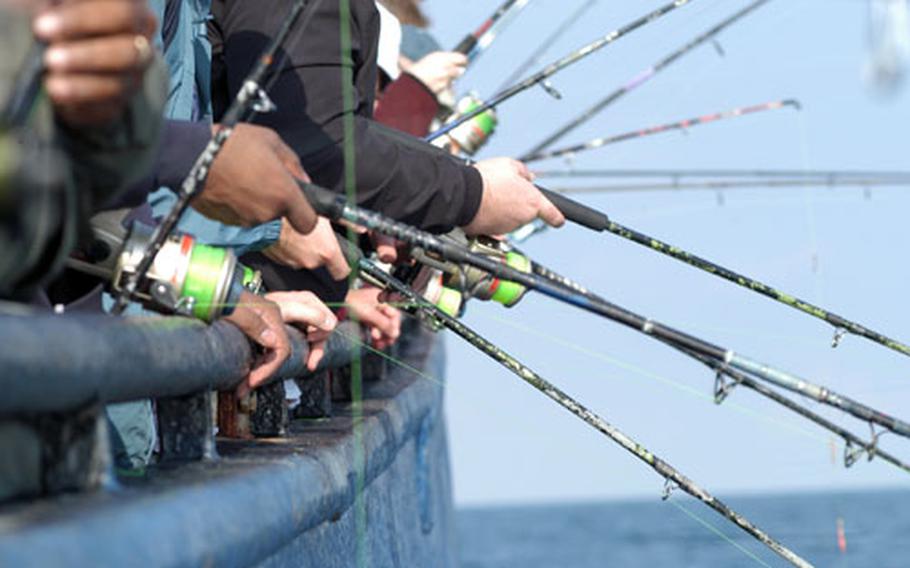 Until last month, Jacqueline Zalace considered "SpongeBob SquarePants" the best thing about Saturday mornings. Not anymore.
After a trip to the North Sea, she said she's ready to give up her Saturday morning cartoons. She's found something better: Fishing.
"If I was at home right now, I'd rather be here," said the 9-year-old as she enjoyed the ride back to the North Sea port of Scheveningen, Netherlands, aboard the fishing boat M.S. Maria.
After spending some eight hours on a bus and six more hours on a boat, she had caught one fish, a small mackerel. The market price of her catch hardly covered the $120 cost of the outdoor recreation trip that brought her to the North Sea.
Nevertheless, she's hooked.
Jacqueline was among 34 anglers who took the bus up from Kaiserslautern, Germany, and the 40 or so locals on the boat. There were rookies like herself as well as plenty of old hands on deck.
William Gomez, an Air Force maintenance analyst, had fish fever long before he stepped on the M.S. Maria. The Philippines native said he couldn't remember a time when he didn't fish.
"Whenever I get a chance, I'm going to go fishing," Gomez said.
This was his second deep-sea trip with Kaiserslautern's Outdoor Recreation office in less than a year. When he was stationed in Misawa, Japan, he usually fished from the shore at least three times a week, he said.
Since moving to Germany almost a year ago, "I've been missing the sushi," Gomez said.
His North Sea catch should tide him over for a while. By 10 a.m. Gomez had caught as many fish as he had during his last trip. An hour later, he couldn't fit any more in his cooler.
"You've got like 20 fish in there," Brad Paulhamus, 17, said to Gomez, whom he'd fished next to for most of the day.
"Oh, I've got way more than that," Gomez replied.
He'd stopped counting sometime after 30. After squeezing one last fish into his cooler, he headed to the sink to gut his catch.
Paulhamus had only been deep-sea fishing once before. "I think I was 8," he said. He didn't catch anything that first time, but he did on this trip.
Within the first hour of dropping his line, Paulhamus had come up with his first catch. He was reluctant to touch the slippery mackerel flopping around on the deck, and used a plastic bag to pick it up by the tail as his father tried to take a picture.
Pulhamus had better luck fishing than he did on that first trip, but he was no Gomez.
That didn't have as much to do with skill as one might think. Equipment appeared to be the factor that separated those who couldn't reel them in fast enough from those who thought they couldn't catch a cold.
Along with a special fishing cooler, Gomez brought along his own rod and a tackle box filled with glittery gear. His colorful lures, each with five hooks hidden inside tufts of synthetic fibers that glinted pink and purple in the sunlight, attracted fish in droves.
The equipment almost everyone else used, lures with four hooks hidden among sprigs of plain white fluff provided by the company that owned the boat, attracted frequent tangling with other fishermen.
Head to head, Gomez's tackle beat everyone else's hands down. In the time he'd caught 30-some fish, those around him were lucky to have caught one-third as many.
But even one-third wasn't half bad. During his first North Sea outing, Gomez caught 12 fish. Some anglers out this day caught about that number with the lesser equipment.
Actually, catching a fish aboard the Maria probably could have been done with nothing but a bare hook.
The crew used fish finders to locate schools of fish, then stopped and gave the signal for everyone to drop their lines.
At one stop, almost everyone found themselves with more fish than they could handle. Some fish had taken a hook in the mouth, others had hooks going through their backs or stomachs. The fish, thick as flies, couldn't avoid getting snagged.
Robert Boufford, noncommissioned officer in charge of fleet services for the 723rd Air Mobility Squadron, has been fishing before, but never on the sea.
He was happy with his catch, but admitted he didn't get what he came for.
"I thought we were going to catch some bigger fish," he said.
The largest fish anyone caught looked sort of like a large silver pencil. Even at roughly two feet long, it weighed in at just about two pounds — hardly comparable to a marlin or swordfish.
Still, Boufford said he enjoyed himself, and said he'll likely take more Outdoor Recreation trips in the future.
"If you can sleep on a bus, you should be good to go," he said.
Know and GoLast chance: The last trip of the season through Pulaski Outdoor Recreation in Kaiserslautern leaves Sept. 29 and returns Sept. 30. Make reservations early, as the last trip filled up quickly. Payment must be made in advance. For details, contact Pulaski Outdoor Recreation at DSN (+49) (0) 489-7751 or civilian (+49) (0) 631-536-7751.
How much: The trip costs $120 and includes the bus ride to and from the Netherlands, fishing gear rental, one set of lures and all the fish you can catch.
Bring along: Take warm clothes, rain gear, gloves, a knife, a bucket and a cooler. You'll also need to bring lunch and money for food on the way to and from the Netherlands.
Other trips: Other Morale, Welfare and Recreation groups sponsor similar trips and have a few left this season, among them SHAPE Trips and Tours in Belgium this weekend and RAF Lakenheath Outdoor Recreation on Sunday. A few outdoor recs also offer fresh- water fishing.
— Matt Millham