Nice: Carnival parade pokes fun at society
by
Skip Kaltenheuser
January 29, 2004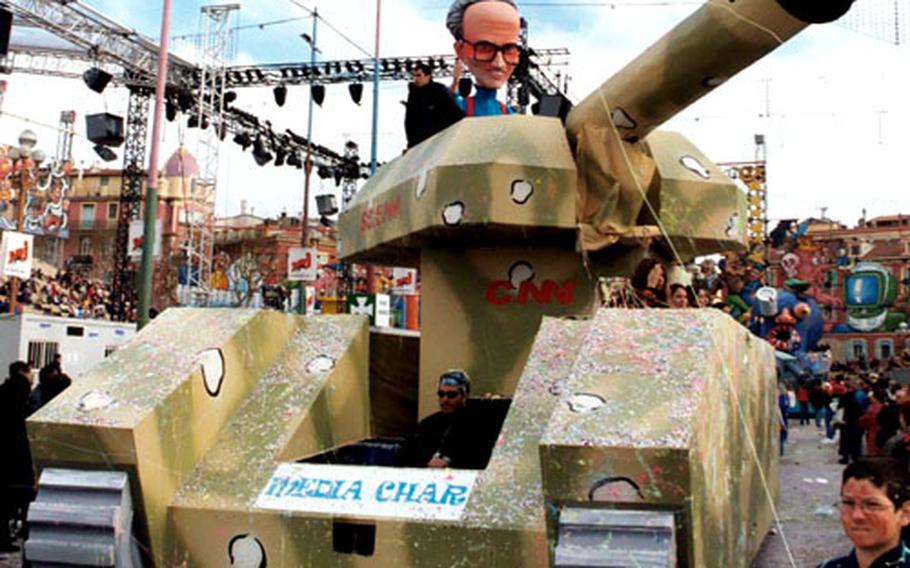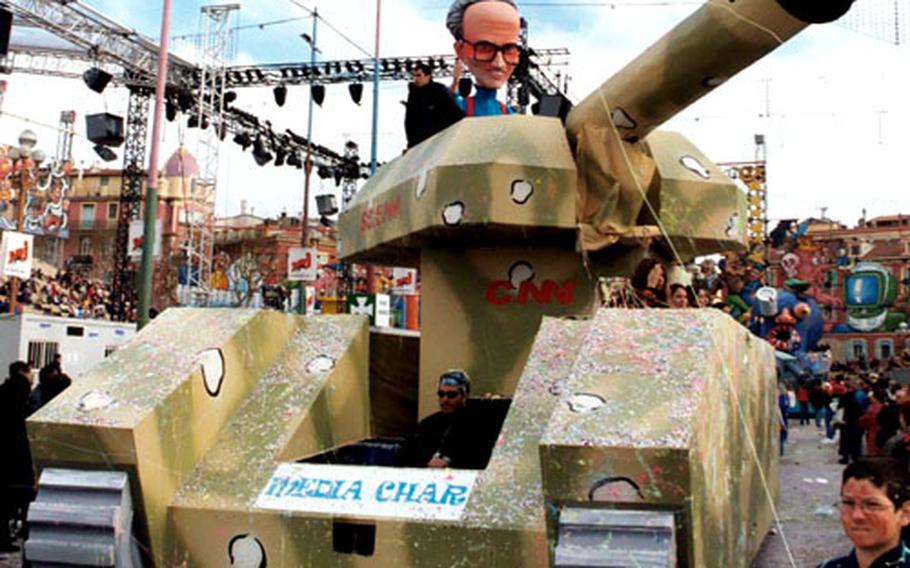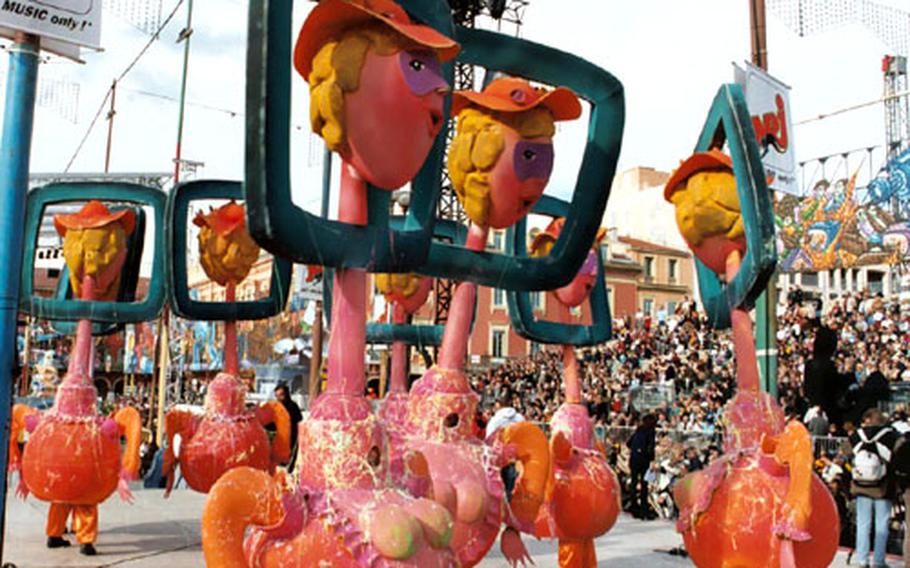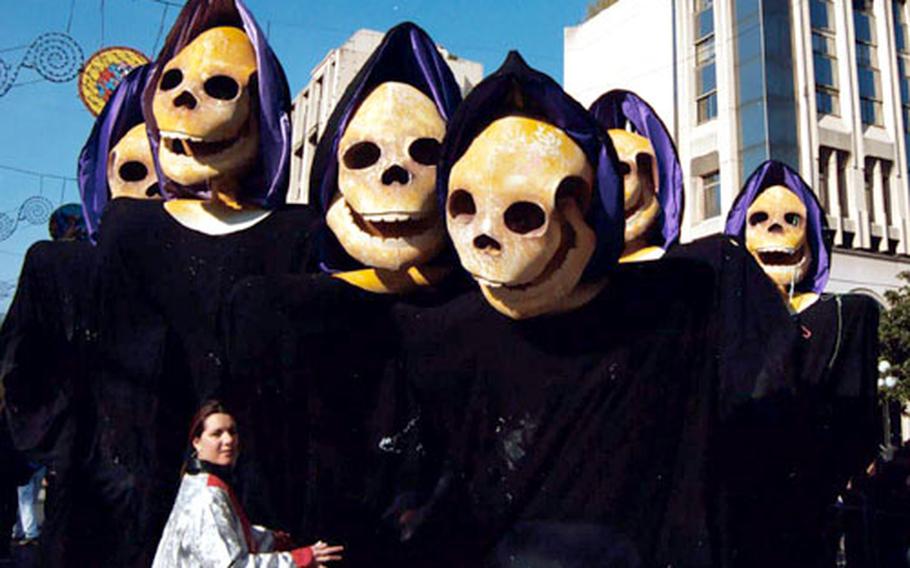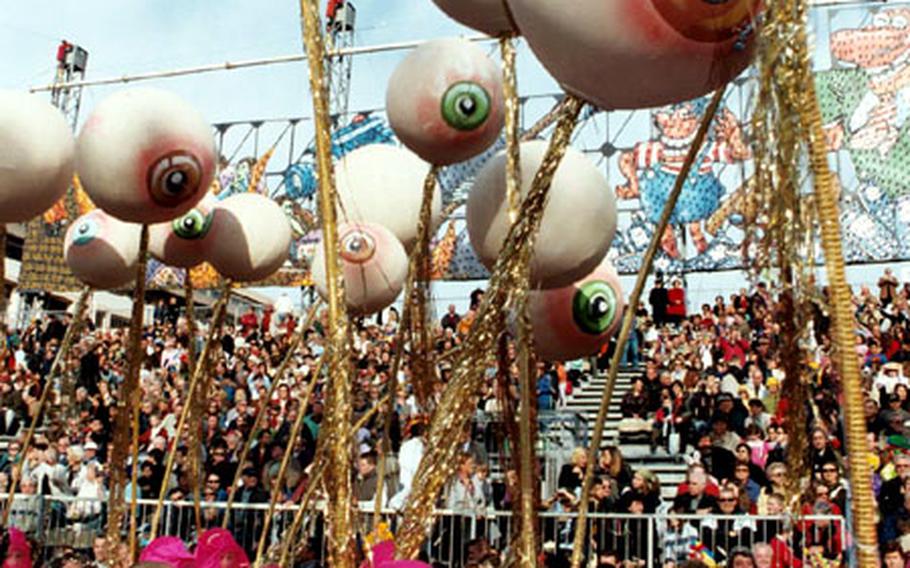 My camera is trained on a shocked woman who has just been scooped up on a tarp by a group of harlequins and flung into the air.
I glance over at a squad of giant eyeballs bouncing on long flexible stems growing out of figures in purple robes, and then at a half-dozen Grim Reapers, 12 feet tall with huge skulls grinning out from black robes like judicial nominees chasing defendants through the crowd.
Just in time, I turn to avoid a giant tank driven by a papier-mâché Larry King, its turret — with a CNN microphone at its end — firing confetti. I retreat as a platoon of walking microphones and video cameras advances.
These weird images are all part of the festivities that make up Carnival in Nice, France. The main features are a series of parades that are masterpieces of troop logistics, controlled chaos and technical prowess that target the funny bones of those who can take a joke.
Nice's Carnival began in the 11th century, with organized processions beginning in 1873. Today, the parades have themes.
The one for this year's event, scheduled for Feb. 13 to 25, is "The King of Clownery," and will play on a cloning theme. Floats will address the impact of technological development on a non-comprehending society.
It is a worthy successor to 2003's theme, "The King of .comMedi@." Those parades featured such floats as "Reality TV," which consisted of a giant figure in his underwear brushing his teeth in front of a mirror behind which cameras recorded everything.
Another showed the heads of conservatively dressed men bobbing hypnotically before a hoochie-coochie dancer, her swaying hips surrounded by cell phones and satellite dishes acting as inverted pasties.
Others focused on the use of the media to manipulate society. The top of a skull opened to reveal news stories dominated by scandal, sex, violence and celebrity. Books representing culture were shown drowning in a media flood, mocked by gadgets riding safely in an ark.
The floats are created from ideas submitted by political cartoonists throughout the world and are turned into finished products by local artists. Sketches chosen for 2004's festival show the potential for plenty of mischief.
Among them is one depicting Romulus and Remus, Rome's legendary founding twins, suckling at a humanoid wolf. A smug king surrounds himself with little king duplicates — with a slight error in the works, a pig wearing a crown.
In another, the familiar chart of evolution showing apes evolving into primitive early man to cave man with a spear, now ends with a trio of identical modern men. Only one type of animal occupies Noah's Ark, which overflows with sheep.
Other sketches include: a hunter pursuing a hare with a pack of dogs all bearing the hunter's face; a new, improved racing species composed of a hare in a tortoise shell; and containers stacked on a truck filled with life-size Barbie clones.
Another portrays Frankenstein's monster as a magician pulling rabbits with Frankenstein faces from his hat, his magician's assistant a Playboy bunny with a Frankenstein face. What better symbol to convey our fear of unknown wild cards, of life run amok and vengeful monsters than the Frankenstein monster, created through man's desire to master technology?
In a Nice warehouse, teams labor meticulously around the clock with wire, foam, tubs of water and cyclone fencing to form the 30 floats for the Battle of Flowers parades.
They are each 20 feet high, nearly 25 feet long and about 6 feet wide. They incorporate thousands of lamps, 350 feet of neon lights and hundreds of feet of fabric. Each also uses more than 4,000 fresh flowers — irises, roses, gladioli, gerberas, lillies and the symbol of Nice, mimosas.
Ninety percent of the flowers are supplied by local producers who've timed their plantings so that the flowers' blooming coincides with the celebrations.
For each float, Carnival artists volunteer 4,000 hours over six months.
Nice's celebration draws to a close as Ash Wednesday approaches. The climax is an evening parade in which the Carnival King leads one final parade and is then burned in effigy as fireworks explode. Many Carnival cultures believe that the departure of the Carnival spirit takes with it all the cares and woes of the year, giving everyone a clean slate to start anew, with the spirit returning for duty the following year.
In Nice, the terminated King vows, "I'll be back." And once again this year, he will be.
Skip Kaltenheuser is a freelance writer living in the United States.