Nebuta: The myth, the magic
by
Wayne Specht
July 24, 2003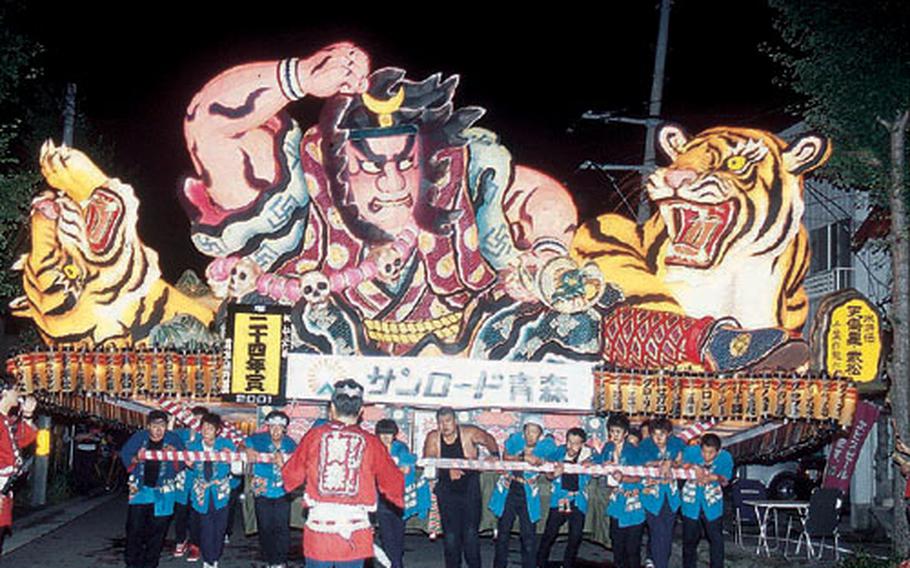 A nightly parade of impressive floats — some standing 20-feet — is expected to draw 2 million visitors to this prefectural capital for the annual Nebuta festival in early August.
Nebuta matsuri, as Japanese call the celebration, features a nightly human tide of merriment on Shinmaki-dori, the city's main shopping district street.
Each year about 25 impressive floats — some standing 20 feet — are hauled down the street by young and old alike. Hordes of dancers, called haneto, accompany the illuminated floats.
Haneto are decked out in summer yukata, funky headwear and bells. Dancing a frenzied jig, they chant "rase-rase-rase-ra" amidst a din of flutes and drums.
No one seems to know the meaning of the persistent chant, but lubricated with spirits, no one cares.
If you're lucky enough to get a curbside viewing position, you may be a recipient of a cup of beer or sake passed out to spectators by some parade participants.
For the best view of the nightly parade, arrive in Aomori, 45 miles northwest of Misawa Air Base, while the sun is still shining.
You can get there by automobile, bus, train or plane.
Make sure to find a curbside viewing location long before dusk fades to night. By the time the parade kicks off around 8 p.m., curbside viewers will be standing 20 deep.
The festival's final night will feature a procession of floats loaded aboard barges and paraded on Aomori Bay.
Overhead fireworks will fill the night sky.
There are different takes on the origin of the festival.
Legend has it Sakanoue Tamuramaro, a local 8th century shogun, crafted awesome floats, or Nebuta, to frighten away foes.
But local keepers of the legend say Nebuta means "driving away lethargy," and gives area residents an excuse to party at the peak of summer while rice crops mature in the fields.
The final night's parade on the bay is said to represent Nebuta floating out to sea, leading locals to believe enemy troops have fled.
If you go ...
Transportation: Another option is Misawa Air Base's Four Seasons bus to Nebuta. The bus costs about $30 per person. Call 226-3555 for dates and seat availability. From Tokyo, you can also fly to Aomori or Misawa. Japan Airlines System and All Nippon Airways serve Misawa and Aomori airports with several daily flights costing about $140 each way.
Hotels: If you're planning to stay overnight in Aomori, hotel rooms during Nebuta are about as rare as a winning lottery ticket — make reservations well in advance. Call Aomori's Prefectural Culture and Tourism Promotion Division at 017-734-9386 to learn if rooms are available. Some Americans stay at Misawa Inn, at Misawa Air Base, and commute via Japan Rail. For reservations, call DSN 222-1299.
Campsites are also tucked away in the Hakkoda Mountains, about a 30-minute drive south of Aomori.
Information: To find out more about these festivals check out the official Web site at www.jnto.go.jp/eng/JN/seasons/1.html.