Naumburg: Cathedral immortalizes'most beautiful woman of the Middle Ages'
by
Peter Jaeger
February 11, 2010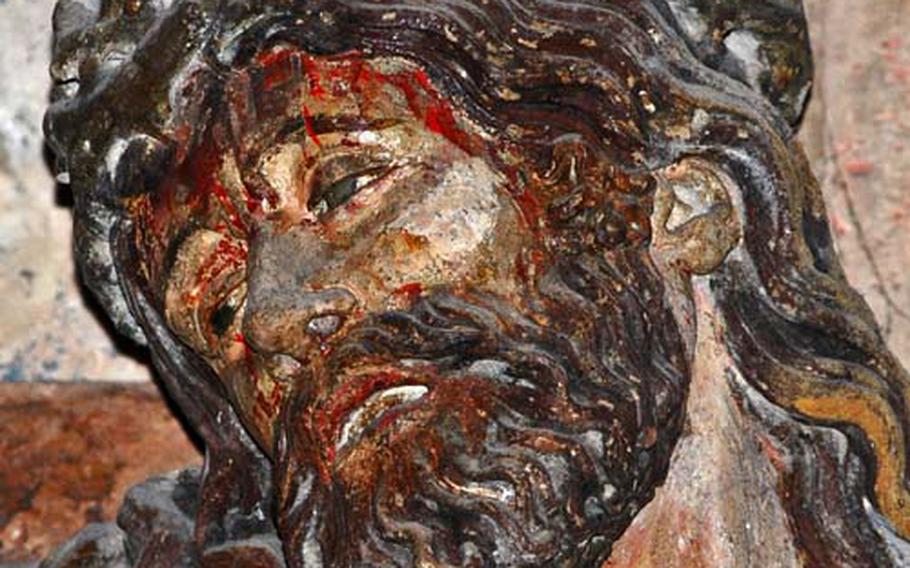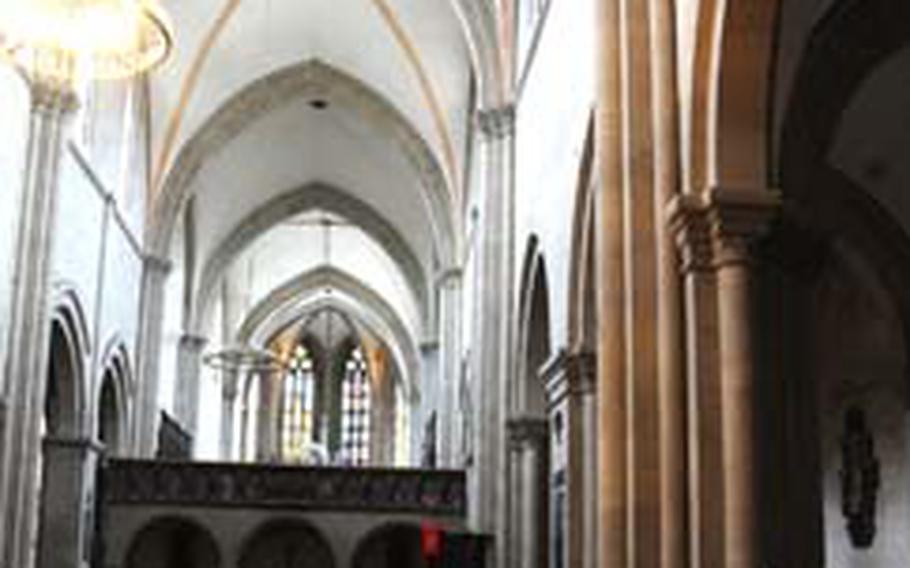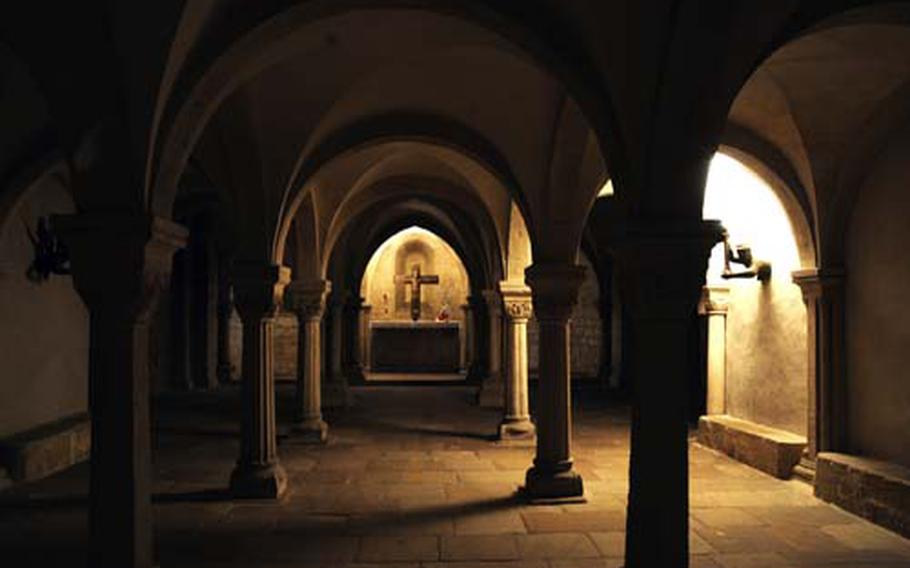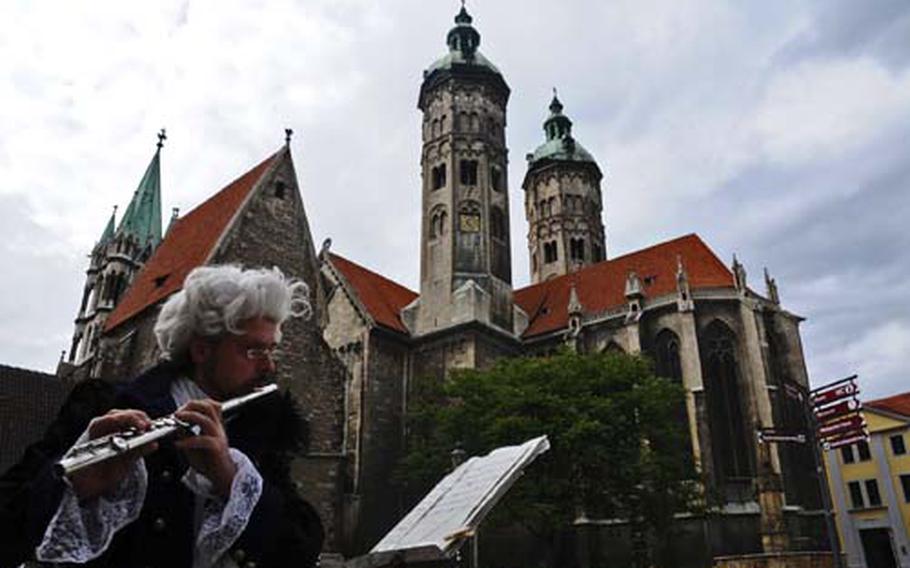 "No, not Utah, it's Uta!"
Uta Hütter, a retired teacher from Wiesbaden, Germany, was joking about the pronunciation of her first name while attending a meeting last year at Naumburg in eastern Germany. She was one of about 300 Utas from across Europe who had accepted an invitation from city officials to honor their most famous citizen: Uta von Naumburg.
Uta who? And what makes her famous?
Actually her name was Uta von Ballenstedt. She was born around 1000 in what is now the Harz region of Germany, and died in 1046. After marrying Count Ekkehard II of Meissen, she lived in the castle of Naumburg on the Saale River. The couple had no successors and left all their wealth to the church to help with the construction of a chapel.
That building served as a forerunner to the cathedral Sts. Peter and Paul in Naumburg. When the cathedral was finished in the mid-13th century, Bishop Dietrich II, who oversaw the completion, honored Ekkehard, Uta and 10 other nobles — known as the founders — by having life-size figures of them carved in limestone and placed in one end of the cathedral.
The statues were both a novelty and great works of art. At other churches, the interior was decorated with figures of saints, biblical characters and church officials, but not of secular individuals. It was the bishop's way of thanking the donors and their families for the large contributions they had made.
In contrast to most statues of this time, which were made in a straight, stylized form, these 12 figures show movement in their bodies and emotion in their faces.
In short, they look lively and individualistic.
Uta stands proudly but a bit modestly. Her collar is raised, with one hand at her chin and the other supporting a fold in her cloak. Her husband, with a sword and shield, is by her side. They are both looking to their right, not straight ahead.
The figures were created by an anonymous stonemason now known as "the master of Naumburg." His work, including the carved screen in front of the founders, is seen elsewhere in the church and elsewhere in Europe.
But it took almost 600 years for the figures to be really appreciated as major works of art and for Uta to become the jewel of the ensemble. The development of photography helped spread their fame, as photos of the figures appeared in art books and magazines, and on postcards and calendars.
In the 1920s, local photographer Walter Hege shot the 12 figures, concentrating on Uta in perfectly lit photographs. The photos were widely published, and Uta became a national idol, an icon.
Many still call her the most beautiful woman of the German Middle Ages, and Walt Disney used her as the model for the beautiful, but sinister, queen in its film "Snow White and the Seven Dwarfs" in 1937.
That same year, when the Nazis opened their infamous modern art exhibition Entartete Kunst — "Degenerate Art" — in Munich, Germany, they placed a single photograph in the middle of the show as an example of ideal German art, surrounded by modern trash. It was of Uta, who was seized as the prototype of the Aryan woman, a Teutonic madonna.
Things have calmed down since. Still, Uta von Naumburg is considered an outstanding female figure in the art world, placed by some art connoisseurs on the same level as Egypt's ancient Queen Nefertiti, Botticelli's "Venus" or da Vinci's "Mona Lisa."
And when one of Uta's greatest admirers, Italian philosopher and professor Umberto Eco, was asked what woman from European art he would most like to spend the evening he answered: "In first place, ahead of all others, with Uta von Naumburg."
Last year 150,000 visitors visited Naumburg's St. Peter and Paul, many just to pay tribute to Uta. But there is more to discover at this impressive architectural work of the late-Romanesque and early-Gothic styles.
The exterior has four towers with an adjoining cloister, and the inside has two choirs — the western one holds the statues of the founders. The church has several magnificent altars, medieval stained-glass windows and a treasury with religious masterpieces, including some Lucas Cranach paintings and one of Germany's oldest Pietas, from the 14th century. The crypt of the chapel that preceded the cathedral is under the eastern choir and is open to visitors.
Know & goSts. Peter and Paul Cathedral, also known as the Naumburger Dom, is at Domplatz 16/17 in Naumburg.
From November to February, it is open 10 a.m. to 4 p.m. Monday through Saturday and noon to 4 p.m. Sundays and church holidays; the rest of the year it is open 9 a.m. to 6 p.m. Monday through Saturday and noon to 6 p.m. Sundays and holidays.
Admission is 4 euros for adults, 3 euros for students and 2 euros for children. Guided tours are available: A 45-minute tour for up to 35 people costs 30 euros; a 90-minute tour costs 50 euros.
For tour information, call or fax 03445-2301-10, or e-mail fuehrung@naumburger-dom.de.
If your first name is Uta, Naumburg invites you for the third Uta gathering, March 12-14. For the first time, all persons with the name of one of the other 11 founders are invited, too. Their names are Ekkehard, Hermann, Reglindis, Dietrich, Berchta, Thimo, Wilhelm, Syzzo, Dietmar, Konrad and Gerbung. There will be a reception at the cathedral, Middle Ages music and costumes and a special program for the invited guests.
For information and registration on the event, call 03445-2731-25, Fax: 03445 2731-28, or e-mail touristmus@naumburg.de.
---
---
---
---