Naturpark Fränkische Schweiz: Forest fun is practically free at Bavarian nature park
by
Seth Robson
September 25, 2007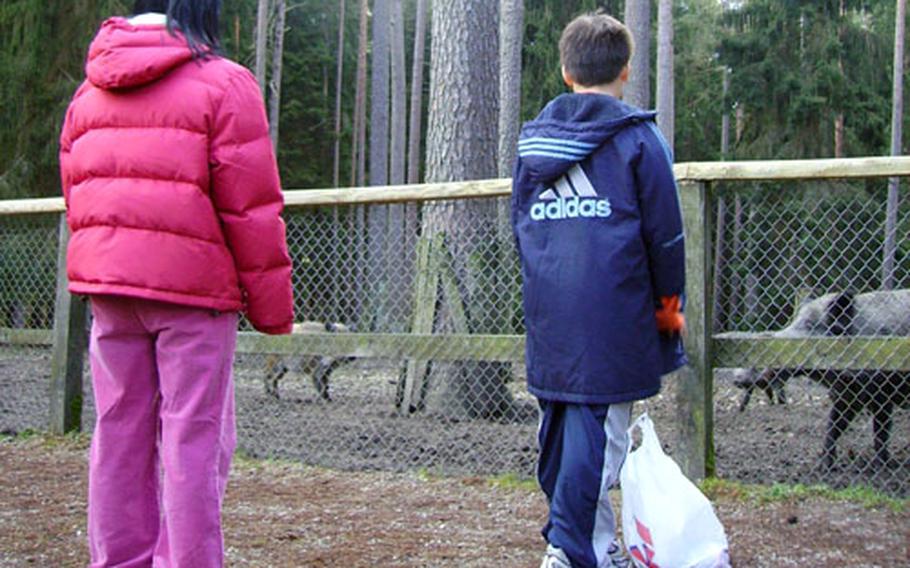 Troops in Bavaria are used to seeing all kinds of animals when they train at places like Grafenwöhr and Hohenfels.
There are about 5,000 red deer, the largest herd in Germany, inside Grafenwöhr Training Area, for example. Troops also can see wild boars, foxes and a variety of other wildlife when they are out on the range.
The Army prohibits soldiers from interacting with wildlife when they are on the job, but those who want to see what these magnificent animals look like up close should consider a trip to the Veldensteiner Forest, about a 30-minute drive west of Grafenwöhr.
The forest is part of the Naturpark Fränkische Schweiz, a nearly 900-square- mile park. It includes a large section of fenced-off land where visitors can observe and feed the main German game species.
To get into the park, visitors first drop an entry fee of a couple of euros each in an honor box, then pass through a set of double gates designed to stop the animals from escaping.
Once inside the gate, small packets of food and, occasionally, free apples are available to feed the animals inside.
The first creature to greet visitors is the wild boar. Perhaps the most dangerous animal found in Bavarian forests, this beast can grow to more than 440 pounds in the wild.
Boars are usually frightened by humans but they will attack to protect their young. There have been problems at Grafenwöhr with soldiers feeding pigs who then forage in trash cans in housing areas.
At Veldensteiner, the boars appear used to human company and are eager to get as much free food as possible. As visitors approach the fence, the larger animals will show up and chase off the piglets, snorting in anticipation of dinner.
About a mile's walk through the forest from the boar enclosure is a track that leads past areas where other animals live.
Once there, watch for the roe deer. These deer, about as big as a medium-size dog, have red fur in summer darkening to brown or even black in winter with a white rump patch. You can try to feed them by hand, but most are probably too timid to get that close.
If you have a keen eye, you will spot larger fallow deer hiding in the trees. And in a grassy field you might encounter a whole herd, including a white deer. Local hunters think it is bad luck to shoot one, but here you can feed him apples. Make sure you break them in half first because the deer can choke on them.
Perhaps the most devilish of the species in the Valdensteiner Forest is the mouflon — a wild sheep with horns that Beelzebub himself would be proud of. The mouflon is a prized hunting trophy in Europe and believed to be one of two ancestors of all domestic sheep breeds.
Last but not least of the animals at Veldensteiner is the red deer — the king of the German forest. An average male red deer in Europe stands 4 feet tall and weighs about 650 pounds.
If you come at the right time, you might glimpse a pair of red deer battling with their antlers. But don't worry; they won't use them on you if you stay on the right side of the fence. They are more likely to quietly amble up so you can feed them some pellets through the wire.
Those in search of high-octane excitement are not likely to get much of an adrenaline rush here. But if you want to see some of the local wildlife up close, or show it to your spouse and children, it is a great Sunday outing.
Know and Go …Directions: From Grafenwöhr, take B299 north to B470 and head west toward Autobahn 9. Pass under the autobahn and take your first left. The nature park entrance is a couple of miles down the road on your right.
Times: The nature park is open all hours, every day.
Cost: The entry fee is a euro or two per person, paid into an honor box.
Food: There is a cafe at the park that serves German food, including coffee, cake and ice cream, but it is not always open. The towns of Pegnitz and Auerbach are nearby.
Information: Information about the surrounding area is available in German at: http://www.fsvf.de.
— Seth Robson