Mount Seorak: Climbing majestic mountain
---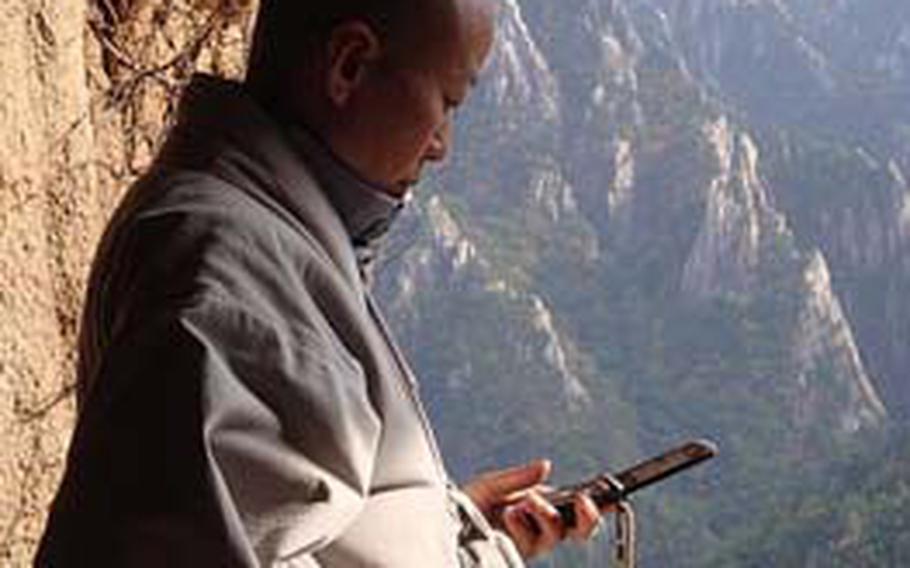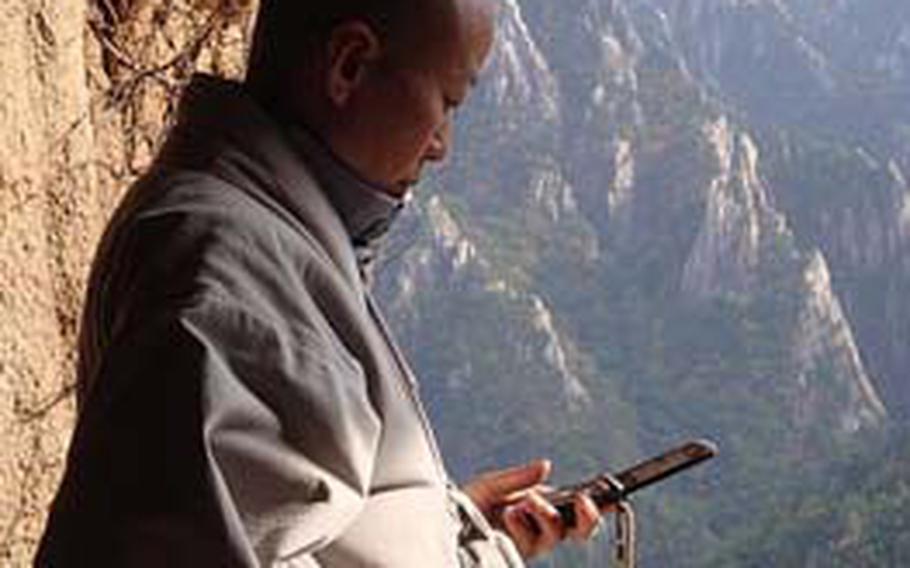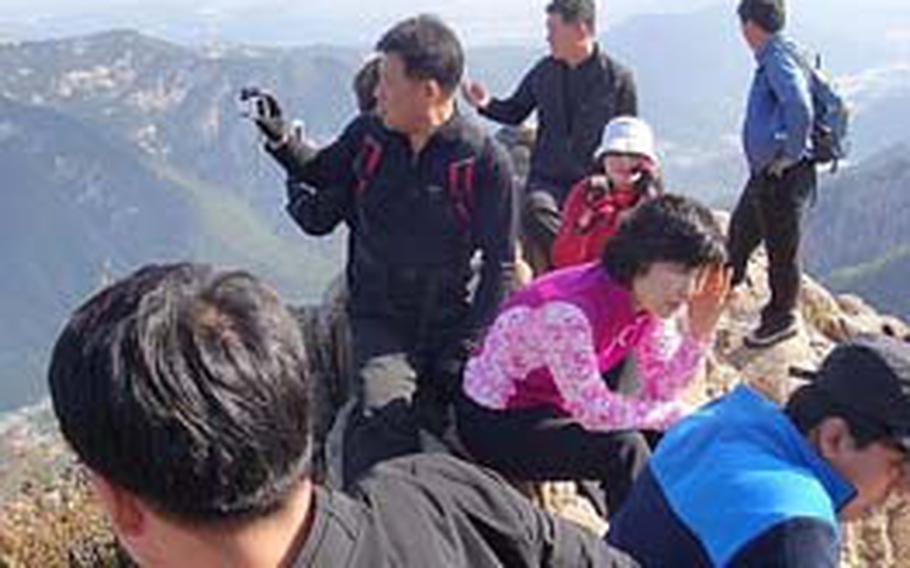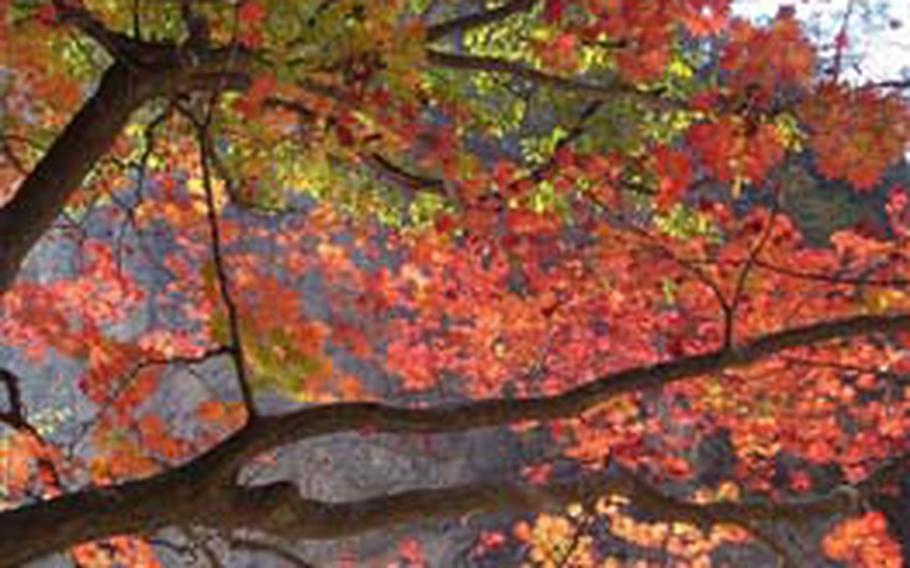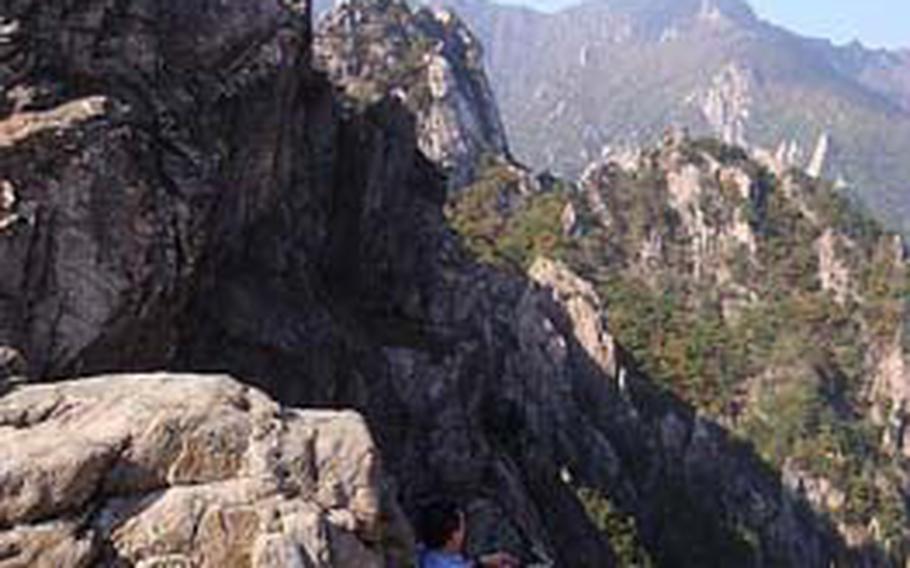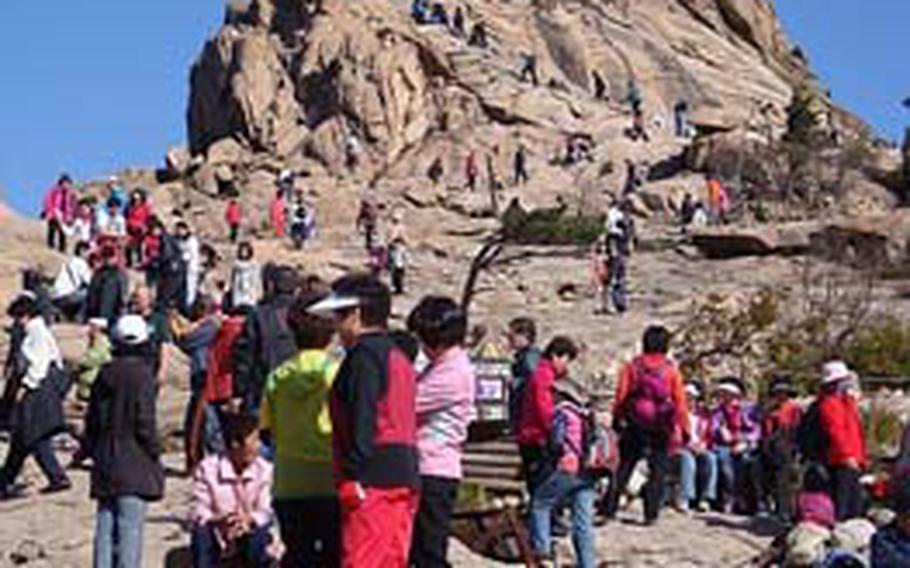 By the time I realized that climbing to the peak of a very high mountain with nothing between me and a freefall of several hundred feet wasn't such a good idea, there was no turning back.
There were no handrails to help me shimmy up the narrow crevice to the top, and no guardrails or fences to stop me if I slipped. Just a line of people in front and behind me, like ants on a hill, streaming to the top of what may be the most popular peak in South Korea's most popular national park. And I had a feeling that none of the climbers behind me, including a few kids and wrinkled halmonis, or grandmothers, would catch me if I fell.
Mount Seorak, called Seoraksan in Korean, has South Korea's third-highest peak but is arguably the country's most famous mountain cluster, in part because of its brilliant fall foliage. We missed the peak foliage day — yes, they forecast the exact day — by 10 days, but that didn't stop us or hordes of South Koreans from making the trip.
And for good reason. The jagged, sawtooth peaks are breathtaking, a photographer's dream and a hiker's fantasy, with easy strolls over flat ground and strenuous mountainside hikes.
If you want a quiet place to commune with nature, however, Seoraksan, about four hours from Seoul, may not be the place for you, at least not during the peak fall season. When we went in mid-October, the park was jammed with visitors in near-identical hiking outfits and walking sticks. With neon-lit outdoor restaurants and souvenir shops stationed every few hundred meters, Seoraksan felt more like Six Flags or Disney World than a national park.
If you don't mind the crowds, there are easy strolls over flat ground and strenuous mountainside hikes. We took the cable car — which could appropriately be called a cattle car, based on the number of people squeezed into it — to Gwongeumseong, once the site of a fortress and now one of the busiest spots in the park. From here, you can see peaks that stretch for miles, as well as neighboring Sokcho city and its coastline.
You can also climb to the tip of Gwongeumseong, as we did. Make it to the top, and for 10,000 won (approximately $8.50) you can buy a gold medal engraved with your name and have your name announced by bullhorn.
We made an hourlong, heart-pounding scramble up rocks and stairs as steep as ladders to Geumganggul Cave, which from the ground looked like a tiny opening in the side of a vertical mountainside. The cave itself, large enough for a dozen or so people to stand inside, had a tiny Buddhist temple at the back and was unremarkable except for the vertigo-inducing views. But at least you could buy another 10,000-won medal inside.
Be warned: There are few, if any, safety precautions at some of the most heavily-visited points. At Gwongeumseong, there was nothing to help you climb to the peak, and only a slack, skinny rope to hold on to as you climbed — or in my case, slid — down. And at the top, you were only a slip of the foot or a bump from an ajumma away from tumbling down the mountain.
Quite a few people celebrate their climb with a mountaintop picnic washed down with makgeolli, or rice wine. So beware of tipsy climbers.
At our hotel one night, we saw a South Korean news broadcast about the dangers of mountain climbing in South Korea. I may not have understood much of what they were saying, but the pictures of ambulances, body bags, bottles of alcohol, skinned legs and stitched-up wounds were clear: People do get hurt here, and sometimes badly.
Dangers aside, a trip to Seoraksan is worth it. Just be careful. And enjoy your makgeolli at one of the outdoor restaurants instead of on the edge of a cliff.
---
---
---
---