Moselle: Canoeists get a workout while paddling past vineyards, castles
---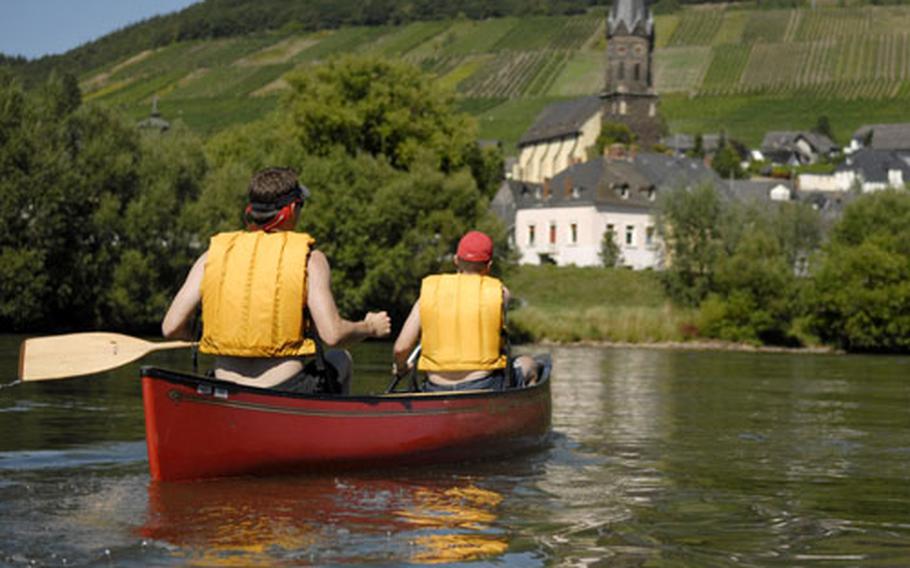 If a certain, infamous scene from the movie "Deliverance" has kept you from canoeing in the States, you don't have to worry about hearing that you've got a "purdy mouth" while paddling down the Moselle River in Germany.
Forget the threat of redneck assault. The most unnerving thing you're likely to encounter are waves from passing barges. (Be sure to steer the nose of your canoe into the waves.)
But you will have to paddle, because the slow Mo — at least during this time of year — has zero current. I mean none. Forget about stretching back with a cold drink, kicking your feet up and gliding down the river. If you don't paddle, you don't move.
The Moselle's like a very long, narrow lake with only two banks. It's so still your friends will start asking if you're actually going upriver instead of down river. Your biceps/pythons/gunz will be throbbing not long into the trip.
But the scenery is beautiful. You'll be surrounded by hillside vineyards sloping into the river, graceful though sometimes-hissing swans, old churches and castles. There are several small docks designed for canoes and kayaks along the river, and you can put in about anywhere for a rest or to look around. It's a different way to see Germany and offers quite the story for friends or family back home.
A recent trip with some friends took us from Piesport to Bernkastel-Kues, which is about 10 miles or just more than 16 kilometers. We took a roughly 40-minute break at a restaurant, a 20-minute pause at a river lock in Wintrich and paddled steadily throughout. It took us about five hours to get from point A (Piesport) to point B (Bernkastel-Kues). It was quite the workout.
Another suggested trip is from Ernst to Tries-Karden. That 9½-mile route will take you by the famous Cochem Castle, but it will cause you to miss the biggest thrill of our voyage, the Wintrich lock.
Not having canoed the Moselle before, I had no idea what to do when we reached the lock. We stayed to the right and followed smaller boats until we came upon a chute specifically designed for canoes/kayaks. A sign, thankfully also in English, tells you to press a button beneath it, wait for a stoplight near the chute to turn green, paddle toward the chute and then not attempt to paddle once you're headed down.
Going down the lock chute is like the log ride at any amusement park, except you're not connected to a mechanical track. It's just you, the narrow concrete walls, the water and gravity. It's good fun and a welcome respite from the currentless river. Be sure to wait for the light to turn green before descending. Otherwise, your boat will be scraping bottom the whole way down. Or so I'm told.
Also, don't think you can take your boat out of the water after the lock, tote it by land back up river and take another lock-chute joy ride. There's fencing and construction to stop you. Or so I'm told.
Because you have to pre-position a car at your ending point, a canoe trip takes a lot of planning. You have to have at least three people: One to stay with the boats when your trip ends, and two drivers — one to drive the other driver back to the starting point to pick up the vehicle in which you transported/towed the canoes. It's a lot of work, especially after you've rowed non-freaking-stop for hours.
But there's an upside: You never have to worry about hearing "Dueling Banjos."
Know and go ...Directions: From Kaiserslautern, take A6 toward Saarbrucken, then A62 toward Trier. Merge onto A1. Take the Esche/Kaulsen exit and follow signs to Piesport. On the north side of the river, pull into the parking lot at the foot of a bridge; parking is available along the side of the river. Concrete steps allow you to put in your canoe just east of the bridge. Leave another car down the river so you can return to your entry point. Depending on how far/long you want to paddle, park a second car at one of the several villages with small canoe docks along the river.
Times: The river's always open, so be sure to pick a day with nice weather. There isn't much shade on the river, so a mostly/partly cloudy day with no rain would be ideal. I would also avoid being on the river in the winter.
Costs: You can rent canoes and kayaks at the Outdoor Recreation office on U.S. Army Garrison Kaiserslautern for $20 a day, which includes paddles, life jackets, car mounts, ropes, etc. You also can rent a trailer from Outdoor Rec if your vehicle has a hitch and the proper taillight hook-ups. Paddling down the river is free.
Food: Take beverages and food in a small cooler that can fit in your canoe. There are villages along the river with cafes and restaurants where you can dock your boats. The Hotel Weisser Bär in Mülheim has an outdoor beer garden and incredible pretzels.
Information: Call Kaiserslautern Outdoor Recreation at DSN 493-4117 or 0631-3406-4117 to rent canoes/kayaks and needed gear. Staff there is familiar with the river and can give you tips on which sections of the Moselle to try. Also www.mosel-kanutours.de is a good source for canoeing on the river. It offers information in English.
— Steve Mraz
---
---
---
---