Monschau: Forgotten town filled with riches
---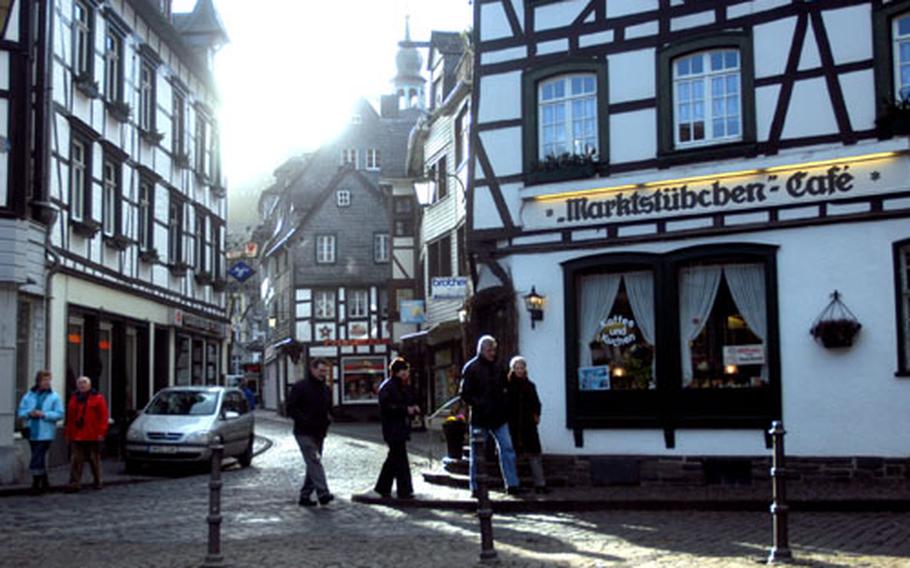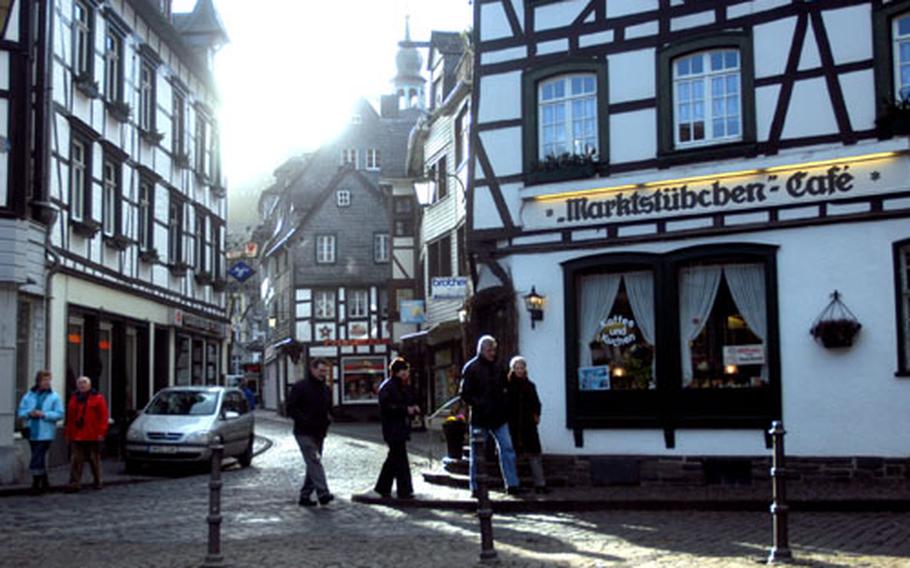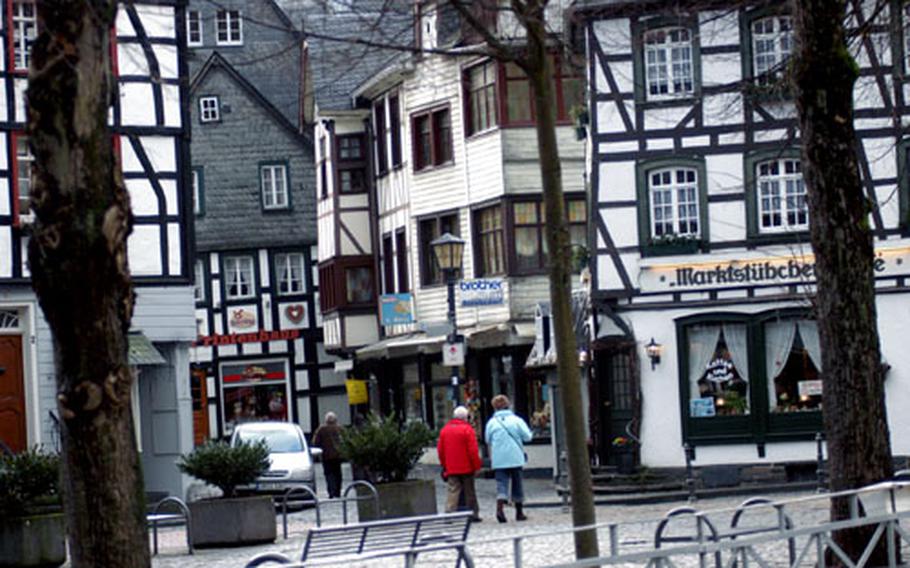 Think of this German town as a pearl in a pocket that gets patted but rarely pursued.
Known by admirers as "the gem of the Eifel region," Monschau is a place that is off in the weeds and easy to overlook. But once a person steps into this charming old city of half-timbered buildings and narrow cobblestone streets, a spell is cast.
"We are not a popular vacation spot, compared to other parts of Germany," said Barbara Frohnhoff, a local tourism official.
She said a survey conducted a few years ago revealed that only 8 percent of all Germans had ever vacationed in the Eifel region.
The same is true for Monschau, situated in a remote corner of Germany near the Belgian border. In 2006, for example, about 1.7 million people visited the town, but only 10 percent of them spent the night, Frohnhoff said.
Most visitors typically arrive in a tour bus. They spend a few hours checking out the historic city center, and then head off to the next stop on the itinerary. Aside from some Air Force personnel in the Spangdahlem-Bitburg area, most Americans don't even know the place exists.
But Monschau and its environs, especially the Eifel National Park, are worth exploring.
They are in the northern section of the Eifel, a belt of mountains and forests that are geologically related to the Ardennes region in eastern Belgium. The Eifel National Park, which is due east of Monschau, was created in 2004. While the former military training area is still being developed, the types of activities now being include hiking, biking, fishing and sailing.
Around Monschau there are other points of interest, including the twin-tower cathedral in Kalterherberg, a horse ranch in Erkensruhr and the winter sports center in Monschau-Rohren, which has five downhill runs and a cross-country circuit.
Still, the brightest jewel in this setting is Monschau, which dates to the 12th century, when its castle was first mentioned. Running below the castle is the Rur, a blissful-sounding river that cuts through the heart of this city of 13,000 inhabitants.
The Rur runs along one side of Market Square, the focal point of many activities, such as the Christmas market. More than 300 half-timbered buildings are protected landmarks, and can be found in and around the square.
Andy McGraw, a Canadian who was in Monschau last week with a tour group, couldn't keep his camera sheathed for long. He found the buildings' imperfections to be especially charming.
"They are nice, eh?" McGraw said as he scanned the colorful jumble of wood and mortar before him. "I like all the twisted buildings."
Looking about, the view all seems rather storybook, conjuring up visions of Rothenburg ob der Tauber in Bavaria. It's a rare find these days, one you wish you could pocket and not tell a soul.
On the QT
Directions: From the Spangdahlem-Bitburg area, take B51 north to Blankenheim to intersection with B258, then follow signs to Monschau. Otherwise, pull out a map and find Aachen or Bonn, which are north and east of Monschau, respectively. Autobahns A-1, A-4 and A-61 will get you in the vicinity.
Times: Peak season for tourists is from late summer to early fall. Overnight frosts are common from September to May. On the last weekend in October, Monschau holds a big Halloween celebration. Christmas markets are held the four weekends leading up to Dec. 25. The Eifel National Park is open year-round.
Attractions: Options in the immediate area are many, and somewhat off-beat. There are museums of mustard, photography and film, printing, glassworks, local history and culture, and beer. Additionally, there is a historic sawmill, the Monschau Castle and the Red House, a large 18th-century house owned by a cloth merchant and now a symbol for the city.
Food: The Mustard Museum offers 18 different varieties. Another local delicacy is Dütchen, a type of biscuit filled with cream and fruit. Two other well-known treats are Vennbrocken, a chocolate marzipan, and Printen, a honey cookie. Several restaurants are located in the old city center.
Information: The tourist office, at Stadtstrasse 16, has information on the city and region, and is open 10 a.m. to 5 p.m. daily. Its phone number is 02472-80480. The city has an excellent Web site with an English-language section: www.monschau.de
---
---
---
---