Monorail gets mixed reviews
by
Chiyomi Sumida David Allen
February 26, 2004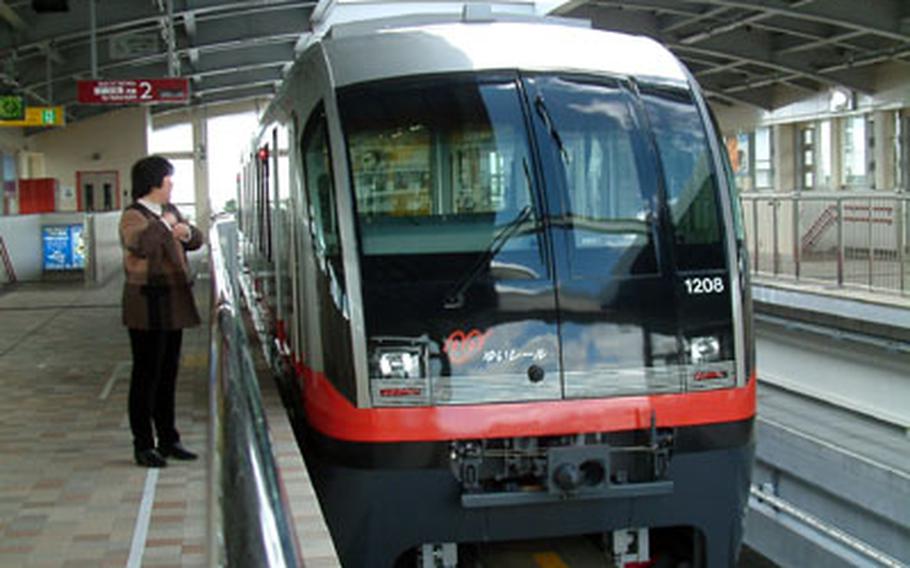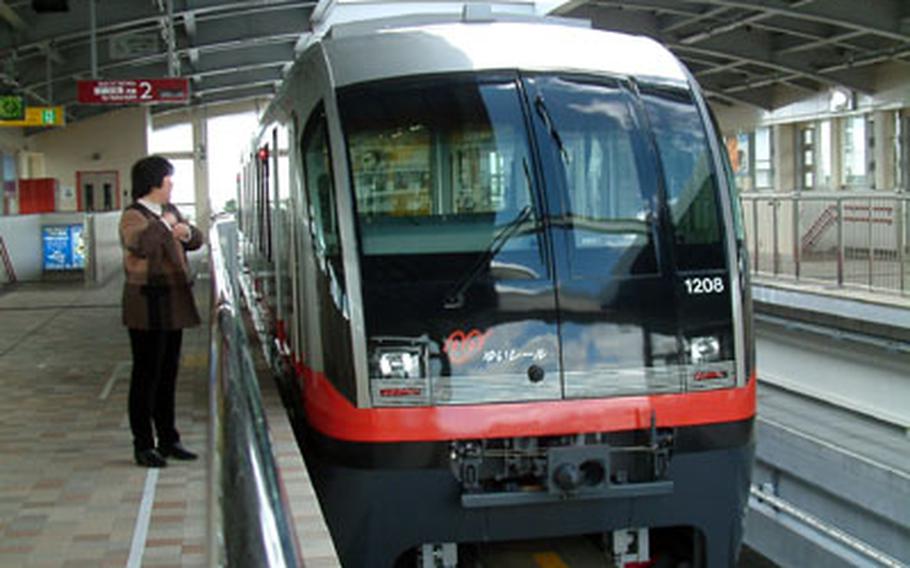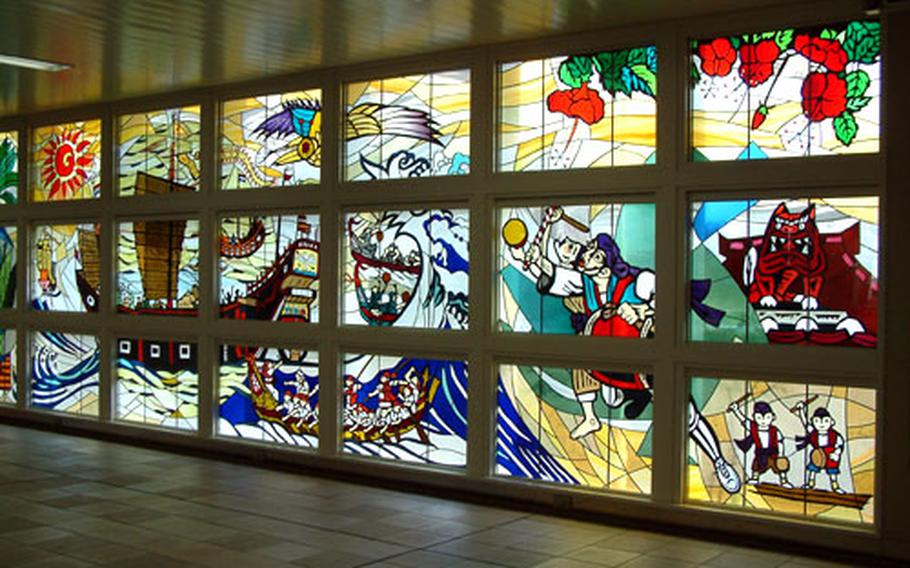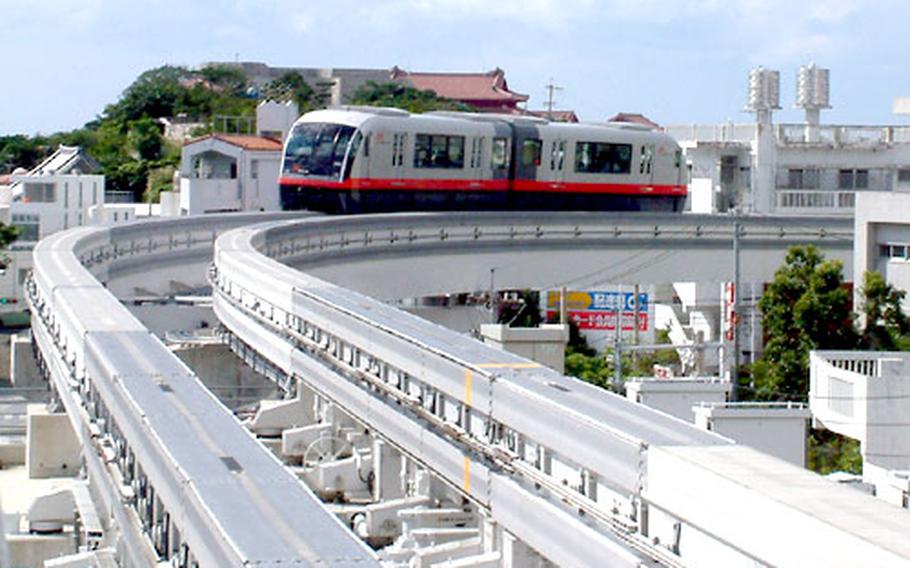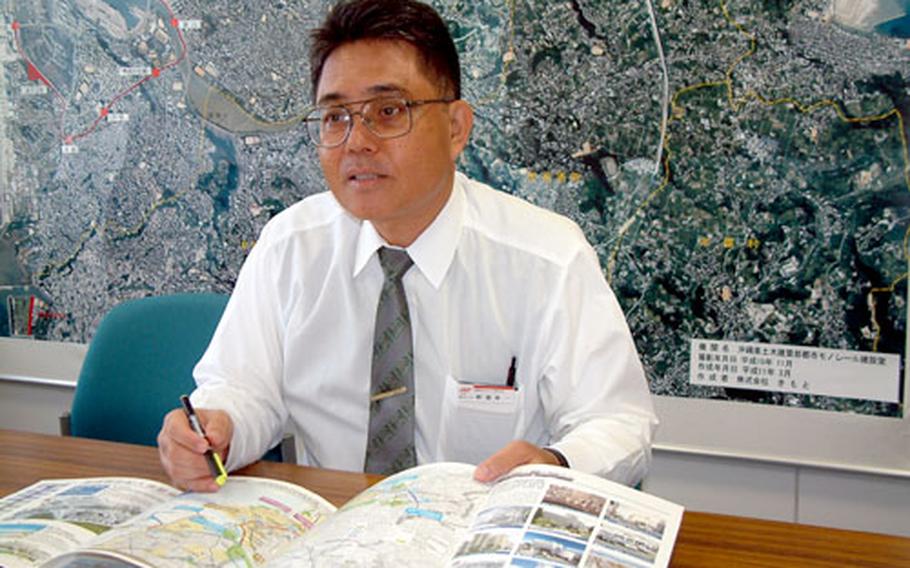 NAHA, Okinawa — Okinawa has one of the most modern monorail lines in the world, running almost 13 kilometers from Naha International airport to Shuri Castle, Okinawa's major tourist destination.
But what they don't tell you at the the airport hub of Yui Rail is that if you want to visit the reconstructed 14th century center of the Ryukyu kingdom you can't get there from here. Yui Rail stops short of its promise.
Shuri Castle is a 15-minute walk from the end of the line, or a 450-yen cab ride.
Or you can rent a bike for 500 yen. If they haven't all been stolen.
Okinawa's new monorail opened last summer and has been getting mixed reviews.
Ridership is not as heavy as anticipated, and critics claim the people mover doesn't move people where they need to go. Although the monorail does make stops in downtown Naha, it passes by few tourist-friendly hotels.
The monorail does not pass any U.S. military bases, so few Americans know about it, except for the traffic tie-ups that were caused when the system was constructed, or the glimpse from Highway 58 of one of the sleek two-car trains that pass quietly overhead.
But for the adventurous with time on their hands, a Yui Rail ride offers an inexpensive day's outing and elevated view of bustling Naha city.
It can also cure that homesick longing for mass transit rail systems back in the States.
Plans for a mass transit system on Okinawa began almost as soon as the United States returned the prefecture to Japan, said Koichi Shinya, Okinawa Urban Monorail Corp's Sales and Planning Office chief.
"Introducing a mass transportation system to the island was one of the first projects planned to improve Okinawa's infrastructure," he said in a conference room at Yui rail's headquarters at the airport.
He was framed by a wall-sized aerial photo of Naha displaying the rail line in all it's splendor.
"Before World War II, Okinawa had a light railway that used to carry sugarcanes and passengers," Shinya said. "It was destroyed by the war, and while Okinawa was under U.S. control, Okinawa became a society that depended entirely on automobiles.
"As a result, Okinawan highways developed chronic traffic congestion, causing great economic losses to the society," he said.
The monorail, he said, was the only mass transit system that would work in crowded Naha. The cost to purchase land for a traditional rail or streetcar system would be far too expensive.
The total cost for the monorail system, which opened Aug. 10, was 112.8 billion yen, about $1.07 billion.
Monorail fever hit southern Okinawa when the system opened in August. Riders flocked to experience the city's newest attraction. But daily ridership dropped to about 32,000 passengers a day in September and October.
In November it dropped again, to 29,000. December saw only 28,000 riders and the January average was just 25,000.
"December and January are the months when the number of tourist visiting Okinawa drops," Shinya said.
He also blames the drop on the inability of bus companies to work with the monorail system to develop a system of connecting transportation. Initially, Okinawa's four bus companies had indicated they might change their routes to serve the monorail.
But the bus companies, all facing bankruptcy, declined to change routes that passengers were used to taking.
"Connecting monorail to the bus system has yet to be established to make our monorail a more convenient transportation," Shinya said.
What that means to the joyrider is a good seat on the latest in smooth, electric glides along Yui Rail's 12.9 km route. Just be sure to avoid the rush hours.
It takes about 27 minutes to travel one-way. There are 15 stations.
The best way for a joyrider to take full benefit from the system is to buy a day pass for 800 yen for adults and 400 yen for children ages 6 to 12. Younger children are free — but only two allowed per adult.
The day pass allows you to stop and shop at Naha's famed Kokusai shopping district, in the middle of the run. Otherwise, a one-way ticket from start to stop costs 290 yen.
It's best to park at the Naha International Airport, the fee for a recent two-hour outing cost 650 yen. Just follow the signs from the parking garage to the Yui Rail.
Yui in the Okinawa dialect means "tie" or "bond" and was chosen in a naming contest.
"Traditionally, Okinawan culture is a tightly knit society with the spirit of helping one another," Shinya said. "The name Yui was chosen in the hope that the monorail system would connect all the neighborhoods, communities and people."
He didn't seem to catch the irony that the system has failed to connect with the promised destination — and the riders.
There's never much of a wait for the monorail cars, which run at intervals of 6 1/2 minutes during rush hours and 10 to 12 minutes during the rest of the day.
Yui Rail runs 6 a.m.-11:30 p.m.
It is fairly easy to get around, there are signs and other information at each station in English and most monorail employees speak some English, Shinya said.
"We planned it that way," he said. "We often hear that many Americans who once stayed on Okinawa come back to visit the island. We want them also to take a ride on our monorail."
The most scenic points in the monorail ride are the sections over the Kokuba River coming into Tsubogawa Station, traveling over the downtown business and shopping center, watching apartment dwellers frown as they hang their laundry from balconies within spitting distance of the concrete guideways, and the view of Naha Port and the outlying Kerama Islands from the hills leading to Shuri Station.
That's where an adventurer hits a snag. Shuri Station is not very close to Shuri Castle.
"It's a 15-minute hike away," said Tasuyuki Tottori, who was cooking takoyaki (octopus in pancake batter) at a small tourist information stand just outside the station. He said most people hop a taxi for the 450-yen ride.
"Or they can rent a bicycle from us," he said. "It's 500 yen for two hours. We have three available. We used to have four, but one was stolen."
---
---
---
---