Monkeys! ... and other reasons to visit Bio Park, located near Sasebo
---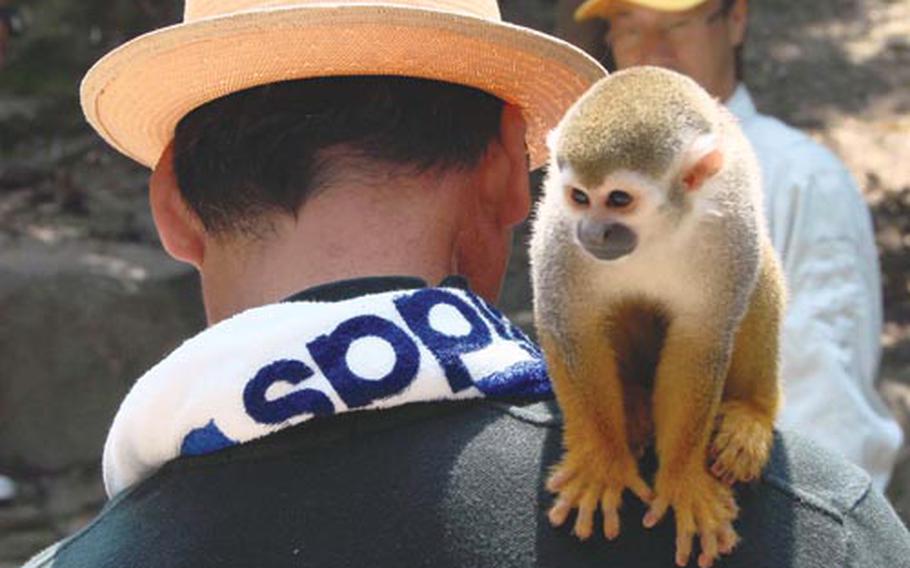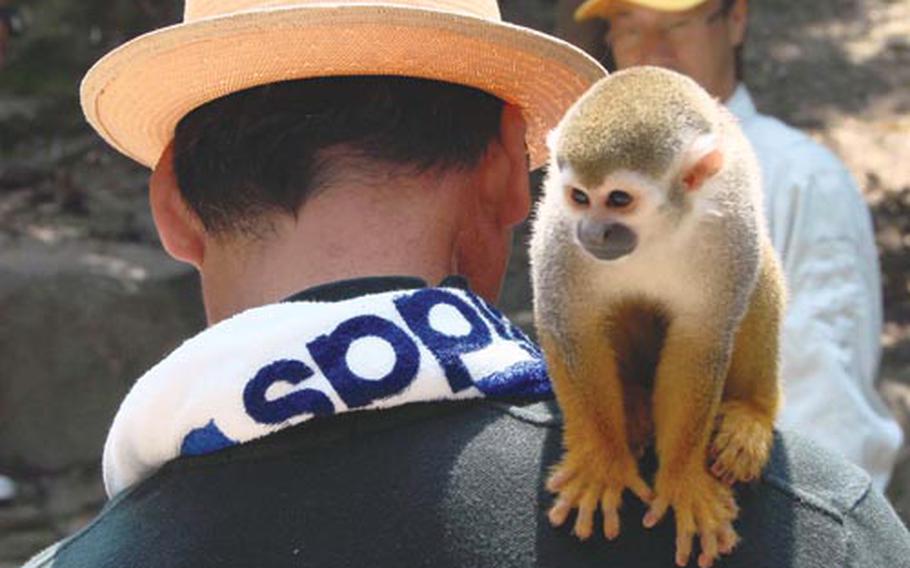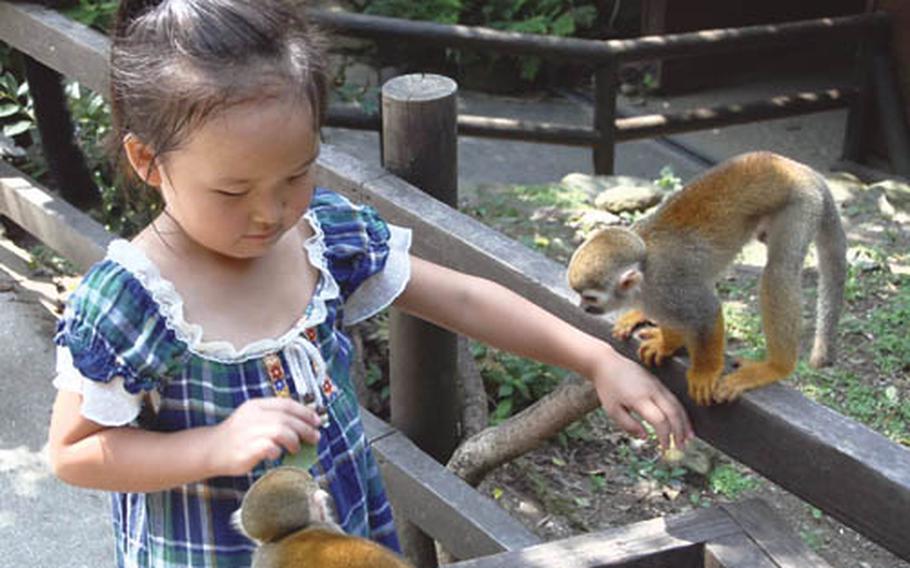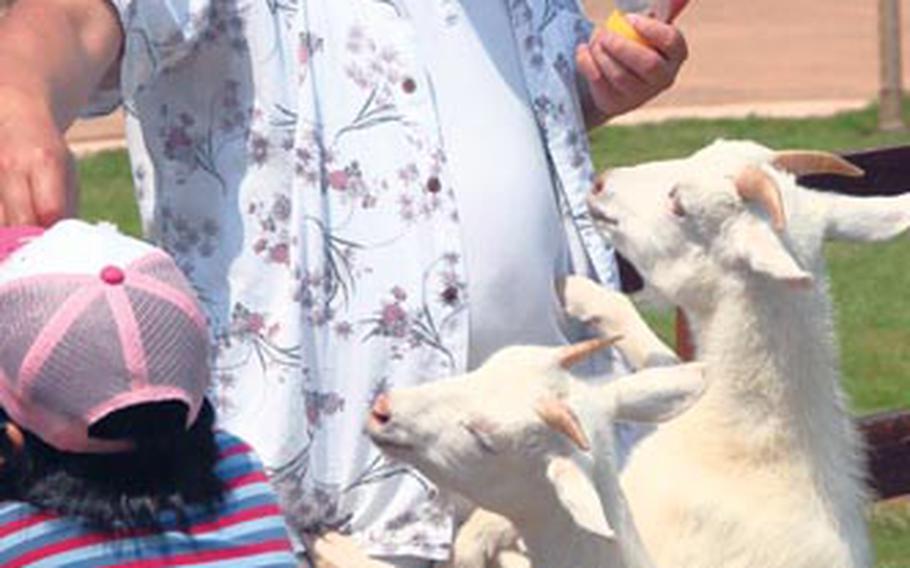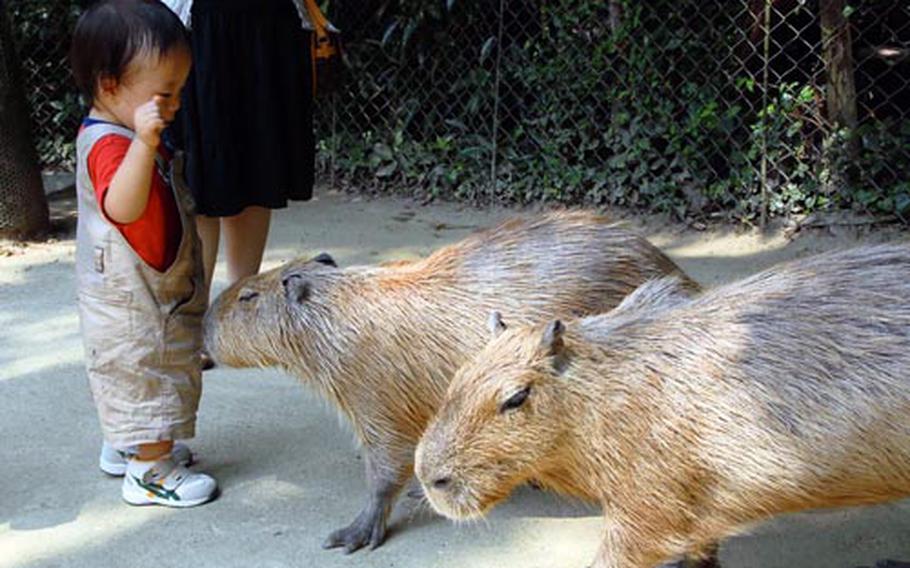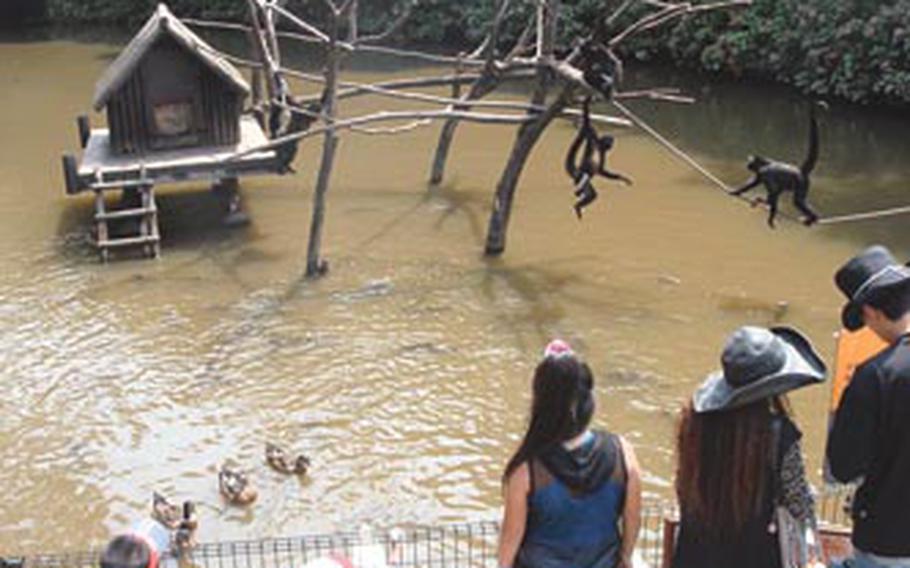 During my drive to the Nagasaki Bio Park Zoo and Botanical Garden, I was really thinking about one thing: the monkeys.
Well, not just monkeys – playing with the monkeys.
The Bio Park, a petting zoo tucked away in the hills about one hour south of Sasebo Naval Base in Japan, is really a place for children. There are plenty of chances to snap photos of the kids with fluffy, silly-looking animals – kid goats, rabbits, kangaroos, capybara. Parents looking to add a potent dose of cuteness to the family album can't lose.
But I don't have any little ones, at least not yet, to dazzle with wild animals. So, how did I find myself one sunny Sunday morning, zoo pamphlet in hand, on the road to the Bio Park?
Did I mention the monkeys?
After three decades on this planet, I'd watched firsthand as biologists taught chimpanzees sign language, chased monkey's through the Amazon rainforest and seen "Project X" several times.
Still, I hadn't made it even close enough to touch a live monkey. I was beginning to wonder what I had been doing with my life.
OK, for the sake of science, the word "monkey" is often misused. It really denotes a subset of our primate family, which includes monkeys, apes, lemurs and other vaguely human animals with little old man faces and opposable thumbs.
The Bio Park offers interaction with two varieties of primates, one monkey and one lemur. According to the pamphlet, the point is to "learn symbiotic relationship between humans andanimals" and to discover "what you
should be careful about when you pet" animals.
It turns out real-life monkeys are a lot more grabby than on TV and in cartoons.
The zoo is laid out in a rough figure-eight and visitors wind their way around a spider monkey habitat [no touching] and through the Flower Dome, a greenhouse with exotic plants, fruit bats and iguanas.
About halfway through the zoo exhibits, visitors reach the Squirrel Monkey Jungle.
Squirrel monkeys, which share the habitat with lemurs, are about the size of American squirrels and just as quick. They go crazy for live grubs, which can be bought from a coin vending machine in the exhibit.
I'm not sure what I had expected of my monkey experience – long, knowing looks into each other's eyes, some insight into my own existence as a primate, a feeling of shared existence?
From what I could tell, the monkeys see humans as mobile trees that sprout grubs and raisins.
The monkeys swarmed me, running up my arms and across my shoulders, and grabbed fistfuls of grubs from the plastic vending machine eggs.
But for a moment, I felt I was making some headway toward bonding as one of the squirrel monkeys started picking through my hair. It was either grooming me or looking for more grubs.
Then, a grumpy black lemur bit my hand. It was a light bite, the kind you might get from a frisky cat. The exhibit appears safe for children and a zoo employee was always standing by to deal with rambunctious primates.
The bite seemed more ungrateful than anything else. After all, I had fed that lemur a lot of raisins.
Meanwhile, the capybara exhibit was also a highlight of the park. Besides being the world's largest rodent, the capybara is probably also the world's cutest. Think giant guinea pig.
The partly aquatic animals are indigenous to South America, mostly Brazil. They make bizarre high-pitched whistles and are extremely docile – they like to be fed and have their backs scratched. During my trip, a large female was managing a brood of mewling, hungry young.
Unfortunately, it was difficult not to notice some animal habitats seemed inadequate, even cruel.
The American beaver was housed in a cement enclosure that was little bigger than a child's backyard swimming pool. There was no wood – beaver's chew constantly – and no place to hide. The beaver sat slumped and dozing on the concrete under a trickle of water.
The zoo also keeps dozens of raccoons in the same overpopulated cage. The animals bit and fought each other as visitors dropped food through slots.
Showing and interacting with exotic animals might be good for education – and keeping the Bio Park in business -- but it seems unclear how it might affect the animals themselves.
But as promised, I received an education on symbiotic relationships and careful petting at the park. So, don't feed that lemur, he's cut off.
know & go:open: 9 a.m. to 5 p.m. (longer hours in August) all year, including holidays admission: child, 700 yen; junior high and high school, 1,000 yen; adults, 1,600 yen. U.S. Navy members and their families stationed at Sasebo get 10 percent off with ID.
directions: From the Sasebo Naval Base, take the Nishi-Kyushu Expressway toward Huis Ten Bosch. Take the Huis Ten Bosch exit and at the first major intersection turn right on Rt. 202. Cross the Saikai Bridge and veer left onto Rt. 206. Watch for Bio Park signs and make a left at the marked intersection. Make immediate right over a small bridge into the parking lot. Trip takes about one hour.
web site:www.Biopark.co.jp/en (excellent site, in English)
---
---
---
---