Minsokchon: Village re-creates Korea's feudal past
by
Franklin Fisher
April 15, 2004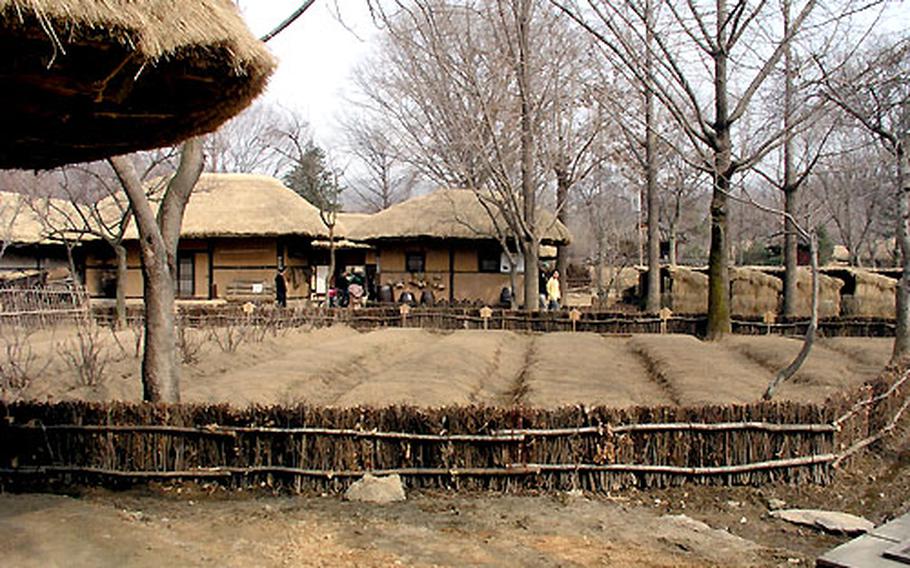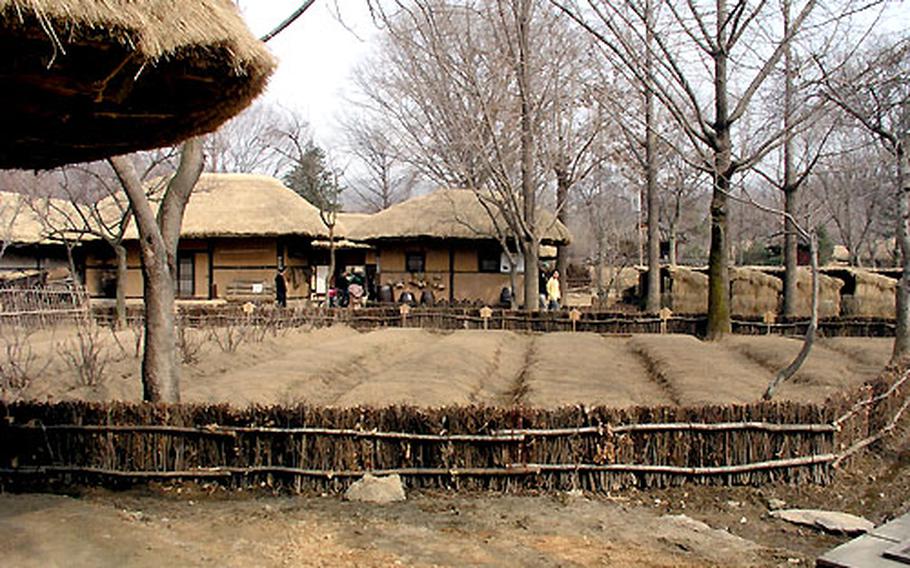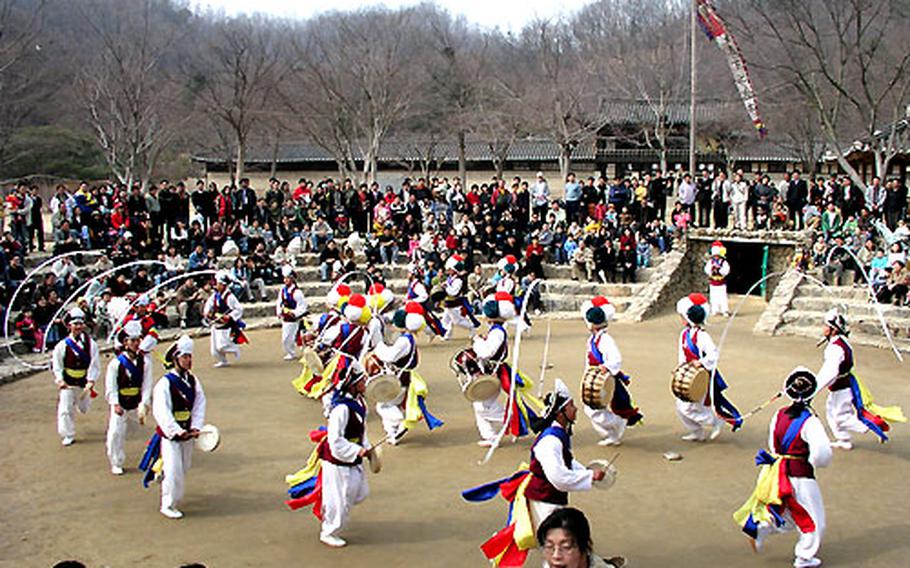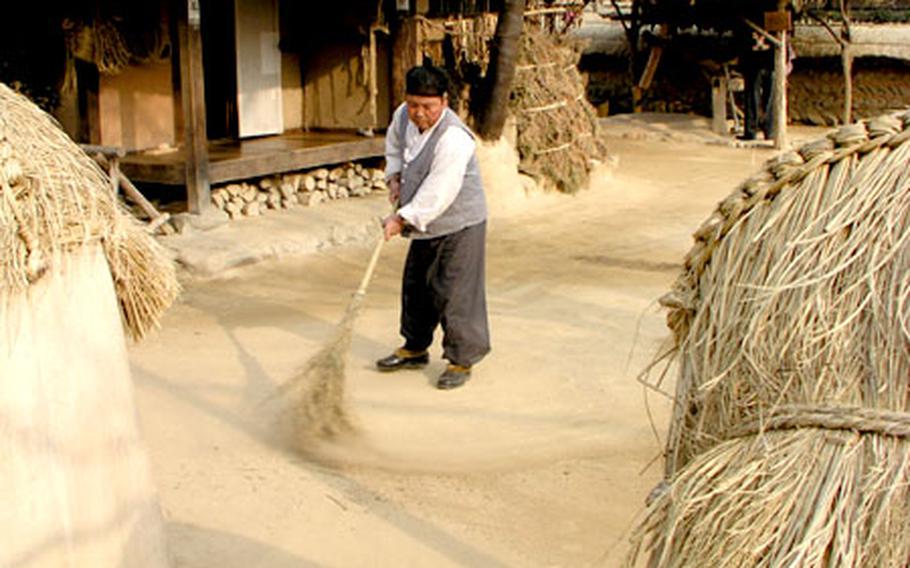 YONGIN, South Korea — When South Korean movie and TV producers want to film a historical drama in an authentic traditional Korean setting, they often turn to the thatched huts and woodland pathways of the Korean Folk Village, also known as Minsokchon.
About 20 miles southeast of Seoul, the village is a 243-acre re-creation of the feudal Korea of centuries ago, built to look like the real thing and to preserve for posterity the main features of the Korean rural past — the houses of nobleman and peasant, work sheds of the village blacksmith and weaver, stone bridges and lakeside pavilions, fresh air and open sky.
And Minsokchon offers daily live performances of traditional Korean dancers and musicians, a fast-tempo, colorful display that seems to delight audiences, who clap and bob their heads to the rhythm of drums and gongs.
Adult admission is 11,000 Korean won (a bit more than $9), and Minsokchon is a fairly simple day trip, especially for U.S. servicemembers starting from Osan Air Base or Camp Humphreys, both in Pyongtaek, or from Seoul. From the Songtan Bus Terminal near Osan Air Base, for example, a series of three buses gets visitors there in about 90 minutes. The return bus trip is roughly the same.
But Minsokchon is reachable by train, bus or car from throughout South Korea and those driving may park for free in a big lot.
Minsokchon is open seven days a week. Winter hours are from 9 a.m. to 5:30 p.m.; summer hours are from 9 a.m. to 6:30 p.m.
Besides the village itself, Minsokchon features restaurants, gift and craft shops and a family park with amusements. Village staff wear traditional Korean clothing and carry out tasks with the same tools and methods used in feudal days, whether they're portraying the miller leading an ox around the grinding stone, the blacksmith shaping a tool at his forge or a peasant sweeping the dirt outside a thatched-roof farm building.
Visitors buy a ticket outside the front gate, then walk past restaurants and shops into the village proper.
Taking in the scores of separate houses and other displays spread throughout the village tour zone easily can take six to eight hours. Houses of a scholar, a peasant, a well-off farmer and others replicate those that once stood in various regions of the Korean Peninsula; there's also a brewery, cotton weaving workshop, waterwheel mill and workshops for pottery, wood, brassware, the farming tools showroom, the provincial governor's office, a traditional marketplace and a 99-room nobleman's mansion.
And there's an art museum, folk museum and sculpture garden.
But it's Minsokchon's live performances that draw and hold the biggest crowds, particularly the strenuous farmer's dance, performed with drums, gongs and a reed instrument. The high-pitched undulating notes bring to mind the music of the snake charmer.
On a recent chilly Sunday afternoon, for example, 500-600 spectators, many of them parents with small children, sat on stone seating arranged in tiers around a circular dirt performance arena, awaiting the farmer's dance.
Twenty or more performers filed out into the circle wearing white pants and shirts, dark red vests and colorful headdresses. Affixed to some of the headdresses were long white cloth streamers, attached to the crown so that when a dancer moved his head a certain way, the streamer would extend fully and begin to spin in a wide circle around him, revolving faster and faster as the drummers speeded up the rhythm. Each time it happened during the two 15-minute performance segments, the sight of the spinning streamers triggered applause.
But the crowd's warmest response came each time certain dancers would leap into the air with arms and legs spread wide and streamers spinning, twisting a full revolution before their feet touched the ground.
The farmer's dance is performed at 11 a.m. and 3 p.m. A demonstration of the traditional seesaw game and acrobatics on a tightrope also are performed at Minsokchon.
Phone numbers for more information are available, but calls are likely to be answered by Koreans with little or no English proficiency: 031-286-2111, 02-745-4609 or 02-742-6029. Minsokchon's Web site provides information on details, including ways of getting there from various parts of Korea: www.koreanfolk.co.kr.
---
---
---
---